A Louisiana classic, this easy Cajun shrimp étouffée features a velvety sauce with just a hint of spice. Serve it simply with white rice and you can almost picture yourself hanging out in The Big Easy.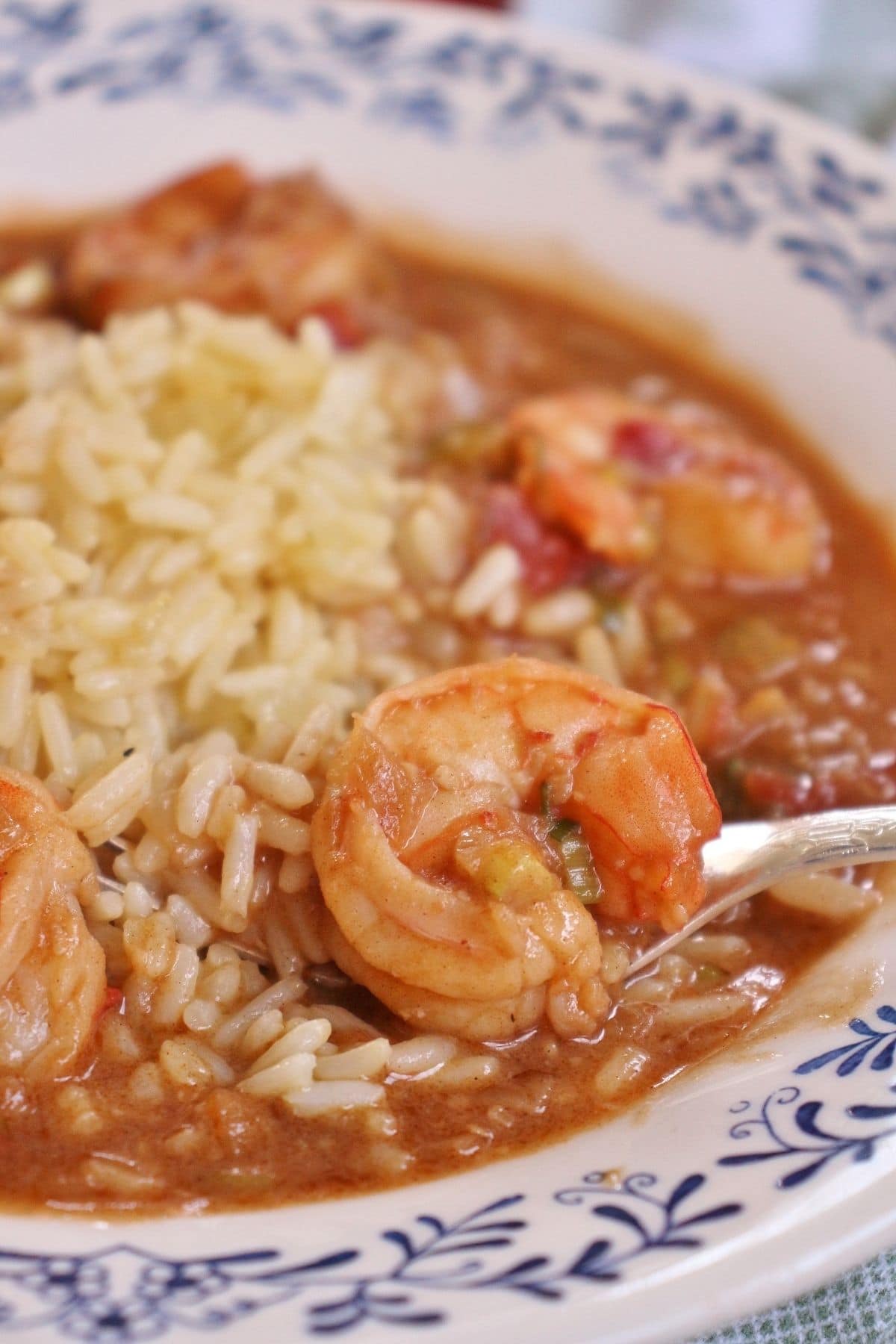 (This recipe was originally published in November 2015, but was updated with new photos and content in 2020)
If you've ever wanted to explore a cookbook that really gets down to the nitty gritty of Louisiana cookery, then renowned New Orleans chef John Besh's Besh Big Easy is a great place to start. No showy flourishes here, just classic dishes prepared to perfection by one of the most celebrated chefs in the area.
Besh's classic Cajun shrimp étouffée recipe is a standout. I have been making it for years and it is consistently exceptional.
This shrimp étouffée is considerably easy to make, but does require some finesse. The key here is building flavors. It takes longer than you would expect to cook each step of the way, but it's vital in making this dish correctly.
The result is a slightly spicy shrimp dish with a delicately thickened broth that just coats the rice. Personally, I add plenty of hot sauce at the table to my own serving, but you can hold back when creating the dish in case other diners don't want too much spice in theirs. I also use Frank's Red Hot instead of Tabasco because that's what I like, but Tabasco is more traditional.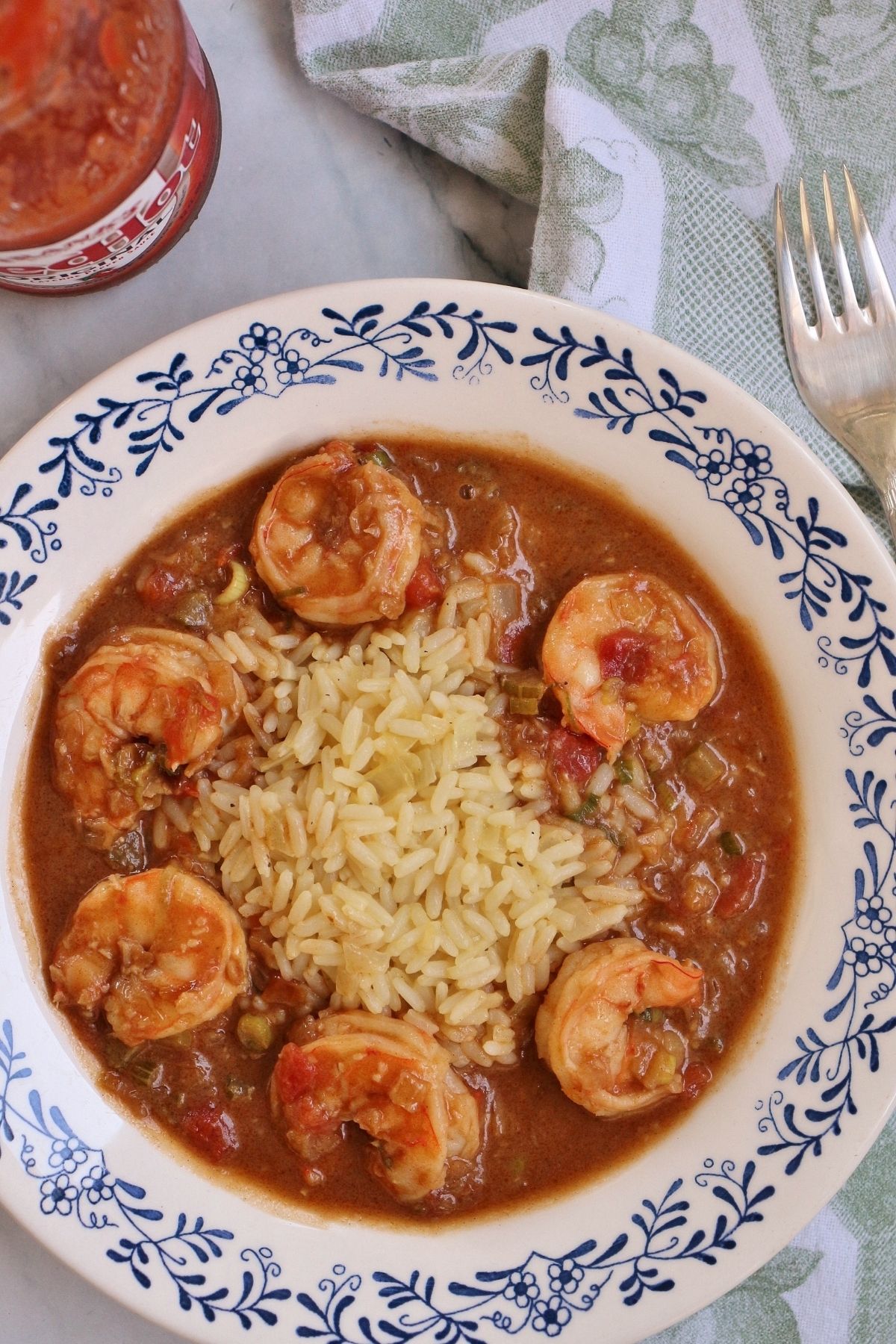 What's the difference between étouffée, jambalaya, and gumbo?
Étouffée, jambalaya, and gumbo and three extremely popular Cajun dishes popular throughout Louisiana. While they have some similarities, they are actually quite different from one another.
Étouffée means "smothered" in French, and refers to a cooking technique for a spiced and saucy stew prevalent in these parts. Different proteins are common in this versatile preparation including shrimp, crawfish, crab, chicken, and even smoked sausage. The luscious, creamy shrimp étouffée is served with rice to soak up all that dreamy sauce.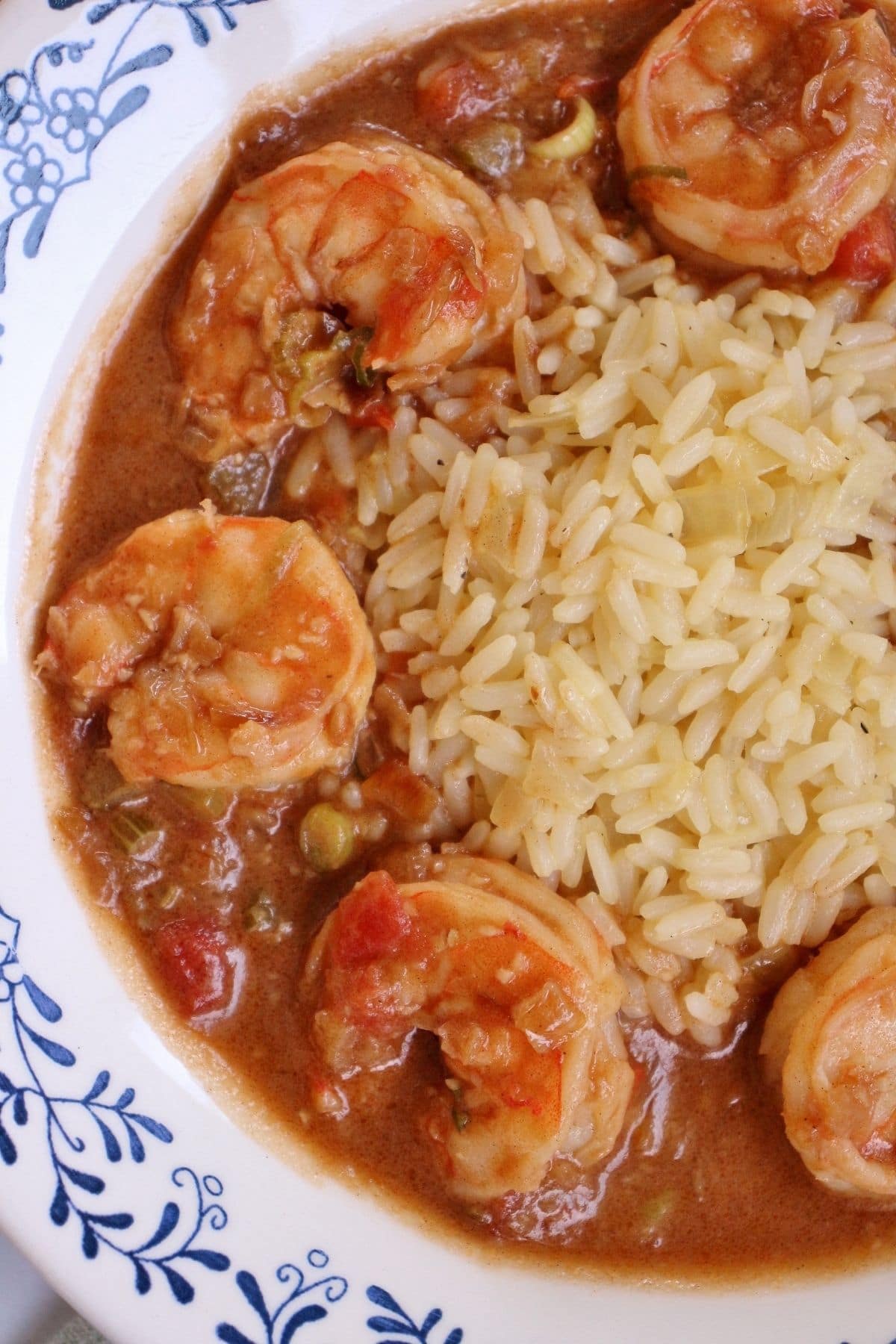 Jambalaya is a one-pot dish featuring rice, aromatics and spices. Variations with different proteins are common ranging from seafood to chicken and andouille sausage jambalaya. The ingredients cook together, and the rice absorbs all that incredible flavor as it cooks.
Gumbo is a thickened soup which like the previous dishes often includes several proteins such as chicken, sausage, and shrimp. It also typically features okra, and is served over rice much like the étouffée.
What is roux and how is it used in Cajun cooking
New Orleans shrimp étouffée begins with a roux, which is a French term describing a combination of equal parts fat and flour used to thicken a sauce, soup, or stew. There is so much French influence in Louisiana cooking that this is not surprising, but it's important to understand the different types (or colors) of roux before getting started.
From lightest to darkest you have white, blond, and brown roux. Believe it or not, the longer you cook a roux (and the darker the color) the less thickening power it has. Different colors of roux serve different purposes and are used in varying cooking applications.
In Cajun cooking you will often see darker brown roux used as the foundation in dishes like gumbo and étouffée. For this Cajun shrimp étouffée recipe you will definitely want to cook your roux until it's a deep chocolate brown color, but not burnt.
Ingredient notes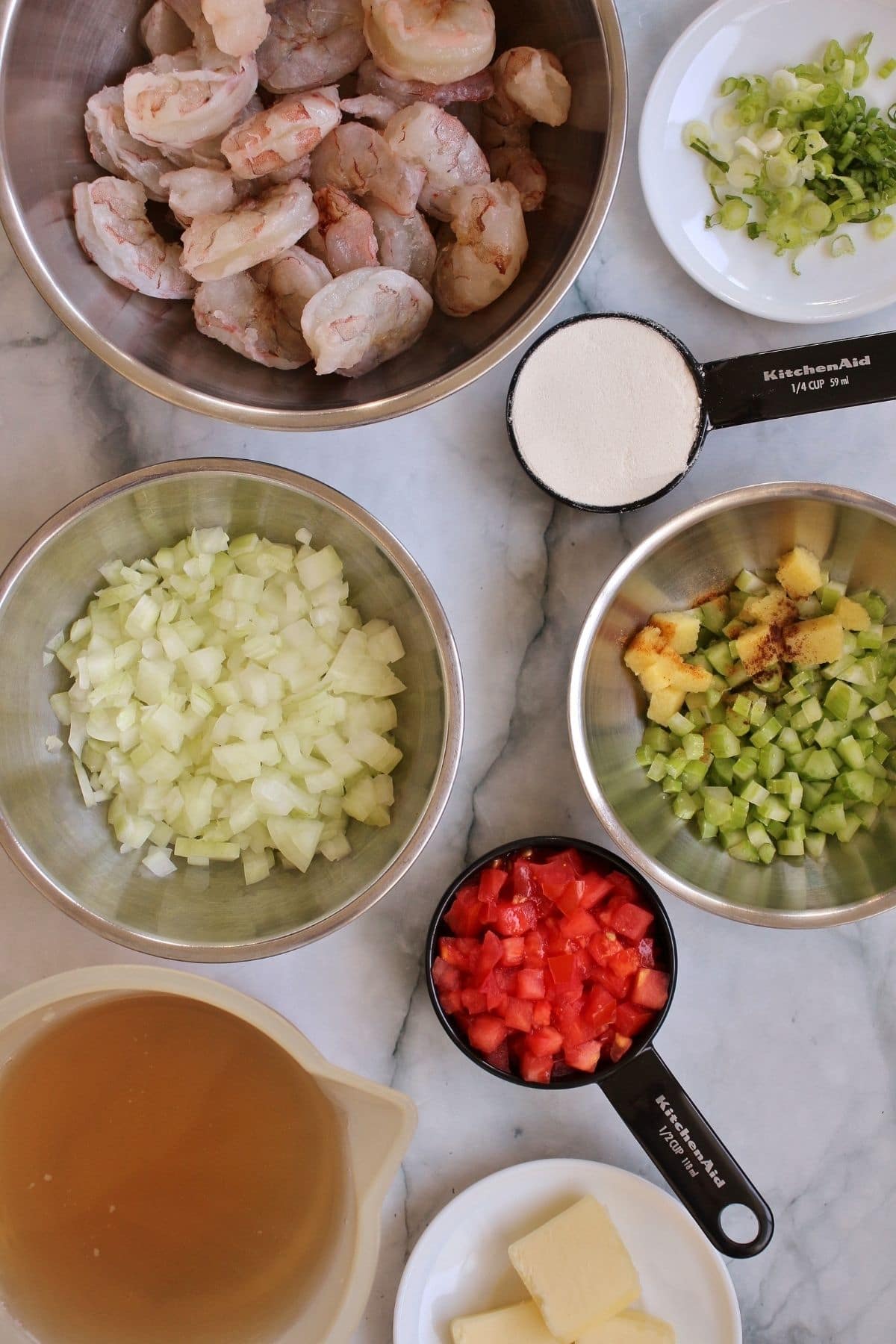 Shrimp and crawfish are both typical proteins for étouffée, but shrimp is much easier to source for most people. If you're in the United States, I recommend purchasing wild caught Gulf shrimp if at all possible as opposed to the farmed frozen variety. Not only is it safer to eat, but more sustainable, and likely more local even if you're not from the Gulf area.
You'll want to completely peel your shrimp, including removing the tails, and devein them before cooking.
Although you can use other shellfish stock for this recipe, I recommend making your own super easy shrimp stock using the shells you remove from the shrimp. This is the best use of the entire shrimp, and it will save you from sourcing stock from elsewhere or spending more money to buy pre-made stock.
Tabasco sauce is the traditional hot sauce one would use to spice up their Cajun shrimp étouffée, however I opt for Frank's Red Hot in my kitchen. It basically resides on a pedestal in my refrigerator, and it's my hot sauce of choice for things like this. Use your favorite hot sauce. I won't judge 🙂
How to make shrimp stock from your shrimp shells
After peeling all of your shrimp, don't throw away those shells! Use them to make shrimp stock that you can use in this Cajun shrimp étouffée recipe. You can even use any leftover stock in other recipes. It freezes well if you make more than you need.
Add the shells to a pot. This recipe is really flexible, and you can basically add whatever you have lying around that you would normally add to a stock. I like to add some chunks of onion, a chopped celery stalk perhaps, a couple bay leaves, some peppercorns, and of course a bit of salt. The spices and aromatics are going to enhance the stock, but the main flavor will come from the shrimp shells.
Cover the shrimp shells with water (I never really measure this, but just make sure they shells are covered and can comfortably swish around). Bring the pot to a boil, then reduce the heat and simmer uncovered for anywhere from 30 to 45 minutes, give or take. The amount of time will depend on how much water you use and how well it reduces the flavor as it simmers.
You'll want the stock to smell shrimpy and be a nice orange-brown color. I'll usually give it a taste before calling it quits to see if I want to reduce it even further. Strain out all the shells and aromatics, cool, and refrigerate or freeze the shrimp stock until you're ready to use it. You only need 2 ½ cups for this Cajun shrimp étouffée, so plan to use the rest for something else.
How to make shrimp étouffée
Begin by making a brown roux. Add vegetable oil (or another neutral-flavored oil) to a pot over high heat. When the oil is hot, add the flour and whisk it in until smooth. Reduce the heat and continue whisking until the roux is a deep brown color, about 15 minutes (although depending on the thickness of your pan and the heat of your stove it may darken faster!) (PHOTOS 1-3).
Add chopped onions, and stir them into your brown roux using a wooden spoon. Cook for another 10 minutes or until the onions have softened and the mixture is glossy dark brown (PHOTO 4).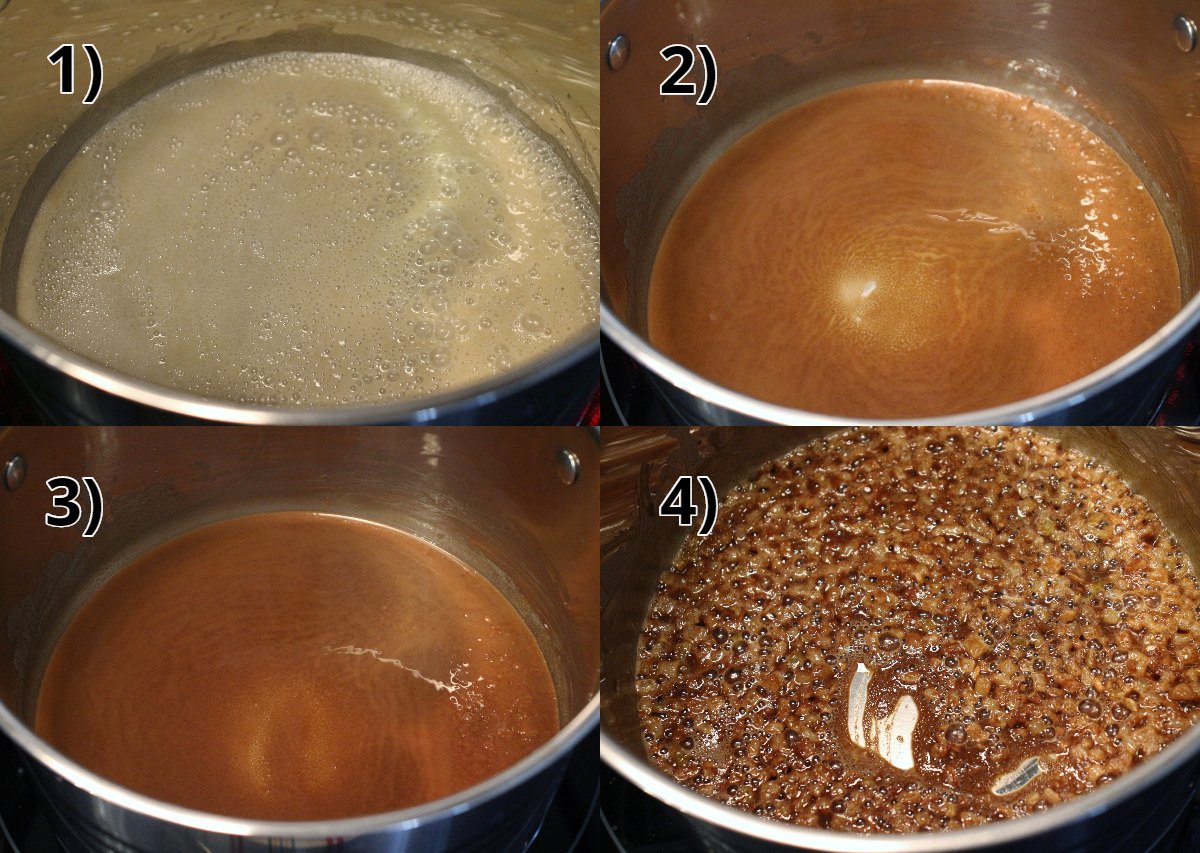 Next, add chopped celery, minced garlic, and a pinch each of ground allspice and cayenne pepper. Cook for another 5 minutes (PHOTO 5).
Then add some chopped tomatoes and shrimp stock, stirring to ensure the roux dissolves into the liquid (PHOTO 6). Raise the heat to high and bring to a boil, then reduce the heat to medium and simmer for 5 to 7 minutes stirring often so the mixture doesn't stick (PHOTO 7).
Next, reduce the heat to low and stir in the butter. It will melt and emulsify into the sauce, yielding a silky and creamy broth. Add the shrimp and scallion, then season with hot sauce, salt and pepper, and cook just until the shrimp is pink and cooked through (PHOTO 8). Remove from the heat and serve!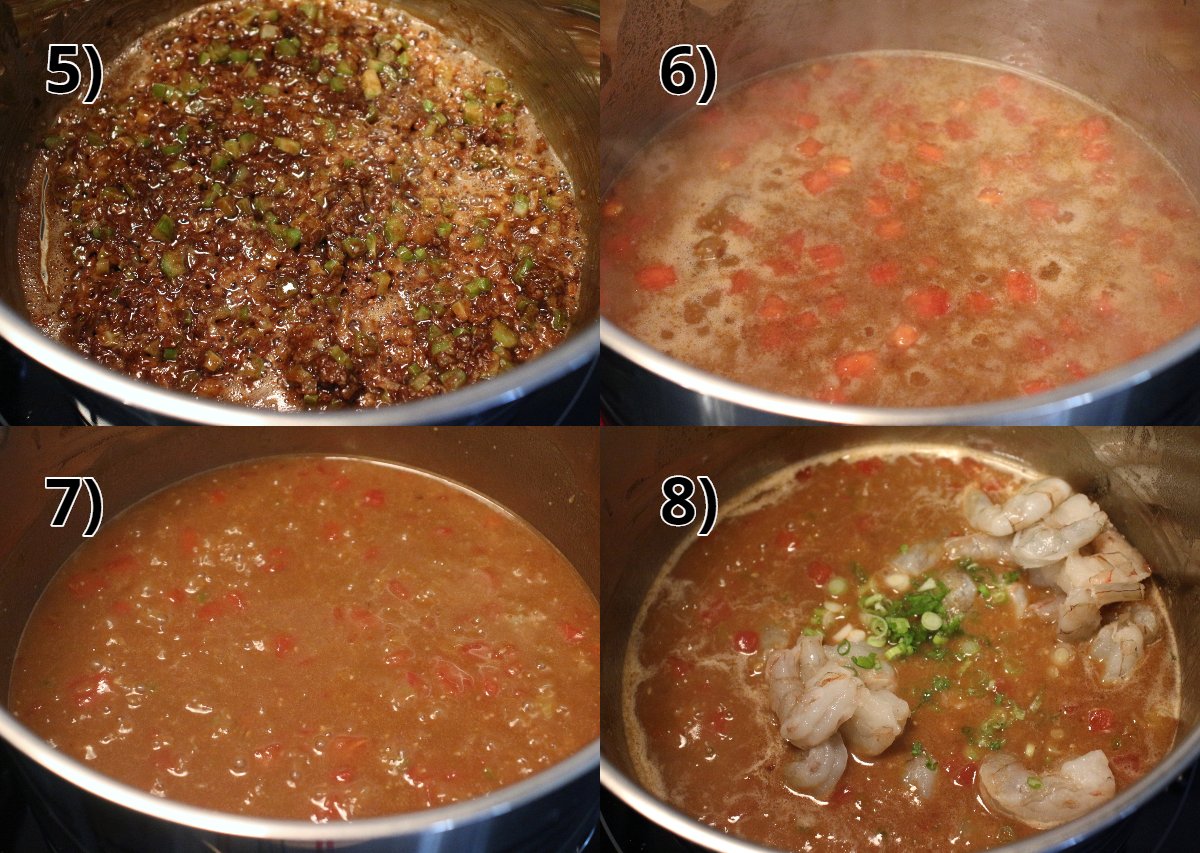 Please scroll to the bottom of the post for the full recipe (in a printable recipe card) including ingredient amounts and detailed instructions.
What to serve with it
Rice. You want to serve this Cajun shrimp étouffée with rice, but not just any rice. This is how to make the perfect rice to accompany your perfect étouffée.
First of all, you want to use parboiled long grain rice such as Zatarain's or Golden Canilla Dorado. This type of rice doesn't stick together and is really ideal for serving with your étouffée, and also for gumbo and jambalaya recipes.
You can use a ratio of 2 parts liquid to 1 part rice, or follow the directions on the package of rice to make sure you use the correct rice/liquid measurements for that particular brand.
Melt a little butter in a wide pot and stir in some chopped onion. Cook until the onion has softened, then stir in your rice coating it with the buttery onion mixture. Add a couple bay leaves and water or broth. Season with salt and pepper. Bring to a boil, then cover and reduce the heat to low. Simmer, covered, until the rice absorbs all the liquid.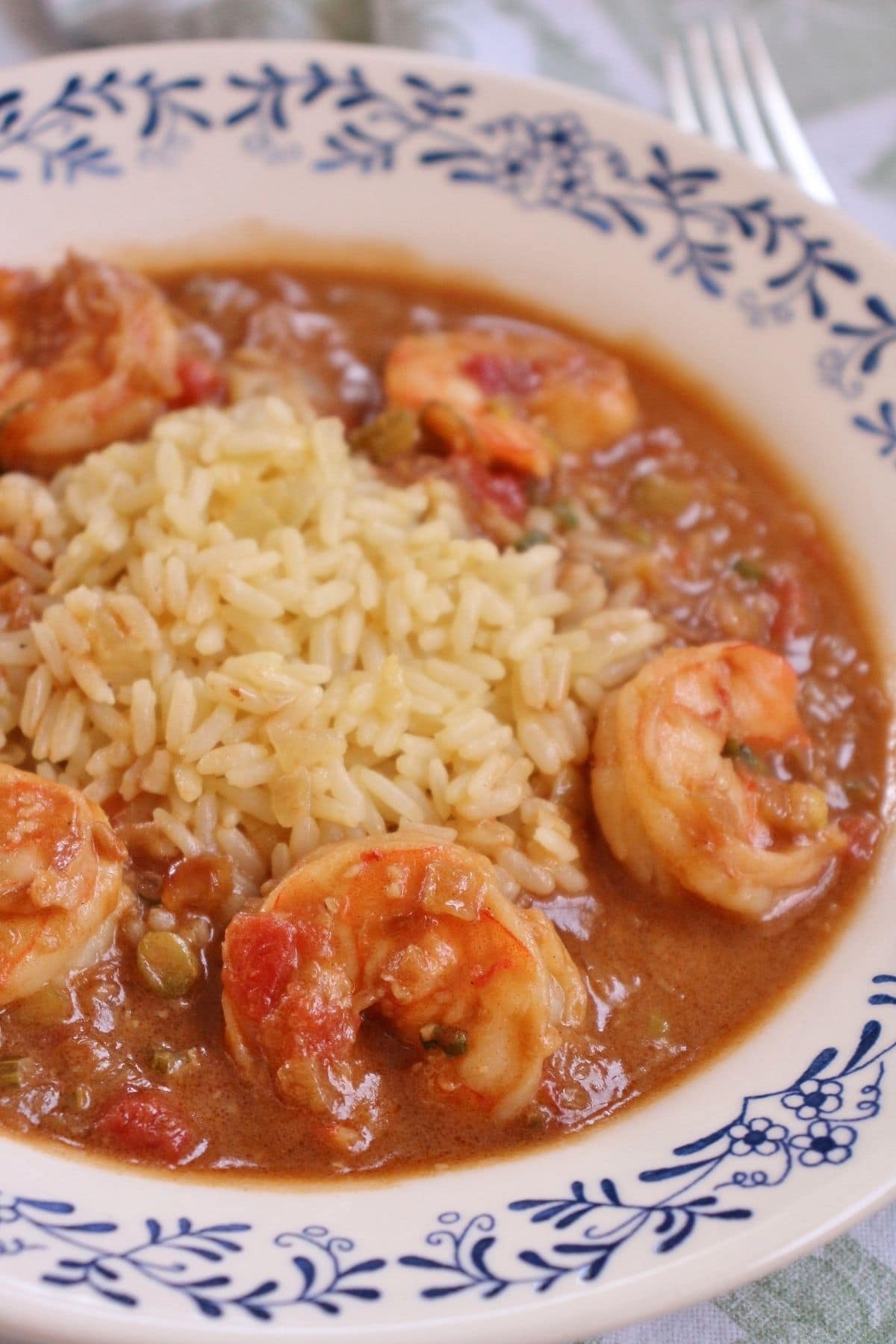 Make ahead and reheating instructions
Ideally, you want to serve your New Orleans shrimp étouffée the day you make it, however you can also make it 1 day in advance and gently reheat it. Place the étouffée in a covered pot on the stove top over medium-low heat, stirring regularly until it's heated through.
Be careful not to overcook the mixture so you don't overcook your shrimp, as it's quite delicate and can easily get rubbery if you cook it too long.
Variations and adaptations
Make chicken étouffée by swapping out the shrimp for an equal amount of chicken breast or tenders. Slice them into thin strips and cook them in a little oil until cooked through. Remove from the pan and follow the rest of the recipe as written, but swap out the shrimp stock for chicken broth or stock, and then stir in the cooked chicken when you would normally add the shrimp.
Another variation is using cooked crawfish tail meat, which is often sold frozen. Just stir in the thawed crawfish tails when you would normally add the shrimp, and heat them through.
This recipe can easily be halved or doubled!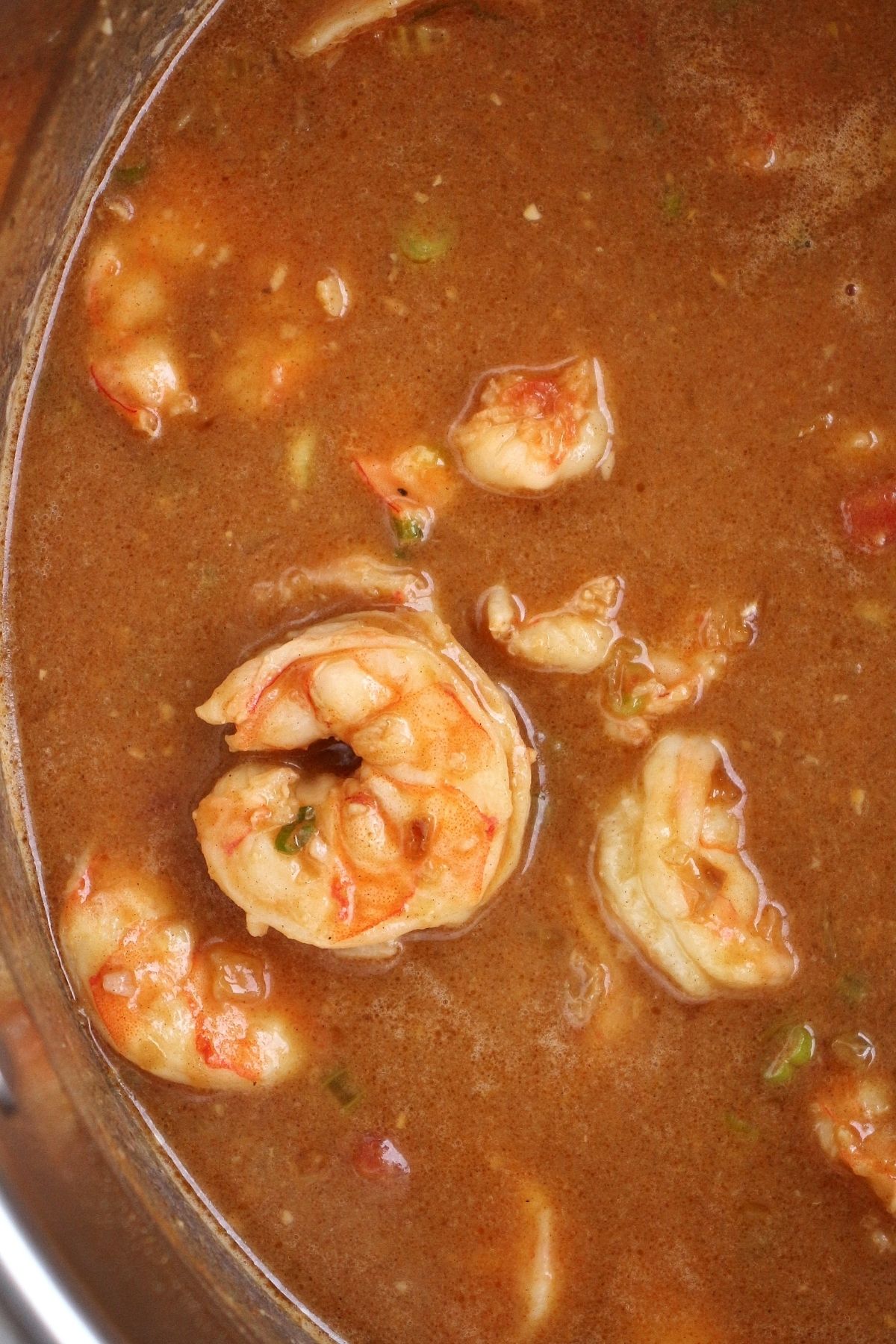 Other recipes you may like
Tried this recipe? Please leave a star ⭐️⭐️⭐️⭐️⭐️ rating in the recipe card below and/or a review in the comments section further down the page. You can also follow me on social media on Facebook, Instagram, and Pinterest!
Cajun Shrimp Étouffée
A Louisiana classic, this easy Cajun shrimp étouffée features a velvety sauce with just a hint of spice. Serve it simply with white rice and you can almost picture yourself hanging out in The Big Easy.
Print
Pin
Rate
Ingredients
¼

cup

vegetable oil

(or other neutral-flavored oil)

¼

cup

all-purpose flour

1

onion

chopped

1

stalk celery

chopped

4

cloves

garlic

minced or crushed

Pinch

allspice

Pinch

cayenne pepper

½

cup

chopped tomatoes

2 ½

cups

shellfish or shrimp stock

3

tablespoons

butter

1

pound

medium or large wild American shrimp

peeled completely and deveined

1

scallion

sliced

Hot sauce

such as Tabasco or Frank's Red Hot

Kosher salt and black pepper

4

cups

cooked white rice
Instructions
Make a brown roux by heating the oil in a large heavy-bottomed pot over high heat. Whisk the flour into the hot oil. It will immediately begin to sizzle. Reduce the heat to medium and continue whisking until the roux turns a deep brown color, about 15 minutes. (Although depending on the thickness of your pan and the heat of your stove it may darken faster!)

Add the onions, stirring them into the roux with a wooded spoon. Lower the heat to medium low and continue stirring until the roux turns a glossy dark brown, about 10 minutes.

When the onions have turned the roux shiny and dark, add the celery, garlic, allspice and cayenne. Cook for 5 minutes.

Then add the tomatoes and stock and raise the heat to high. Once the sauce has come to a boil, lower the heat to medium and simmer 5 to 7 minutes, stirring often to make sure the sauce doesn't burn or stick to the pan.

Reduce the heat to low and stir in the butter. Add the shrimp and scallions. Season with hot sauce, salt, and pepper. Once the shrimp are heated through, remove the pot from the heat. Serve over rice.
Notes
Although you can use other shellfish stock for this recipe, I recommend making your own super easy shrimp stock using the shells you remove from the shrimp

Add the shells to a pot with some chopped onion, a chopped celery stalk, a couple bay leaves, some peppercorns, and of course a bit of salt.
Cover the shrimp shells with water. Bring the pot to a boil, then reduce the heat and simmer uncovered for anywhere from 30 to 45 minutes, give or take. The amount of time will depend on how much water you use and how well it reduces the flavor as it simmers.
You'll want the stock to smell shrimpy and be a nice orange-brown color. Strain out all the shells and aromatics, cool, and refrigerate or freeze the shrimp stock until you're ready to use it. You only need 2 ½ cups for this recipe, so plan to use the rest for something else.

For the rice use parboiled long grain rice such as Zatarain's or Golden Canilla Dorado. This type of rice doesn't stick together and is really ideal for serving with your étouffée.

You can use a ratio of 2 parts liquid to 1 part rice, or follow the directions on the package of rice to make sure you use the correct rice/liquid measurements for that particular brand.
Melt a little butter in a wide pot and stir in some chopped onion. Cook until the onion has softened, then stir in your rice coating it with the buttery onion mixture. Add a couple bay leaves and water or broth. Season with salt and pepper.
Bring to a boil, then cover and reduce the heat to low. Simmer, covered, until the rice absorbs all the liquid.

Ideally, you want to serve your shrimp étouffée the day you make it, however you can also make it 1 day in advance and gently reheat it. Place the étouffée in a covered pot on the stove top over medium-low heat, stirring regularly until it's heated through.
To make chicken étouffée, swap out the shrimp for an equal amount of chicken breast or tenders. Slice them into thin strips and cook them in a little oil until cooked through. Remove from the pan and follow the rest of the recipe as written, but swap out the shrimp stock for chicken broth or stock, and then stir in the cooked chicken when you would normally add the shrimp.
To make crawfish étouffée, use cooked crawfish tail meat, which is often sold frozen. Just stir in the thawed crawfish tails when you would normally add the shrimp, and heat them through.
This recipe can easily be halved or doubled.
Adapted from Besh Big Easy
Nutrition
Calories:
571
kcal
|
Carbohydrates:
57
g
|
Protein:
27
g
|
Fat:
25
g
|
Saturated Fat:
7
g
|
Polyunsaturated Fat:
4
g
|
Monounsaturated Fat:
11
g
|
Cholesterol:
163
mg
|
Sodium:
246
mg
|
Potassium:
215
mg
|
Fiber:
2
g
|
Sugar:
4
g
*All nutritional information is based on third-party calculations and should be considered estimates. Actual nutritional content will vary with brands used, measuring methods, portion sizes and more.*