This post may contain affiliate links, which means that I may receive a commission if you make a purchase using these links. As an Amazon Associate I earn from qualifying purchases.
After recently dining on excellent Cajun and Creole food at Boatwright's Dining Hall at Disney's Port Orleans Resort Riverside, I've been anxious to replicate some of these Louisiana favorites in my own kitchen. Luckily, soon after returning from my Walt Disney World trip I received a review copy of Besh Big Easy by Louisiana top chef Josh Besh. What perfect timing!
Although John Besh has written several cookbooks in the past, most are geared toward more refined cooking, less toward the comforts of home cooking. That has all changed with his newest release. If you've ever wanted to explore a cookbook that really gets down to the nitty gritty of Louisiana cookery, then Besh Big Easy is a great place to start.
The ingredient lists are generally quite short and straight-forward, occasionally requiring special ingredients, but only because those ingredients are pivotal to the cooking of the region (think blue crabs and crawfish). The method of prep is also brief and to the point. No showy flourishes here, just classic dishes prepared to perfection by one of the most celebrated chefs in the area.
Featuring 101 recipes, chapters in the book cover all the basics, ranging from Easy Apps; Soups & Bisques; Stew Pot; Gumbo; Veggies; Shrimp, Crab & Crawfish; Rice, Beans & Corn; Jambalaya; Big Fish; Butcher Shop; and Sweetness. With the exception of traditional sweet beignets (a recipe for savory crawfish beignets is included–see photo below), I can't think of a single "traditional" Louisiana dish that is missing from the book. There are entire chapters devoted to Gumbo and Jambalaya, two particularly popular favorites. I couldn't wait to get cooking!
My dilemma with new cookbooks is always in selecting the first recipe to try out. That's always a good sign that there are too many enticing options. After dining at Boatwright's Dining Hall at Disney World, I was anxious to try my hand at both gumbo and étouffée. After reading through Besh Big Easy, the jambalaya and bisque recipes also jumped out, offering quite a few delicious-sounding varieties. The bisques potentially require me to special order ingredients (such as fresh blue crabs or crawfish), so for now I passed over those and will plan on trying them in the future instead. I decided for my first foray into cooking from this book I would tackle the classic New Orleans Shrimp Étouffée.
Étouffée means "smothered," and refers to a cooking technique for a spiced and saucy stew prevalent in these parts. Shrimp and crawfish are both typical proteins for an étouffée, but shrimp is much easier to source. If at all possible, purchase wild caught Gulf shrimp as opposed to the farmed frozen variety. Not only is it safer to eat, but more sustainable, and likely more local even if you're not from the Gulf area. I hear all kinds of stories about shrimp… best be careful where it comes from, that's all I'm saying. Lucky for me, Whole Foods actually had a 50% off sale on wild caught Gulf shrimp recently which all but solidified my decision to make the New Orleans Shrimp Étouffée. Now I could have my shrimp and eat it too.
This shrimp étouffée is considerably easy to make, but does require some finesse. The key here is building flavors. You start off by making the roux, a process which takes about 15 minutes to get it a toasty dark brown. You then add the onions and cook for another 10 minutes or so. Another 5 minutes with the celery and garlic, and so on and so forth.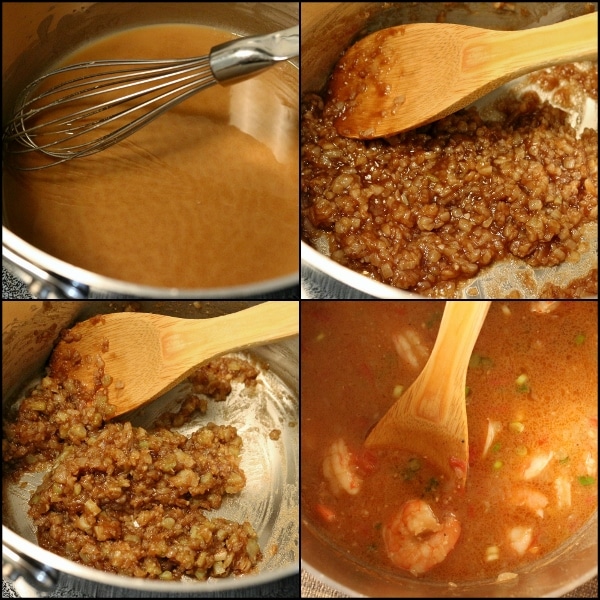 From left to right, top to bottom: roux, after adding the onions to the roux, after adding celery/garlic/spices, finished result
It takes longer than you would expect to cook each step of the way, but it's vital in making this dish correctly. The result is a slightly spicy shrimp dish with a delicately thickened broth that just coats the rice. Personally, I added plenty of hot sauce at the table to my own serving, but you can hold back when creating the dish in case other diners don't want too much spice in theirs. I also used Frank's Red Hot instead of Tabasco because that what I have. Two solid thumbs up for the étouffée and a definite recommendation for Besh Big Easy. Can't wait to keep on cooking!
*Disclaimer* I received no compensation to write this review other than a free copy of the book. My opinions are always my own.