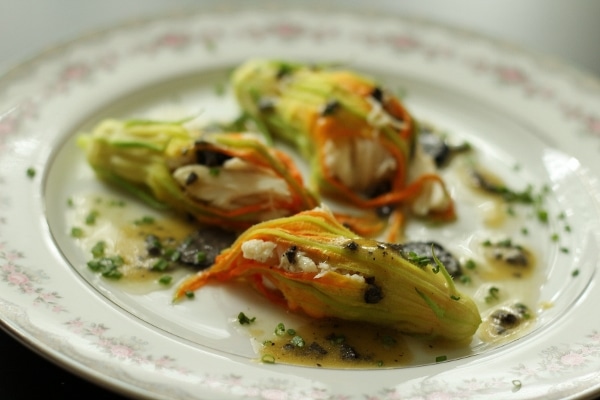 I have a bone to pick with the Ocean State. Yeah, the entire state of Rhode Island. I'm not happy with you. How can you call yourself the Ocean State and make it nearly impossible to find and purchase fresh, local crab meat?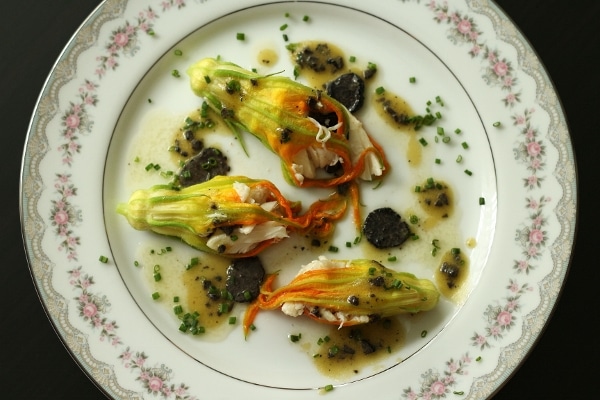 I found some great-looking crab meat from Maine recently at Whole Foods, but when I returned this week to purchase it they (along with every other store I called that would otherwise carry it) were out and wouldn't get another shipment for several days. Every other seafood market I called only carried canned/pasteurized crab meat. The nerve.
I had to suck it up and buy some higher quality pasteurized lump crab from Whole Foods, but it (along with every can I inspected at other markets) was from Indonesia. Why must I wait a week in order to eat local crab meat when my state has the most coast line of any state in the country and calls itself the OCEAN STATE.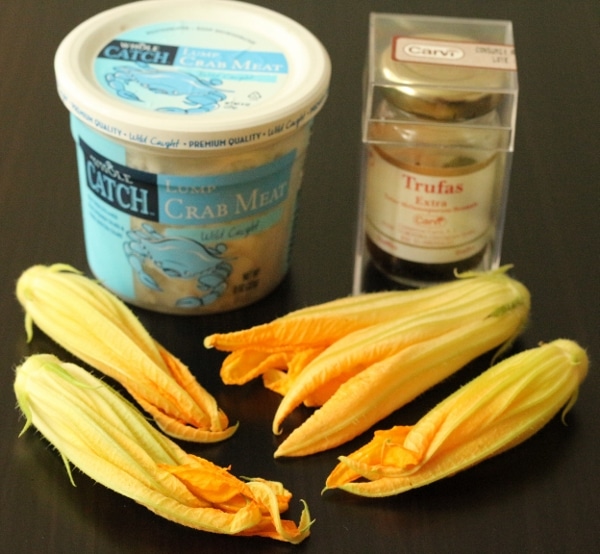 Don't even get me started on the laughs I got when I called around to see if anyone carried Peekytoe crab meat. Seafood vendors probably thought I was on glue. I miss New York City where I can find pretty much anything I want (even at a price).
Let's backtrack for a moment. The reason I just NEEDED this crab meat, why I couldn't wait until next week. For one thing, I needed to make my dish for this month's Creative Cooking Crew challenge, which was to "Stuff It." Meaning, something stuffed. Anything. Limitless options. Where to begin? The deadline for my post was looming, but I knew exactly what I wanted to make.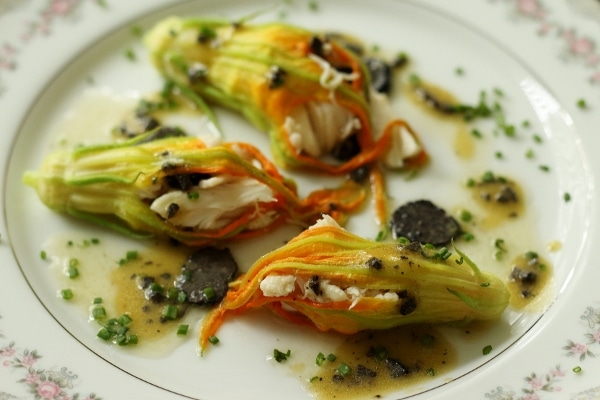 The dish I planned entailed fresh squash blossoms/zucchini flowers stuffed with crab meat and steamed. My squash blossoms were already picked that morning (they are best cooked the day they are picked), and I thought my trip to Whole Foods would be a quick one. It ended in frustration. I was pissed.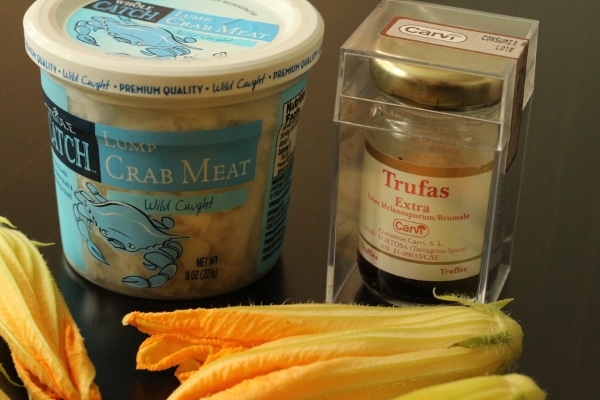 I made the best of my situation. I couldn't procure the best crab meat money could buy (that would have been Peekytoe, which is what Eric Ripert suggests for part of this recipe), but I got better quality pasteurized crab than what comes in most cans. I had fresh squash blossoms from my neighbor's yard (thank you, Candace!), and I had black truffles from Spain. Yes, black truffles. Did I forget to mention that part?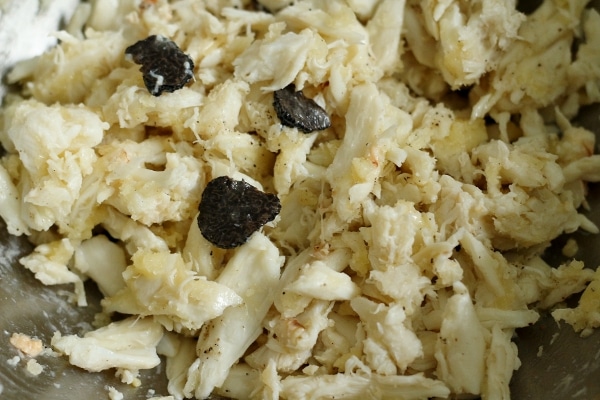 My best friend brought me a jar of black truffles from a recent trip to Spain as part of my fancy schmancy birthday gift (thanks, AJ!). I was ready to rock and roll with this recipe provided by Eric Ripert, seafood master extraordinaire, in a cookbook entitled Harvest to Heat featuring some of the country's best chefs (including a couple from the Ocean State!), and local farmers. Ripert actually shares a similar recipe in his cookbook Avec Eric as well, but that one lacks truffles and instead features mustard.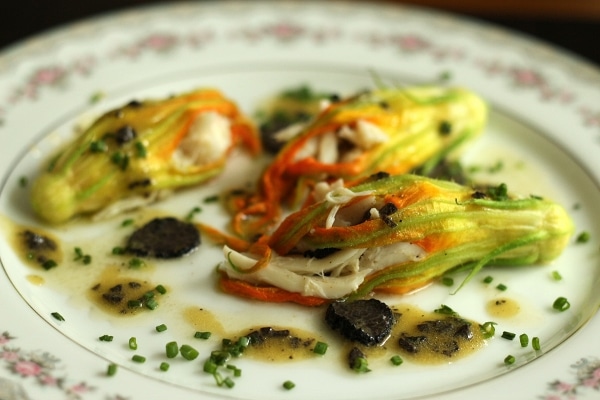 The lump crab meat actually turned out to be really good. Even though it wasn't local, it was the best that was available to me on this given day, and I really enjoyed it. I decided to halve the recipe (although I will share the complete version below), but still had extra crab filling left over even with an extra squash blossom to stuff (perhaps my blossoms aren't quite as large as Ripert's). I used my leftover crab the next day to make a truffle-laced crab salad for lunch. I'm so spoiled!!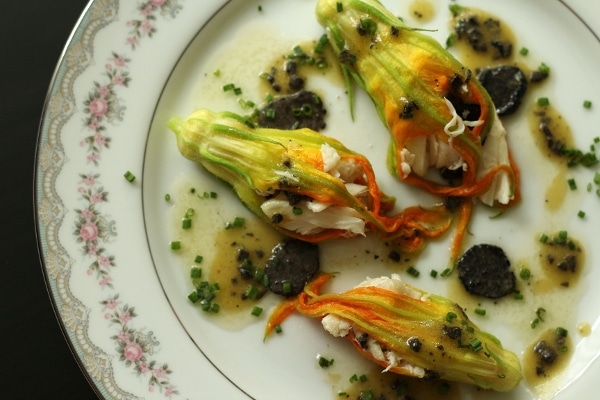 Squash blossoms have never been treated so well. The filling contains lump crab meat and homemade truffle butter. The blossoms are then stuffed and steamed. Meanwhile, more of the truffle butter is drizzled on each plate, and then a truffle and Dijon vinaigrette is drizzled atop the steamed squash blossoms. It's finished with a sprinkle of chives.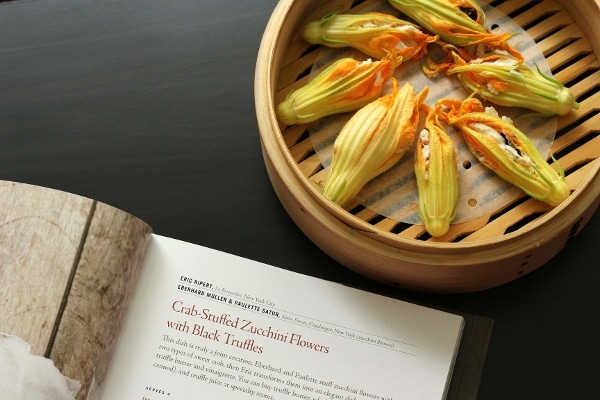 As much as I love cheese-stuffed-deep-fried zucchini flowers, they can't hold a candle to these much more delicate and fresh-tasting ones. The crab flavor really shines (I stuffed each probably past their capacity, plus the lump pieces of crab were very large and nearly exploded out of the flowers!), and the truffles give them an extraordinary edge. A tiny bit of acid in the vinaigrette rounds out this combination rich (hello, butter) yet light appetizer. Happy summer.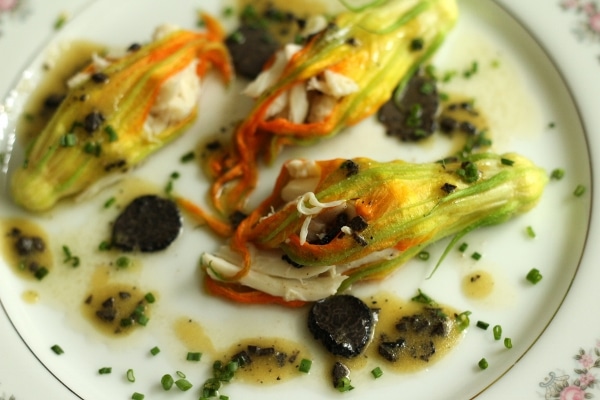 Here is some interesting info on telling the difference between male and female blossoms in case you're picking your own.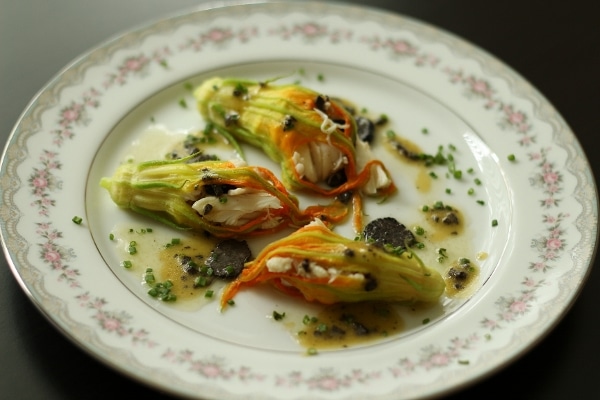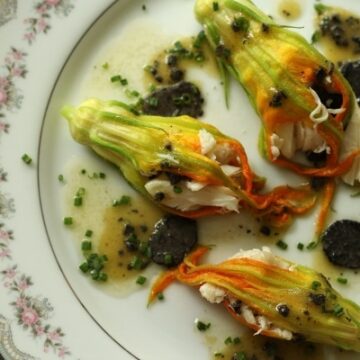 Crab-Stuffed Zucchini Flowers with Black Truffles
An elegant summer recipe from world 3 Michelin-starred chef Eric Ripert, these delicate zucchini flowers are filled with fresh crab meat and finished with black truffles.
Print
Pin
Share by Text
Rate
Servings:
12
pieces (4 servings as an appetizer)
Ingredients
Truffle Butter:
8

tablespoons

(1 stick) unsalted butter, softened

½

ounce

fresh black truffle

shaved with a mandoline, or chopped canned black truffles

Sea salt and freshly ground white pepper
Truffle Vinaigrette:
1

teaspoon

Dijon mustard

2

teaspoons

red wine vinegar

2

teaspoons

sherry vinegar

¼

cup

olive oil

½

tablespoon

chopped black truffle

fresh or canned, with juice if using canned

Coarse salt and freshly ground white pepper
Crab Filling:
½

pound

peekytoe crab meat

cleaned

4

ounces

lump crab meat

cleaned (I used all lump crab meat because I couldn't procure peekytoe crab)

Coarse salt

Crushed red pepper flakes
Zucchini Flowers:
12

large zucchini flowers

stamens removed and brushed clean

1

tablespoon

fresh chives

finely chopped for garnish
Instructions
Make the truffle butter: In a small saucepan, bring 1 tablespoon water to a boil and whisk in the butter. Add the truffle and mix until incorporated. Season to taste with salt and pepper. Cover the pan and keep warm over low heat. (My sauce actually broke several times until I finished the dish–it was first used in the crab filling and again for plating. If your sauce breaks, whisk in a few drops of warm water at a time until it re-emulsifies).

Make the truffle vinaigrette: Combine the mustard and both vinegars in a bowl and drizzle in the oil in a slow, steady stream, whisking to incorporate. Add the chopped truffle and the truffle juice if using canned and whisk until just blended. Season to taste with salt and pepper. Cover and refrigerate until ready to use.

Make the filling: Combine both crab meats and ¼ cup of the truffle butter. Season with salt and red pepper flakes.

Prepare the zucchini flowers: Have ready a bamboo steamer or lightly grease a steamer basket. Fill a large pot with 2 inches of water.

Using a teaspoon, gently stuff each zucchini flower three-quarters full with the crab meat filling, then gently twist the top of the flower closed. Arrange the stuffed zucchini flowers in the steamer basket; lay them flat even if piled on top of each other. Place the basket in the pot (or over it if it's a bamboo steamer); cover and steam until the crab filling is hot, about 3 minutes.

To serve: Equally portion the remaining ¼ cup truffle butter among 4 plates and carefully arrange 3 steamed zucchini flowers on top. Spoon the truffle vinaigrette around the zucchini flowers and sprinkle with chives. Serve immediately.
Nutrition
Serving:
1
piece
|
Calories:
153
kcal
|
Carbohydrates:
1
g
|
Protein:
6
g
|
Fat:
13
g
|
Saturated Fat:
5
g
|
Polyunsaturated Fat:
1
g
|
Monounsaturated Fat:
5
g
|
Cholesterol:
57
mg
|
Sodium:
394
mg
|
Potassium:
3
mg
*All nutritional information is based on third-party calculations and should be considered estimates. Actual nutritional content will vary with brands used, measuring methods, portion sizes and more.*