This red wine-infused Gnocchi al Sagrantino is served in a robust Amatriciana sauce featuring pancetta, onions, and chile flakes.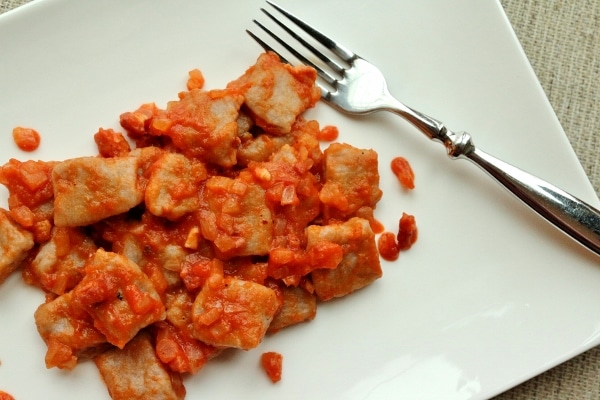 I have a fascination with dumplings from around the world. Asian-style dumplings are easily one of my favorites, but I'm an equal opportunity dumpling lover, be it pelmeni from Russia, pierogi from Poland, khinkali from Georgia, manti from Armenia, or gnocchi or gnudi from Italy.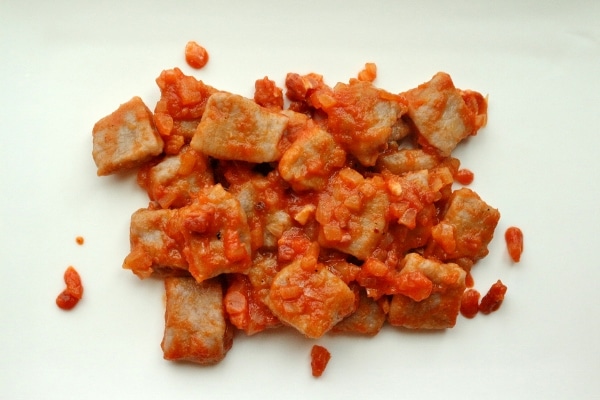 Gnocchi al Sagrantino all'Amatriciana translates to gnocchi with Sagrantino wine and guanciale-(or pancetta)-tomato sauce.
If you Google Gnocchi al Sagrantino, what you will find is gnocchi with a Sagrantino cream sauce. The version I'm sharing mixes the Sagrantino wine directly into the potato gnocchi dough.
This gnocchi typically has a reddish color, although mine were more like a purplish beige. I used Shiraz, so perhaps the color is a bit different than Sangrantino. Regardless of the hue, the point is to get that wine flavor right into the gnocchi themselves.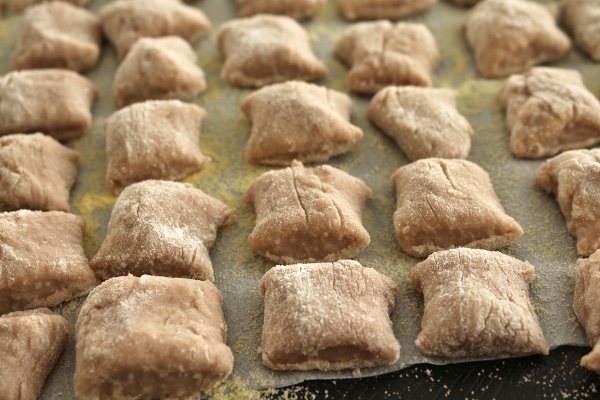 I boiled two potatoes that collectively weighed slightly more than what the recipe calls for (about 19 ½ ounces instead of 18), and perhaps because of this my dough was a bit too soft. I added more flour to tighten it up a tad, but it was still fairly soft, and even a bit challenging to roll out.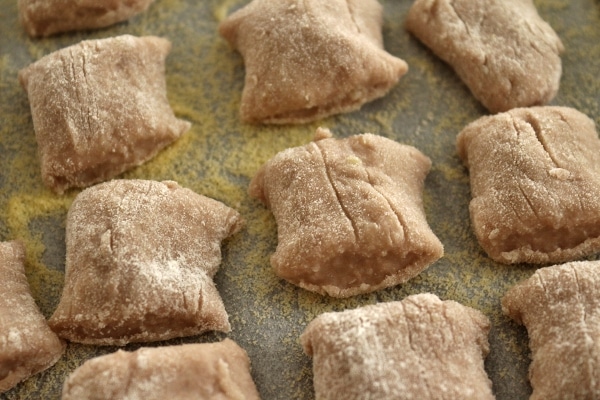 Fortunately, this particular gnocchi recipe does not require one to shape it on a gnocchi board, but rather to simply cut into pillows and set on a semolina-dusted tray. Easy peasy. On the plus side, the softness of the dough definitely adds to the tender quality of the gnocchi, so I'm not going to complain.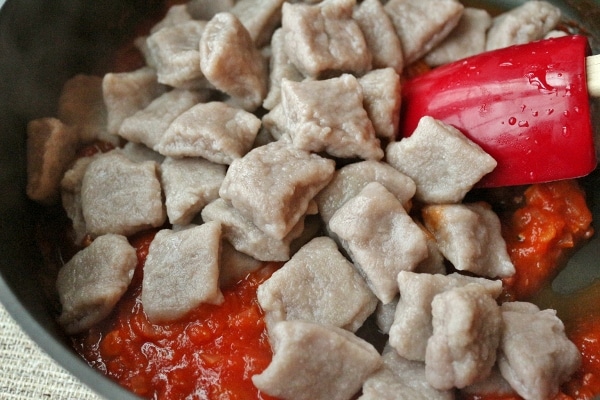 And tender, light-as-air gnocchi is exactly what I got! I actually divided my gnocchi onto two plastic cafeteria trays lined with parchment and dusted with semolina. I plastic-wrapped and froze one tray (and then transferred the frozen gnocchi to a freezer bag) and then cooked the other half the same day.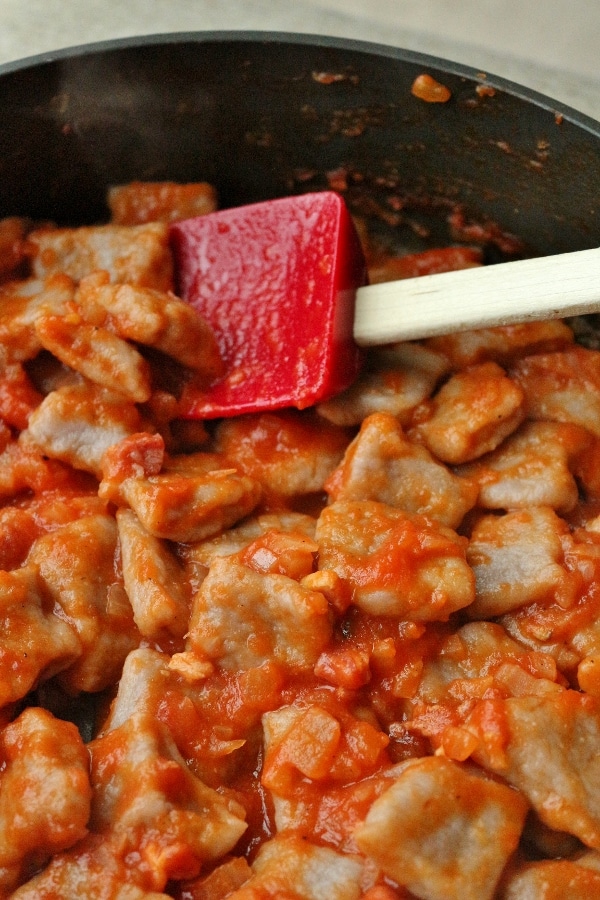 The sauce that accompanies these gnocchi is a classic all'Amatriciana (labeled Guanciale, Tomato, and Red Onion Sauce in the book). You can easily substitute pancetta for the guanciale, which is exactly what I did.
I rendered it over medium heat and actually drained off a bit of the excess fat before adding diced red onion to the mix.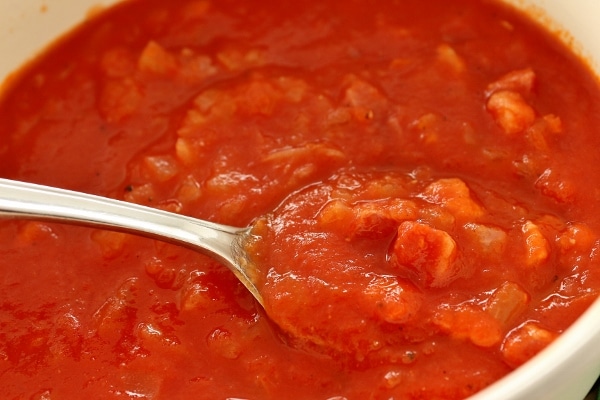 It gets a bit of a kick from some red chili flakes and is finished off with a smooth tomato puree. I just blitzed a can of San Marzano whole tomatoes in my blender and then patiently strained it, pressing on the pulp and seeds with the back of a spoon to get as much tomato through the mesh.
I discarded the seeds and maybe a couple tablespoons of actual tomato pulp trapped with my seeds in the strainer. It's worth a little elbow grease to get a nice smooth puree!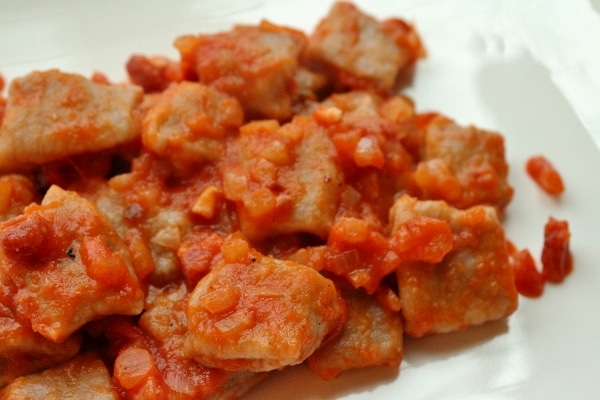 Alternatively instead of using your blender, you can pass the tomatoes through a food mill with small enough holes to prevent seeds from passing through. I may try that next time myself!
The entire mixture then reduces until slightly thickened. The recipe should yield 4 cups according to the book, but in reality I got 3--perhaps from over-reducing a bit--but in any case, it was more than enough!
I set aside 1 ½ cups to use that day with half my batch of gnocchi, and then froze the other 1 ½ cups in ½ cup portions, so I can easily defrost one portion and then cook off a single portion of gnocchi to go with it. Who says gnocchi can't be a weeknight meal?!
The result? Tender, melt-in-your-mouth pillows with the faint flavor of wine shining through, even when cloaked in a thick, throat-warming tomato sauce studded with crisp bites of pancetta. It's truly Heaven on Earth.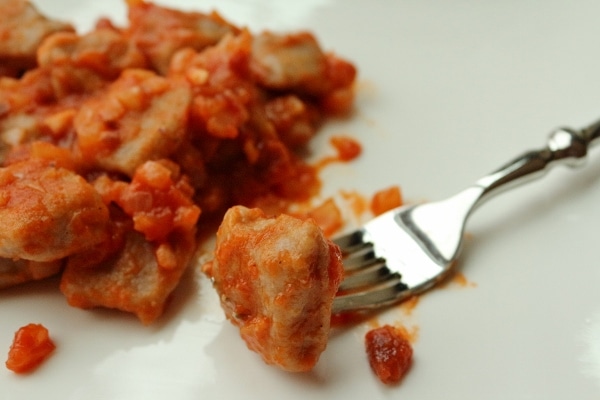 Any frustration I had working with my too-soft dough disappeared the moment I took my first bite. A solid two thumbs up!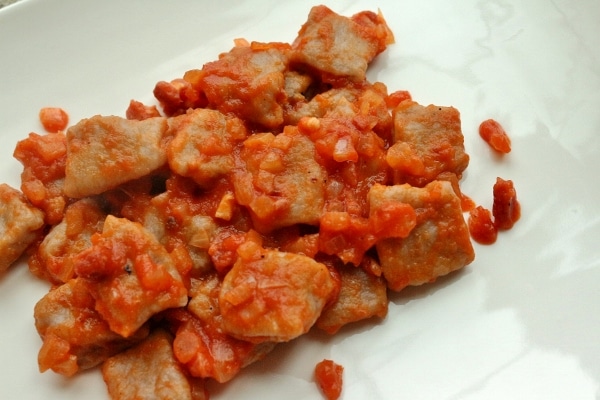 Other recipes you may like
Tried this recipe? Please leave a star ⭐️⭐️⭐️⭐️⭐️ rating in the recipe card below and/or a review in the comments section further down the page. You can also follow me on social media on Facebook, Instagram, and Pinterest!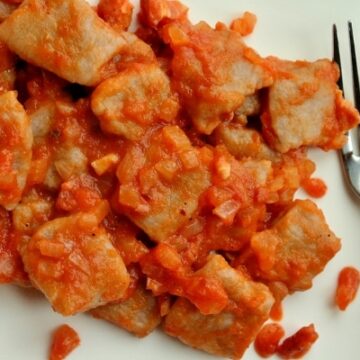 Gnocchi al Sagrantino all'Amatriciana
This red wine-infused Gnocchi al Sagrantino is served in a robust Amatriciana sauce featuring pancetta, onions, and chile flakes.
Print
Pin
Rate
Ingredients
Gnocchi:
500

grams

(18 ounces) russet or Yukon gold potatoes

110

grams

(½ cup) Sagrantino or other red wine

2

teaspoons

kosher salt

200

grams

(1 ¼ cups + 3 tablespoons) all-purpose flour

plus more for dusting

1

large egg

Semolina flour for dusting
Sauce:
115

grams

(4 ounces) guanciale or pancetta

cut into ¼-inch cubes

1

red onion

cut into small dice

¼

teaspoon

red pepper flakes

800

grams

(4 cups) canned whole peeled tomatoes, pureed and strained

Kosher salt and freshly ground black pepper
Instructions
To make the gnocchi: In a medium pot, cover the potatoes with cold water. Bring to a simmer over medium-high heat and cook until the potatoes can easily be pierced with a skewer, 15 to 20 minutes. Drain the potatoes in a colander and set aside to cool.

When cool enough to handle, peel the potatoes and rice them into a large bowl using a potato ricer or food mill. Add the wine, salt, all-purpose flour, and egg and mix by hand until the dough comes together (you may need to add some flour if it's especially soft–my potatoes weighed a bit too much and the result was an exceptionally soft dough that really needed extra flour to make up for the excess moisture). Transfer to a work surface and knead with your hands several times, until the dough is smooth and soft. Cover the dough with plastic wrap and let rest at room temperature for 30 minutes.

Line a baking sheet with parchment paper and dust with semolina flour. Cut off a chunk of dough about the width of two fingers and leave the rest covered with plastic wrap. On a work surface lightly dusted with all-purpose flour, use your hands to roll the chunk into a log about ½ inch in diameter. Do not incorporate too much more flour into the dough; add just enough so that the dough does not stick to the surface. Cut the log into ½-to-1-inch pieces.

Put the gnocchi on the prepared baking sheet and shape the remaining dough. Make sure that the gnocchi don't touch or they will stick together.

To store, refrigerate on the baking sheet, covered with plastic wrap, for up to 2 days, or freeze on the baking sheet and transfer to an airtight container. Use within 1 month. Do not thaw before cooking.

To make the sauce: In a large saute pan, cook the guanciale over medium heat until slightly crisp but still tender, 6 to 8 minutes. Strain off all but 1 tablespoon of the rendered fat (discard the extra fat or use it for another purpose). Add the onion and cook until it is soft but not browned, about 5 minutes. If the onion begins to brown, lower the heat. Add the red pepper flakes and tomatoes, turn the heat to medium-low, and simmer until the sauce is slightly reduced, 6 to 8 minutes. Season with salt and pepper. At this point, the sauce can either be refrigerated for up to 2 days or frozen for 1 month, or kept hot for serving immediately.

Bring a large pot filled with generously salted water to a simmer over medium-high heat. Add the gnocchi and simmer until they float to the surface, 1 to 3 minutes. Remove immediately with a slotted spoon and add it to the saute pan of sauce, along with 1 to 2 tablespoons of their cooking water. Simmer for 1 minute to let the dumplings absorb the flavor of the sauce. Serve right away with grated Parmigiano-Reggiano, if desired.
Nutrition
Calories:
602
kcal
|
Carbohydrates:
110
g
|
Protein:
19
g
|
Fat:
11
g
|
Saturated Fat:
4
g
|
Cholesterol:
31
mg
|
Sodium:
580
mg
|
Potassium:
1906
mg
|
Fiber:
9
g
|
Sugar:
7
g
*All nutritional information is based on third-party calculations and should be considered estimates. Actual nutritional content will vary with brands used, measuring methods, portion sizes and more.*