Although these Crêpes Parmentier are sophisticated in flavor, they are simple to make! Brittany-style buckwheat galettes are naturally gluten-free. They're the perfect wrapper for tender cubed potato, gooey cheese, and a fried egg with luscious runny yolk.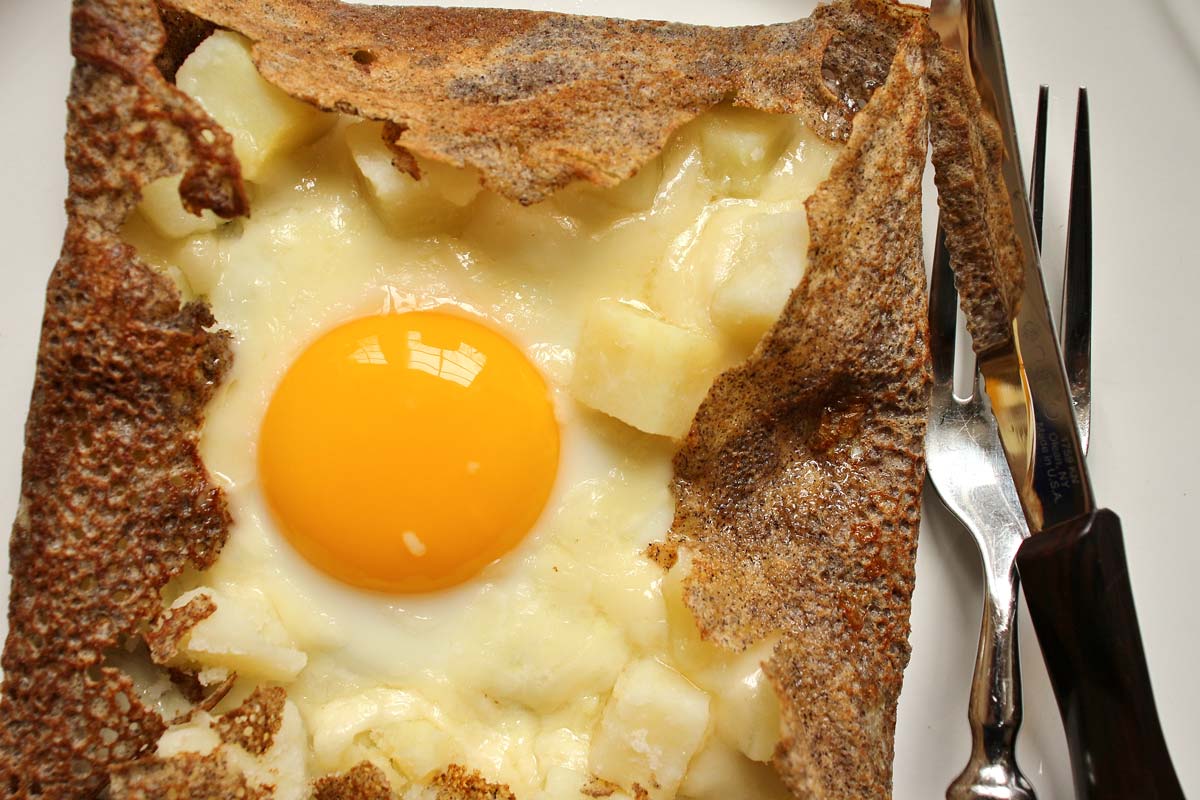 (This recipe for crêpes parmentier was originally published in August 2019, but was updated with new photos and content in 2020).
From a regional standpoint, crêpes hail from Brittany, a coastal region in western France just southwest of Normandy. They have gained popularly throughout the country, and are found in many crêperies in Paris.
Buckwheat crêpes in particular are referred to as galettes in Brittany, and typically feature a savory filling. They are also a delicious gluten-free alternative to traditional wheat crêpes.
Who was Parmentier?
Antoine-Augustin Parmentier was a badass French scientist from the 18th century. In short, he's best known for his extensive work with potatoes.
Because of him the humble potato became an acceptable food source for human consumption. Prior to his studies potatoes were designated simply as hog feed in most European countries.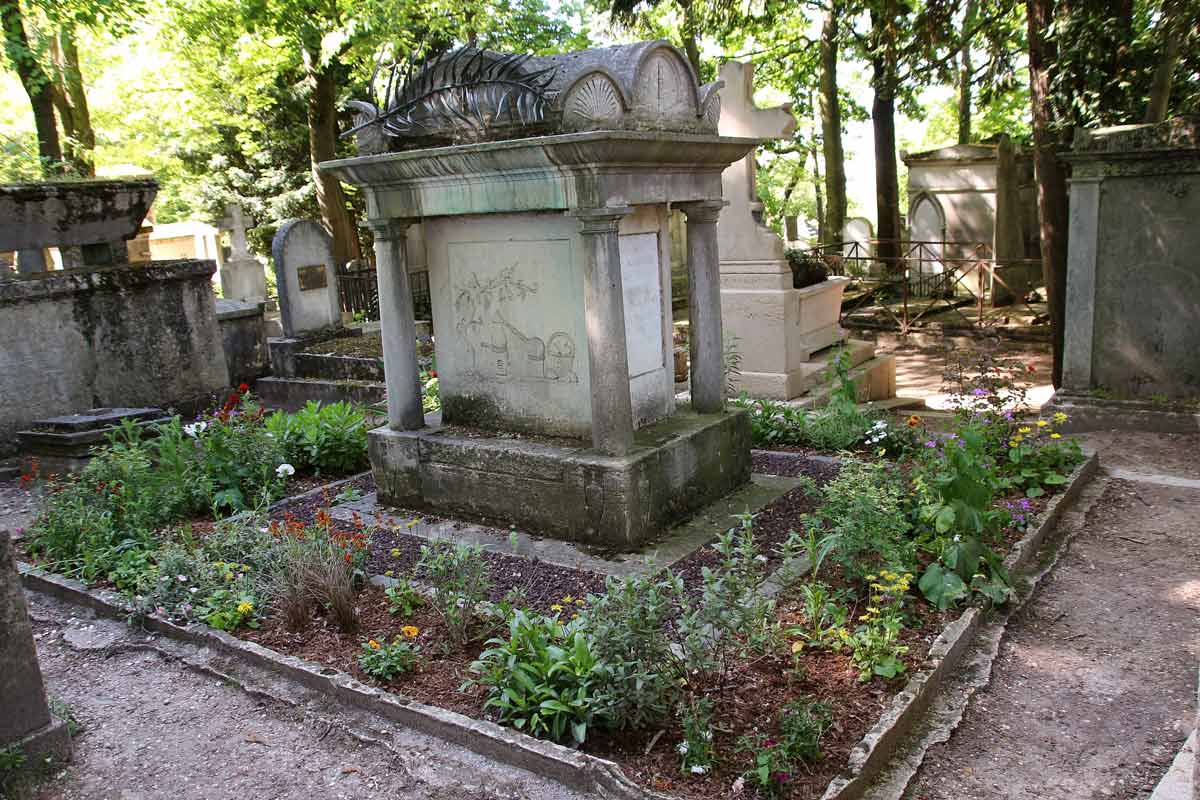 I was incredibly proud to visit his grave in Paris. Unsurprisingly it is adorned with carvings of potatoes, surrounded by potato plants, and even topped with a few edible tubers left by admirers.
Unfortunately Parmentier's grave location is not included on the downloadable map of "celebrity" graves at Père Lachaise Cemetery. But I planned ahead and found the location prior to arriving there, and was very pleased to have paid my respects to the Godfather of potatoes.
Parmentier's name is used to describe dishes that feature potatoes as an ingredient. It's also the name of a knife cut, which is common for cubing potatoes into a ½-inch dice.
Any culinary student or chef is very familiar with the knife cut, but we should all give a nod to the man responsible for the popularity of this starchy tuber.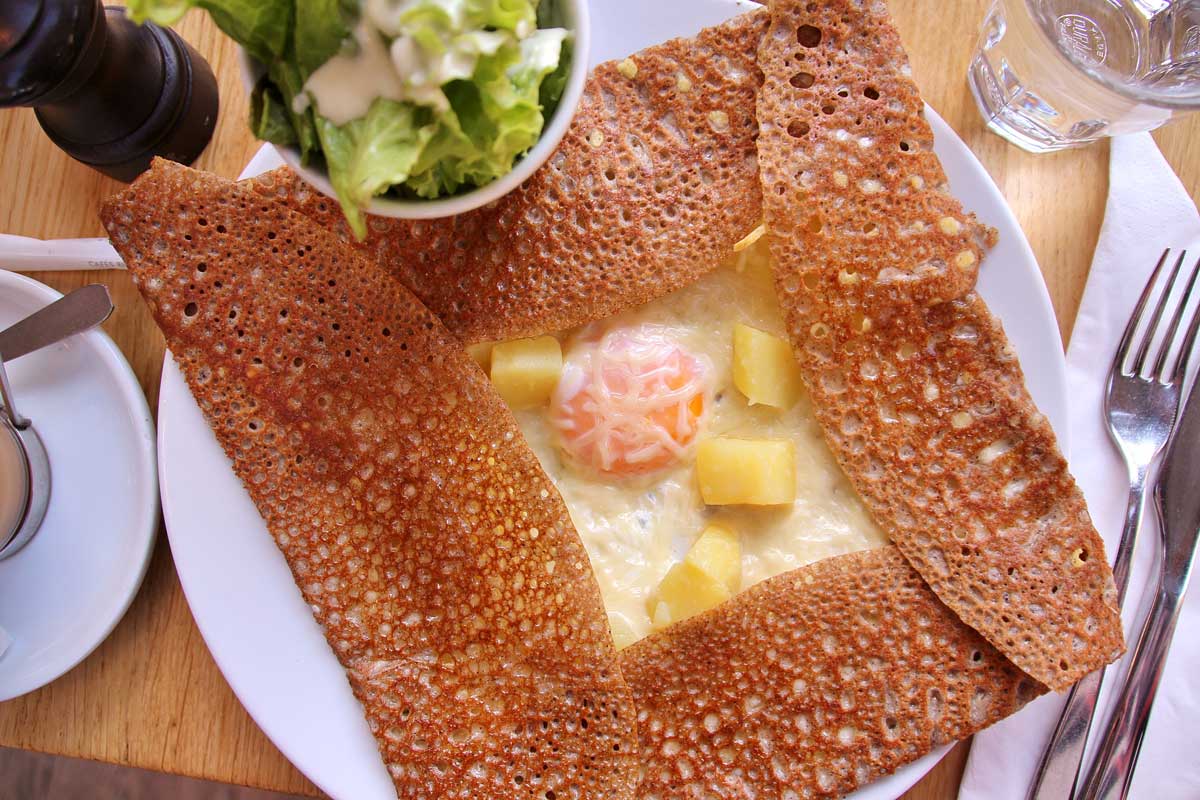 In Paris I dined on duck Parmentier, similar to a shepherd's pie with duck confit as the meat component and of course topped with velvety potato purée. I also enjoyed amazing crêpes parmentier!
This consists of a crispy buckwheat crêpe filled with melted Emmenthal cheese, an egg, and cubes of potato. Therefore it is this "Parmentier" dish that has inspired this post and subsequent trip down memory lane.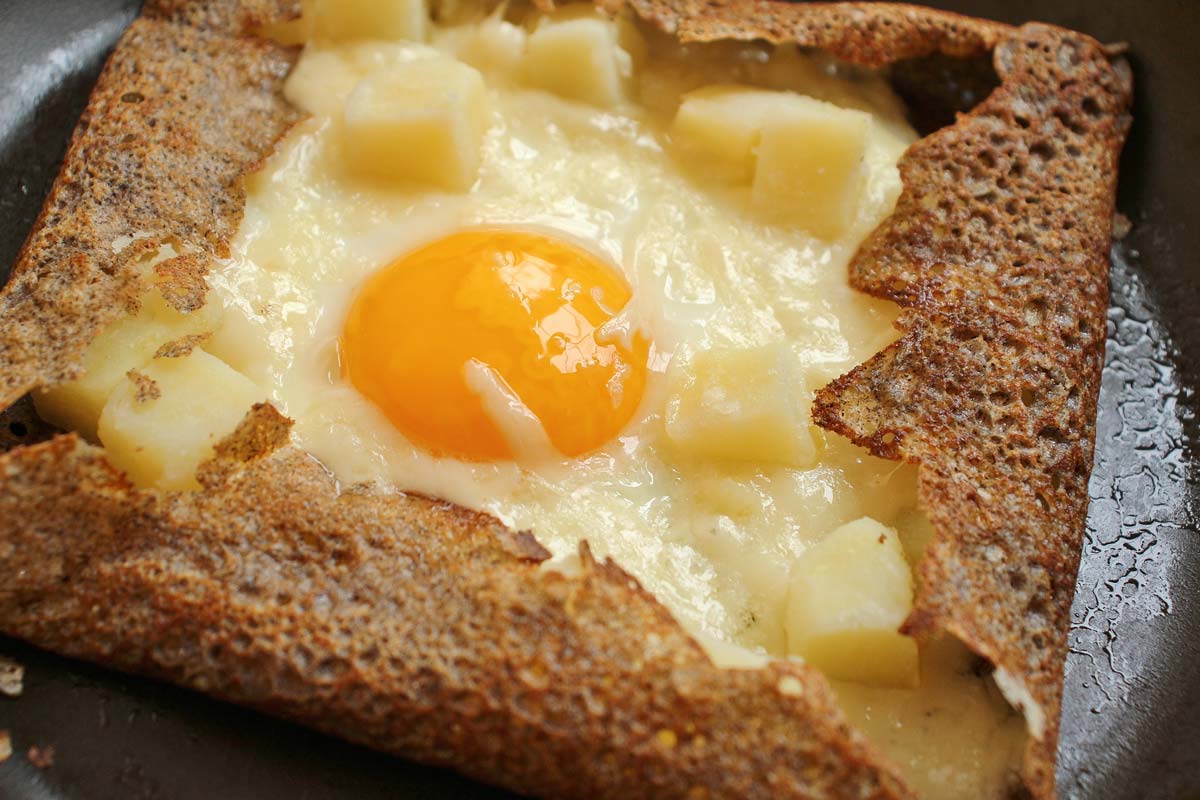 Helpful tools for making crêpes and galettes at home
In my attempts to recreate the crêpes parmentier from Paris, I lacked some of the tools one would use in a restaurant devoted to the dish.
If you plan to cook a lot of crêpes or galettes, however, you can invest in an electric pancake and crêpe maker. It even includes a wooden spreader, just like they use in a professional setup. You can also purchase a simple crêpe pan if you desire something that requires less storage space.
I use a large non-stick pan with very good results. My crêpes are approximately 10-inches in diameter, which is still smaller than the one in Paris. They are more than large enough to fold around my filling.
With this recipe you should yield about 8 galettes with a 10-inch diameter. Please keep in mind that similar to when making pancakes, the first one or two may not turn out as pretty as the rest of the batch.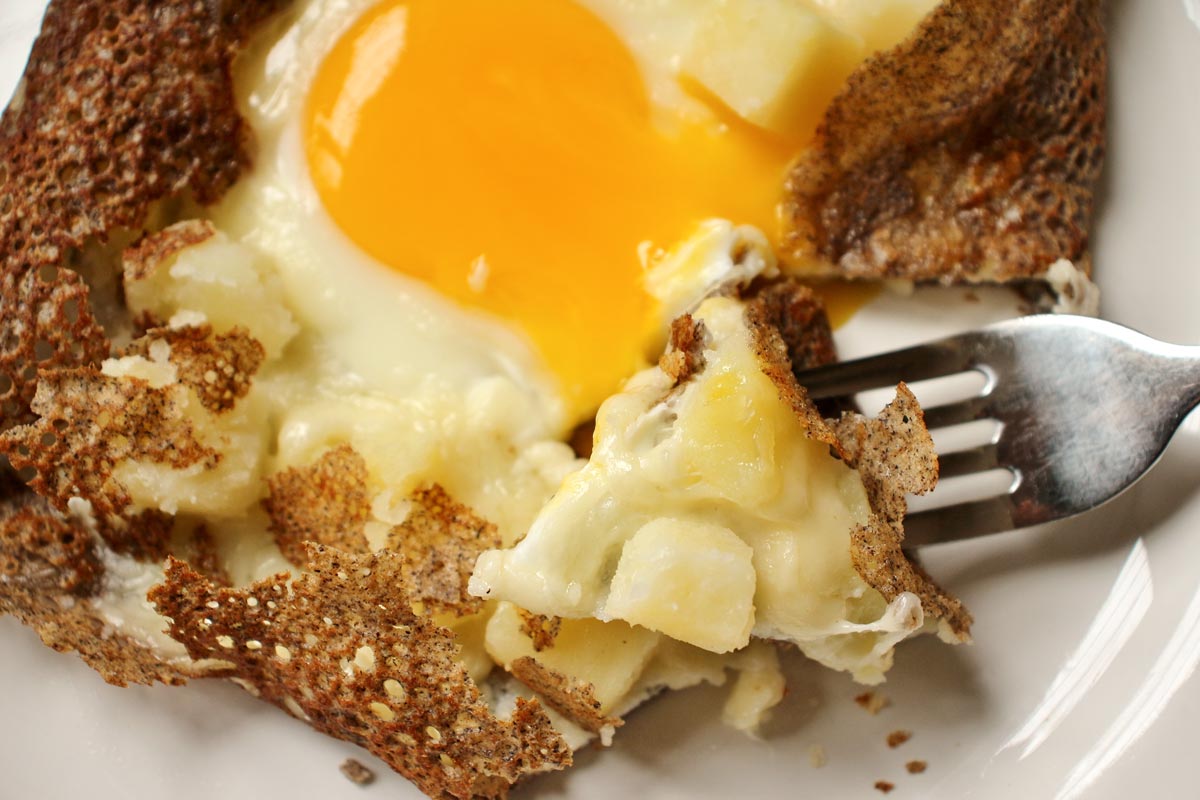 How to make the buckwheat crêpe batter
To make these gluten-free buckwheat galettes, you'll need to plan ahead at least 2 hours or overnight. Making the batter is extremely simple.
To the jar of your electric blender add buckwheat flour, salt, eggs, milk (skim and low-fat work fine), and a tiny bit of melted butter. I've seen some recipes use water instead of milk, so if you are aiming for a dairy-free galette, try it with water instead, and use a bit of oil in place of the butter.
Blend the mixture until smooth, and then transfer to another container. I like to scrape it into a measuring cup, which I'll use later for its easy pour spout. Make sure to cover it tightly with plastic wrap or foil before setting it in the fridge for 2 hours or overnight.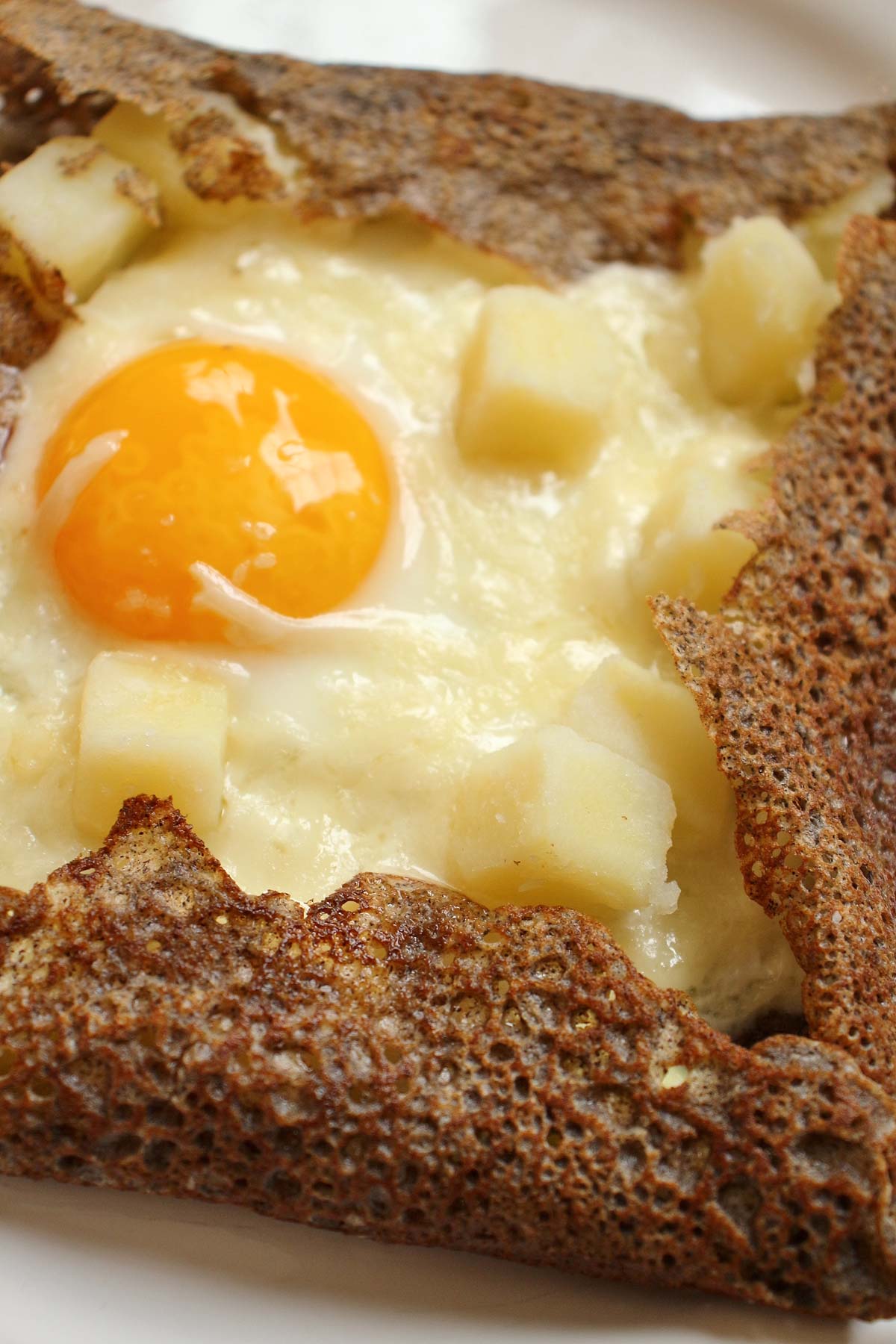 How to cook buckwheat galettes
When you're ready to cook your galettes, stir a little water into your batter to thin it out. Depending on how thick you'd like your galettes to be, use ¼ to ½ cup water, but I recommend about 6 tablespoons.
If your batter is too thick for your first crêpe, you can always thin out the remaining batter with a tiny bit more water. Heat up your pan over medium-high, and add a little bit of butter, oil, or an oil spray.
You want the pan to be pretty hot to get the characteristic craters. Your first crêpe likely won't be the prettiest of the bunch, so I usually just like to get it over with.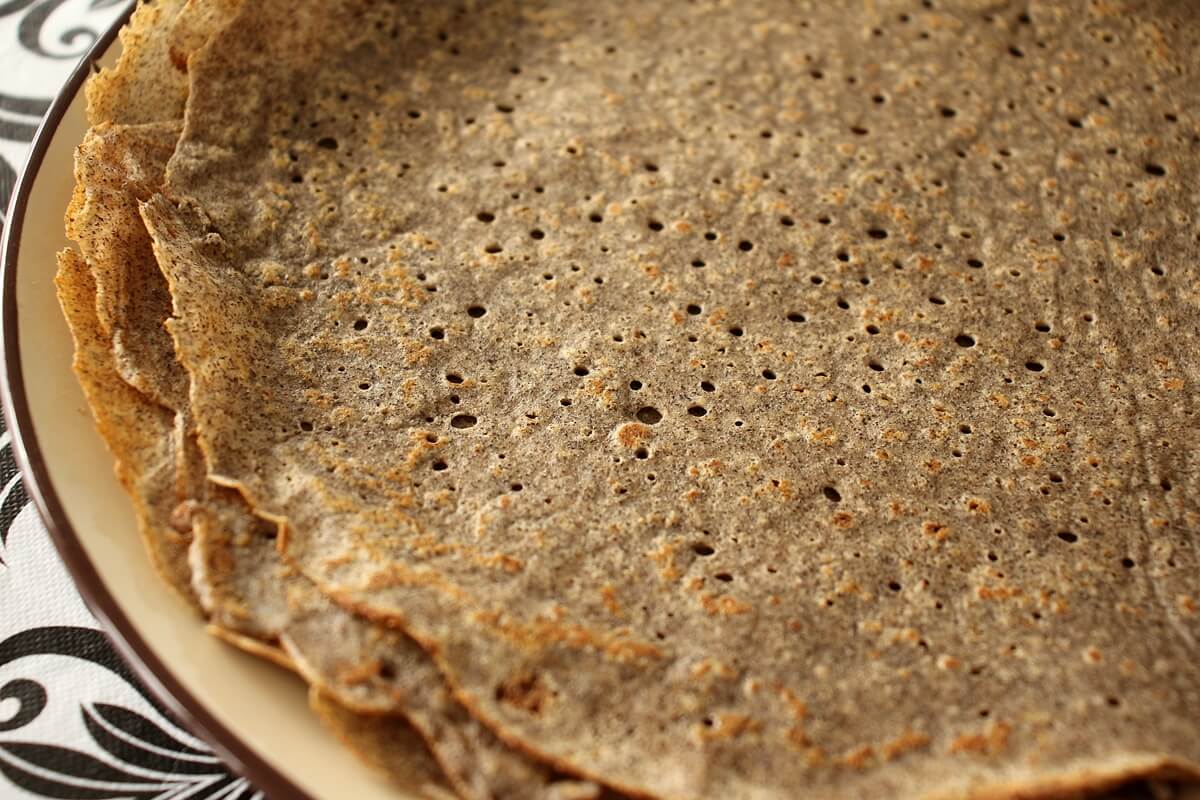 Pour a scant ⅓ cup of batter (or more, use your judgement based on your pan size) into the center of the pan and lift it off the heat. Quickly tilt and swirl the pan to evenly spread the batter around the surface. Set it back down on the heat and cook for 1 to 2 minutes until it's golden on the bottom and easily lifts from the pan with a spatula.
Again, this first one may be a little awkward. Mine sometimes sticks at the edges or the middle, but it's a necessary evil. The galettes that follow will be a lot better, I promise. Flip over the galette and cook it for 1 to 2 minutes on the other side.
Remove to a plate and set aside. Keep in mind, the edges may be a little dry, and that's ok. These will not be as tender as wheat crêpes typically used for dessert. Repeat with the remaining batter.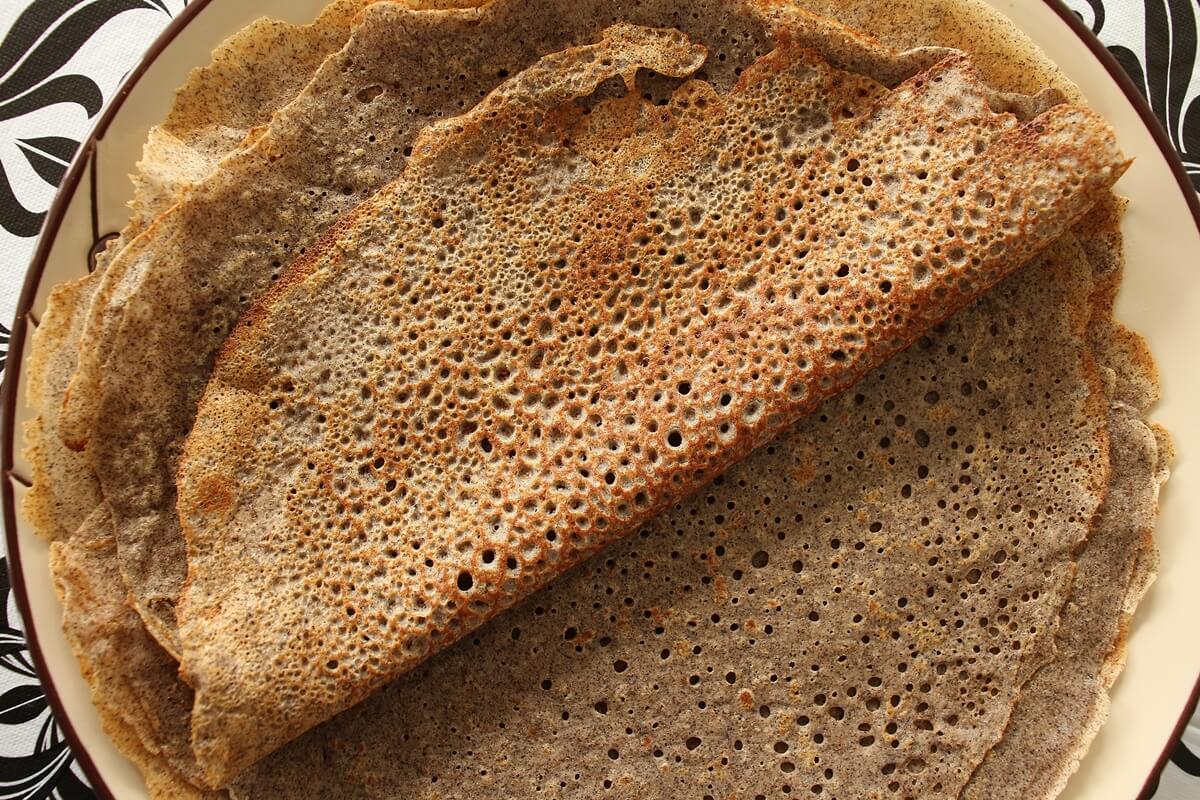 How to assemble crêpes parmentier
After you've cooked all your buckwheat galettes, you can either assemble them immediately or carefully wrap them and refrigerate or freeze them. If you plan to do the latter, put a piece of parchment paper in between so they don't stick.
I've made crêpes parmentier multiple times, and tested out different methods. One method cooks the egg separately before placing it over the melted cheese. The other cooks the egg directly on the crêpe, which I believe is how they do it in France. I will share my favorite, the latter.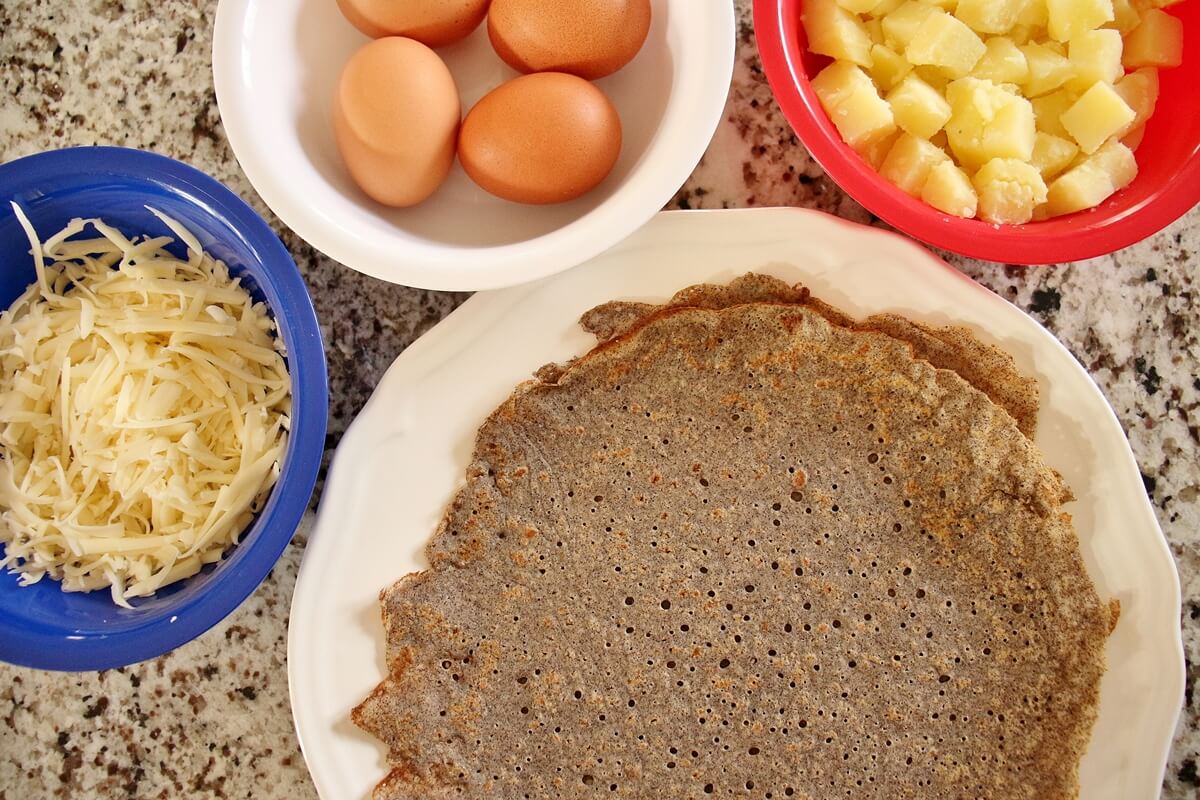 Heat a large non-stick pan over medium heat. You can use the same one you used to cook the galettes. Place one of the cooked crêpes with the crater-side down into the pan.
Crack an egg in a bowl, and then pour the egg into the center of the crêpe, making sure the yolk is centered as best as you can. If your crêpe has hollow craters some of the white may sink into these pockets. This is fine, don't panic.
Season with salt. Sprinkle shredded Swiss cheese around the yolk and over the white, and add cubed cooked potato around the perimeter as well.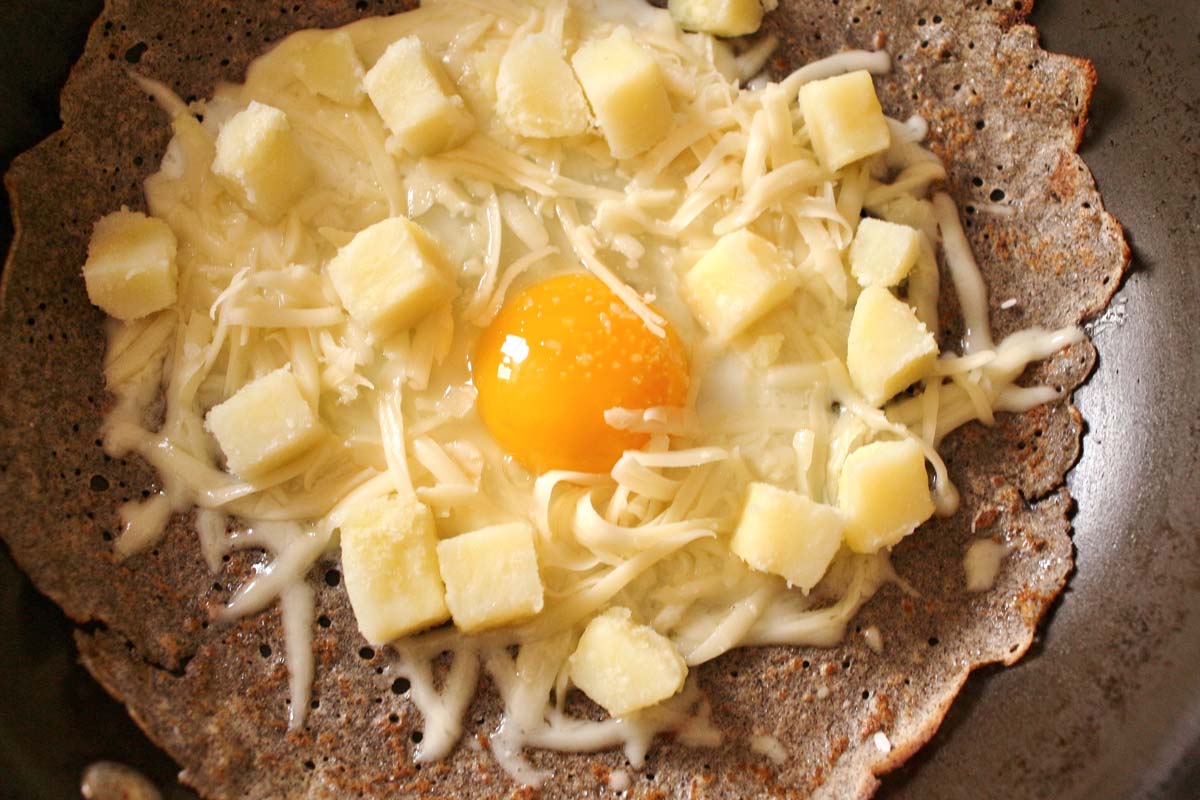 Cover the pan and lower the heat to low. Cook until the egg white is cooked through but the yolk is still runny. The bottom should be crisp.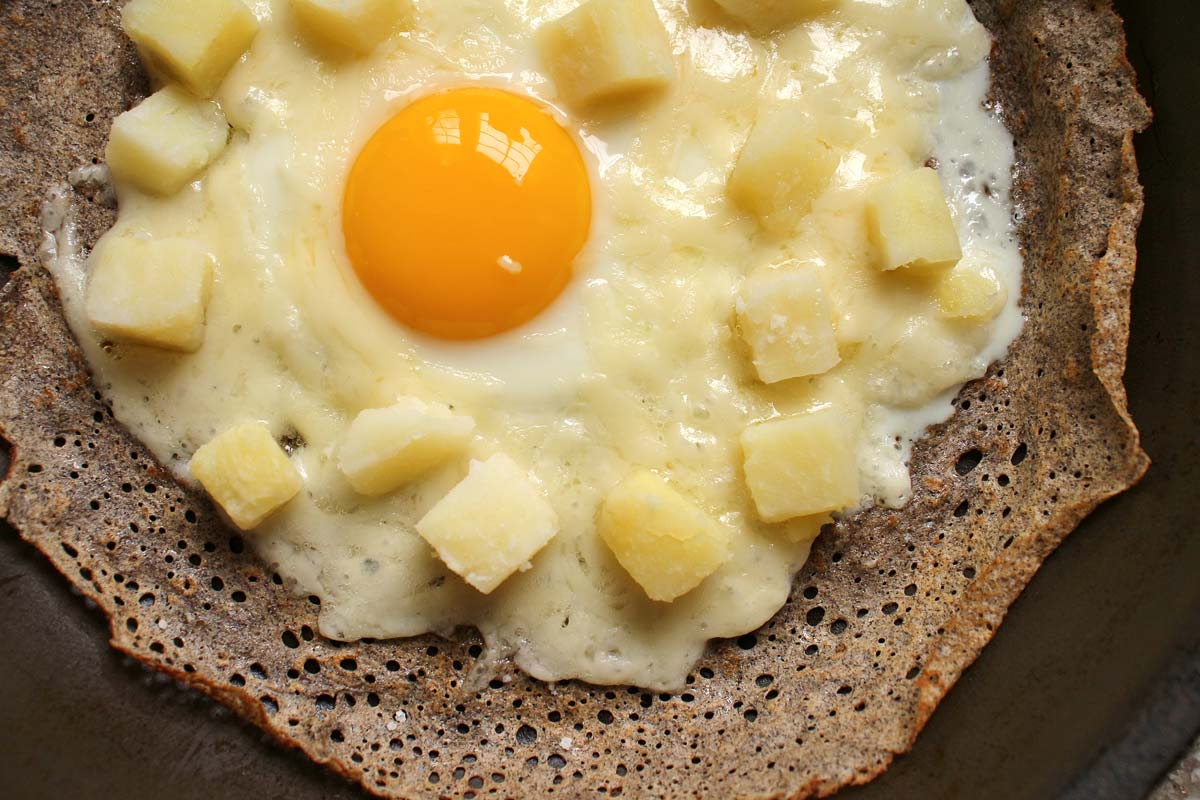 Remove from the heat and fold over the edges to create a square pocket. Slide onto a plate and serve your crêpes parmentier immediately. Repeat with the remaining galettes and additional filling.
Please scroll to the bottom of the post for the full recipe (in a printable recipe card) including ingredient amounts and detailed instructions.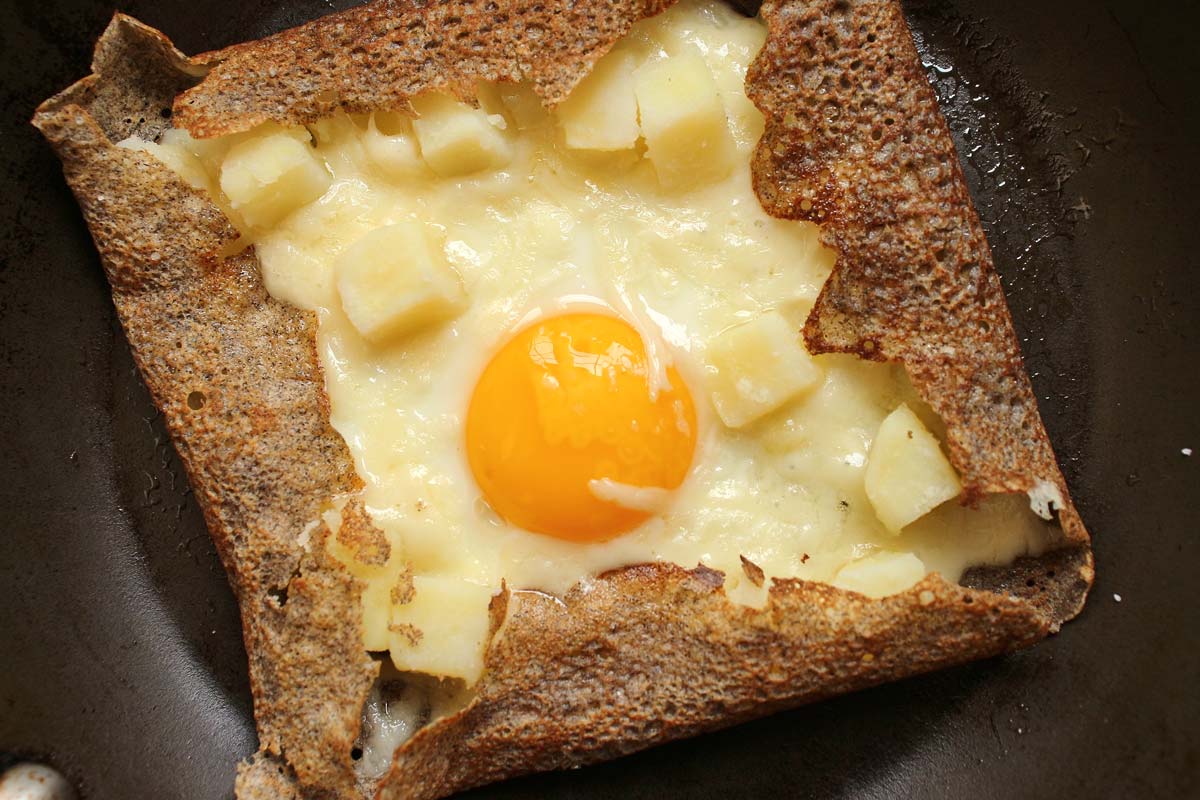 These crêpes parmentier are delicious and extremely satisfying! Consequently, they keep me full and satisfied for many hours! They also provide nostalgic memories of a Parisian breakfast I'll never forget.
Other filling ideas for your galettes
Complète: egg, ham, Emmental cheese
Carbonara: egg, Emmental cheese, bacon dices, crème fraîche, parmesan
Montagnard: raclette cheese, potato, onion, bacon dices, crème fraîche
Paysanne: Emmental cheese, simmered leek, bacon lardons, crème fraîche
Chevrette: goat cheese, walnut, crème fraîche, honey
Vegetarian: Emmental cheese, tomato, onion, mushrooms, crème fraîche, broccoli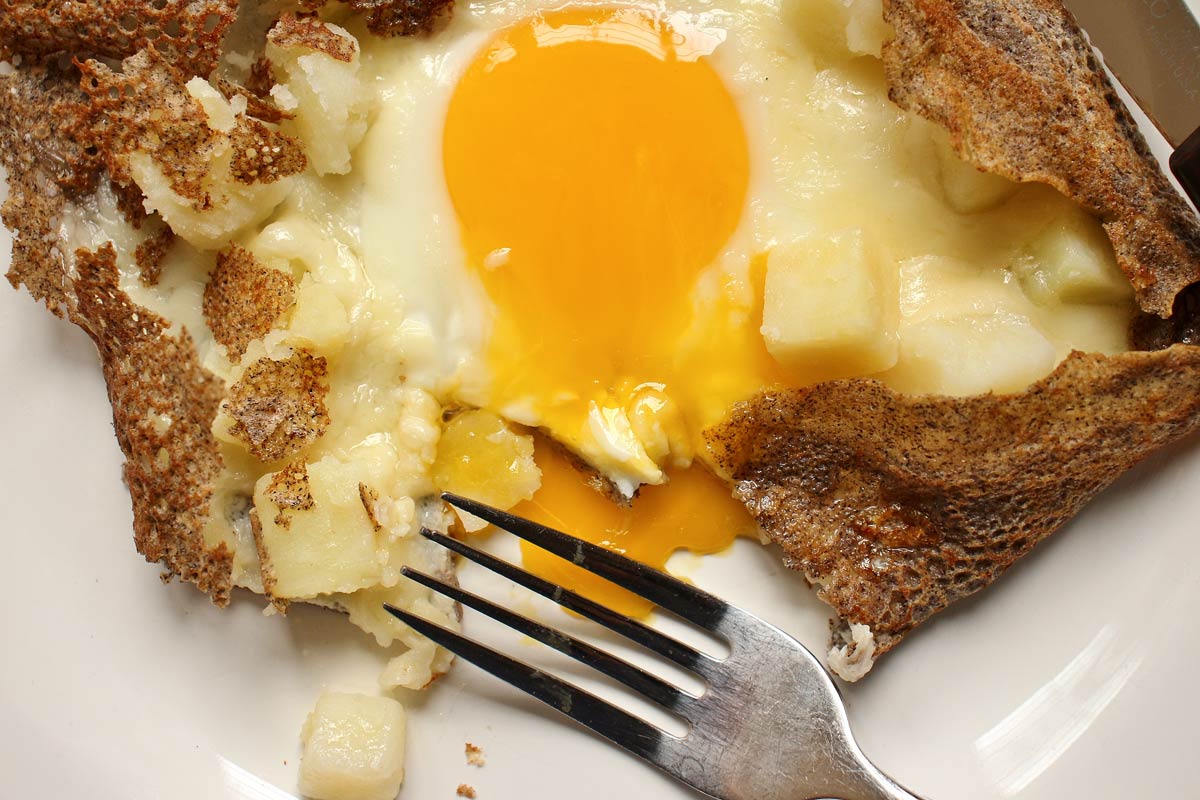 Other recipes you may like
Tried this recipe? Please leave a star ⭐️⭐️⭐️⭐️⭐️ rating in the recipe card below and/or a review in the comments section further down the page. You can also follow me on social media on Facebook, Instagram, and Pinterest!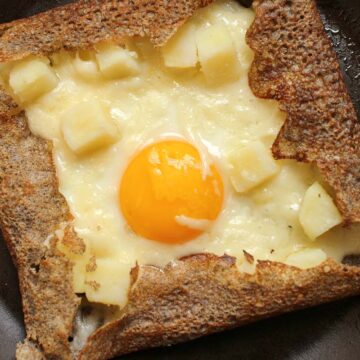 Crêpes Parmentier (Buckwheat Galettes with Potato, Egg, and Cheese)
Although these Crêpes Parmentier are sophisticated in flavor, they are simple to make! Brittany-style buckwheat galettes are naturally gluten-free. They're the perfect wrapper for tender cubed potato, gooey cheese, and a fried egg with luscious runny yolk.
Print
Pin
Rate
Servings:
8
(10-inch) crêpes
Ingredients
Buckwheat Crêpes (Breton Galettes):
1

cup

(

120 grams

) buckwheat flour

¾

teaspoon

kosher salt

2

large eggs

1

cup

(

227 grams

) milk, any type

1

tablespoon

(

14 grams

) melted unsalted butter

¼ to ½

cup

(

57 grams to 113 grams

) water (I would recommend about

6 tablespoons

)
Filling per Crêpe:
1

large egg

1 to 2

ounces

(¼ to ½ cup / 30 to 55 grams) shredded Emmental (Swiss) cheese

(use less for a smaller crêpe, more for a larger crêpe)

1 ½ to 2

ounces

(¼ to ⅓ cup / 40 to 55 grams) peeled and cubed Yukon gold or yellow potato, boiled in salted water until tender

(½-inch dice)
Instructions
To make the crêpe batter:
Combine all the ingredients (except water) in a blender, and blend until smooth. Cover the batter and let it rest in the refrigerator for at least 2 hours, or overnight.
To cook the crêpes:
When you're ready to make crêpes, thin the batter with water, using less water for thicker crêpes and more water for thinner ones. I find about 6 tablespoons to work well for this amount of batter.

Preheat a crêpe pan or large non-stick skillet over medium-high heat. Lightly grease the pan with butter, oil, or pan spray, then pour in enough batter to thinly coat the bottom of the pan (a scant ⅓ cup is good for 10-inch diameter crêpes); tilt and swirl the pan as you pour the batter to ensure an even coating.

Cook the crêpe for 1 to 2 minutes on the first side, until it's golden and lifts from the pan easily. If the pan is hot enough you should yield the characteristic craters on the bottom. Flip it over and cook for another 1 to 2 minutes on the other side.

Transfer cooked crêpes to a plate, stacking them on top of one another, and covering with a towel. (The first crêpe may not turn out as well as the others, similarly to the first pancake in every batch). Crêpes can be stacked with wax or parchment paper in between, and refrigerated or frozen. You will yield about 8 (10-inch) crêpes.
To assemble the crêpes:
Heat a non-stick pan over medium heat, and top with a cooked crêpe with the crater-side down. Carefully crack an egg into a small bowl, and then pour the egg onto the center of the crêpe, making sure the yolk is centered. Season the egg with salt. Sprinkle the cheese around the egg, leaving about a small border around the edges of the crêpe, then sprinkle the cubed potatoes over the cheese around the yolk.

Lower the heat to low, and cover the pan with a lid. Cook until the cheese melts, the white of the egg is cooked through, and the bottom of the crêpe is crisp. Fold over the edges of the crêpe to make a square, and carefully slide the crêpe pocket onto a plate. (Alternatively you can slide the crêpe onto a plate first, and then fold over the edges). Serve immediately. Repeat with remaining crêpes and additional filling as desired.
Notes
Note that these savory galettes will be a bit drier and crispier at the edges (especially after filling and continuing to cook them) than the tender sweet dessert-style crêpes you may be otherwise familiar with.
To freeze leftover buckwheat crêpes, stack them between pieces of wax or parchment paper in a large freezer-safe container (with a lid) or a very large zip-top bag, and then freeze them flat.
If you're vegetarian, make sure to use a vegetarian Swiss cheese, since Swiss Emmental is usually made with animal rennet.
Other filling ideas for your galettes:

Crêpe Complète: egg, ham, Emmental cheese
Crêpe Carbonara: egg, Emmental cheese, bacon dices, crème fraîche, parmesan
Crêpe Montagnard: raclette cheese, potato, onion, bacon dices, crème fraîche
Crêpe Paysanne: Emmental cheese, simmered leek, bacon lardons, crème fraîche
Crêpe Chevrette: goat cheese, walnut, crème fraîche, honey
Crêpe Vegetarian: Emmental cheese, tomato, onion, mushrooms, crème fraîche, broccoli

Buckwheat Crêpes adapted from King Arthur Flour; Crêpes Parmentier recipe by Victoria
Nutrition
Calories:
409
kcal
|
Carbohydrates:
30
g
|
Protein:
25
g
|
Fat:
22
g
|
Saturated Fat:
11
g
|
Polyunsaturated Fat:
1
g
|
Monounsaturated Fat:
3
g
|
Cholesterol:
295
mg
|
Sodium:
384
mg
|
Potassium:
304
mg
|
Fiber:
4
g
|
Sugar:
2
g
*All nutritional information is based on third-party calculations and should be considered estimates. Actual nutritional content will vary with brands used, measuring methods, portion sizes and more.*