This simple, gluten-free, high-fiber Chana Dal (or bengal gram) is an excellent vegetarian and potentially vegan spiced Indian lentil dish. It's easy to make, hearty, and satisfying. You can serve it on its own with basmati rice or naan, or include it as part of an Indian dinner menu.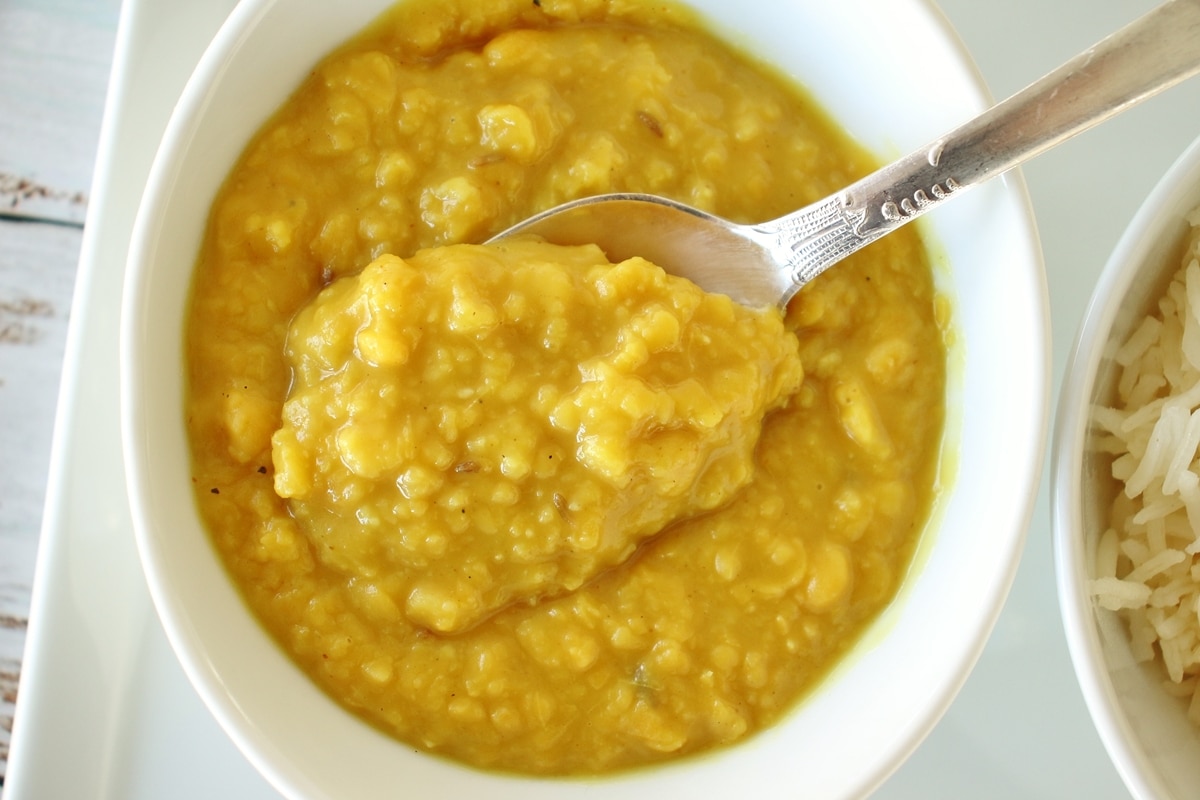 (This recipe for was originally published in February 2011, but was updated with new photos and content in 2020).
Chana dal is also known as split chickpeas or bengal gram. It derives from black chickpeas which are split with the outer covering removed. The resulting lentils are a bright golden hue, and are common among various Indian dal recipes. The term dal refers to "pulses" such as lentils, beans, and peas.
You can purchase bengal gram in well-stocked International markets and also online. Some recipes for these split chickpeas require soaking them for hours in advance, while others utilize a pressure cooker to cook them quickly. I don't do either. For years I have been adapting a recipe from my queen of Indian cooking, Madhur Jaffrey.
This recipe is extremely simple and straight-forward, and does not require any special tools or advance preparation. It's also vegan (if using vegetable oil instead of ghee), gluten-free, high-fiber, high-protein, low-fat, and incredibly low on the glycemic index.
This is great for people with dietary restrictions who still like their food to taste good. Like other legume dishes it fills you up and keeps you full so you're actually eating less (getting less hungry later) and more likely to lose weight.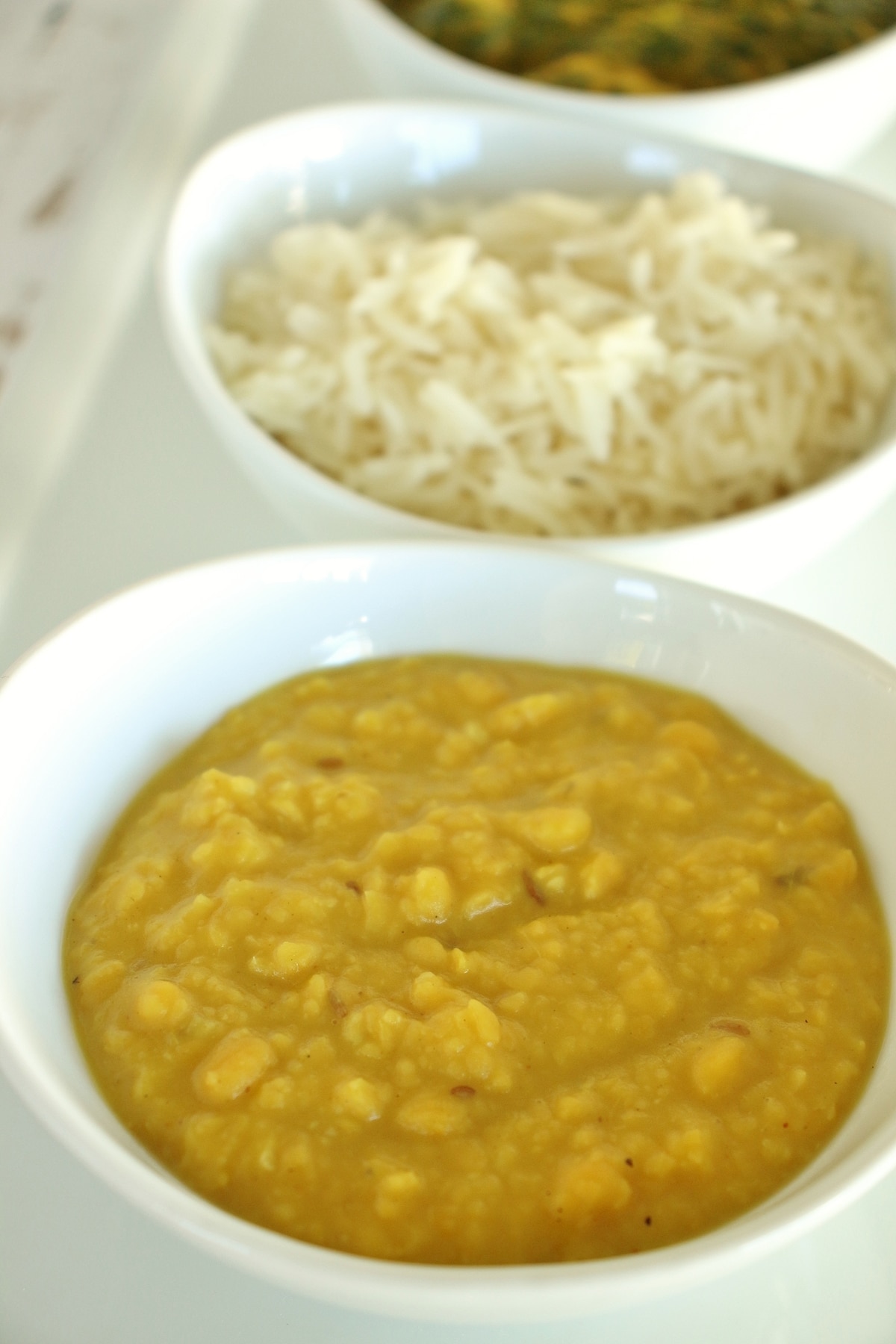 How to cook it
This recipe calls for chana dal (bengal gram) or yellow split peas, but they are not the same thing. Chana dal is obviously preferable, but if it is unavailable you can substitute with yellow split peas.
Begin by thoroughly rinsing and draining your dal. Add it to a heavy pot with clean water, and bring to a boil. (PHOTO 1) Remove any surface scum, then add ground turmeric and a couple slices of ginger (PHOTO 2).
Cover, leaving the lid slightly ajar, and lower the heat to simmer. The dal will cook for about 1 ½ hours. About 20 to 30 minutes before it's done cooking, you may remove the lid and cook it uncovered so it can thicken (PHOTO 3). The thickness is purely dependent on your personal preference.
I usually thicken it so it's almost like a thick stew (PHOTO 4), but you can also thin it out if you accidentally over-reduce it. When reheating this dal I often thin it back out with a little water to loosen the consistency.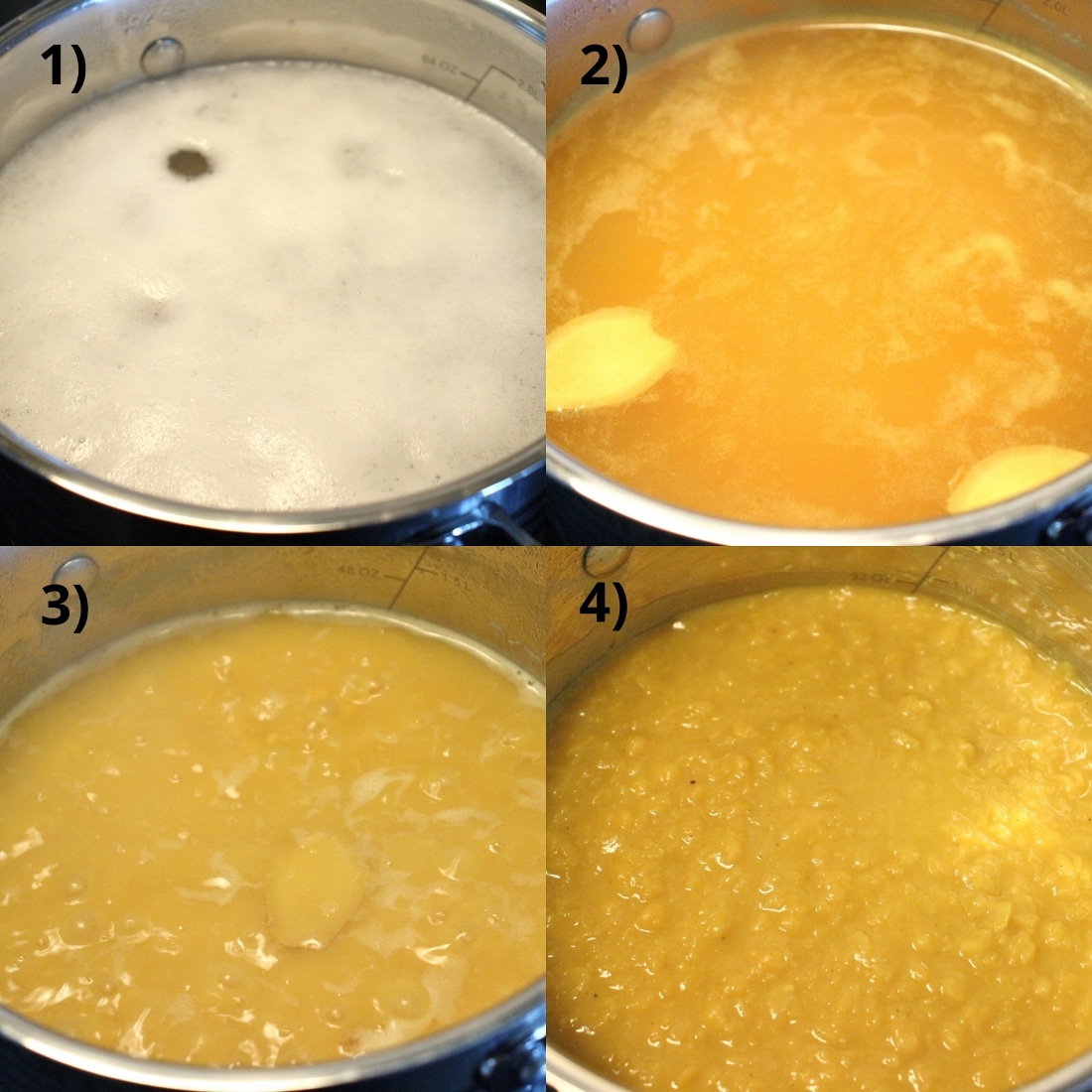 Add salt and garam masala. The next step is to temper the dal. In a small frying pan, heat the ghee or vegetable oil. Add cumin seeds, fry them for a few seconds, then add minced garlic.
Once the garlic is fragrant and golden, add chili powder. If you don't have Indian chili powder, you can use some cayenne pepper here. Do not use Mexican style chili powder, which is a mixture of spices, and not pure, ground, dried chiles.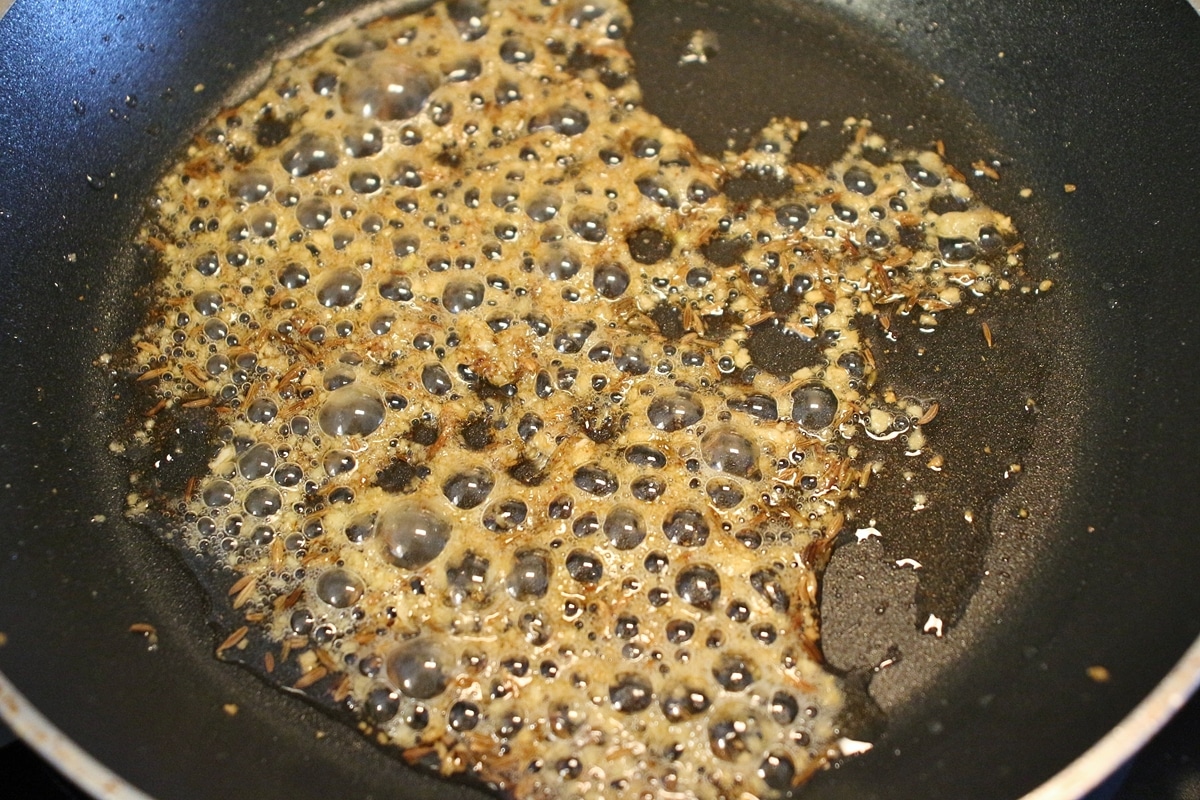 Pour this fried cumin-garlic-chili mixture into the pot of dal, and stir it in. You're ready to serve! You can also make this recipe ahead of time and reheat it, but you may need to thin it back out with some water if you thicken it as much as I do.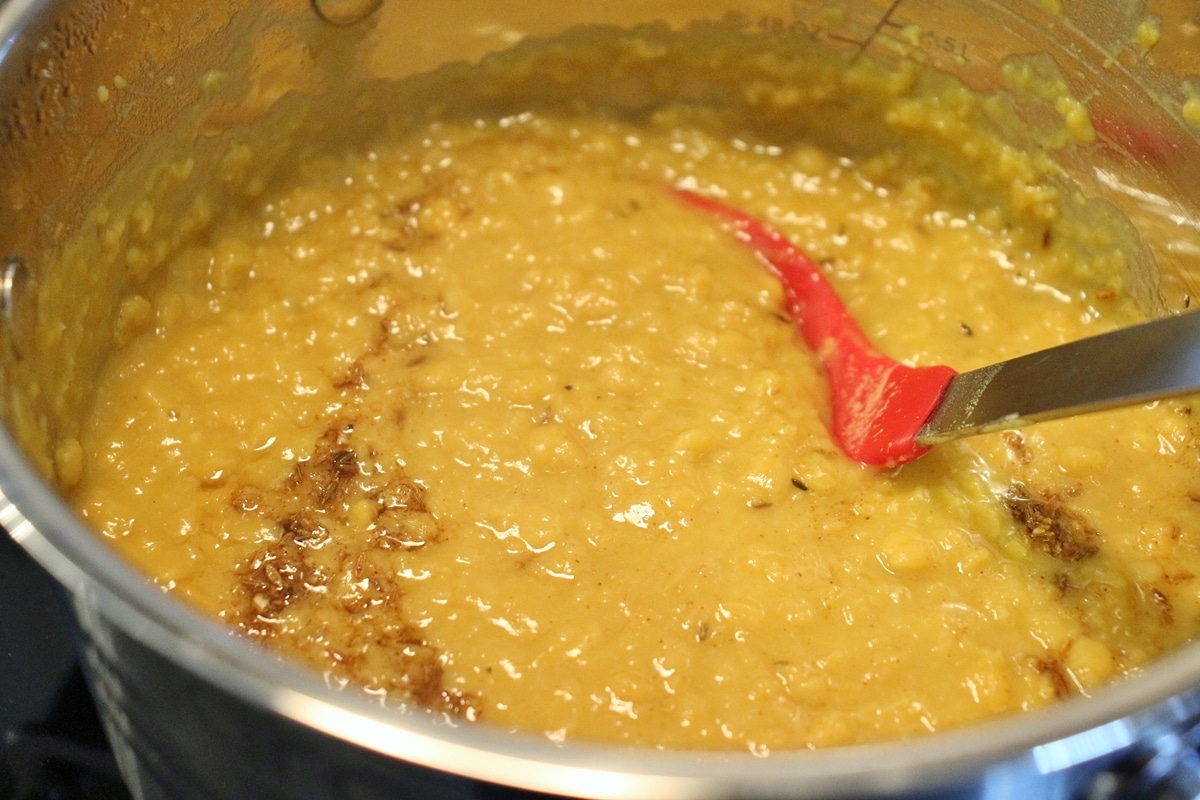 Other recipes you may like
This recipe comes together very easily. It's also easy to ignore it through most of its cooking. It includes less than half a dozen spices (if you don't count the number of spices actually in the garam masala spice mixture) and yet when everything comes together, it tastes like comforting perfection. This dal really and truly tastes like an Indian dream, and best of all, it's a cinch to make.
I have made this lentil dish so many times over the years. It's such an easy side dish for an Indian meal when I want some more than just a chicken or meat curry and rice. It expands the meal, and provides for more overall servings when sharing the plate with another Indian dish. In the photo below I've served it with jeera rice (basmati rice with cumin seeds) and my beloved quick and easy chicken saag.
What are your favorite Indian lentil recipes? Have you ever cooked chana dal before? Do you prefer yours a thinner consistency, or thicker like mine? Leave me a note in the comments letting me know! And don't forget to rate this recipe if you've tried it. Thanks!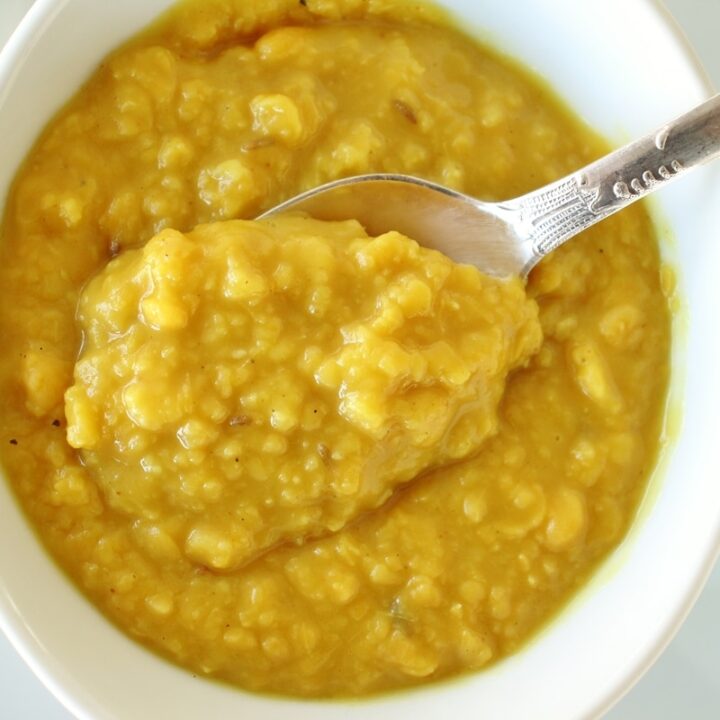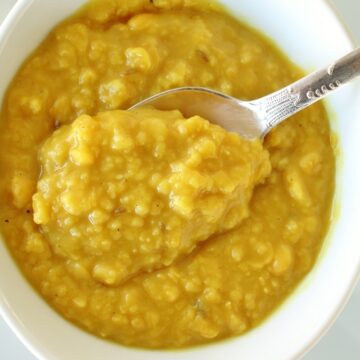 Chana Dal
This simple, gluten-free, high-fiber Chana Dal (or bengal gram) is an excellent vegetarian and potentially vegan spiced Indian lentil dish. It's easy to make, hearty, and satisfying. You can serve it on its own with basmati rice or naan, or include it as part of an Indian dinner menu.
Print
Pin
Rate
Servings:
4
to 6 servings
Ingredients
1 ½

cups

chana dal (or yellow split peas)

picked over, washed and drained

5

cups

water

½

teaspoon

ground turmeric

2

thin slices unpeeled ginger

2

teaspoons

kosher salt

¼

teaspoon

garam masala

1 ½

tablespoons

ghee (clarified butter) or vegetable oil

2

cloves

garlic

peeled and chopped

½

teaspoon

cumin seeds

(use ¼ teaspoon ground cumin if you don't have seeds)

¼

teaspoon

Indian red chili powder

(can substitute cayenne pepper, but check for spice level)
Instructions
Put the dal in a heavy pot along with the water. Bring to a boil and remove any surface scum. Add the turmeric and ginger. Cover, leaving the lid slightly ajar, turn heat to low, and simmer gently for 1 ½ hours or until the dal is very tender. If the dal is too liquidy, remove the cover and raise the heat to medium toward the end of cooking (the last 20 to 30 minutes or so), allowing it to reduce and thicken. Stir every 5 minutes or so during this period to prevent sticking.

Remove the ginger slices. Add the salt and garam masala to the dal. Stir to mix.

Heat the ghee or oil in a small frying pan over medium heat. When hot, add the cumin seeds and fry for a few seconds, then add the garlic. Stir and fry until the garlic is golden. Add the chili powder into the pan. Immediately lift the pan off the heat and pour the mixture into the pot with the dal. Stir to mix. Serve hot with basmati rice or Indian bread, such as naan.
Notes
Some recipes for chana dal require you to soak the dal in water for several hours. The cooking time for those recipes is usually shorter. For this recipe you don't need to soak the dal, but it will take a bit longer to cook it until tender. I like to cook this dal until it naturally falls apart and self-thickens. You could cook it a bit less and then mash it a bit, but if you're patient it will do it on its own.
This recipe uses kosher salt (aka cooking salt, kitchen salt, coarse salt outside of the US). If you are using table salt, definitely scale down the salt as that is a saltier type of salt! The type of salt will make a big difference in how salty your food tastes, so keep that in mind.
For my preferred thickness I always cook this dal uncovered toward the end of the cook time to allow it to reduce. Depending on your preference you can uncover the pot and start reducing it the last 15 to 30 minutes of cooking. Just make sure to stir regularly so it doesn't stick.
If you over-thicken it, you can always thin it back out with some water. This is helpful when reheating the chana dal. I often stir in a little water to loosen it back up.
Adapted from Madhur Jaffrey's Indian Cooking
Servings 4.0 * calories 295 * Total Fat 7 g * Saturated Fat 4 g * Monounsaturated Fat 1 g * Polyunsaturated Fat 0 g * Trans Fat 0 g * Cholesterol 0 mg * Sodium 563 mg * Potassium 18 mg * Total Carbohydrate 42 g * Dietary Fiber 0 g * Sugars 0 g * Protein 15 g
*All nutritional information is based on third-party calculations and should be considered estimates. Actual nutritional content will vary with brands used, measuring methods, portion sizes and more.*
Nutrition