This post may contain affiliate links, which means that I may receive a commission if you make a purchase using these links. As an Amazon Associate I earn from qualifying purchases.
It's buffalo chicken. It's a quiche. It's a Buffalo Chicken Quiche! This is the perfect breakfast or brunch for fans of buffalo chicken.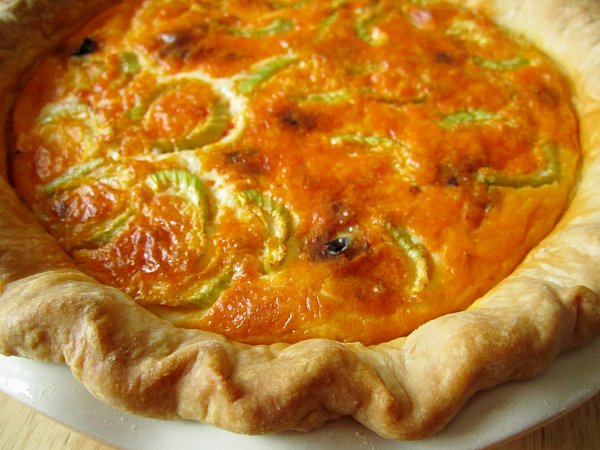 I have made quite a number of Buffalo chicken concoctions… from Buffalo chicken macaroni and cheese, to Buffalo chicken pizzas, and Buffalo chicken nachos. My "To Do" list of Buffalo chicken dishes is steadily growing as I'm inspired to try innovative spins on my favorite bar food. The typical flavors of Buffalo chicken lend well to so many other creations. With a simple addition of Buffalo sauce (hot sauce and melted butter), celery, and blue cheese (and sometimes other exciting flavor twists), an unassuming dish can be transformed into Buffalo chicken something-or-another.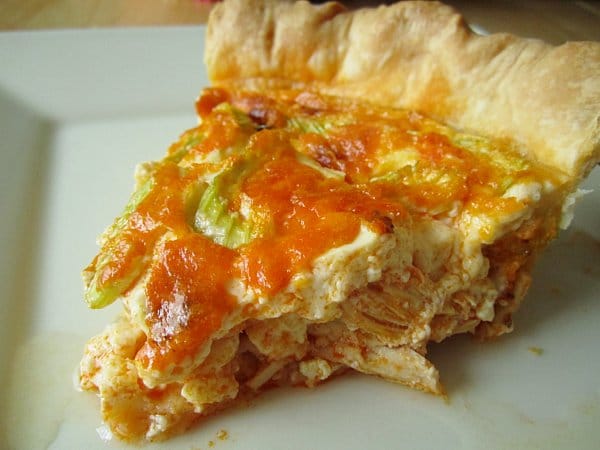 Recently, I was in the mood for some quiche. Having leftover roast chicken on hand, I immediately knew I would use some of it in the quiche, but what other flavors belonged in there? After considering ingredients like goat cheese and caramelized onions (amazing additions to chicken in their own right), a light bulb went off. Buffalo Chicken Quiche! Why not? There's usually a cheese component in quiche anyway, so the blue cheese would be perfect. I don't generally like to put raw vegetables in quiche because they give off water, but the amount of celery was so small that it made very little difference (and retained their crunch after baking).
The finished product was as good as I had hoped! The custard was creamy and luscious with spicy bites of chicken, crunchy celery, and pungent creamy bursts of blue cheese. I had Roquefort on hand, but any blue cheese would work well here. If you want your quiche to be more spicy feel free to add more sauce, but for myself and my dining companions, this quiche was well balanced between the spice of the Buffalo chicken aspect, and the creamy comfort of a well-made quiche. Happy eating!
Amazon disclosure – We are a participant in the Amazon Services LLC Associates Program, an affiliate advertising program designed to provide a means for us to earn fees by linking to Amazon.com and affiliated sites.