This post may contain affiliate links, which means that I may receive a commission if you make a purchase using these links. As an Amazon Associate I earn from qualifying purchases.
It's buffalo chicken. It's a quiche. It's a Buffalo Chicken Quiche! This is the perfect breakfast or brunch for fans of buffalo chicken.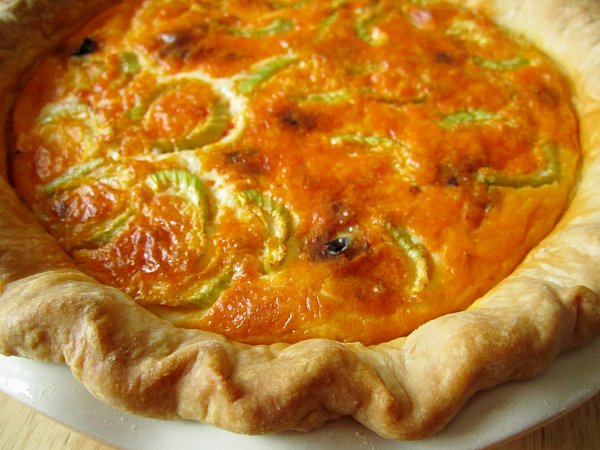 I have made quite a number of Buffalo chicken concoctions from Buffalo chicken macaroni and cheese to Buffalo chicken nachos. My "To Do" list of Buffalo chicken dishes is steadily growing as I'm inspired to try innovative spins on my favorite bar food. The typical flavors of Buffalo chicken lend well to so many other creations. With a simple addition of Buffalo sauce (hot sauce and melted butter), celery, and blue cheese (and sometimes other exciting flavor twists), an unassuming dish can be transformed into Buffalo chicken something-or-another.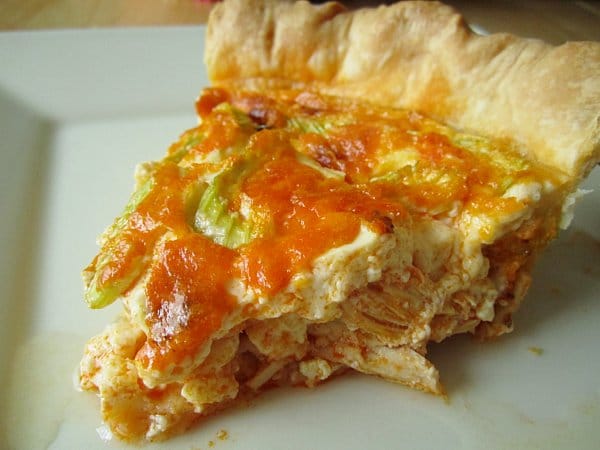 Recently, I was in the mood for some quiche. Having leftover roast chicken on hand, I immediately knew I would use some of it in the quiche, but what other flavors belonged in there? After considering ingredients like goat cheese and caramelized onions (amazing additions to chicken in their own right), a light bulb went off. Buffalo Chicken Quiche! Why not? There's usually a cheese component in quiche anyway, so the blue cheese would be perfect. I don't generally like to put raw vegetables in quiche because they give off water, but the amount of celery was so small that it made very little difference (and retained their crunch after baking).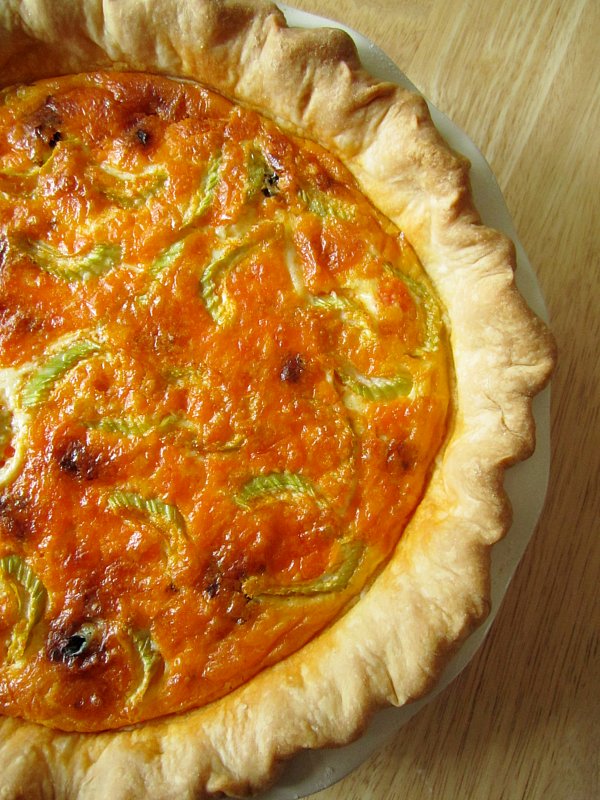 The finished product was as good as I had hoped! The custard was creamy and luscious with spicy bites of chicken, crunchy celery, and pungent creamy bursts of blue cheese. I had Roquefort on hand, but any blue cheese would work well here. If you want your quiche to be more spicy feel free to add more sauce, but for myself and my dining companions, this quiche was well balanced between the spice of the Buffalo chicken aspect, and the creamy comfort of a well-made quiche. Happy eating!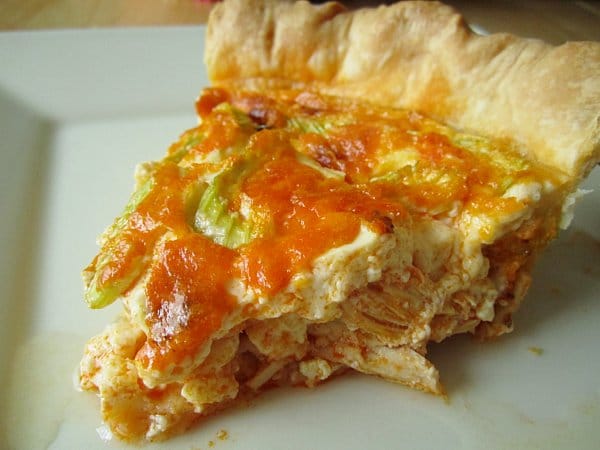 Buffalo Chicken Quiche
It's buffalo chicken. It's a quiche. It's a Buffalo Chicken Quiche! This is the perfect breakfast or brunch for fans of buffalo chicken.
Ingredients
Crust:
1/2

teaspoon

salt

1/3

cup

very cold water

1 1/2

cups + 1 tablespoon

all-purpose flour

1/2

cup + 2 1/2 tablespoons

unsalted butter

very cold and cut into small cubes
Filling:
1/3

cup plus 1 tablespoon

hot sauce

such as Frank's Red Hot

1 1/2

tablespoons

unsalted butter

1 1/2

cups

shredded cooked chicken breast

bite-size pieces

1

stalk celery

sliced thinly on the bias

1/3

cup

crumbled blue cheese

about 1 1/2 oz
Custard:
3

large eggs

1

cup

heavy cream

3/4

cup

whole milk

Kosher salt
Instructions
Start by making the crust. In a small bowl add the salt to the water and stir to dissolve. Keep cold in the refrigerator.

In a food processor, put the flour in the work bowl and add the small butter cubes, scattering all over. Pulse briefly until the mixture forms large crumbs and some of the butter is still the size of peas. Add the water-salt mixture and pulse for several seconds until the dough begins to come together in a ball. You should still be able to see some butter chunks.

On a lightly floured surface, shape the dough into a disk 1 inch thick. Wrap well in plastic wrap and chill for at least 2 hours or up to overnight (this dough can now be frozen in a freezer bag and then defrosted in the refrigerator the day before it is to be used).

Place the chilled dough on a floured surface and roll out 1/8 inch thick, lifting and rotating the dough to make sure it doesn't stick, and working quickly to ensure the dough stays as cold as possible. Add more flour to the board as needed.

Roll the dough circle gently over the rolling pin and then gently unroll the circle over the pie dish, easing it into the bottom and sides, and pressing gently into place. Avoid stretching the dough, as it will shrink back when baking. Trim the dough edges with a sharp knife and flute or crimp the edges if you prefer.

Chill the crust 30 minutes to an hour in the fridge before assembling and baking. This ensures the flakiest crust.

Preheat the oven to 375 degrees F.

Add the hot sauce and butter to a small saucepan over medium heat and stir/swirl until the butter melts and dissolves into the sauce. Remove from the heat. Reserve 1 tablespoon of this sauce and add the remaining sauce to the shredded chicken. Toss to coat evenly, and then distribute the chicken on the bottom of the chilled crust. Top with the celery and the blue cheese.

In a bowl, whisk together the eggs, reserved 1 tablespoon Buffalo sauce, heavy cream, and milk. Season with salt and pour into the crust.

Bake for 45 to 55 minutes or until slightly puffed and golden brown and no longer jiggles when lightly shaken. A knife inserted into the center should come out clean, although it may look wet.
Notes & Nutrition
Servings 8.0 * calories 520 * Total Fat 33 g * Saturated Fat 18 g * Monounsaturated Fat 4 g * Polyunsaturated Fat 1 g * Trans Fat 0 g * Cholesterol 255 mg * Sodium 857 mg * Potassium 345 mg * Total Carbohydrate 19 g * Dietary Fiber 1 g * Sugars 2 g * Protein 34 g
*All nutritional information is based on third-party calculations and should be considered estimates. Actual nutritional content will vary with brands used, measuring methods, portion sizes and more.*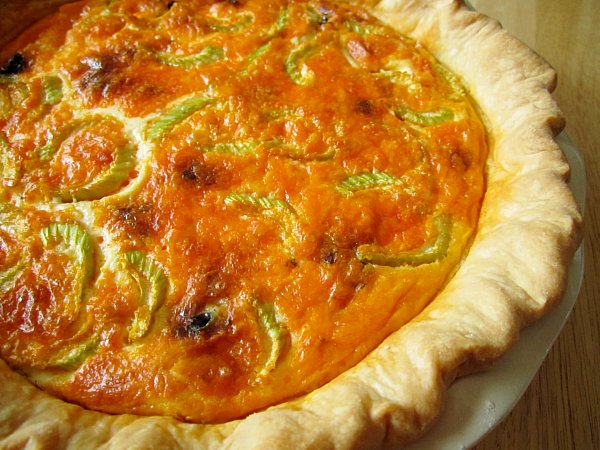 Amazon disclosure – We are a participant in the Amazon Services LLC Associates Program, an affiliate advertising program designed to provide a means for us to earn fees by linking to Amazon.com and affiliated sites.