Hola, amigos! I just returned from a trip to Barcelona, and I can't wait to share my adventures with you! Unlike some of my other trips where I hop around to different cities or countries in a single trip, this time I spent an entire week in the same place, and was able to explore the city in greater detail.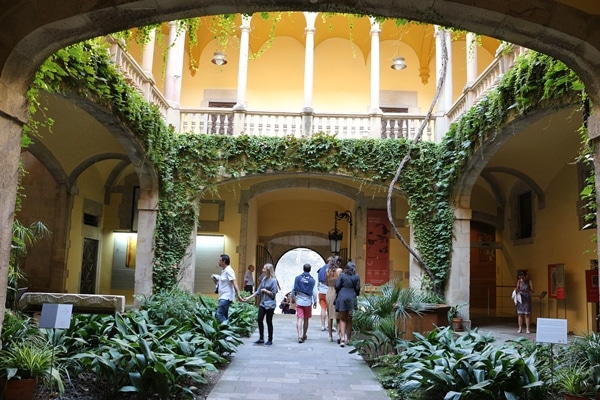 Palau del Lloctinent (Lieutenant's Palace) 16th century renaissance courtyard in the Gothic Quarter
I was traveling with my sister who was actually going to Barcelona for a work conference, and so I happily tagged along since she would also have some free time before and after the conference for us to do touristy things together, as well as time in the evenings for dinner together on the conference days.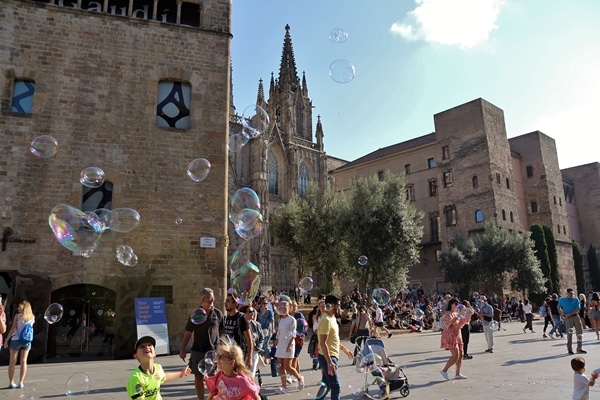 Barcelona Cathedral + Bubbles
I will start out with some general thoughts and observations from my time there before going into the day-to-day details.
The Metro is a great way to get around! It's very clean, updated, and efficient with countdowns at nearly every platform informing passengers of the wait time until the next train arrives. There are automated announcements of "proxima estacio" (or "next station" in Catalan) before every stop. Some trains like the L8 that extend into regional lines can be confusing. It took us a day to start getting the hang of it, but stations are pretty well marked and easy to navigate. Some of them (Espanya for example) were extremely hot, however, and uncomfortable to walk through even on cooler days. Also, in some cases you must still walk a bit from metro stops to get to major attractions (Park Güell for example requires an uphill walk from the nearest Metro station!).
Barcelona is not built for rain. There were heavy rains and thunderstorms one morning during our visit which resulted in many leaks and floods within our relatively new and modern hotel, as well as in some Metro stations. At least one Metro station that I'm aware of was closed for most of the day due to flooding, and let me tell you as a New Englander it was not an epic amount of rain but it still debilitated some of the city and slowed down travel. I was pretty surprised to see how unprepared the city is for rain, and how many structures just can't withstand it.
Some parts of the city must be walked. A bus tour will not suffice, especially in the Gothic Quarter, and even Born and other neighborhoods with narrow pedestrian only streets. You will miss much of the city's charm and character if you don't take to your feet and go!
Residents definitely identify as Catalan before Spanish. There are so many flags hanging from windows and balconies and they are essentially all the Catalonian flag. Spanish flags are only found in plazas and such flying next to the flags of Catalonia and sometimes the flag of the city of Barcelona. Announcements in the Metro are typically in Catalan as well, though signs are often in Catalan, Spanish and sometimes English as well.
If using a credit card in some places they will ask for you to enter your pin even though it's credit and not debit. Know your pin before traveling here. I didn't experience this in Ireland earlier this summer, only here. Metro asks for your pin at certain ticket machines (yellow ones for regional trains seem to require a pin while red machines do not). I ended up paying cash for my metro tickets.
The weather report is often inaccurate (no surprise there). Plan to bring an umbrella with you as you're out and about even if the forecast doesn't call for rain, as you may still get some. This is a Mediterranean climate after all. It's usually a light rain in these cases but still.
Basically all water served in restaurants is bottled. No tap water here. If you want water you're going to pay for a bottle. Simple as that.
Before traveling to Barcelona I was told that "everyone in Barcelona speaks English." This is not true. Although we encountered many folks who were very comfortable speaking English, we also encountered others that struggled to communicate with us in English. Even though many restaurants have English menus, in some cases we would ask for some clarification on menu items, and received limited assistance from our server(s). I certainly expect that when traveling abroad you are the tourist, and you should make an effort to speak the language of that country. I even downloaded both Spanish and Catalan translators on my phone! But sometimes putting words from the menu into the translator didn't yield answers, and the staff was only occasionally able to help.
People in Barcelona eat very late. You will find that many restaurants do not open for lunch until 1 pm, and for dinner until 8 pm (give or take). We typically eat much earlier than that, and especially since my sister had to get up early for her conference, eating too late was not an option for us. I did a lot of research before our trip (my color-coded spreadsheet can attest to that), and selected restaurants in areas we would be visiting that were open during hours that would meet our needs. Just beware that if you are interested in eating dinner at 6 or 6:30 pm-ish, many restaurants in the city will not be able to accommodate you. It helps to plan!
So now that we've covered some basics, let's head to the airport and begin our trip! We booked our flights through Delta, which partners with many different airlines. Our booking had us flying from Boston to Amsterdam on Delta, then taking KLM from Amsterdam to Barcelona, and then on the return trip flying Joon (by Air France) from Barcelona to Paris, and then Air France from Paris to Boston. It didn't actually work out that way, but put a pin in that. We'll get to it when I discuss our return to Boston in a later post…
I got the pasta option, which in the menu was listed as agnolotti, but turned out to decidedly be lasagna. It wasn't bad either, for airplane lasagna of course. There was a pseudo Caesar salad on the side, along with cheeses, crackers, and grapes. The white wine was Sauvignon blanc. There was a small brownie bite for dessert, but I was way too full to eat it. Lucy said it was nothing special.
Our breakfast box contained a small peach muffin, yogurt, juice and a piece of cheese.
We arrived in Amsterdam in the early hours of the morning. The airport in some parts seems old and dated (the bathrooms for example), and in others was quite updated and seemed like a mini mall. Although the airport felt a bit darker and more oppressive than some other airports we have visited, we thought it was easy to navigate in a zombie-like, sleep-deprived state.