This morning I overslept, fell in the shower, and had to skip breakfast because I overslept. It still turned out to be one of the best days ever! Why, you ask? We had planned one of the most exciting days yet in Barcelona, and we're just about to get started. We had booked a Modernist Chocolate Tour with Barcelona Chocolate Tours well in advance for the 10 am time slot. We hustled to get to the Hotel Fuster, a modernist hotel on Passeig de Gràcia, and the meeting place for our tour.
We were a little confused upon our arrival, since there was no one else waiting outside (or inside) the hotel for our tour. Turns out we were the only two people who booked this tour this morning, so when the CEO and Founder of the company Cristina Garcia Blasco arrived to begin our tour we were pleasantly surprised that it turned out to be a private tour even though we booked a group tour with a potential for up to 13 guests. Lucky us!
One quick note, the day before I had checked out the tour description again on the website, and noticed that some details had changed from when we had booked the tour over a month prior (the original description mentioned eating chocolate cake that was voted best chocolate cake in the world). Just something to keep in mind if you book your tour well in advance, it's possible some of the details and inclusions may change by the time you take the tour. No biggie. It turned out to be an amazing morning filled with glorious, delicious, decadent chocolate!
Our first stop was Godiva. Something we learned on our tour was that even though Godiva is a world-recognized Belgian chocolate brand, different Godiva locations around the world actually feature unique chocolate creations local to that city or country. At Godiva we were able to check out some of the new collection of chocolates, as well as some classic flavors.
We tried the Tourbillon Praline (milk chocolate filled with praline), the Lady Godiva (classic dark chocolate filled with white chocolate ganache), the Tourbillon 85 (85% cocao dark chocolate with dark chocolate ganache filling), and the Cube Framboise (filled with raspberry marmalade, raspberry mousse, and covered in dark chocolate).
After tasting these chocolates, we made some purchases at the store and were even given complimentary insulated Godiva bags for our purchases (they're normally for sale).
Next we actually hopped in a cab, not customary, but since there were only 3 of us including our guide it made for an easier trip to the next chocolate stop.
At Pastisseria Takashi Ochiai we enjoyed pastries and chocolates by a local Japanese pastry chef.
The pastries were likely a bonus (since there were only a couple of us on the tour), but they were excellent! The croissant here has been voted the best in Spain, and we can believe that as it was extraordinary! We also shared a small apple tart, which was fantastic. This beats any breakfast I could have eaten this morning at the hotel! Add a café con leche and you're golden. Breakfast is served.
Here we tried the most interesting chocolate truffles I've ever had. They are cylindrical and rugged-looking with a thin chocolate coating wrapped around the filling, and then lightly dusted on the outside. My favorite of the 3 was the most unique, and features a matcha tea filling.
The one with the white powdered coating features a filling of some kind of liqueur I can't remember, and the one with the cocoa powder on the outside includes sake in the chocolate filling. All of these truffles are creative and incredibly distinct.
Our final stop of the tour (which lasted over 2 1/2 hours) was at Cacao Sampaka. Wow! This is really the ultimate chocolate shop.
Walls upon walls, shelves upon shelves covered with chocolate bars and boxes of beautifully decorated artisan chocolates.
Display cases are full of gourmet desserts featuring chocolate.
We sipped chilled glasses of Gewürztraminer while tasting our final chocolate morsel of the day, a very special chocolate bar from a very special chocolate plantation in Mexico.
We learned how to determine a good bar of chocolate, not only by its shine, but how it breaks, and even the sound it makes when you snap off a piece. We took our time feeling the chocolate in our mouths, and let it start to soften and release its flavor. We tasted it paired with our sweet and cool wine, an elegant combination.
Our Modernist Chocolate Tour with Cristina of Barcelona Chocolate Tours was the best start to our day! Cristina was so much fun, and we had such a great time just the 3 of us. It felt like we were 3 girlfriends gallivanting around Barcelona eating the best food in the world (chocolate, obviously!). I'm sure a larger group tour may have a slightly different and a lot less personal experience, but Cristina shared with us that the Modernist Chocolate Tour is actually her favorite of the tours her company does, even though the Old Town Chocolate Tour is more popular. I haven't tried the other tour, but I can happily recommend the Modernist Chocolate Tour.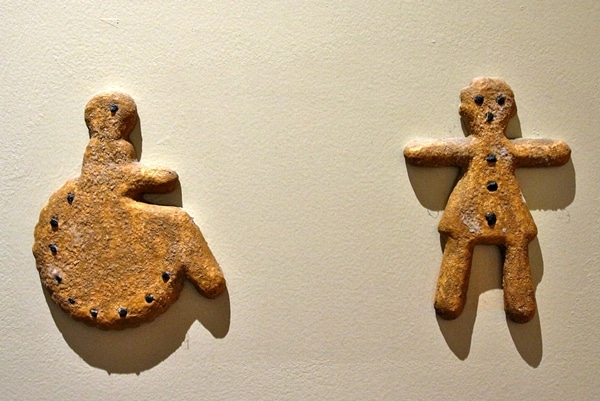 Gingerbread people bathroom signage at Cacao Sampaka!
Next on the agenda was a visit to La Sagrada Familia, but first a quick bite for lunch. We weren't super hungry after our chocolate tastings, but still needed some sustenance to make it until dinner. A short stroll from Sagrada Familia we discovered Restaurante La Llesca, a cute eatery with an appealing-looking menu.
Although there was a daily menu, we knew we wouldn't really have enough time before our tour to have a multi-course meal so we just opted for some simple bites.
We probably ate patatas bravas and/or pan con tomate every single day of our trip, so it's no surprise that we ordered both today at lunch! Part of what I love is that even though it's the same dish every restaurant serves it slightly differently. For example, the patatas bravas here have kind of a hybrid pink sauce instead of the red and white sauces on top.
The pan con tomate served here was a DIY affair! This was actually really fun.
I peeled the garlic clove and rubbed it all over the huge slice of toasted country bread. The garlic kind of melts and grates into the hot, toasted bread.
Then I rubbed the cut tomato halves over the bread, and finished with a drizzle of olive oil. Yum! So simple but so much better than basic bread and butter.
Last but not least we also tried the Balón de Oro, which consists of cured local ham wrapped around goat's cheese, baked and drizzled with honey. Apparently the Balón de Oro is an annual football/soccer award in France (thanks, Google). My best guess is that this is round like the award and so that's where they got the name. Either way it was tasty!