If you love meatball sandwiches, try making Meatball Calzones! A delicious combination of meatballs, tomato sauce, and cheese is wrapped up in pizza dough. These hand-held pockets will become your new favorite way to enjoy meatballs.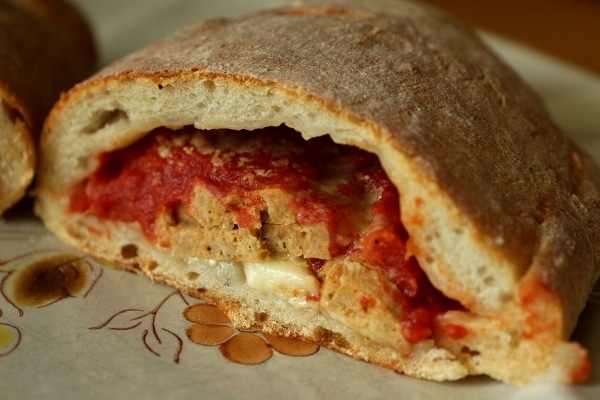 I've said it before, and I will say it again, the No-Knead Pizza Dough recipe from My Pizza by bread baking extraordinaire Jim Lahey is the best and easiest pizza dough recipe, and the only pizza dough I will make. It requires minimal effort, and has the best texture and flavor, the result of a long, slow rise.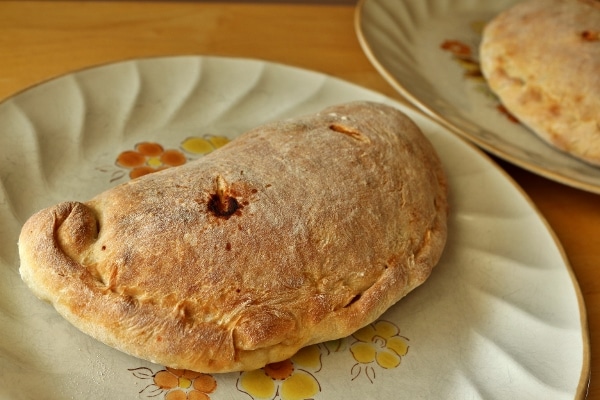 It's obviously great for pizzas, but I've also used it for stromboli and calzones. These meatball calzones are my favorite to make. I usually have a stash of homemade turkey meatballs in my freezer, which are great for dinner emergencies.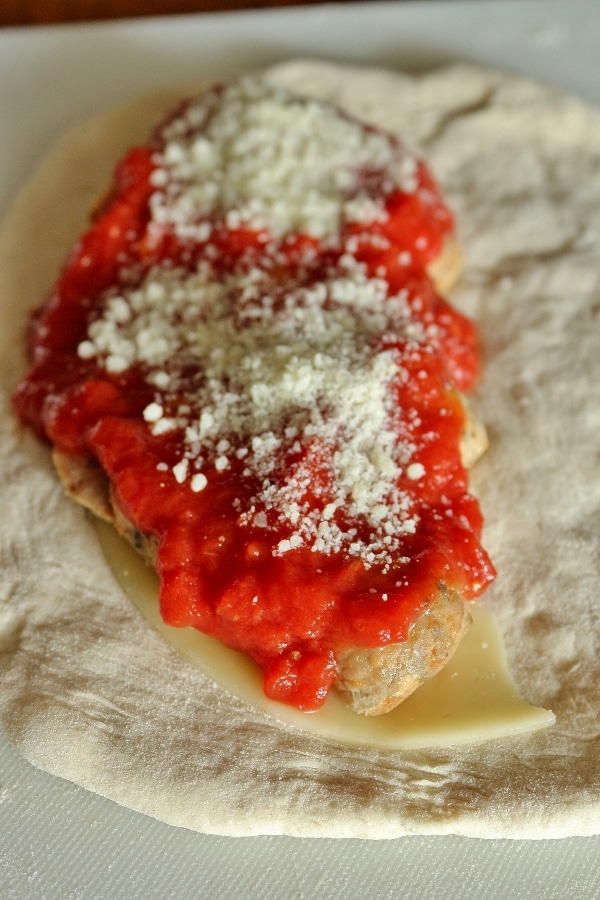 This recipe is simple enough to make on a weeknight, because the dough will be prepared ahead of time. Either mix the dough (no kneading required, obviously) and let it rise for about 18 hours, then divide, shape and bake, or you can shape the dough into balls up to a few days ahead of time and refrigerate. Then assembly is a cinch.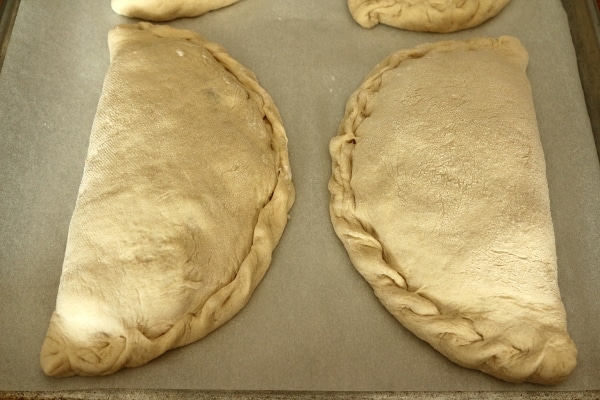 I like to make a bed of provolone cheese on the bottom before topping with the meatballs and sauce. This creates a gooey, cheesy barrier and prevents the sauce from making the bottom of the dough soggy.
This can be a somewhat wet and sticky dough, so always err on the side of excessive flour on your board if you are noticing it's difficult to work with.
And speaking of dough, did I mention how much I LOVE this pizza dough? The texture and flavor is out of this world! Crispy and chewy with a more mature flavor due to the long rise. I can't say enough about this pizza dough. Just trust me on this.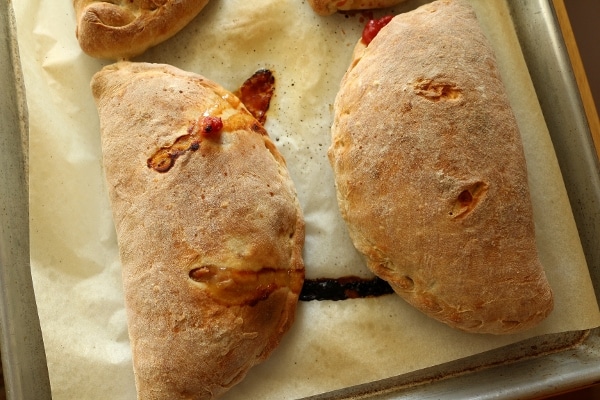 These meatballs calzones kick the butt of any spaghetti and meatballs, or even meatball sandwiches in my book. They are easy and straightforward to make, and the texture really can't be beat! I've been making these calzones for years, without ever measuring the ingredients, and finally decided to write down my technique so y'all can share in the joy of these marvelous calzones.
I know the recipe looks simple, but that's why it's so good, and the icing on the proverbial cake is the exceptional(ly easy) pizza dough. Enjoy!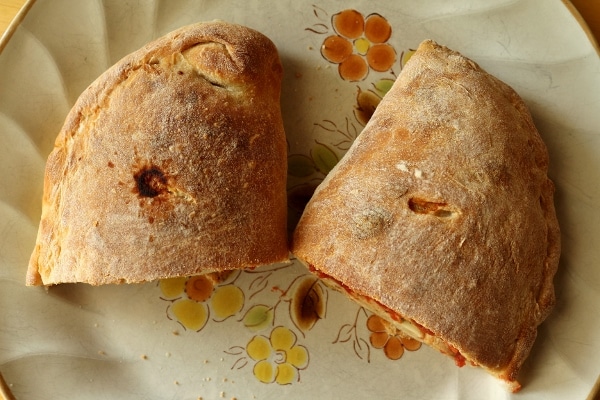 Expert tips
As a shortcut, you can use store-bought pizza dough in place of the homemade dough. Please note that the homemade dough makes more than 1 pound. If you purchase 1 pound of prepared pizza dough, it's best to divide it into 3 servings and adjust the amount of filling accordingly to yield 3 instead of 4 meatball calzones.
You can also fit about 4 sliced meatballs per calzone if you pile them up a bit higher. Use your judgement and personal preference as you assemble. Just beware to not overstuff them so you can still seal them without over-stretching and potentially ripping the dough.
I also sometimes include sliced red onion on top of the sliced meatballs before adding the sauce, and it's a great touch!
You can substitute sliced low-moisture (not fresh) mozzarella for the provolone if you prefer.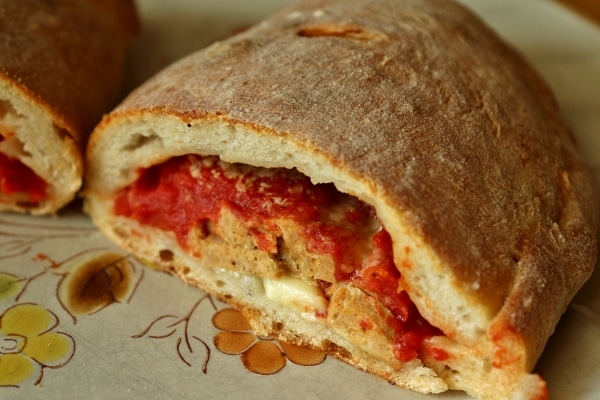 Other recipes you may like
Tried this recipe? Please leave a star ⭐️⭐️⭐️⭐️⭐️ rating in the recipe card below and/or a review in the comments section further down the page. You can also follow me on social media on Facebook, Instagram, and Pinterest!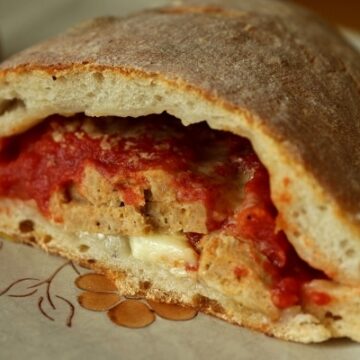 Meatball Calzones
If you love meatball sandwiches, try making Meatball Calzones! A delicious combination of meatballs, tomato sauce, and cheese is wrapped up in pizza dough. These hand-held pockets will become your new favorite way to enjoy meatballs.
Print
Pin
Rate
Ingredients
No Knead Pizza Dough:
500

grams

(17.5 ounces or 3 ¼ cups) all purpose flour, plus more for shaping the dough

1

gram

(¼ teaspoon) active dry yeast

16

grams

(2 teaspoons) fine sea salt

350

grams

(1 ½ cups) water
Assembly:
1

cup

canned ground peeled tomatoes or crushed tomatoes

1

clove

garlic

minced or crushed

Kosher salt and freshly ground black pepper

4

slices

provolone cheese

halved

12

beef or turkey meatballs

golf ball-size, not jumbo, preferably homemade, sliced ¼-inch thick

2

tablespoons

grated Parmigiano-Reggiano or Pecorino Romano

Extra-virgin olive oil

for brushing
Instructions
No Knead Pizza Dough:
In a medium bowl, thoroughly blend the flour, yeast, and salt. Add the water and, with a wooden spoon or your hands, mix thoroughly.

Cover the bowl with plastic wrap or a kitchen towel and allow it to rise at room temperature (about 72°F) for 18 hours or until it has more than doubled. It will take longer in a chilly room and less time in a very warm one.

Flour a work surface and scrape out the dough. Divide it into 4 equal parts and shape them: For each portion, start with the right side of the dough and pull it toward the center; then do the same with the left, then the top, then the bottom. (The order doesn't actually matter; what you want is four folds.) Shape each portion into a round and turn seam side down. Mold the dough into a neat circular mound. The mounds should not be sticky; if they are, dust with more flour.

If you don't intend to use the dough right away, wrap the balls individually in plastic and refrigerate for up to 3 days. Return to room temperature by leaving them out on the counter, covered in a damp cloth, for 2 to 3 hours before needed.
Assembly:
Preheat the oven to 475°F. Line a baking sheet with parchment paper, and set aside.

In a small bowl (or right in the measuring cup), combine the crushed tomatoes, garlic, salt and pepper. Set aside.

Take one ball of the dough and generously flour it, your hands, and the work surface. Then press it down and gently stretch it out. Supporting the disk with your knuckles toward the outer edge and lifting it about the work surface, keep stretching the dough by rotating it with your knuckles, gently pulling it wider and wider until the disk reaches 8 inches. Alternatively, stretch the dough on the work surface by massaging it into a roundish disk about 8 inches, but don't handle it more than necessary. This dough can be on the sticky side, so be generous with your flour as needed.

Place 2 provolone cheese slice halves overlapping on one half of the dough, leaving approximately a ½-inch border along the edge. Top with 3 sliced meatballs, ¼ cup of the tomato sauce, and ½ tablespoon grated Parmigiano-Reggiano.

Fold over the naked half of the dough to enclose it like a book. Pinch and pleat the edges to seal. Use a large spatula to gently set the half-moon shaped calzone onto the parchment-lined baking sheet. Repeat with the 3 remaining balls of dough, and the remaining filling ingredients.

Brush olive oil over the top of each calzone, and cut a couple of small slits on top to vent. Bake for about 20 minutes, until bubbly and golden. Remove from the oven and let cool for about 5 to 10 minutes before serving, as the filling will be very hot.
Notes
As a shortcut, you can use store-bought pizza dough in place of the homemade dough. Please note that the homemade dough makes more than 1 pound. If you purchase 1 pound of prepared pizza dough, it's best to divide it into 3 servings and adjust the amount of filling accordingly to yield 3 instead of 4 meatball calzones.
You can also fit about 4 sliced meatballs per calzone if you pile them up a bit higher. Use your judgement and personal preference as you assemble. Just beware to not overstuff them so you can still seal them without over-stretching and potentially ripping the dough.
I also sometimes include sliced red onion on top of the sliced meatballs before adding the sauce, and it's a great touch!
You can substitute sliced low-moisture (not fresh) mozzarella for the provolone if you prefer.
Dough recipe from My Pizza
Nutrition
Calories:
617
kcal
|
Carbohydrates:
96
g
|
Protein:
31
g
|
Fat:
13
g
|
Saturated Fat:
6
g
|
Polyunsaturated Fat:
1
g
|
Monounsaturated Fat:
3
g
|
Cholesterol:
53
mg
|
Sodium:
474
mg
|
Potassium:
592
mg
|
Fiber:
2
g
|
Sugar:
7
g
*All nutritional information is based on third-party calculations and should be considered estimates. Actual nutritional content will vary with brands used, measuring methods, portion sizes and more.*