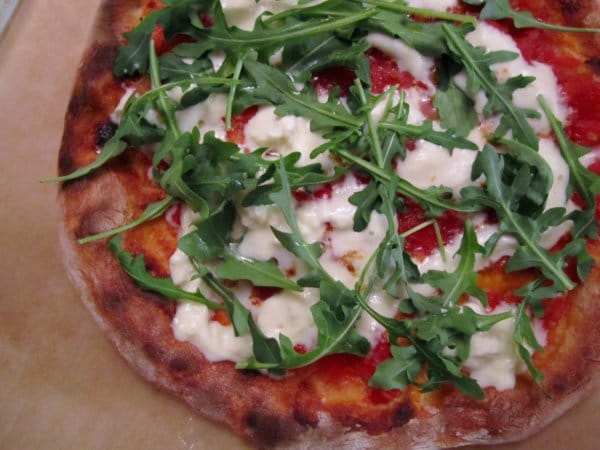 I dined at Jim Lahey's pizza spot Co. (Company) about a year and a half ago and really loved my experience there. The pizza was some of the best I've had, and it should be considering the mastermind behind it is responsible for some of the best bread in the city at Sullivan Street Bakery. He is also the mastermind behind No-Knead Bread and now no-knead pizza dough. I was thrilled to have the opportunity to receive an advance copy to review his new cookbook My Pizza, a follow-up to his previous My Bread.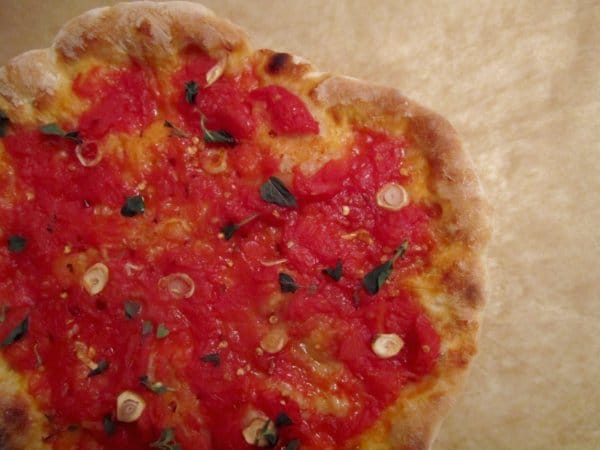 The technique is shockingly simple. Mix together a few ingredients. Let it sit covered for about 18 hours to develop flavor and rise. Do not knead it or work too hard. Cut dough into pieces, shape into balls and then stretch into pizza shapes. Top. Cook. Serve. It's as straightforward as that. The book goes in depth into the motivation behind the development of his no-knead technique, the opening of his restaurant, important tools to have in your kitchen for pizza making (pizza stone--the thicker the better, pizza peel, pizza cutter, kitchen scale), the value of having high quality ingredients, and most importantly the actual cooking technique behind his revolutionary pizzas.
Instead of simply preheating your baking stone and then baking your pizzas on top of it, Jim Lahey uses a slightly untraditional approach to mimic a brick oven for pizzas. First he has you preheat the stone at 500 degrees F. Then he asks you to switch your oven to broil and continue heating your stone, getting it as hot as possible. Then you actually broil your pizzas instead of baking them. The thought behind this is to cook the bottom of the crust with the searing hot stone, while quickly charring the top with your broiler. The result is a great char without overcooking your ingredients, and your pizzas are done in less than half the time of a traditional at-home pizza baking technique.
Not all ovens are created equal, so Jim offers instructions for regular gas ovens with the broiler on top, electric ovens, and gas ovens with a bottom broiler. He also points out that even in this case, ovens can vary and so cooking times may need to be adjusted. I noticed this when following his gas oven instructions and then noticed that unlike other gas ovens, the one I was using would intermittently turn off the broiler, thus not giving me one straight shot with the broiler and requiring my pies to cook a bit longer than suggested before they were bubbling and charred. He suggests trying out some of his simpler recipes to get the hang of the technique and learn the kinks of your personal oven before delving into more complicated ones. I think this is really great advice because I definitely had to tweak things in my pizzas escapades.
Also, even though I preheated my stone exactly as instructed (for as long as he stated, even measuring how far it was from the broiler with a ruler), the bottoms of my pies did not get charred whatsoever. The crust along the edges was perfect, and the toppings were outstanding and well-balanced, but my bottom crust was undercooked to my liking. I expected it to be thin, soft and foldable (like any other brick oven pizza I've had), but I imagined a bit more color on there too. This may, once again, be a matter of learning the personality of that particular oven, maybe even requiring a bit longer preheating time since even though it was a gas oven, it turned on and off as it heated, perhaps not allowing the stone to retain the highest heat possible (and maybe I really need a thicker stone to achieve the best results... mine was only about ¼-inch thick, whereas he suggests at least ½-inch). Fortunately, my concerns were addressed by Jim...
In his book, Jim Lahey points out that he hopes readers of his book will reach out to him with questions and thoughts, as he wants to be a part of your kitchen as you experience his recipes and try some fun topping ideas of your own. He offers up The University of Bread where folks can visit the Bread Forum and also email questions. I actually reached out to Jim via his publicist and he responded to a few of my inquiries. Here are his answers to my troubleshooting questions:
WHY IS MY BOTTOM CRUST NOT BROWNING?
Jim: The thickness of the stone, distance of the stone from the broiler and the overall cooking time can affect the quality of the bottom crust. I'd recommend moving the oven rack closer to the broiler and making sure that you use a thick pizza stone.
DOES THE STONE LOSE HEAT BETWEEN PIES? SHOULD I LET THE STONE HEAT UP MORE BETWEEN EACH PIE?
Jim: Once you arrive at the preheated temperature, leave the oven on broil full time. No need to switch to oven mode between pizzas. Ideally, you want the pizza stone to be at 620 degrees. The heat from the burners should be about 700 degrees. When the pizza is cooking, there's almost like a parabola of steam that rises off the pizza and evaporates. That dome is created in part by the amount of heat on the bottom as well as the surface heat from above that comes from the broiler heating up the surface below causing steam to rise.
WHY DO YOU STATE IN YOUR BOOK THAT THE PIZZA DOUGH CAN BE REFRIGERATED, BUT NOT FROZEN?
Jim: You can freeze the dough, but you need to use the right strain of yeast that survives freezing temperatures, like SAF Gold Instant Yeast. The dough will also change a bit, but you can get a pretty decent end result.
As we move away from the actual technique into the myriad of pie varieties offered in the book, I must say that each one is more drool-worthy than the next. There are three main chapters for pies (and for all of you non-New Yorkers... they're called pies in NYC, not pizzas, and so he refers to them as such). There are red sauce pizzas, white sauce pizzas, and no sauce pizzas (followed up with chapters on toppings, toasts, soups, and salads, and finally desserts).
The red sauce pizzas use a very simple uncooked tomato sauce that is prevalent in Neapolitan pizzas. In fact, my favorite pizzerias in the city (New York, that is) use a simple uncooked sauce of crushed San Marzano tomatoes. Although his sauce only contains tomatoes, olive oil, and salt, it was one of the highlights in the pizzas I made. Most of the white sauce pizzas use a Béchamel sauce, while the no sauce ones either have none, or use a very non-traditional one, such as a walnut puree.
One of the pizzas I selected for my first time out was the Rosa Pie, a very simple pizza with tomato sauce, sliced garlic, crushed chili flakes, olive oil, and a final hit of fresh oregano after it comes out of the oven. It contained no cheese, but I promise you that cheese was not missed here! The simplicity of the high-quality ingredients was all this pie required to shine. It was a favorite among everyone who tried it. A permanent addition to my pizza repertoire.
The second one I tried was the Stracciatella Pie, another simple creation starting with tomato sauce. It is cooked without any cheese, but then after coming out of the oven it is topped with luscious strands of stracciatella cheese, which melt on contact. It is then topped with fresh arugula and a drizzle of olive oil. Another delicious and special creation, it is apparently one of the most popular at the restaurant. Stracciatella is a form of mozzarella that contains torn strips of mozzarella and cream, and is often used as a filling for burrata. Jim points out that it can be very difficult to find this cheese, but worth seeking out and even ordering online. Lucky for me, I was able to purchase it at the same place where he gets it for his restaurant: Buon Italia, an Italian specialty store in Chelsea Market.
Some of the other standout recipes in the book that I simply can't wait to try (once I master my oven technique) include: Radicchio Pie (with Teleggio cheese, kalamata olives, and caramelized onions), Veal Meatball Pie, Amatriciana Pie (like the classic pasta sauce, but adapted for pizza), Pepperoni Pie (which doesn't actually contain any pepperoni sausage but instead refers to "peppers" as the pepperoni in the red pepper sauce base), Flambé Pie (what I ate at his restaurant, and his take on a traditional Alsatian pizza), Ham and Peas Pie (the appetizing cover photo of the book), Cauliflower Pie, Corn and Tomato Pie (exceptional-looking for late summer and corn season), Onion Pie (which starts with a creamy onion sauce and also contains leeks and scallions--members of the onion family--and some delicious Gruyère and Mozzarella cheeses), Potato and Leek Pie (the vichyssoise of pizza), Broccoli Rabe Pie, Ham and Cheese Pie, Popeye Pie (piled high with spinach), Shiitake with Walnut Puree Pie, Squash with Pumpkin Seeds Pie, and Poached Artichoke with Walnut Puree Pie. It's a pizza orgy that I definitely want to be a part of.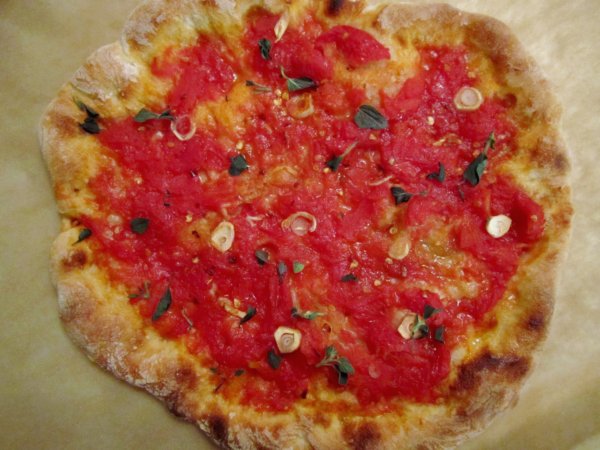 And that's just from the three pizza chapters! I haven't even gotten into the Toasts, Soups, and Salads chapter or the Desserts chapter, but suffice it to say, there's a pretty lengthy list from those too. All in all, this is a pretty amazing and well-rounded cookbook. There are answers for your questions and a consideration for the fact that not all ovens are created equal, and thus attention must be paid to learning each ovens "personality" if you will to get the technique and timing just right. I look forward to all the practice! This will not be my last Jim Lahey pizza party, I promise you that 🙂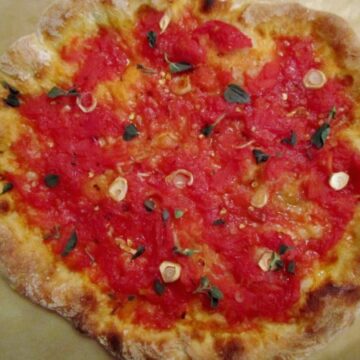 Rosa Pizza
This truly simple pizza pie is anything but basic.
Print
Pin
Rate
Servings:
4
(10 to 12-inch) pizzas
Ingredients
No Knead Pizza Dough:
500

grams

(17 ½ ounces or 3 ¼ cups) all purpose flour, plus more for shaping the dough

1

gram

(¼ teaspoon) active dry yeast

16

grams

(2 teaspoons) fine sea salt

350

grams

(1 ½ cups) water
Pizza:
280

grams

(1 cup) basic tomato sauce

Generous pinch of fine sea salt

Pinch

of chili flakes

4

medium garlic cloves

thinly slivered

Extra-virgin olive oil

for drizzling

16 to 20

fresh oregano leaves

chopped (optional)
Instructions
To make the dough: In a medium bowl, thoroughly blend the flour, yeast, and salt. Add the water and, with a wooden spoon or your hands, mix thoroughly.

Cover the bowl with plastic wrap or a kitchen towel and allow it to rise at room temperature (about 72°F) for 18 hours or until it has more than doubled. It will take longer in a chilly room and less time in a very warm one.

Flour a work surface and scrape out the dough. Divide it into 4 equal parts and shape them: For each portion, start with the right side of the dough and pull it toward the center; then do the same with the left, then the top, then the bottom. (The order doesn't actually matter; what you want is four folds.) Shape each portion into a round and turn seam side down. Mold the dough into a neat circular mound. The mounds should not be sticky; if they are, dust with more flour.

If you don't intend to use the dough right away, wrap the balls individually in plastic and refrigerate for up to 3 days. Return to room temperature by leaving them out on the counter, covered in a damp cloth, for 2 to 3 hours before needed.

To shape the disk: Take one ball of the dough and generously flour it, your hands, and the work surface. Then press it down and gently stretch it out to 6 to 8 inches. Supporting the disk with your knuckles toward the outer edge and lifting it about the work surface, keep stretching the dough by rotating it with your knuckles, gently pulling it wider and wider until the disk reaches 10 to 12 inches. Set the disk on a well-floured peel. It is now ready to be topped. Alternatively, stretch the dough on the work surface by massaging it into a roundish disk about 10 to 12 inches, but don't handle it more than necessary.

Put the pizza stone on a rack in a gas* oven about 8 inches from the broiler. Preheat the oven on bake at 500 degrees F for 30 minutes. Switch to broil for 10 minutes.

With the dough on the peel, spoon ¼ of the tomato sauce over the surface and spread it evenly, leaving about an inch of rim untouched. Sprinkle with salt and chili flakes. Distribute ¼ of the garlic evenly over the pie. Drizzle with oil.

With quick, jerking motions, slide the pie onto the stone. Broil for 3 minutes under gas (somewhat longer with an electric oven), until the top is bubbling and the crust is nicely charred but not burnt.

Use the peel, transfer the pizza to a tray or serving platter. Sprinkle with ¼ of the oregano, if using. Slice and serve immediately. Repeat with the remaining dough to create 3 more pizzas.
Notes
*For an electric oven, place the stone 4 inches from the top heating element, and preheat, on bake, at 500 degrees F for the usual 30 minutes. Then, open the oven door a few inches and leave it ajar for about 30 seconds. Some of the ambient heat will escape, but the stone with stay just as hot. Now close the oven door and switch to broil for 10 minutes to heat the surface to the maximum. Open the door and slide the pizza in to broil. Because the stone is so close to the element, you may need to pull the rack out a few inches to get the pie centered on the stone; do it quickly and don't worry about losing too much heat. With the door closes, broil for roughly 2 minutes longer than specified for gas–until the crust is adequately charred but not burnt and the toppings are bubbling.
*For a bottom broiler, start with the stone in the broiler at the lowest level or on the floor of the oven. Preheat on low for about 20 minutes, and then switch to high for another 5 minutes. Slide in the pizza, close the drawer, and broil as instructed by the recipe (most often 3

½

to 4 minutes), until bubbling and properly charred–checking to be sure it's not burning.
Nutrition
Serving:
1
pizza
|
Calories:
584
kcal
|
Carbohydrates:
98
g
|
Protein:
14
g
|
Fat:
9
g
|
Saturated Fat:
1
g
|
Polyunsaturated Fat:
1
g
|
Monounsaturated Fat:
3
g
|
Sodium:
2149
mg
|
Potassium:
32
mg
|
Fiber:
4
g
|
Sugar:
1
g
*All nutritional information is based on third-party calculations and should be considered estimates. Actual nutritional content will vary with brands used, measuring methods, portion sizes and more.*
*Disclaimer* I received no compensation to write this review other than a free copy of the book. My opinions are always my own.