This post may contain affiliate links, which means that I may receive a commission if you make a purchase using these links. As an Amazon Associate I earn from qualifying purchases.
A family favorite, Ishli Kofte (Içli Köfte) is nearly identical to Lebanese Kibbeh. Its name means "stuffed kofte" or "stuffed meatball" because that's exactly what it is. A meat and bulgur wrapper stuffed with cooked ground meat. We may as well call it meat squared! I call it delicious!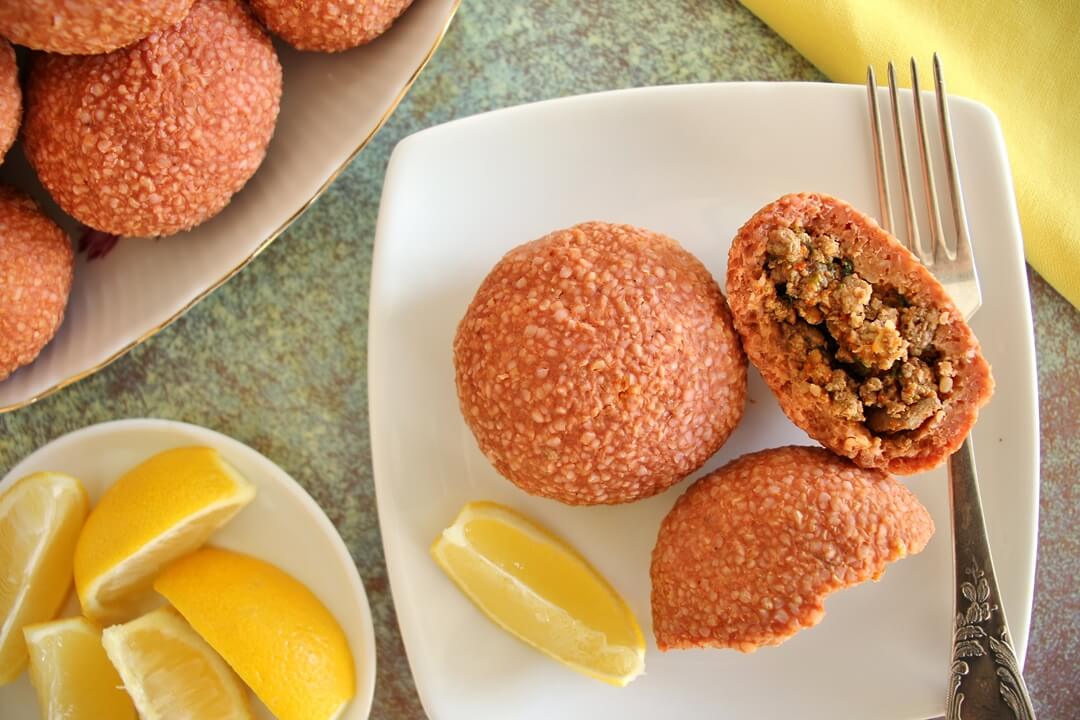 Various cultures in the Middle East and Near East make versions of these koftes. In Turkish, the word içli / ichli / ishli means stuffed, so the name is a literal description of what it is. The Lebanese have a popular dish called kibbeh which refers to the same basic recipe with slightly different spices like cinnamon and allspice. It's a stuffed meatball. Meat stuffed with more meat.
Ishli kofte and kibbeh shapes
Ishli kofte and kibbeh often have an oblong football shape with pointy ends, and they are typically deep-fried (especially kibbeh). It's important to note that with any recipe there can be regional or personal differences as to how it's made. My Armenian grandmother has been making ishli kofte since she was 12-years-old, and her family always made it this way. She always shapes ishli kofte into round shapes with flat bottoms instead of pointy footballs. This is how I prefer to shape them as well. My mom, on the other hand, tends to shape hers into a slightly elongated oval shape, but without pointy ends. It can take a bit of practice to assemble the koftes with thin enough walls, so make whichever shape feels more comfortable to your hands. They are delicious regardless of their shape!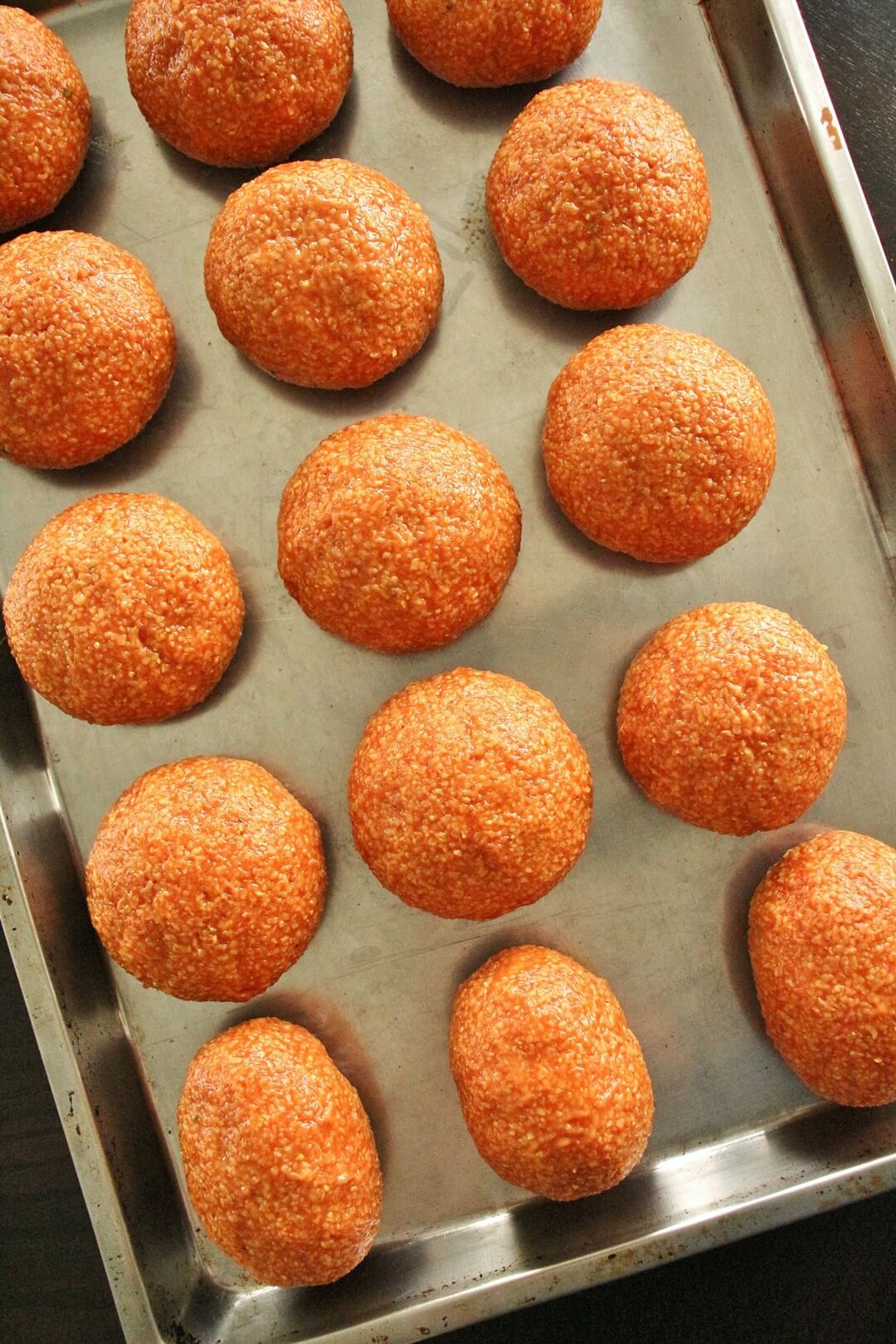 Cooking methods
As I mentioned earlier, these koftes are sometimes fried. Although this yields a delicious crisp exterior, this isn't how my family cooks ours. For generations we have boiled our ishli kofte. Honestly, this is much easier, less messy, healthier, and extremely delicious. The poaching liquid for the koftes is water seasoned with salt and lemon juice. This imparts more flavor into the koftes as they cook. It's also a great way to reheat leftover or frozen koftes by re-poaching them in a similar broth. You may also cook them in chicken broth if you prefer, and even serve them as a soup.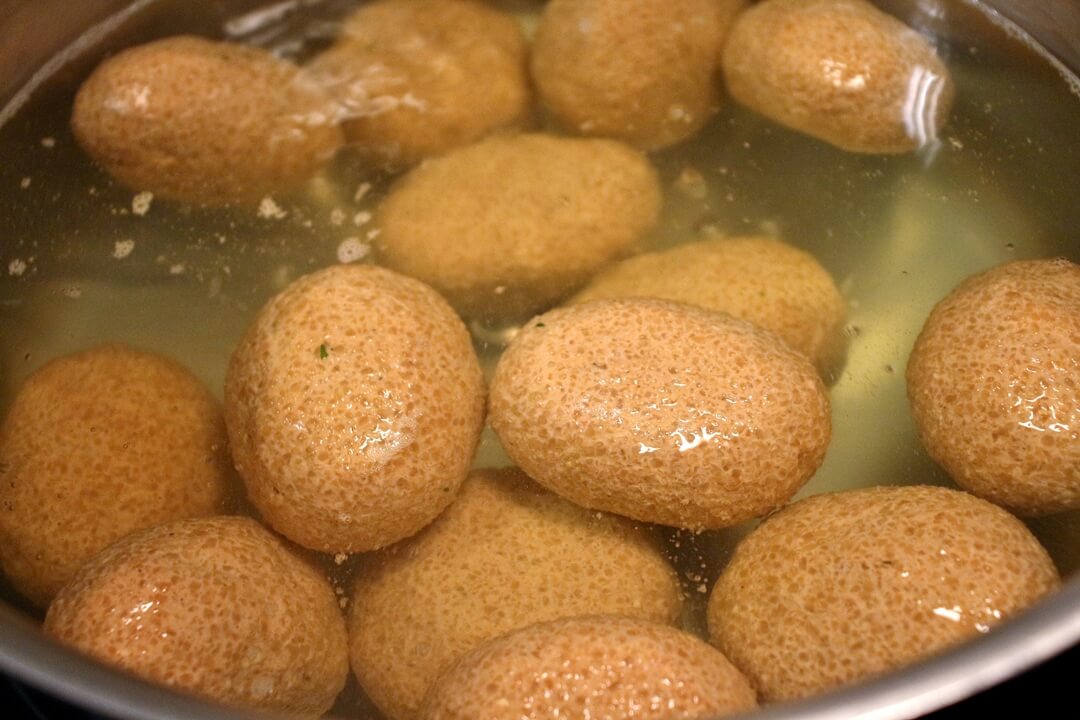 How to make Ishli Kofte
This isn't a super easy dish to make. It will require a bit of time and finesse to assemble, but the results are worth it! Especially if you grew up eating ishli kofte or kibbeh, or simply appreciate and enjoy Middle Eastern flavors. With these instructions you'll be able to master the process in no time. Just be patient and don't be discouraged.
First, you'll need to make the gheyma filling by sauteing ground beef in melted butter. Make sure you break up the meat with a wooden spoon or spatula so it's crumbly. Add chopped onions and seasonings, and continue to cook. Add chopped parsley, and then cool the gheyma completely until you're ready to assemble. Some people like to include pine nuts in their gheyma. You can certainly do this, but our family doesn't.
Let's get started on the meat wrappers 🙂 Add #1 grade fine bulgur to a large mixing bowl, and add water. Soak the bulgur for about 15 minutes until it softens . It should easily clump together when you squeeze it into your fist. Season the bulgur with salt, pepper, and paprika. Make sure you have a bowl of water nearby for wetting your hands as you work through the upcoming steps.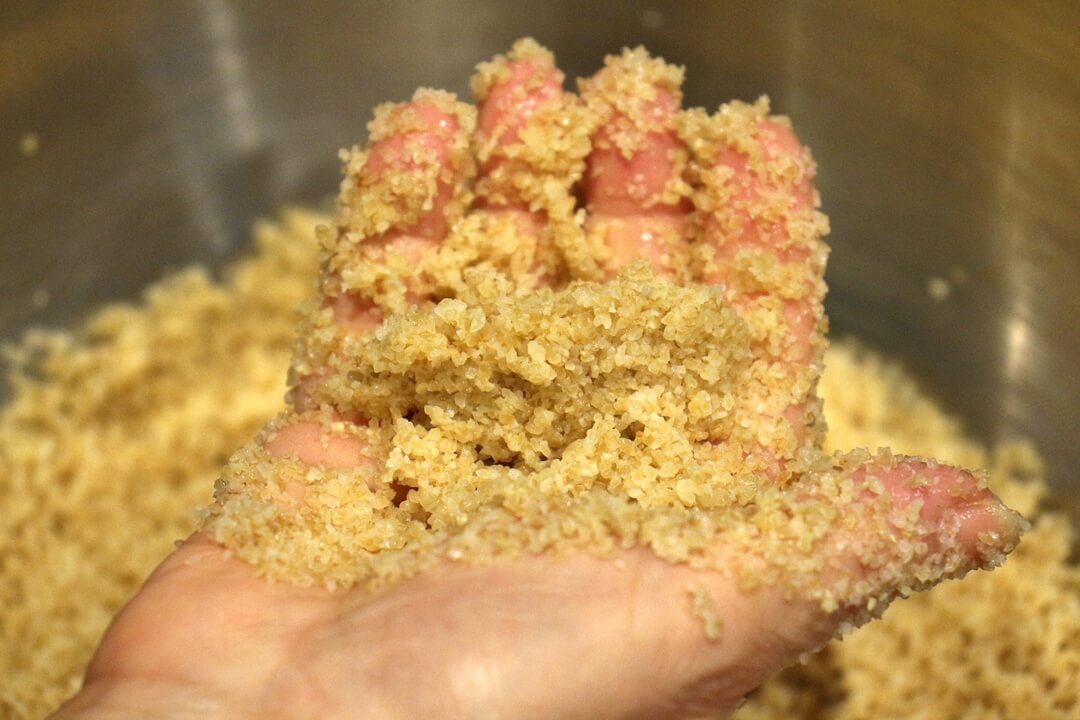 Next, add your specially ground beef. If you live anywhere near a large Armenian or Lebanese population, you may be able to purchase this meat at special meat markets. I know Los Angeles has many. You can also grind it yourself or ask your butcher to do it for you. We use very fresh beef top round, trimmed of all fat, and ground 4 times until the texture is similar to a paste. If you grind it yourself you may grind the spices directly into the meat. Otherwise, once you add the super-ground beef to your bulgur, season it right away. Then combine it with the soaked bulgur until it's a cohesive mass. Mix in an egg, and then some flour to bind. You're ready to assemble!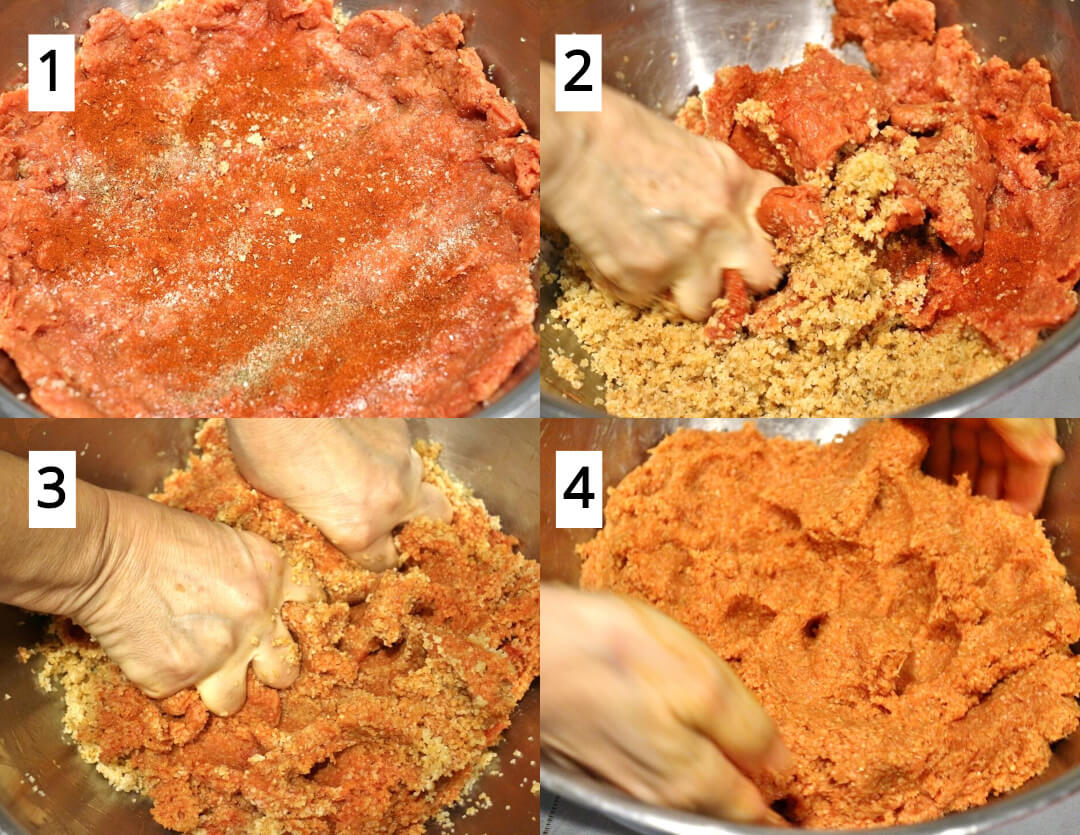 Assembly and cooking instructions
Don't forget to periodically wet your hands throughout this process. It will keep the meat from sticking, and will make it much easier to shape your koftes. For each kofte, scoop 1/4 cup of the beef/bulgur mixture and roll it into a ball in your palm. Use a finger on the opposite hand (thumb or index fingers are good options) to press an indentation into the meatball. Use your finger to continue to open up the indentation to basically make a meat cup. Keep working with it to thin out the walls of the cup as much as possible without ripping or breaking the cup.
Pack about 2 heaping tablespoons of gheyma into the indentation. The amount of filling may depend on how thin you got the meat, and the resulting size of the cup. Continue wetting your hands as needed. Gently work the wrapper closed as you turn the kofte in the palm of your hand. Smooth out the ball into an oval or circle and set it aside on a tray or baking sheet. For fun you may add an almond or hazelnut into the filling of one of the koftes. Only do this if no one in your dining party is allergic to nuts! When your family eats the cooked ishli koftes, whoever gets the one with the nut inside is the winner. Yay!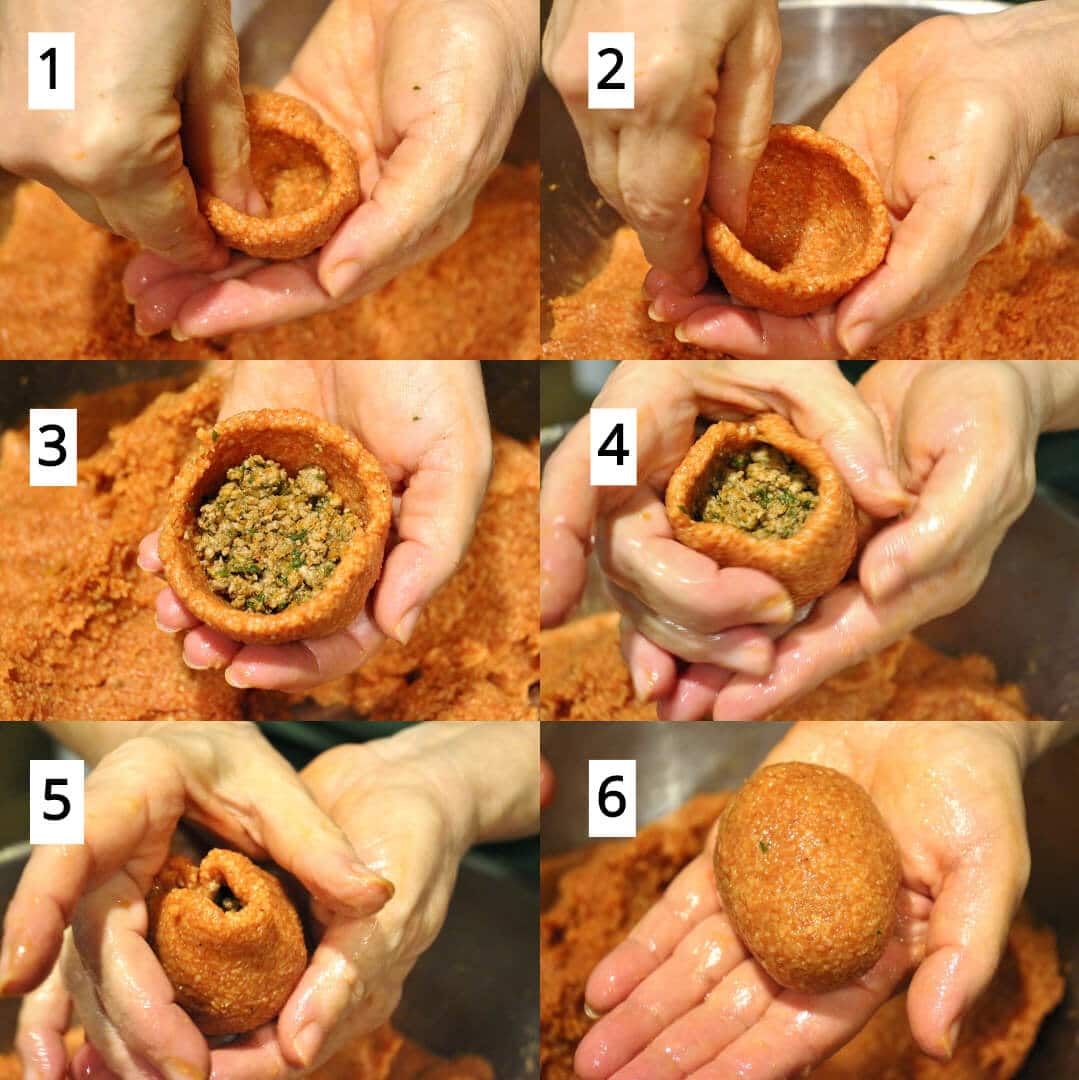 Like I said earlier, we boil our ishli kofte instead of frying. Add salt and lemon juice to water and bring to a boil. Add the koftes in batches and poach them for about 10 minutes until cooked through. Use a slotted spoon to remove them to a colander, and let them drain for another minute before serving hot with lemon wedges on the side.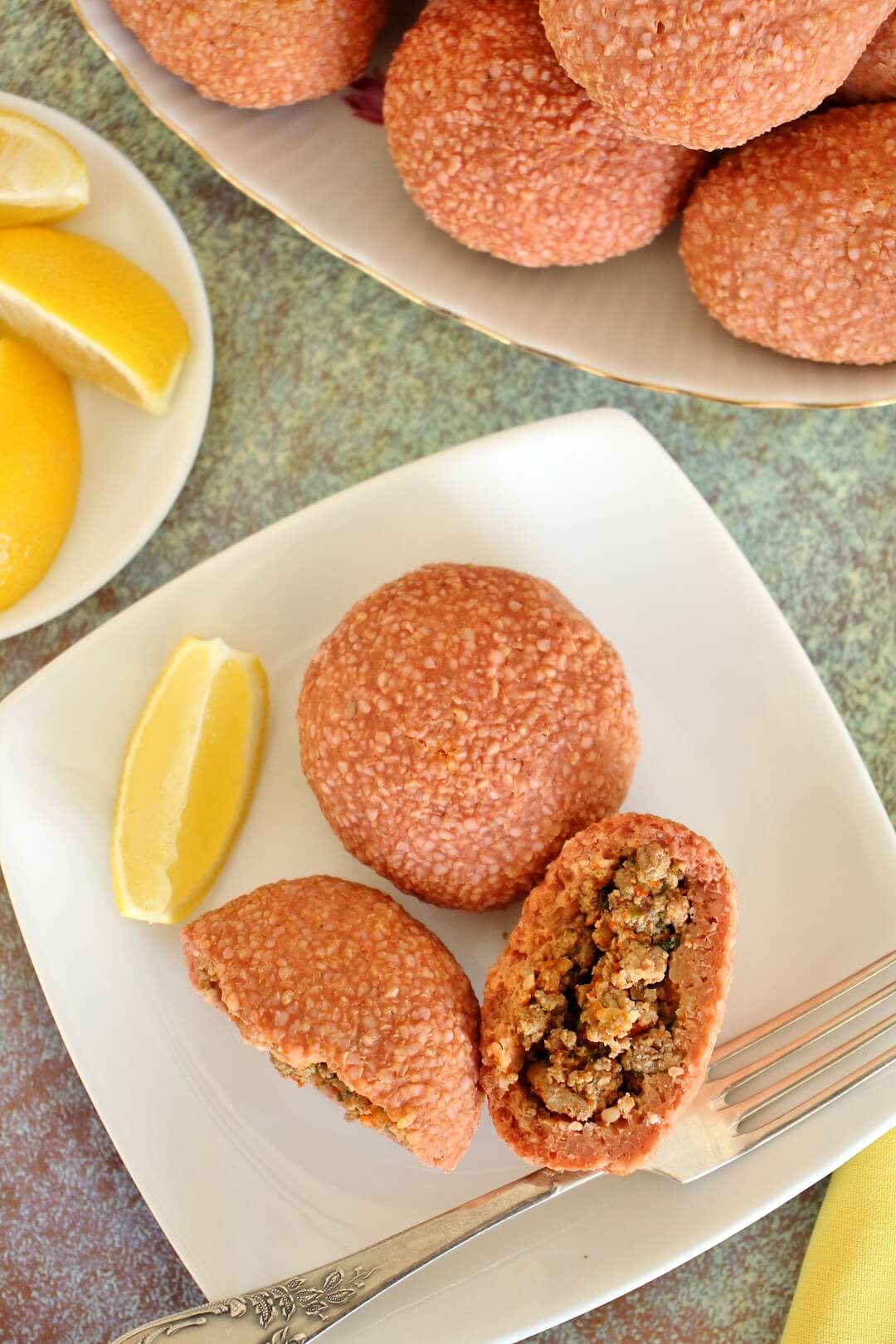 Other recipes you may like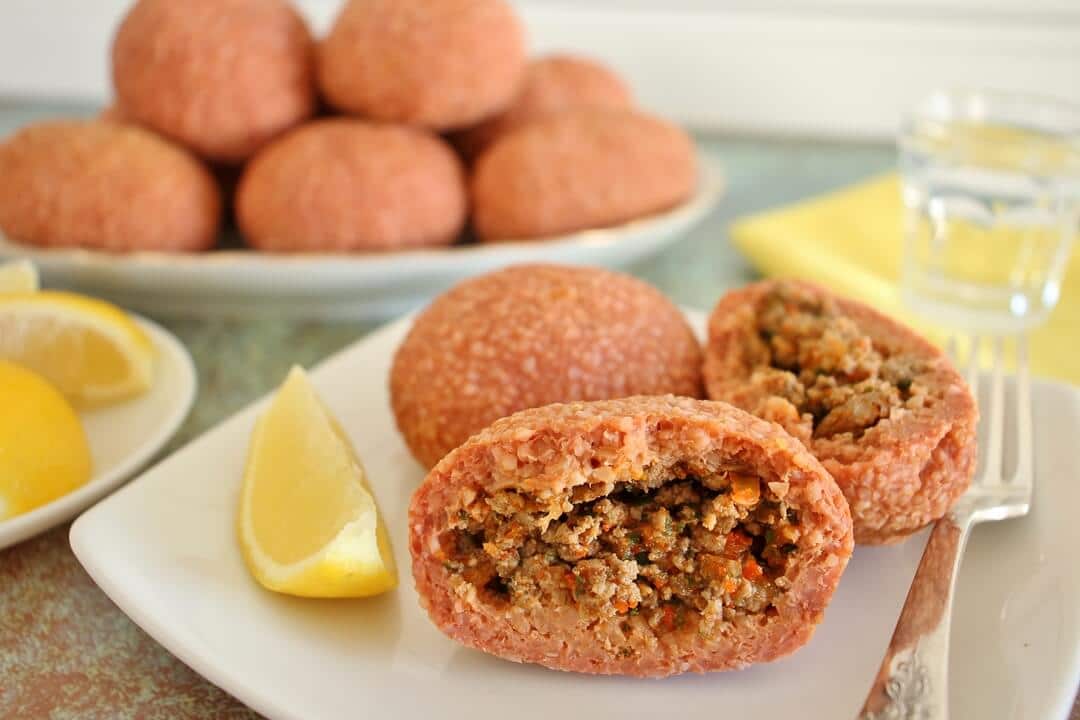 Have you ever eaten ishli kofte or kibbeh? Please leave me a comment, and don't forget to rate this recipe if you've tried it. Thanks!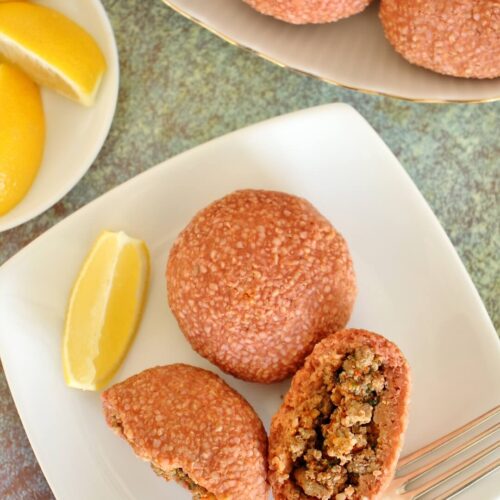 Ishli Kofte (Stuffed Kofte)
A family favorite, Ishli Kofte (Içli Köfte) is nearly identical to Lebanese Kibbeh. Its name means "stuffed kofte" or "stuffed meatball" because that's exactly what it is. A meat and bulgur wrapper stuffed with cooked ground meat. We may as well call it meat squared! I call it delicious!
Ingredients
Gheyma Filling:
2

tablespoons

unsalted butter

2

pounds

ground beef

2

large onions

finely chopped

Kosher salt and freshly ground black pepper

Paprika

1

cup

chopped flat-leaf parsley
Kofte:
3

cups

grade #1 fine bulgur

cracked wheat

3

cups

water

3

tablespoons

kosher salt

1

tablespoon plus 1 teaspoon

paprika

1/2

teaspoon

black pepper

2

pounds

very fresh top round

trimmed of all fat and ground 3 to 4 times until fine like a paste

1

large egg

2

tablespoons

all-purpose flour

1

whole almond or hazelnut

optional
Cooking & Serving:
3

quarts

water

3

tablespoons

kosher salt

3

tablespoons

lemon juice

Lemon wedges

for serving
Instructions
Gheyma Filling:
Heat the butter in a medium skillet over medium-high heat. When melted add the ground beef, stirring and breaking up into small pieces. When the beef has started to brown but is not completely cooked yet, add the onions and season with salt, pepper, and paprika. Continue to cook until the beef is well-browned and cooked through. Taste and adjust seasoning as desired. Stir in the parsley and remove from the heat. Cool completely before using. The gheyma can be made ahead and refrigerated until needed. It can also be frozen.
Kofte
Fill a small bowl with some water to use to wet your hands as needed during the mixing and shaping process. In a large mixing bowl, soak the bulgur with water for about 15 minutes until absorbed but still wet. Season with 1 tablespoon salt, 1 teaspoon paprika, and 1/4 teaspoon black pepper. Mix until combined.



Add the meat to the top of the bulgur mixture. Season with 2 tablespoons salt, 1 tablespoon paprika, and 1/4 teaspoon black pepper. Mix together with your hands until thoroughly combined, wetting your hands as needed to keep the meat from sticking to your fingers. Taste the mixture for seasoning and adjust if necessary.

Add the egg and mix it into the meat until smooth (again wet your hands if needed). Then sprinkle the flour over the top, and do the same.
Assembling & Cooking:
Scoop 1/4 cup of the kofte mixture into the palm of your hand (your left hand if you are right-handed). Wet your hands occasionally throughout the process to keep the meat from sticking. Shape the mixture into a ball, then use a finger (an index finger or thumb) to press into the center of the ball (use the fingers on your right hand if you are right-handed). While cupping the kofte with your other hand, carefully spin the kofte and keep pressing with your finger to expand the indentation. Keep doing this, carefully working the meat to yield an even thickness all around. Get it as thin as you can without tearing or losing structure. It should look like a wide meat cup.

Pack the inside of the kofte cup with about 2 heaping tablespoons of gheyma (the capacity will depend on how thin you got the walls of the kofte). Again, keep wetting your hands as needed. Carefully turn the kofte in your hand, using your other hand to seal the ball closed as you turn. You want to keep the exterior as even and thin as possible. Smooth out the ball either into an oval or round shape and set it on a sheet while you continue to shape the other koftes. While you work, occasionally wet the beef/bulgur mixture in the mixing bowl, and mix it again to ensure it doesn't get dry. If desired, for one of the koftes include an almond or hazelnut in the middle of the filling before sealing up the kofte. Whoever gets the kofte with the nut inside is the lucky one! (Only do this if you are sure all diners are not allergic to nuts!). Cover and refrigerate for up to 2 hours if you're not cooking them immediately.

Add 3 quarts of water, 3 tablespoons of kosher salt, and 3 tablespoons of lemon juice to a large pot and bring to a boil. In batches, add koftes. Boil for about 10 minutes, reducing the heat to medium to maintain a gentle boil/simmer. Use a slotted spoon to remove koftes to a strainer, and let rest for minute to finish draining. Transfer to a serving dish and serve immediately with lemon wedges.
Notes & Nutrition
My grandmother recommends seasoning the bulgur mixture separately and then seasoning the meat separately as well. She says it tastes better this way, and I listen to my grandma. This is why there are instructions to season the bulgur, then season the meat, and mix it all together.
This recipe uses kosher salt (aka cooking salt, kitchen salt, coarse salt outside of the US). If you are using table salt, definitely scale down the salt as that is a saltier type of salt! The type of salt will make a big difference in how salty your food tastes, so keep that in mind.
You can taste the meat mixture for seasoning before adding in the egg. We essentially eat this as another raw dish called Chi Kofte, or Armenian steak tartare. If you have an aversion to raw meat, don't taste it, just use the provided measurements.
Many people fry their ishli kofte. The Lebanese version kibbeh always seems to be fried. My grandmother and great-grandmother always boiled theirs, and this is our family recipe. But you can deep fry yours if you prefer.
When my grandmother would make a smaller batch of ishli kofte, she would still use 1 whole egg. If you cut this recipe in half, plan to still use 1 egg. Don't bother to measure half an egg.
Although this recipe uses a lot of meat (4 pounds) it makes about 33 koftes. If each person were to eat 4 koftes, that would be about 8 servings. You can reduce the recipe, but since it freezes so well I do suggest making the full recipe if you can.
To freeze: Allow cooked koftes to cool completely, then transfer to freezing bags and freeze. To reheat: Thaw frozen koftes in the refrigerator overnight. Make another batch of seasoned water with water, salt, and lemon juice (reduce the amounts as needed if only reheating a small number of koftes). When the water is boiling, add the cooked koftes and heat them through, about 4 to 5 minutes. Drain and serve.
Servings 33.0 * calories 151 * Total Fat 6 g * Saturated Fat 3 g * Monounsaturated Fat 0 g * Polyunsaturated Fat 0 g * Trans Fat 0 g * Cholesterol 43 mg * Sodium 344 mg * Potassium 85 mg * Total Carbohydrate 11 g * Dietary Fiber 2 g * Sugars 0 g * Protein 14 g
*All nutritional information is based on third-party calculations and should be considered estimates. Actual nutritional content will vary with brands used, measuring methods, portion sizes and more.*
Pin it for Later!