This post may contain affiliate links, which means that I may receive a commission if you make a purchase using these links. As an Amazon Associate I earn from qualifying purchases.
There are countless ways to make tacos, but these adobo tacos with chicken are flavorful and easy enough for a weeknight. You can make the marinade ahead of time, and even freeze it! Then just marinate your chicken in the adobo paste and cook until juicy. Delicious!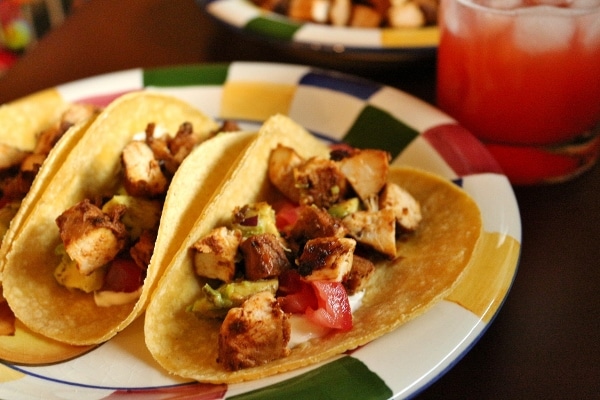 Taco Tuesday is my favorite non-holiday to celebrate because tacos feed my soul AND my belly. I am a long-standing Mexican food aficionado, and tacos reign supreme in my world. One of the reasons I love tacos so much is their versatility. There are so many filling and topping combinations! There's also several options for how to get those fillings and toppings into your mouth. Are you a crunchy or soft taco lover? Corn or flour tortillas? I personally end to gravitate toward the more traditional soft corn tortillas. But everyone's a winner here so eat tacos whichever way you love!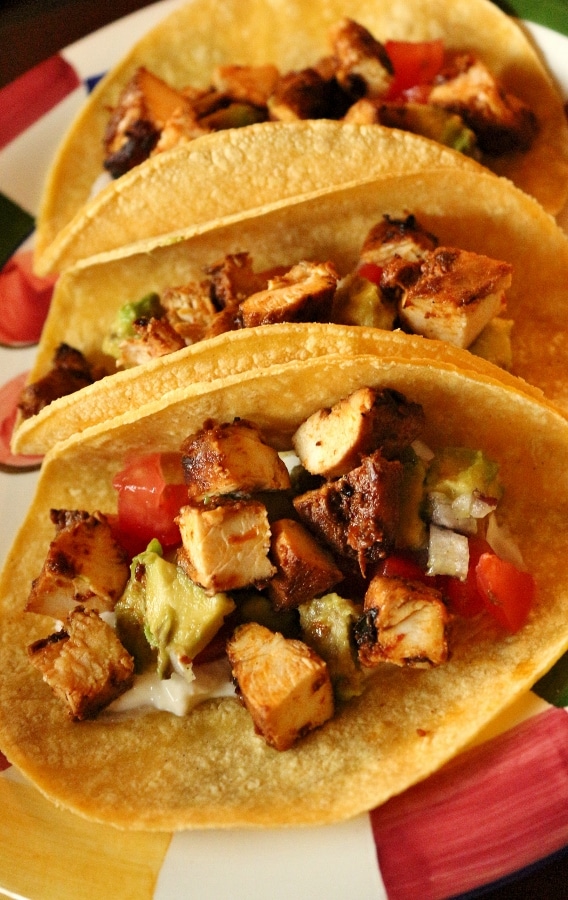 There are countless ways to fill your tacos. Today I'm sharing an excellent recipe for Adobo-Marinated Chicken Tacos. The marinade for these adobo tacos is simple enough to make once you procure some dried ancho and guajillo chiles. Soak the chiles until softened and blend with spices like ginger and cumin. This will create a paste perfect for your chicken adobo tacos. I let my adobo taco filling marinate for a good 9 hours or so. You can also cook it immediately if you don't have time to spare.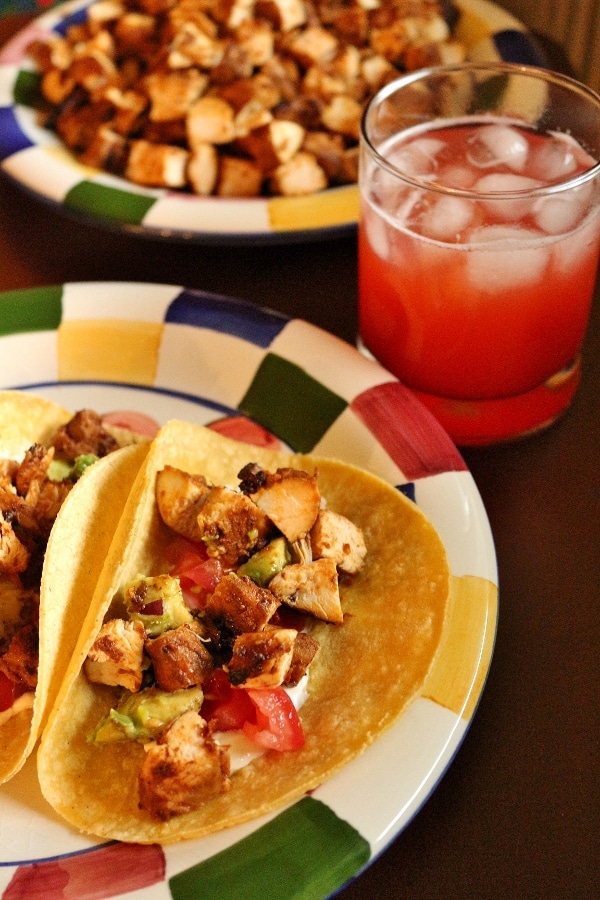 The resulting chicken is juicy and flavorful. It's not particularly spicy so it's great for adults and children alike. These tacos get creative when you start building the toppings. I'm a big fan of this spicy Salsa Quemada (Roasted Tomato and Tomatillo Salsa) which would be fantastic on these easy adobo tacos!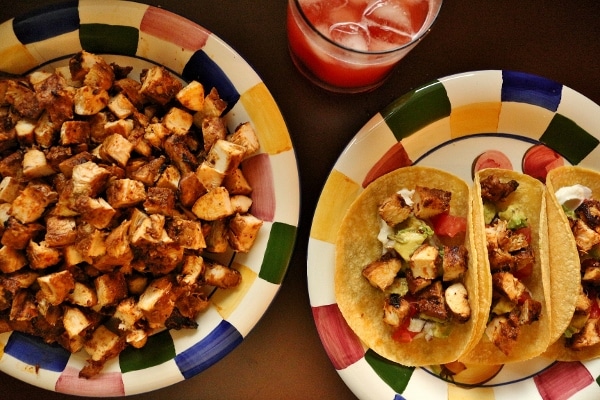 On day one I opted for a simple schmear of sour cream, diced tomatoes, and a very rough, chunky guacamole in my chicken adobo tacos. The following day, I switched it up with a bit of refried beans spread on the tortillas, more avocado to top, and a few slices of homemade pickled jalapenos for spice and acidity. That's truly one of my favorite things about tacos, their customizability. Whether you've planned ahead and make homemade toppings, or simply used what you have in your fridge and pantry, with a good taco base you can't go wrong!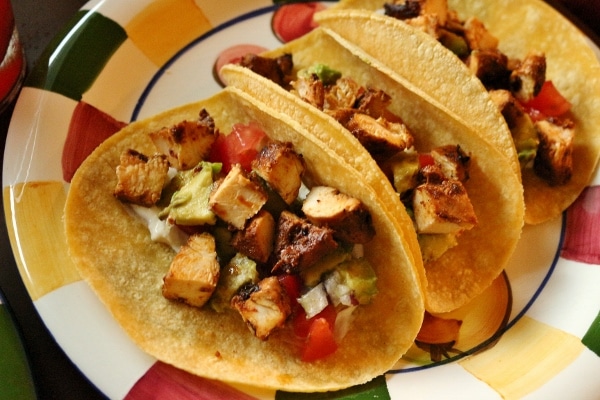 These chicken adobo tacos are simple enough to make for a weeknight. There's no reason you can't whip them up tonight if you feel so inclined. I am ready for a taco coma right about now, and these tacos look just right to get me there.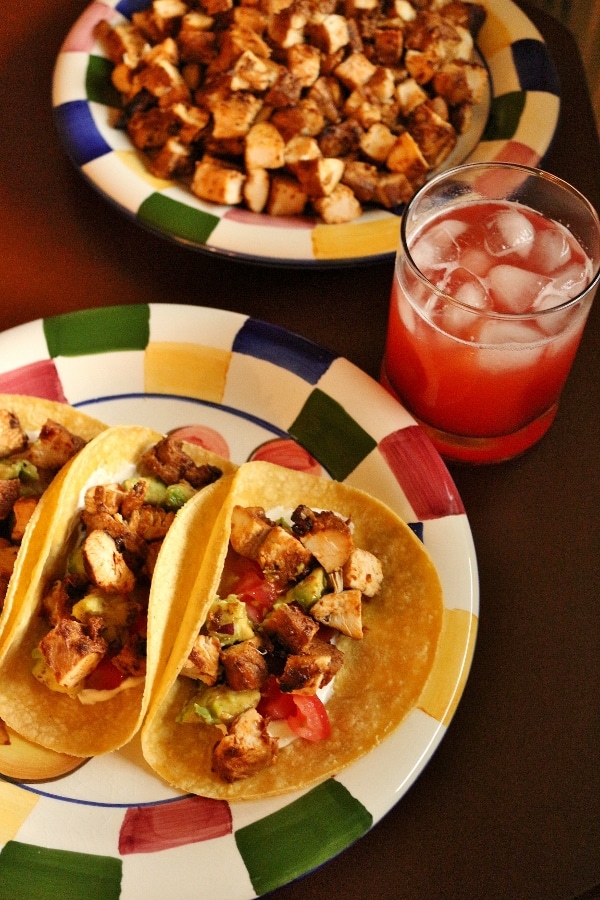 Other taco recipes you may like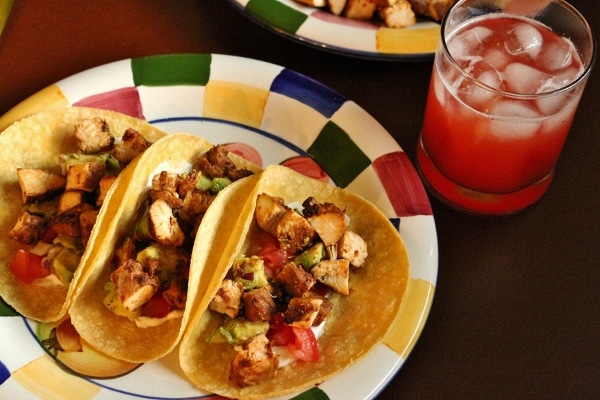 What are your favorite taco fillings and toppings? Leave me a comment letting me know, and please rate this recipe if you've tried it. Thanks!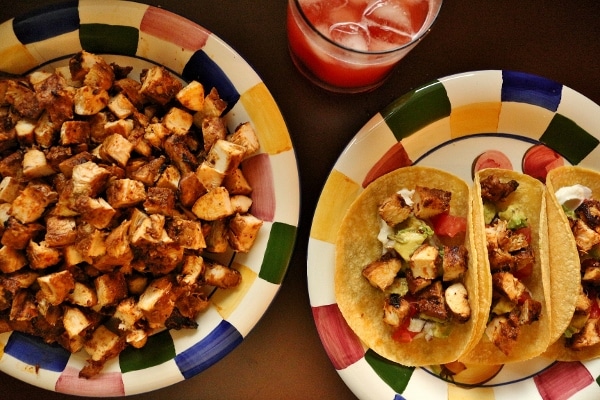 Adobo-Marinated Chicken Tacos
There are countless ways to make chicken tacos, but these adobo tacos are flavorful and easy enough for a weeknight. You can make the marinade ahead of time, and even freeze it! Then just marinate your chicken in the adobo paste and cook until juicy. Delicious!
Ingredients
4

dried ancho chiles

about 2 ounces, wiped clean, stemmed, and seeded

4

dried guajillo chiles

about 1 ounce, wiped clean, stemmed, and seeded

1/2

cup

water

plus more for soaking the chiles

1

tablespoon

finely chopped peeled ginger

1 1/2

teaspoons

kosher salt

plus more as needed

3/4

teaspoon

ground cumin

1/4

teaspoon

freshly ground black pepper

2

pounds

chicken tenders, cutlets, or boneless, skinless thighs

About 2 tablespoons vegetable oil
For serving:
Warm corn or flour tortillas

Diced avocado

optional

Salsa

optional

Sour cream or Mexican crema

optional

Chopped fresh cilantro leaves

optional

Lime wedges

optional

Finely chopped white onion

optional
Instructions
Combine the chiles in a large bowl and add enough water to cover them (I use hot but not boiling water). Soak the chiles until they're soft, about 30 minutes. Drain and discard the soaking water.

Place the drained chiles in a blender. Add the 1/2 cup water, ginger, salt, cumin, and pepper and blend until smooth, stopping and scraping down the pitcher with a rubber spatula as needed, about 1 minute. (The mixture will be thick—don't add extra water.) You will yield about 1 cup of chile purée.

Put the chicken in a bowl, add 1/2 cup of the chile puree (the rest can be refrigerated for a week or frozen for a few months to make another batch of tacos in the future), and rub it onto the chicken until the meat is well coated. At this point you can cook the chicken right away, or cover and refrigerate it for up to 24 hours.

Preheat a grill, griddle, or large skillet over medium heat. Add just enough oil to add a thin sheen to the grill grates or pan. Season the chile-slathered breasts with salt and cook, in batches if necessary, until they're well browned on both sides and just cooked through, turning them over once, 8 to 10 minutes per batch. Let the chicken rest for a few minutes, then slice or dice it for tacos, and serve with the tortillas and your choice of garnishes.
Notes & Nutrition
This recipe uses kosher salt (aka cooking salt, kitchen salt, coarse salt outside of the US). If you are using table salt, definitely scale down the salt as that is a saltier type of salt! The type of salt will make a big difference in how salty your food tastes, so keep that in mind.
Adapted from Tacos, Tortas, and Tamales
Marinated, Cooked Chicken and Corn Tortillas Only (no other toppings): Servings 16.0 * calories 122 * Total Fat 3 g * Saturated Fat 7 g * Monounsaturated Fat 0 g * Polyunsaturated Fat 2 g * Trans Fat 0 g * Cholesterol 22 mg * Sodium 85 mg * Potassium 232 mg * Total Carbohydrate 13 g * Dietary Fiber 3 g * Sugars 2 g * Protein 10 g
*All nutritional information is based on third-party calculations and should be considered estimates. Actual nutritional content will vary with brands used, measuring methods, portion sizes and more.*
Pin these Chicken Adobo Tacos for later!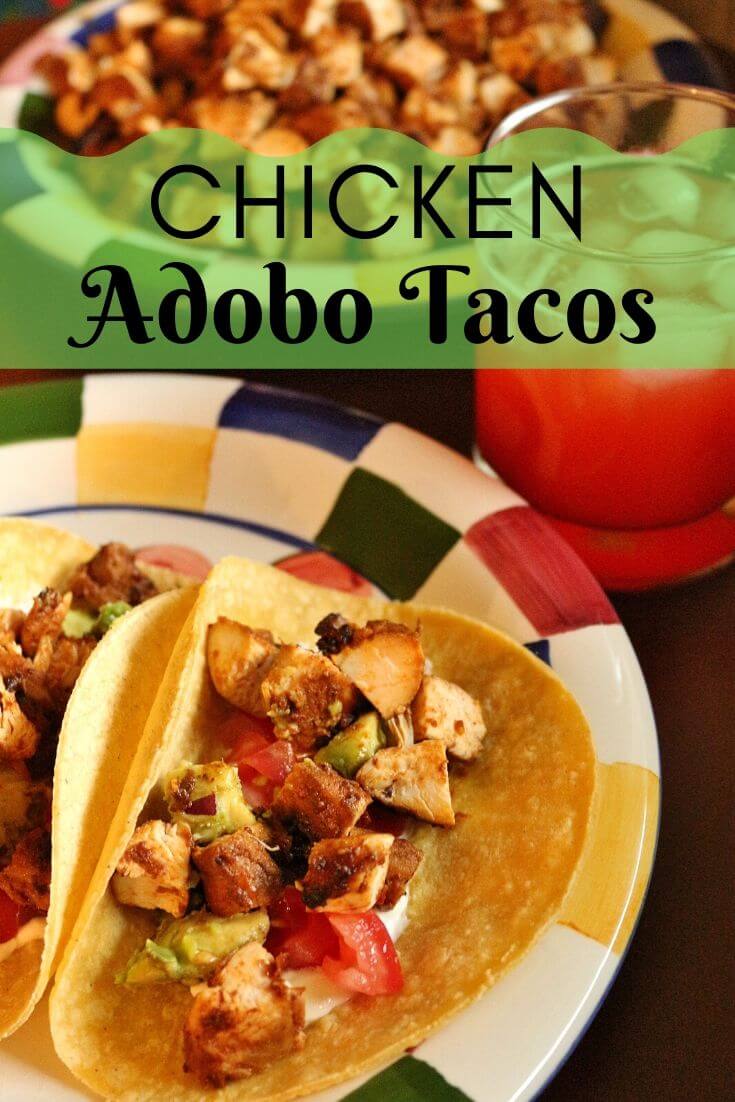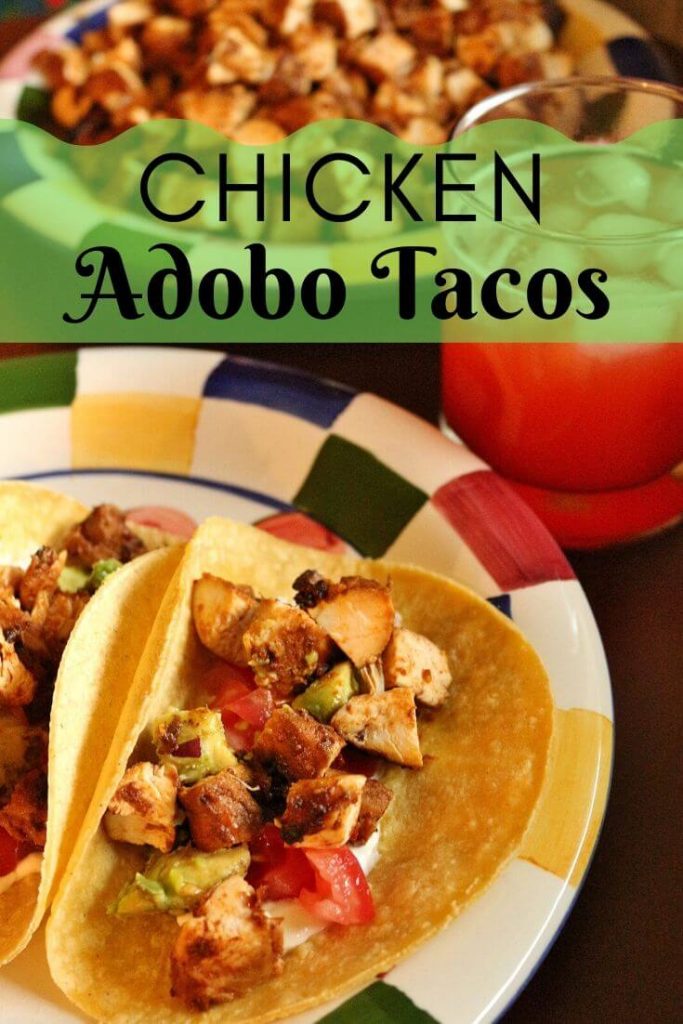 Amazon disclosure – We are a participant in the Amazon Services LLC Associates Program, an affiliate advertising program designed to provide a means for us to earn fees by linking to Amazon.com and affiliated sites.