Sulu Manti (Manti Soup) is an Armenian/Turkish soup featuring beef-stuffed dumplings simmered in a tomato broth. It's the ultimate bowl of comfort on a cold winter's day.
This manti soup recipe comes from my maternal grandmother. Sulu Manti is the soup version of regular, or Sini Manti. In Turkish the word "sulu" means soup and "sini" means pan. Hence the difference between the two dumplings. The dumplings themselves contain identical ingredients. The pan version of these dumplings is my absolute favorite thing in the world. Meanwhile, manti soup showcases the same delicious dumplings (albeit in a slightly different shape) but boils them in a delicious tomato-infused broth along with the optional addition of chickpeas.
Although it's a bit more work than a standard chicken noodle, this soup is total comfort in the wintertime. Even if you didn't grow up with these flavors on your palate on a cold winter's day, you will totally see where I'm coming from if you extend the effort to make this soup for your family. You will taste the love and effort with every bite. Me? I simply taste my grandmother's cooking, and my childhood.
How to make Manti Soup
The first step in making sulu manti is making the dumplings. Have a pasta roller or a pasta roller attachment on your stand mixer is extremely helpful for this process. After mixing and kneading the dough, let it rest, and then in pieces roll it out until it's thin. Cut the sheets of dough into squares, top with spoonfuls of ground beef, and then fold and pinch into the appropriate shapes.
The following photos show a couple different ways you can shape your dumplings for this soup! You can create a combination of shapes or make them more uniform in your soup. It's up to you.
When you've shaped all your dumplings, get started on the soup base. Melt some butter, then add canned crushed tomatoes, chicken broth, water, garlic, lemon juice, and spices. when the mixture comes to a boil, add the manti to the broth (and canned chickpeas if using), and cook until tender. Finish the soup with dried mint, and serve immediately.
As you can see, the soup is quite simple once you've assembled your dumplings. It helps to have a few extra pairs of hands for the assembly to make the process go faster. My family always makes manti soup as a group, with different members of the family taking on different roles. Someone will roll out the dough while another cuts into squares. Another person will dot pieces of meat atop the dough squares, and so on and so forth.
Other recipes you may like
Does your family have any customs when making ancestral recipes? I'd love to hear about them in the comments below!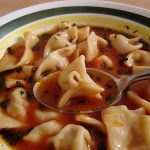 Print Recipe
Sulu Manti (Manti Soup)
Sulu Manti (Manti Soup) is an Armenian/Turkish soup featuring beef-stuffed dumplings simmered in a tomato broth. It's the ultimate bowl of comfort on a cold winter's day.


Ingredients
Dough
3

cups

all-purpose flour

plus more as needed

2

large eggs

1

teaspoon

kosher salt

3/4

cup

water

1

tablespoon

extra-virgin olive oil
Meat Filling
1

pound

ground beef

1

small onion

minced (about 1/3 cup)

1/4

cup

chopped parsley

2

teaspoons

kosher salt

1/2

teaspoon

ground black pepper

1/2

tablespoon

paprika
Soup
5

tablespoons

unsalted butter

2 1/2

cups

crushed or ground peeled tomatoes

5 1/4

cups

chicken broth

7

cups

water

5

cloves

garlic

minced

1/2

cup

lemon juice

2

tablespoons

+ 1 teaspoon kosher salt

1

tablespoon

paprika

1/2

teaspoon

ground black pepper

1

15.5 ounce can chickpeas, drained and rinsed (optional)

2

tablespoons

dried mint
Instructions
To make the dough, fill a large mixing bowl with the flour and make a well in the center. Beat together the eggs, salt, water, and olive oil. Add the wet ingredients to the well.

Slowly incorporate the flour into the wet ingredients until a ball of dough is formed (alternatively add the flour to the mixer bowl of a stand mixer, add the wet ingredients, and use the dough hook attachment to make the dough). The dough will be somewhat sticky so add a bit of flour as needed, and knead the dough until smooth. Cover the dough with a tea towel and set aside for 30 minutes.

Mix together the ground beef, onion, parsley, salt, pepper, and paprika until well incorporated.

Lightly dust several baking sheets with flour to keep the manti from sticking until they are ready to be boiled.

Using a pasta roller or a rolling pin, in batches roll out the dough until it very thin, dusting the dough with flour as needed (using the Kitchenaid pasta roller attachment, roll until #5 for thickness). Cut each strip of dough into 1 1/2 inch squares. Place 1 teaspoon of meat filling into the center of each square.

You can shape the manti a couple different ways. For the first shape, pinch the two ends with your fingers as if you are going to form a canoe-shape, but then bring the two ends together in the middle to form a satchel, slightly twisting the dough together in the center to seal it.

Alternatively, fold the manti into a triangle, sealing all the edges well. Pinch together the two opposite ends of the triangle to form a tortellini-like shape. Place the manti on the baking sheets. Repeat with the remaining dough and meat filling.

Start the soup by melting the butter over medium heat in an 8-quart stockpot. Add the tomatoes and cook for a few minutes to heat through. Add the chicken broth, water, garlic, lemon juice, salt, paprika, and black pepper. Raise the heat and bring to a boil. When the mixture comes to a boil, carefully add the manti to the soup along with the chickpeas, if using. Cook the manti for about 10 minutes until tender, but not mushy. Add the dried mint and serve.
Notes
Servings 8.0 * calories 597 * Total Fat 20 g * Saturated Fat 8 g * Monounsaturated Fat 3 g * Polyunsaturated Fat 2 g * Trans Fat 0 g * Cholesterol 108 mg * Sodium 1503 mg * Potassium 638 mg * Total Carbohydrate 69 g * Dietary Fiber 11 g * Sugars 7 g * Protein 31 g
*All nutritional information is based on third-party calculations and should be considered estimates. Actual nutritional content will vary with brands used, measuring methods, portion sizes and more.*
Pin it for Later!
Amazon disclosure – We are a participant in the Amazon Services LLC Associates Program, an affiliate advertising program designed to provide a means for us to earn fees by linking to Amazon.com and affiliated sites.