I truly am a lover of all things barbecue. When I had the opportunity to attend the Sun BBQ Festival at Mohegan Sun earlier this summer, I jumped at the chance to try some of the nation's best. Until recently I had never tried my own hand at creating barbecue. I've grilled plenty, and done some stove-top smoking in culinary school, but I had never (until now) prepared a grill for smoking meats. For the longest time I had wanted to learn more about barbecue, and take some baby steps to become a better barbecue cook.
Chimney starter
I was all the more excited when I got the opportunity to review a new cookbook entitled Wicked Good Barbecue: Fearless Recipes from Two Damn Yankees Who Won the Biggest, Baddest BBQ Competition in the World. As the title suggests, the authors of the book, Andy Husbands and Chris Hart are not the typical Southern or Midwestern boys you may expect to excel at barbecue cookery. They are from BOSTON and they have won some of the most prestigious barbecue competitions in the world. As a proud New Englander (who spent four of the best years of her life in BOSTON at BU), I was so stoked to learn from two of my own people 🙂
I recently returned from a 3 week long trip to Armenia. I'll have you know that I took my copy of Wicked Good Barbecue with me on the road as reading material on my trip. I kid you not when I tell you I've never had so much fun reading a cookbook as I did flipping through the pages of this one sitting on one of those super comfy lounge chairs in Charles De Gaulle airport watching jumbo jets go by. It made me actually wish my 4 hour layover was longer.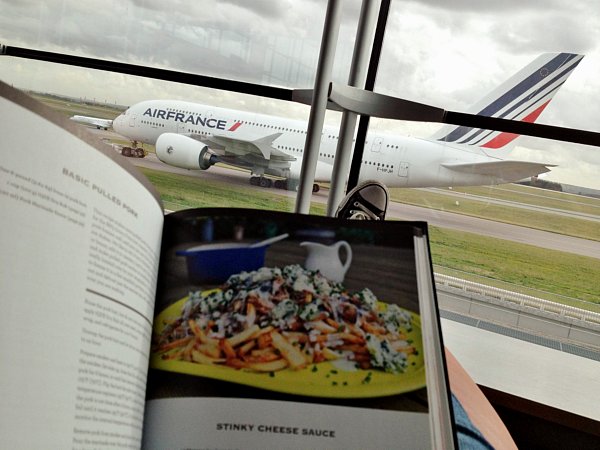 And it's not just because the scenery was so lovely. This book is utterly fantastic! Be forewarned that it is not for novice cooks. I may not be an avid barbecuer but I do know a think or two about cooking. Regardless, if you are inspired to cook amazing barbecue, you should definitely check out this book. Some of the recipes are incredibly time-consuming. I don't expect you to necessarily whip up their 25-Step Championship Chicken the first time you open this book, even if it's the first recipe listed. But if you have the time and motivation, there isn't anything in this book that is completely unapproachable. My only complaint about the book is that I wish each recipe specified up front how long they would take to prepare from start to finish (active and inactive time), so I could easily skim and see which would be possible given certain time restraints (or how early to start a recipe).
Different styles of smokers are discussed, but most common, non-professional folks will likely turn their outdoor charcoal kettle grills into would-be smokers for the purposes of this book, and trust me, it will work just fine. Husbands and Hart have done a great job explaining everything you'd want to know about barbecue. They have not only included their award-winning recipes (such as The Ribs That Won the Jack Daniel's World Championship), but they've also included truly novel creations like their Seven-Layer Dip of Disbelief (which includes layers such as beef tartare, crab remoulade, and celery root puree among others), the $100 Meatloaf (filled with foie gras and garnished with truffle slices), and their take on poutine (BBQ Gravy Fries with Stinky Cheese Sauce). And desserts are certainly not forgotten either, with options such as Minted Molten S'mores Cake and Bacon Almond Bark with Banana Rum Mousse.
IQUE BBQ Sauce
I actually decided to try several recipes from the book to compose a meal this past weekend perfect for football Sunday. We started out with the BBQ Scotch Eggs, which are comprised of soft boiled eggs, peeled and then wrapped with a mixture of sausage and maple syrup, seasoned with rub and then smoked.
This is a typical breakfast option, but I've had Scotch eggs before as appetizers and they are always enjoyable. These were truly yummy, and tasted like breakfast sausage and eggs due to the addition of maple syrup. We cut back and only used half the amount of rub the recipe asked and thought this was just enough. The recipe literally only calls for 4 ingredients, so it's an easier option (once you've made the rub, of course).
For side dishes we made some simple grilled corn (not from the book) as well as some Spicy Lexington Red Slaw. Unlike a traditional mayonnaise-based slaw, this features a cooked sauce made with hot sauce, apple cider vinegar, Worcestershire sauce, brown sugar, and chili powder. They're not kidding when they call it spicy. In the book it's included in their Wicked Pulled Pork recipe as a component for assembling sandwiches.
We made it on its own, and to be honest, I didn't love it all that much as a side dish. It was just too runny and spicy next to the other dishes. I can see how it would add a nice crunch and spice to a slightly sweet pulled pork sandwich, but even in that case, I generally prefer the cool and refreshing effect of a traditional creamy cole slaw. My brother-in-law loved this slaw, however, so it's just personal preference.
For the main event, we decided to try the Spatchcock Chicken with Top-Secret Blue Ribbon Brine along with their IQUE BBQ Sauce. These recipes aren't secrets anymore!! First of all, 25 must be a magic number for these guys because the top-secret brine contains 25 ingredients. It's a little daunting when you look at the list, but it's super easy to make, and quite frankly… it makes the best chicken we've ever had (would be great for Thanksgiving turkey too!).
Top-Secret Blue Ribbon Brine
You have to start this dish 2 days in advance to allow the chicken 12 to 24 hours to brine, then let it dry out in the fridge over night, and then to cook the birds. Even though it takes a lot of advance preparation, it's actually a very easy dish with minimal effort. It also only takes about an hour (slightly over an hour in our case) to cook, so it's faster than many other BBQ recipes.
Spatchcocked chicken (means butterflied)
The effort was 100% worth it because it yielded the juiciest, most flavorful chicken ever. Even the breast meat, which can easily overcook, literally melted in our mouths. It was truly out of this world! The next day I tried a leftover piece of chicken breast and it was still juicy and moist! We actually scaled down the recipe and made only 2 chickens instead of 3, but maintained the same amount of brine (it was just easier than cutting the recipe). The chickens were slightly larger than called for (by a pound) and so ours took a bit longer to come to temperature. Either way, they were worth the wait!
Although the chickens can easily be served plain (and like Mary Poppins, are absolutely perfect in every way), you can also serve them with BBQ sauce if desired, so we decided to give their IQUE BBQ Sauce a try. It also had a laundry list of ingredients but was wicked easy (see, I'm from New England!) to make. The recipe yields a lot, but keeps for a long time so if you plan on barbecuing regularly, or you just like drinking really good BBQ sauce out of bowl (yes, I did that… and I have pictures), your sauce won't go to waste.
It's definitely one of the best BBQ sauces I've had… the kind of sauce you want to make babies with. It's tomato and vinegar-based, giving the sauce a nice sweetness and tang with a spicy finish. I would slather this stuff on almost anything (or drink it straight from the bowl–see below). Definite two thumbs up for the sauce! (Yes, I'm wearing a New England Patriots shirt and yes they beat the Jets last Sunday. Go Pats! Woot woot!)
Spatchcock Chicken with Top-Secret Blue Ribbon Brine
Makes 10 to 12 servings
(From Wicked Good Barbecue)
3 whole, young birds, about 3 pounds each (preferably hormone and antibiotic-free, with no added water or other solutions)
Top-Secret Blue Ribbon Brine (recipe follows)
1/2 cup peanut oil
1/2 cup mild chili powder
IQUE BBQ Sauce, optional (recipe follows)
Lemon, optional
Special Equipment: 5-gallon food-grade bucket
Spatchcock the chickens. For each one, using kitchen shears, cut along each side of the backbone and remove the back. Flip the bird breast-side up and press down until the breast bone cracks.
Place the spatchcocked birds in a food-safe buckets and pour brine over so the birds are fully submerged (use plates as a weight, if necessary). Place the bucket in refrigerator and brine for 12 to 24 hours (we placed our bucket in a giant cooler filled with ice).
Remove the birds from the brine and place skin-side up on a cooling rack set over a sheet pan. Dry with paper towels and refrigerate, uncovered, overnight. The exposure to the air will dry out the birds, making for crispy skin when they cook.
Prepare smoker (we used apple wood chips) and bring heat to 350 degrees F. If using a kettle grill, build a two-zone fire, and use foil or a drip pan to keep chicken juices from dripping directly into the fire.
Rub peanut oil over the birds, then sprinkle with chili powder. There is salt in the brine, so don't use a traditional rub that has more salt in it.
Place chickens skin-side down on clean grill grates. This will help keep them moist. The skin creates a barrier, so the juices accumulate in the meat instead of dripping down into the fire. If you are using a kettle grill, place them on the cool side of the grate.
Cook for 1 hour, or until a thermometer registers 160 degrees F in the breast and 170 degrees F in the thigh. Remove from the cooker and let rest for 20 minutes, skin-side up.
To serve, baste the chicken with warm IQUE BBQ Sauce or a simple squeeze of lemon–or simply serve as-is, which is our preferred way to eat it.
Top-Secret Blue Ribbon Brine
(From Wicked Good Barbecue)
3/4 gallon spring water
1 quart low-sodium chicken broth
3/4 cup kosher salt
1/2 cup soy sauce
1 cup packed light brown sugar
1/2 cup maple syrup
1/4 cup blackstrap molasses (we used regular molasses)
1 cup Italian salad dressing
1/4 cup Worcestershire sauce
1/4 cup Dijon mustard
1/4 cup cider vinegar
1 apple, cored and cut into quarters (do not peel)
1 orange, cut into quarters
1 lemon, cut into quarters
1 onion, peeled and cut into quarters
6 cloves garlic, peeled and smashed
2 heads roasted garlic, split in half, skin on
2 chipotle peppers (canned in adobo sauce)
3 bay leaves
8 whole black peppercorns
2 tablespoons dried thyme
2 tablespoons dried sage
4 pieces candied ginger
1 cinnamon stick
2 tablespoons chili powder
Special Equipment: 5-gallon food-grade bucket
Bring the water, broth, salt, soy sauce, brown sugar, maple syrup, molasses, salad dressing, Worcestershire sauce, mustard, vinegar, apple, orange, lemon, onion, garlic (fresh and roasted), and chipotles to a boil in a large stockpot over medium-high heat. Remove from heat and add the bay leaves, peppercorns, thyme, sage, ginger, cinnamon, and chili powder. Using a whisk, mix ingredients well. Cover and let sit for 30 minutes.
Pour into bucket and cool to room temperature. Refrigerate overnight. (We actually made an ice bath in the kitchen sink and cooled it that way to speed up the process and get our birds brined).
IQUE BBQ Sauce
Makes about 2 quarts
(From Wicked Good Barbecue)
4 cups packed brown sugar
1 1/2 cups cider vinegar
1/2 cup Worcestershire sauce
1 tablespoon dried thyme
1 tablespoon ground mustard
1 tablespoon garlic powder
1 tablespoon ground cumin
1 1/2 teaspoons Szechuan peppercorns, freshly ground*
1 1/2 teaspoons long peppercorns, freshly ground*
1 1/2 teaspoons chipotle powder or cayenne pepper
1 tablespoon tomato powder**, optional
1/2 tablespoon hickory powder**, optional (we used liquid smoke, instead)
4 cups ketchup
1/2 cup light corn syrup
2 tablespoons IQUE Dry Rub (recipe follows)
In a medium saucepan over medium-high heat, make a gastrique by bringing the brown sugar, cider vinegar, and Worcestershire sauce to a gentle boil.
Remove from the heat and add the thyme, mustard, garlic powder, cumin, ground Szechuan peppercorns, ground long peppercorns, chipotle powder, and tomato powder and hickory powder, if using. Let sit for 15 minutes.
Stir in the ketchup and corn syrup, return to stove, and simmer over low heat for 30 minutes. Remove from heat and add IQUE Dry Rub. Let cool and store in refrigerator, preferably in squeeze bottles, for up to 1 month.
*A blend of mixed peppercorns can be substituted for the Szechuan and long peppercorns, but in our opinion the sauce won't be nearly as wicked. (We just used black peppercorns and the world didn't end, so I think you're okay).
**Tomato powder and hickory powder are available by mail order or at specialty food stores.
IQUE Dry Rub
Makes about 3 cups
(From Wicked Good Barbecue)
1 cup turbinado sugar (we used light brown sugar)
3/4 cup kosher salt
1/2 cup high-quality paprika, such as Spanish paprika
6 tablespoons chili powder
2 tablespoons cumin seeds, freshly ground
4 teaspoons mixed peppercorns, freshly ground (we used black peppercorns)
4 teaspoons garlic granules (we used garlic powder)
3 teaspoons onion granules (we used onion powder)
2 teaspoons MSG (or Accent), optional
1 teaspoon chipotle powder
Place all ingredients in a large spice blender and pulse until it becomes a fine powder (we just mixed it by hand). Refrigerate in an airtight container. This rub will keep indefinitely, but try to use within 1 month to ensure freshest flavor.
*Disclaimer* I received no compensation to write this review other than a free copy of the book. My opinions are always my own.