This post may contain affiliate links, which means that I may receive a commission if you make a purchase using these links. As an Amazon Associate I earn from qualifying purchases.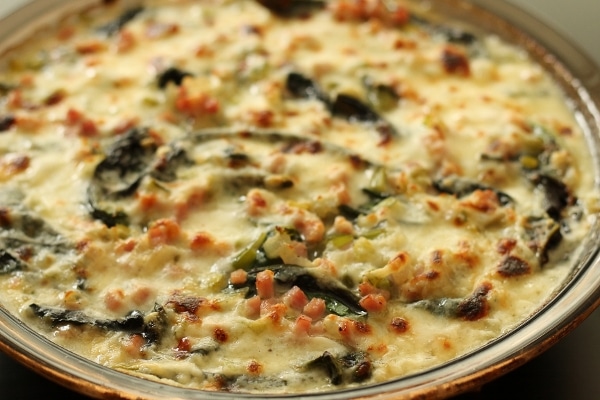 Swiss chard stalks magically come in a variety of colors. Rainbow chard, for example, has a mixture of white, red, and yellow stalks. Ruby chard features red stalks, while most traditional Swiss chard is white-stemmed. Swiss chard is one of the healthiest greens around. It's high in vitamins A, K, and C and is also high in protein, fiber, and magnesium.
I was immediately enraptured by a recipe in I Love NY, the newly released cookbook by Daniel Humm and Will Guidara of Eleven Madison Park. The book is incredibly beautiful and tells the story of local farmers and food artisans, along with recipes for these highlighted ingredients. The book even includes an email address to contact if you have any questions or issues with any of the recipes in the book.
Well, let's just say I had questions and issues when I first attempted the book's Swiss Chard Gratin. Its mornay sauce called for 1 1/2 teaspoons each of butter and flour for the roux, which is meant to thicken 3 cups of milk. In a million years I knew this ratio would never work. It would never thicken that much milk, even when simmered for 30 minutes as it stated. When my sauce turned out extra watery, I emailed for help and eventually got a response, about a week later.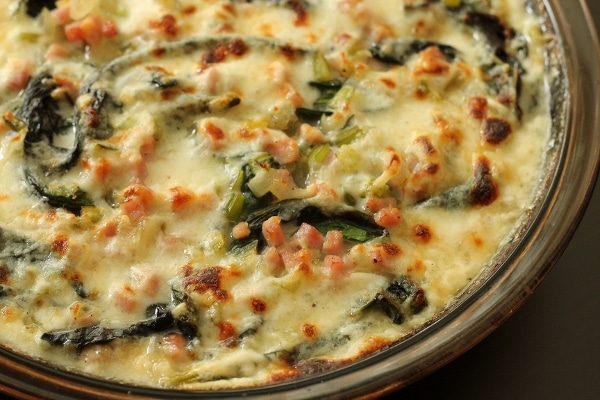 I decided I would adapt the recipe to fix it, even before I had gotten a response from my lifeline. I increased the roux and reduced the milk (since the full amount of mornay wasn't even originally used in the recipe) to make a more viscous sauce for this delicious gratin. The adjustments I made were very similar to the ones that were later emailed to me (with apologies for the recipe's error). I was relieved to see that the changes I made used the same ratio of roux to milk as the updated version.
I also increased the amount of chard (all from our garden!), because it really shrinks down a lot when cooked. For the record, I left the chard leaves whole (the recipe didn't state anything about cutting them down) to keep some of their structure, but you can easily roughly chop them to make it a bit easier to serve and eat.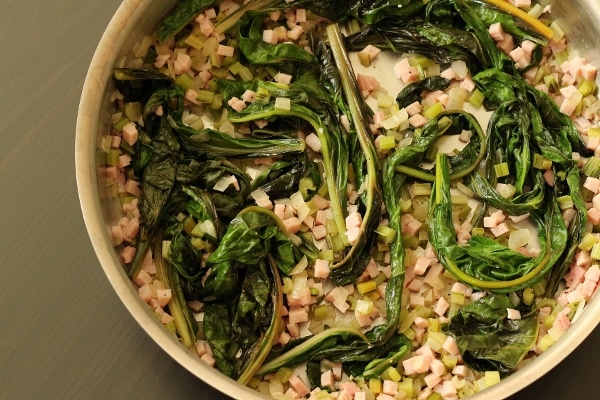 In the end, the result is far superior to my original attempt. I could immediately see a difference in the sauce. It was significantly thicker and richer, but not too cheesy. It cloaked the Swiss chard ragout much better, and even after cooking with the vegetables and ham (all of which are notorious for releasing water) the sauce was still thick and had lots of flavor from the onion pique and spices.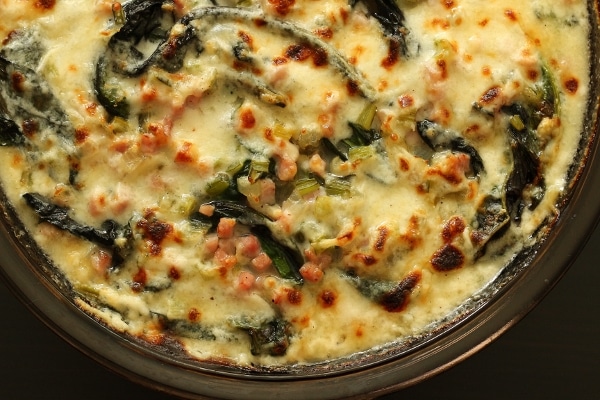 I am sold on this gratin. I would definitely make it again and I hope you'll give it a shot next time you want to incorporate more greens into your diet! Even though this dish contains a slightly rich sauce, it's really not that heavy (and you can definitely use low-fat milk as well for the mornay). It uses the stems AND leaves from the chard (all the vitamins) with some extra protein from the ham and cheese. It's pretty much a complete meal, but also perfect as a side dish 🙂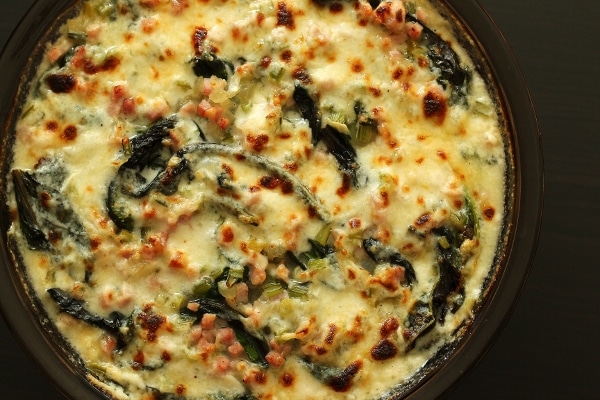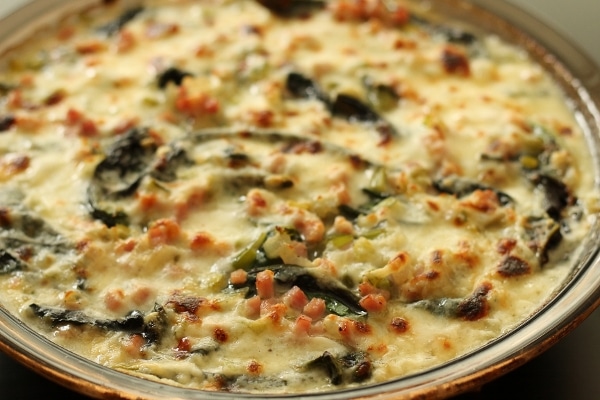 Swiss Chard Gratin
A decadent take on a Swiss chard side dish, this gratin features ham and a rich cheesy sauce that will impress your family and friends.
Ingredients
Mornay Sauce:
2

tablespoons

unsalted butter

2

tablespoons

all-purpose flour

2

cups

milk

1/4

onion

peeled

2

whole cloves

1

bay leaf

1/2

cup

grated Gruyere cheese

Ground nutmeg

Kosher salt

Ground white pepper
Swiss Chard Ragout:
20 to 25

leaves

Swiss chard

3/4

cup

diced

1/4-inch onion

1

tablespoon

unsalted butter

1/4

cup

chicken stock or broth

1

cup

diced (1/8-inch) ham

Ground nutmeg

Kosher salt

Ground white pepper
To Finish:
1/4

cup

grated Gruyere cheese
Instructions
To make the mornay: In a small saucepan over medium heat, melt the butter. Add the flour and stir, cooking until the mixture is lightly golden, 4 to 5 minutes. Add the milk, whisking to combine. Bring the mixture to a boil and reduce to simmer. To make an oignon pique, use the cloves to pierce the onion and the bay leaf, tacking them together. Add the oignon pique to the sauce and simmer for 30 minutes, stirring occasionally (the onion pique will inevitably fall apart, but it will be strained out later). Remove the saucepan from the heat and whisk in the cheese. Strain through a fine mesh sieve and season with nutmeg, salt, and pepper to taste.

To make the ragout: Clean the chard, separating the leaves from the stems. Dice the stems into 1/4-inch pieces. In a medium saute pan, melt the butter over medium-low heat. Sweat the chard stems and onion until wilted, 2 to 3 minutes. Add the stock, bring to a simmer, cover with a parchment paper lid, and sweat until tender, 4 to 5 minutes. Remove the parchment paper, add the chard leaves, and wilt over medium heat, stirring frequently. Add the ham, remove the pan from the heat, and season with nutmeg, salt, and pepper to taste.

To finish: Preheat the oven to 400 degrees F. Pour 1 1/2 cups of the mornay sauce into a shallow 1-quart gratin dish (I used a 9-inch pie dish). Spoon the Swiss chard ragout into the dish and drizzle the remaining mornay sauce over the top. Top the gratin with the cheese and place in the oven. Bake for 10 minutes, and then broil until lightly browned, 30 to 45 seconds (or more depending on your broiler).
Notes & Nutrition
Adapted from I Love NY
Servings 4.0 * calories 378 * Total Fat 19 g * Saturated Fat 11 g * Monounsaturated Fat 5 g * Polyunsaturated Fat 1 g * Trans Fat 0 g * Cholesterol 84 mg * Sodium 2073 mg * Potassium 1378 mg * Total Carbohydrate 21 g * Dietary Fiber 7 g * Sugars 16 g * Protein 28 g
*All nutritional information is based on third-party calculations and should be considered estimates. Actual nutritional content will vary with brands used, measuring methods, portion sizes and more.*