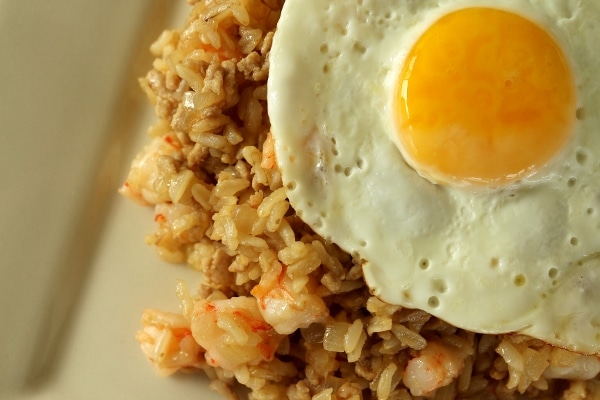 Chile peppers have become quite the rage recently, with folks competing for the hottest chile peppers, and the spiciest hot sauces. But did you know that the word chile refers to capsicums in general, and not specifically just the hot ones? A sweet bell pepper would be considered a chile based on this classification.
Fascinating knowledge about all varieties of chiles can be found in the newly released reference guide and cookbook The Chile Pepper Bible by Judith Finlayson, ranging from their history to their health benefits, and including a full guide of the five major species of chiles, both with photos and extensive detailing.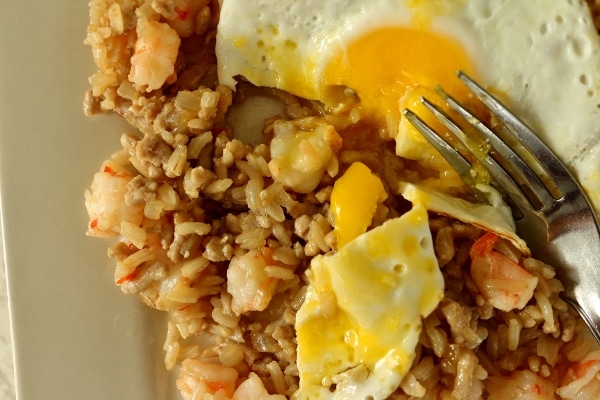 I recently received a review copy of this cookbook to explore, and I must say, it is full of recipes, 250 to be more accurate. I rarely see cookbooks that are that robust, but this truly is a bible of information about the beloved chile. Recipes range extensively to include those featuring chiles in all forms such as fresh, dried, powdered, and more.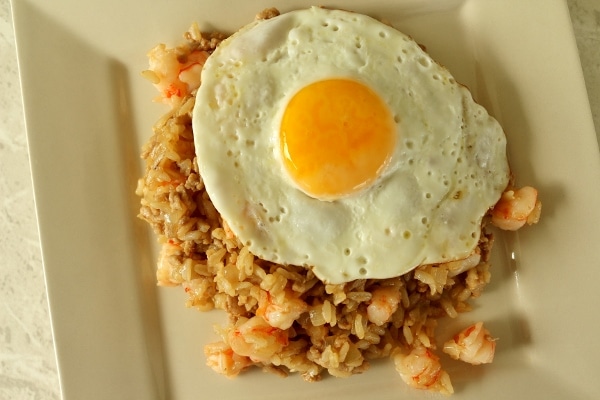 They also cover nearly every continent with traditional recipes from many international locations. I personally can't wait to try the Jamaican Beef Patties, Chicken Shahi Korma, Kashmiri-Style Lamb Curry (Rogan Josh), Thai-Style Hot-and-Sour Chicken Soup (Tom Yum Gai), Chicken Beef with Orange, and more.
The recipe I selected to start with is Asian, like many of the others on my list. The Indonesian-Style Fried Rice, or Nasi Goreng, is very easy to make and features a reasonable number of ingredients. The recipe tips point out that jasmine rice is authentic for this dish, but that the author prefers brown rice. Well I actually use brown jasmine rice for all of my fried rice dishes, so that kind of works out perfectly in this case!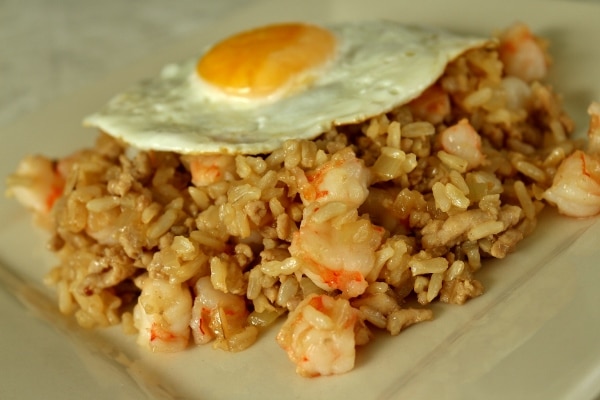 Also, I went to my local Asian market in search of red Thai bird's-eye chiles, and they only carry them in a frozen vacuum-sealed bag. With that said, the 6-ounce bag only cost $1.75 so that's a serious bargain if you plan on using these chiles for other purposes (the index of the book lets you search for recipes by chile variety, which is quite convenient)! They are SUPER spicy (50,000 to 100,000 Scoville heat units compared to a jalapeno which is 3,500 to 10,000 SHU), so be very gentle when handling them. I actually used only 1 chile for my fried rice (the recipe suggests 1 to 2), and I removed the seeds as well, and I found the spiciness to be perfect for my family. There is definite heat, but it's not overwhelming.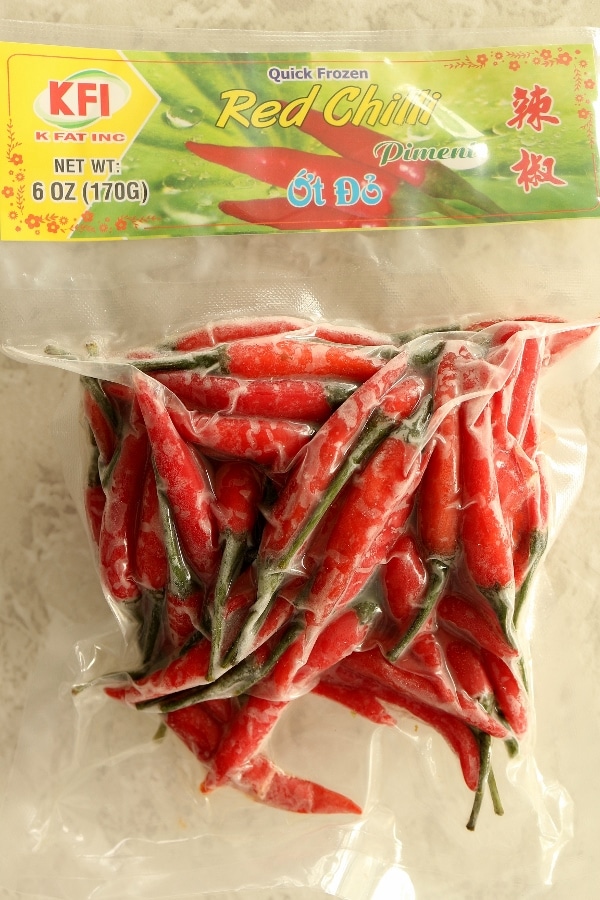 The Nasi Goreng was a huge success. It is very easy to make, especially if you own a wok. I prepped my ingredients in the morning and stir-fried this delicious rice dish in preparation for a Saturday brunch, which is perfect considering the runny fried egg on top. Everything came together quickly, and yielded flavors my entire family (even the most skeptical critics) enjoyed.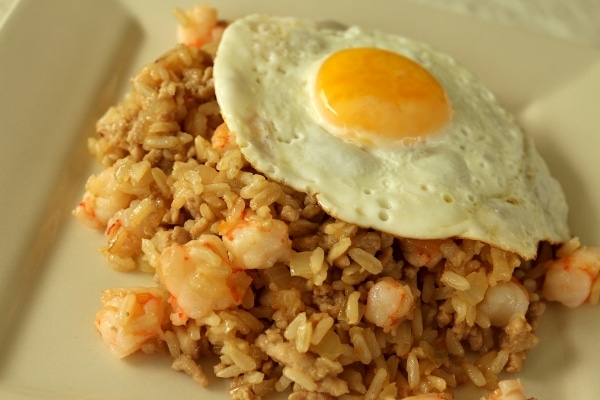 I'm really excited to use the rest of my frozen stash of Thai bird's-eye chiles for more recipes from this book, as well as exploring many of the other 250 shared within this ultimate Chile Pepper Bible. This in-depth single-subject resource is an asset to any cook who enjoys chiles.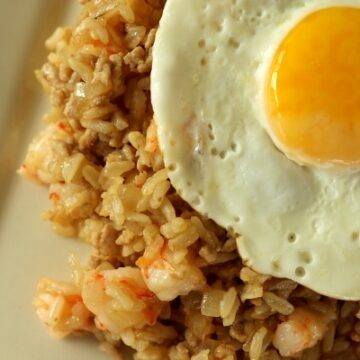 Indonesian-Style Fried Rice (Nasi Goreng)
Nasi goreng is Indonesia's national dish. At its simplest, it is cold leftover rice, seasoned with sweet soy sauce (kecap manis) and whatever leftovers and spices the cook has on hand. Often it is topped with a fried egg and served for breakfast. Of course, it can be much more elaborate, depending on the circumstances under which it will be served. This version leans toward simplicity, making it a quick and easy weekday meal.
Print
Pin
Rate
Ingredients
2

cups

cold cooked rice

2

tablespoons

oil

8

ounces

deveined peeled shrimp

chopped

1

onion

finely chopped

8

ounces

ground pork

4

cloves

garlic

minced

1 to 2

red Thai bird's-eye chiles

minced

3

tablespoons

kecap manis

1

tablespoon

fish sauce

4

fried eggs

Fried Shrimp Chips

optional (see notes)

Sriracha sauce

optional
Instructions
In a wok or large skillet, heat oil over medium-high heat. Add shrimp and cook, stirring, until pink and opaque throughout, about 1 minute. Using a slotted spoon, transfer to a plate.

Add onion and pork to wok and cook, stirring, until pork is no longer pink and onion is softened, about 5 minutes. Reduce heat to medium. Add garlic, and bird's-eye chile(s) to taste and cook, stirring, for 1 minute. Add rice, kecap manis and fish sauce and cook, stirring and breaking up any clumps with a wooden spoon, until rice is heated through. Return shrimp to pan and toss well to combine.

Spoon rice mixture onto 4 warm serving plates and top each with 1 of the fried eggs. Serve with shrimp chips (if using). Pass sriracha sauce (if using) at the table.
Notes
It is more authentic to use jasmine rice in this dish, but I prefer brown rice.
If you don't have kecap manis, mix together 1 ½ tablespoons (22 mL) each soy sauce and pure maple syrup to use in place of it.
Make sure you save any leftovers, because they reheat well for lunch the next day.
Look for ready-to-cook shrimp chips at Asian markets. They are a tasty snack or accompaniment to fried rice, and they just need a quick fry to make them crispy and delicious.
To make Fried Shrimp Chips: Pour enough oil into a wok or large saucepan to come about 1 inch (2.5 cm) up the side of the pan. Heat until hot but not smoking, or until candy/deep-fry thermometer registers about 350°F (180°C). (Do not overheat. If the oil is too hot, the chips will curl up and cook unevenly.) Add shrimp chips, 2 at a time, and fry, turning constantly with tongs, until they are puffed all over, about 20 seconds. Transfer to a paper towel–lined plate and let drain.
Courtesy of The Chile Pepper Bible: From Sweet & Mild to Fiery & Everything in Between by Judith Finlayson © 2016 www.robertrose.ca Reprinted with publisher permission. Available where books are sold
Nutrition
Calories:
723
kcal
|
Carbohydrates:
36
g
|
Protein:
37
g
|
Fat:
50
g
|
Saturated Fat:
4
g
|
Polyunsaturated Fat:
7
g
|
Monounsaturated Fat:
5
g
|
Trans Fat:
1
g
|
Cholesterol:
483
mg
|
Sodium:
681
mg
|
Potassium:
192
mg
|
Fiber:
2
g
|
Sugar:
11
g
*All nutritional information is based on third-party calculations and should be considered estimates. Actual nutritional content will vary with brands used, measuring methods, portion sizes and more.*