This post may contain affiliate links, which means that I may receive a commission if you make a purchase using these links. As an Amazon Associate I earn from qualifying purchases.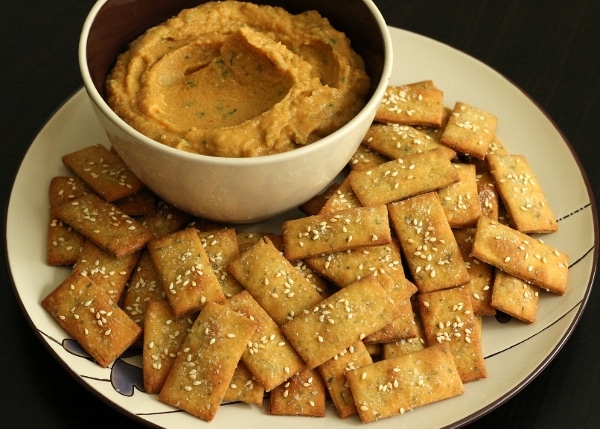 I recently received a review copy of Ivy Manning's Cracker's and Dips from Chronicle Books. I have always been a fan of both, finding crackers to be the perfect vehicle to get small slabs of cheese (and their friends) into my stomach, and dips to be all-around party favorites whether they are smeared across crackers, chips or even veggies. Although I often make dips from scratch, I had never even considered making my own crackers until this book came along.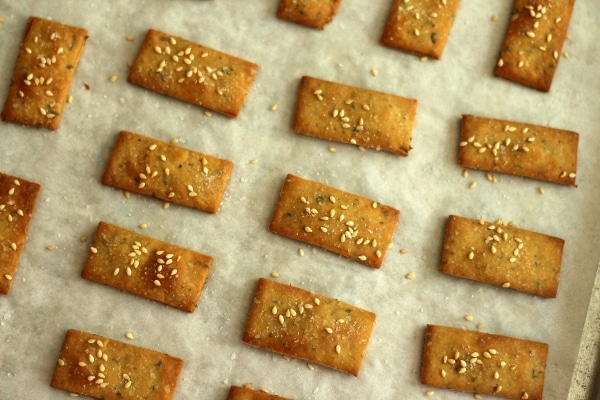 At first, I thought a whole book focused on the topic was too much. I mean, how many crackers and dips would one realistically even make? Well, I was really impressed by the book for many reasons. First of all, the recipes are quite varied and are written in a very straightforward manner.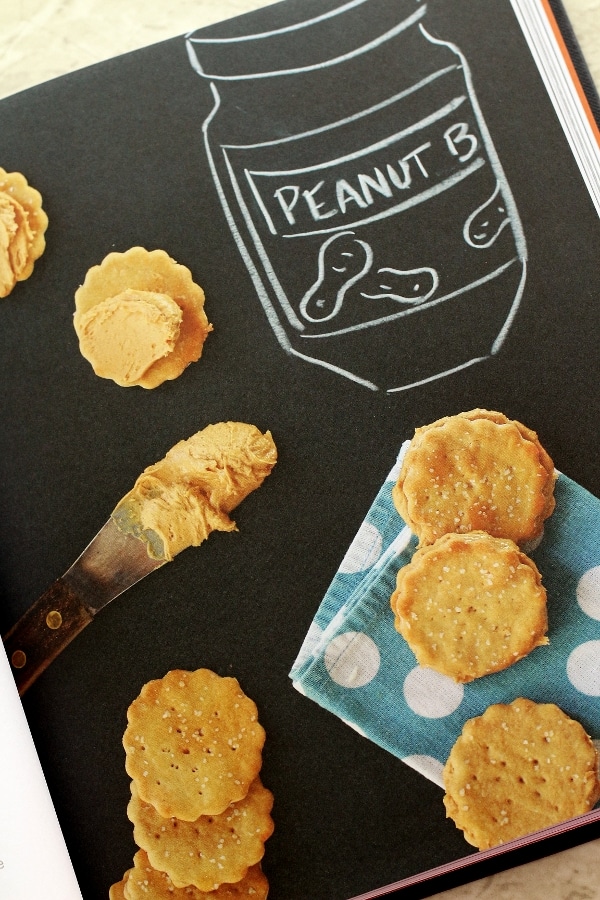 They range from classics, such as Tangy Cheddar Cheese Crackers (think Cheez-Its) and Soda Water Crackers (think Saltines) to wheat-free options such as Seeded Quinoa Crackers and Flax Seed Pizza Crackers.
They cover bases around the world including Swedish Caraway Rye Crisps and Irish Blue Cheese and Walnut Shortbread, as well as some easy-to-make crackers like Crispy Wonton Triangles and Za'atar-Dusted Pita Chips.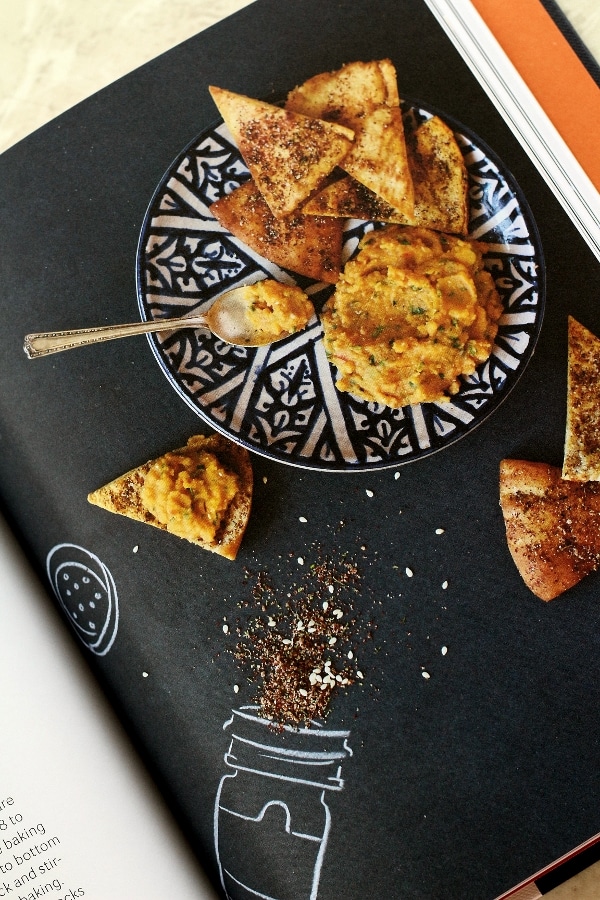 There are sweet crackers such as Skinny Mint Chocolate Grahams and Cinnamon Pistachio Baklava Crisps and a variety of dips and spreads including, but not limited to, Molten Black Bean and Chorizo Dip, Wasabi Edamame Schmear, and Figgy Bourbon Conserve.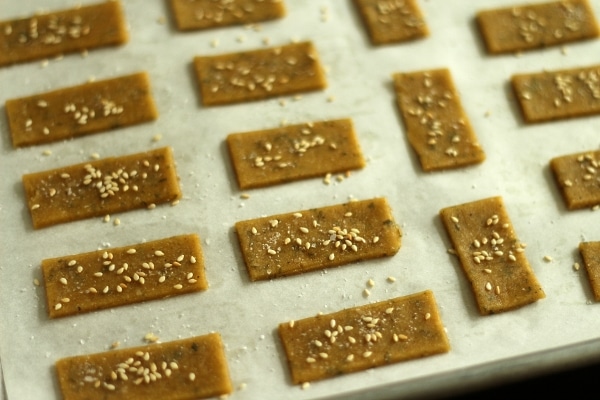 Before baking
The book contains lots of great tips and tricks for cracker-making, including rolling out the dough and selecting the best ingredients (I was relieved to see a discussion of nonhydrogenated shortening!). Photographs are really playful and feature crackers displayed on chalkboards with fun drawings underneath them depicting ingredients or condiments. I love the simplicity and creativity of the photos. It definitely works for something as humble as crackers.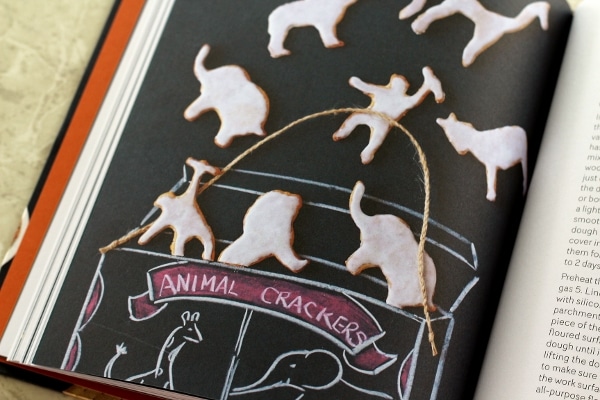 So I'm definitely sold on the idea of a cracker book, but how would the recipes actually play out? I jumped at the chance to try the Middle Eastern Falafel Crisps along with a Spicy Red Lentil Dip to join them. My cracker dough started out fairly wet (in its defense, it's quite humid these days), so I kneaded in a bit of extra flour to get a nice pliable consistency.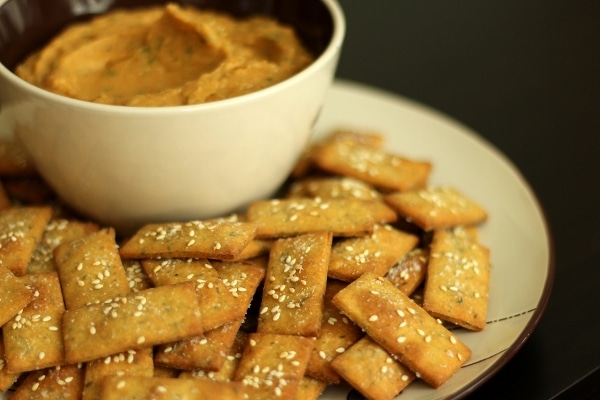 Certain recipes in the book suggest that you can either roll out the dough by hand using a rolling pin or use a pasta machine. This one said either option would work, so I tried out the pasta maker. My dough basically fell apart on the first try. It was too soft and not nearly as firm and stable as a pasta dough for me to roll using the machine.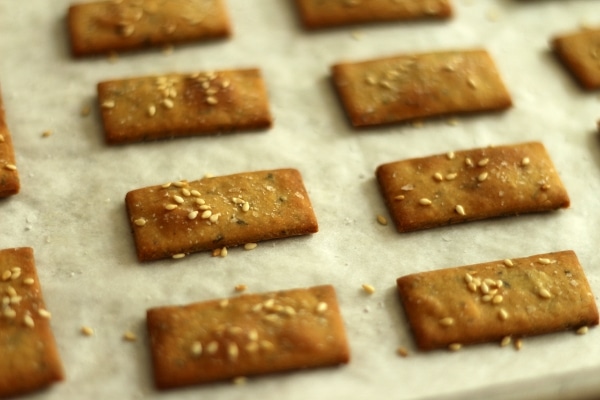 But alas when I went to roll it by hand, I found it so easy that the pasta machine was really unnecessary. It reminded me of rolling out a savory soft cookie dough. Next time I would definitely just bypass the machine and roll by hand because it was fast and easy with less cleanup down the road.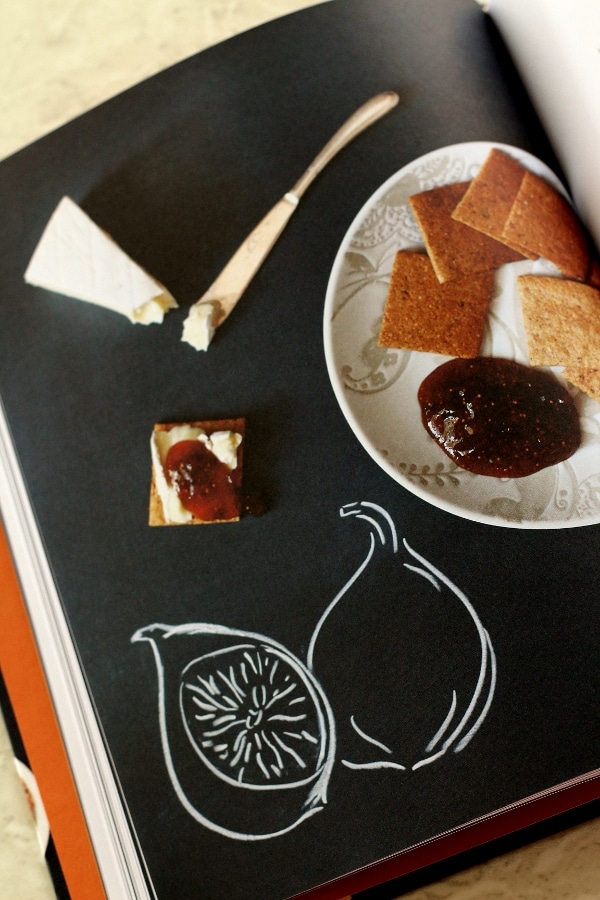 I used a ruler to cut perfectly straight and even crackers. This was a piece of cake! Why had I never made crackers before? I omitted the final step of brushing extra olive oil on top of the crackers (they already had plenty of olive oil in the dough) and still found the crackers to bake up beautifully golden and crisp.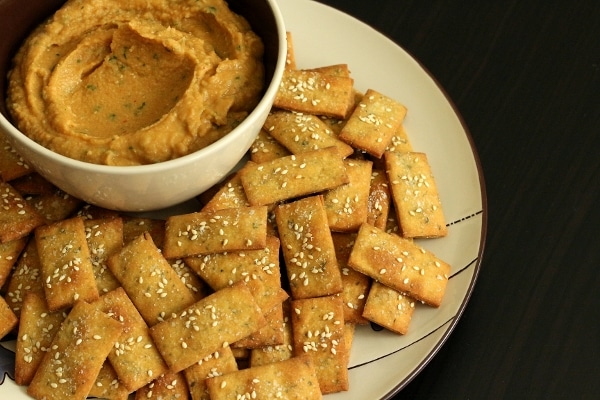 They were crisp and flaky and had a wonderful flavor from all the spices within as well as the sweet chickpea flour, with a bit of sesame seed and salt crust on top. They were SO GOOD!! Dangerous too because it's hard to stop snacking on them. At least they're homemade, so there's less guilt 🙂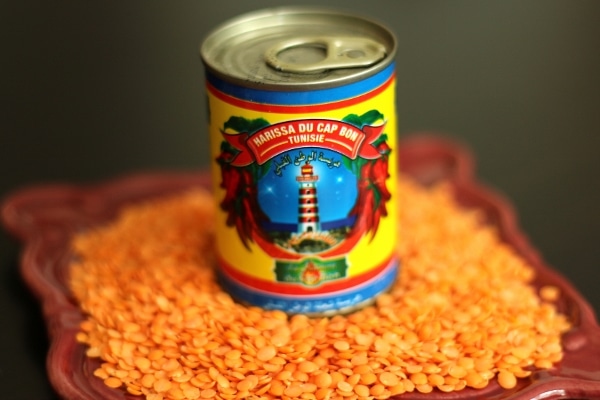 I additionally made some Spicy Red Lentil Dip, although the crackers are absolutely fantastic without it. The dip is simple and quick and features fast-cooking red lentils and spicy harissa (a Tunisian chili pepper paste–I found mine at Whole Foods, but you can also make your own). It has the texture of a bean dip (thicker and more spreadable than hummus) with a great Middle Eastern flair. Although the crackers are awesome on their own, this dip definitely adds a great edge.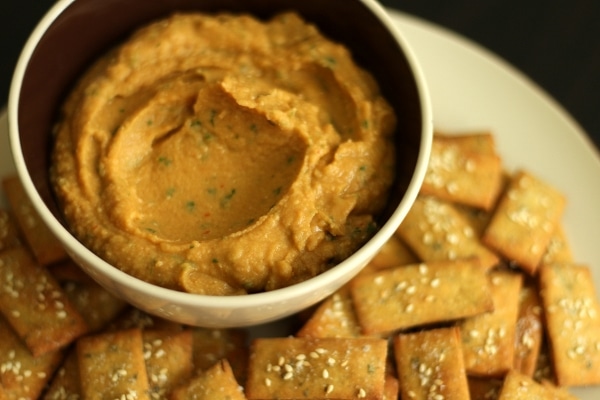 I'm happy to say that a cookbook devoted to Crackers and Dips is definitely worth it. I also never realized how many preservatives and artificial ingredients are in store-bought crackers. This book opened my eyes and made me realize that homemade crackers are the way to go!
They're also not nearly as fussy as you would imagine, and worth a bit of added effort to give yourself, your friends, and your family better and more natural homemade snacks! And seriously, what's more impressive than showing up to a party with HOMEMADE CRACKERS AND DIP?! Boom!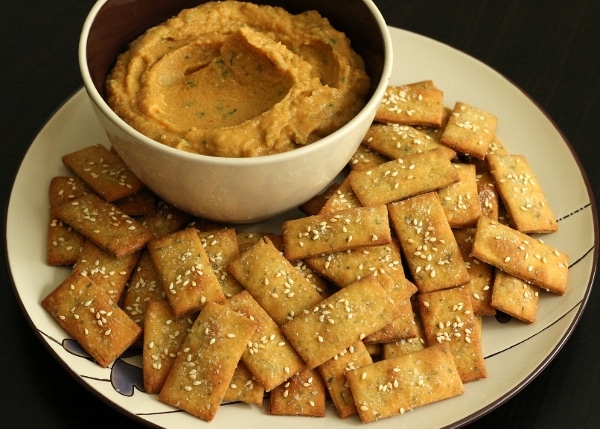 Middle Eastern Falafel Crisps with Spicy Red Lentil Dip
This is a delicious and creative appetizer or snack to serve guests! These homemade crackers are inspired by the flavors of falafel, while the accompanying spicy red lentil dip is the perfect complement.
Ingredients
Falafel Crisps:
1

cup

(105 g) chickpea flour

3/4

cup

(90 g) unbleached all-purpose flour, plus more for dusting

1

T.

dried parsley

1 1/2

tsp.

ground cumin

1

tsp.

garlic powder

1/2

tsp.

baking powder

1/2

tsp.

ground coriander

1/2

tsp.

onion powder

3/4

tsp.

fine sea salt

1/4

tsp.

freshly ground black pepper

Pinch

of cayenne pepper

5

T.

(75 ml) extra-virgin olive oil

1/3

cup

(80 ml) water

1

tsp.

light corn syrup

1

T.

sesame seeds

1

tsp.

coarse salt
Spicy Red Lentil Dip:
1

cup

(195 g) red lentils

1

bay leaf

Fine sea salt

2

T.

freshly squeezed lemon juice

1

T.

tomato paste

1

garlic clove

finely chopped

2

T.

chopped cilantro leaves

2

tsp.

harissa

2

tsp.

ground cumin

1

T.

extra-virgin olive oil
Instructions
To make the falafel crisps: In a food processor or a medium bowl, pulse or whisk together the chickpea flour, all-purpose flour, parsley, cumin, garlic powder, baking powder, coriander, onion powder, sea salt, black pepper, and cayenne.

Add the olive oil to the flour mixture and pulse or stir with a fork until the mixture forms crumbs. In a small measuring cup, combine the water and corn syrup and stir until the syrup dissolves. Add the water mixture to the flour mixture and pulse or stir with a wooden spoon until the mixture comes together in a slightly sticky dough (Mine was too wet so I kneaded in a bit of extra flour until it came together). Knead gently on a lightly floured surface until smooth, about 5 strokes. Wrap the dough in plastic wrap and allow the dough to relax for 30 minutes.

Preheat the oven to 375 degrees F. Line a baking sheet with a silicone baking mat or parchment paper (I used 2 baking sheets and took turns baking them). Divide the dough into two balls and roll each ball out on a lightly floured surface until it is 1/8-inch thick, picking up the dough and rotating it a quarter turn frequently to make sure it is not sticking, if necessary.

Using a pastry wheel or pizza cutter, cut the dough into rectangles measuring 2-by-1-inches and use a lightly floured spatula or bench scraper to transfer the crackers to the prepared baking sheets. Repeat the rolling and cutting with the scraps.

Sprinkle the crackers with the sesame seeds and coarse salt, and tamp down the toppings with the bottom of a measuring cup to adhere them to the crackers. Bake until the crackers are golden brown and crisp to the touch, 12 to 15 minutes, rotating the pan once from back to front while baking. If some of the crackers are done before others, transfer them to a cooling rack and return the undone crackers to the oven for a few more moments. Cool on a wire rack and store in an airtight container for up to 1 week. Makes about 50 crackers.

To make the red lentil dip: Rinse the lentils with cold water and drain. Combine the lentils, bay leaf, and 1 tsp salt in a medium saucepan. Add enough water to cover by 4 inches and bring to a simmer over medium-high heat. Reduce the heat to medium-low and simmer gently until the lentils are tender and falling apart, about 10 minutes. Drain the lentils in a fine-mesh sieve. Discard the bay leaf and let the lentils cool for 10 minutes in the sieve.

Transfer the lentils to a food processor and add the lemon juice, tomato paste, garlic, cilantro, harissa, cumin, and olive oil. Blend until smooth, stopping once or twice to scrape down the sides of the bowl.

Season the dip with salt, if desired, and transfer it to a serving bowl. Allow the dip to stand for at least 1 hour before serving to allow the flavors to develop. The cooled dip can be stored in the refrigerator in an airtight container for up to 1 week. Makes 2 1/2 cups.
Notes & Nutrition
Adapted from Crackers & Dips
| | |
| --- | --- |
| Middle Eastern Falafel Crisps | Servings 6.0 * calories 240 * Total Fat 14 g * Saturated Fat 2 g * Monounsaturated Fat 5 g * Polyunsaturated Fat 7 g * Trans Fat 0 g * Cholesterol 0 mg * Sodium 612 mg * Potassium 168 mg * Total Carbohydrate 22 g * Dietary Fiber 3 g * Sugars 3 g * Protein 6 g |
| Spicy Red Lentil Dip | Servings 6.0 * calories 70 * Total Fat 3 g * Saturated Fat 0 g * Monounsaturated Fat 1 g * Polyunsaturated Fat 1 g * Trans Fat 0 g * Cholesterol 0 mg * Sodium 330 mg * Potassium 45 mg * Total Carbohydrate 8 g * Dietary Fiber 3 g * Sugars 1 g * Protein 3 g |
| Crisps & Dip Together | Servings 6.0 * calories 310 * Total Fat 17 g * Saturated Fat 2 g * Monounsaturated Fat 6 g * Polyunsaturated Fat 8 g * Trans Fat 0 g * Cholesterol 0 mg * Sodium 942 mg * Potassium 213 mg * Total Carbohydrate 30 g * Dietary Fiber 6 g * Sugars 4 g * Protein 9 g |
*All nutritional information is based on third-party calculations and should be considered estimates. Actual nutritional content will vary with brands used, measuring methods, portion sizes and more.*
*Disclaimer* I received no compensation to write this review other than a free copy of the book. My opinions are always my own.