This post may contain affiliate links, which means that I may receive a commission if you make a purchase using these links. As an Amazon Associate I earn from qualifying purchases.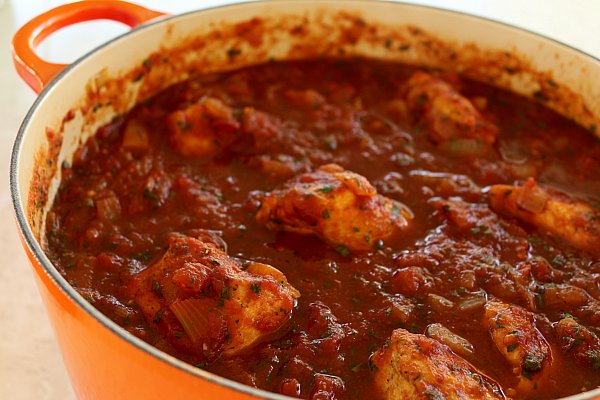 Last fall, I traveled to Armenia for the second time in my life. It's one of my favorite places in the world, and not only because of my heritage. It's truly one of the most breathtakingly beautiful, and incredibly cultured places I've had the privilege of visiting, and I have traveled quite a bit.
During my trip, I dined on lots of fabulous food from all ends of the country. One of my favorite meals was at Tavern Yerevan. In fact, it was so wonderful that we dined there twice during our visit! One of my favorite discoveries included a Georgian dish called Chakhokhnili, which is a braised dish with a spicy tomato base and LOTS of sliced onions and cilantro.
The Chakhokhnili we enjoyed was made with rabbit segments, although the chicken variety was offered on the menu as well. I was totally head over heels for this dish. I knew that I would have to recreate it at some point down the line. A family friend of ours makes it often, and shared her simple method of prep. Meanwhile I looked at several recipes online and discovered truly how straight-forward this dish would be to make!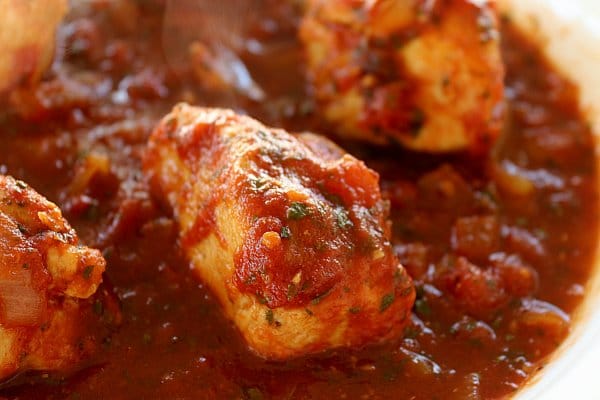 Some recipes required several herbs to be added at the end, including cilantro, parsley, dill, and tarragon, and although perhaps this is most authentic, the version I enjoyed in Armenia only featured cilantro, which is a common herb in Georgian cuisine. I decided to stick with what I had experienced myself. Only cilantro it would be.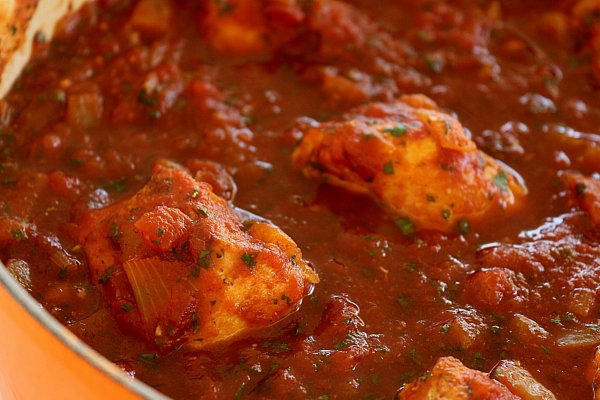 You can easily use chicken pieces on the bone, or boneless chicken thighs if you like, but I wanted to try and keep it healthy and so I went with boneless, skinless chicken breasts. They were fairly large, and so I cut them into smaller pieces (but not too small; this isn't a stew).
I also used some Adjika, a spicy paste from Georgia made with hot chiles, seasonings, and sometimes nuts. If you can't find it, you can leave it out, but it does add some depth of flavor. For the main spicy element, I went with crushed Aleppo chili peppers, which also come from the same general region. They are becoming more common in the States, but if you can't find them just use regular crushed chili flakes.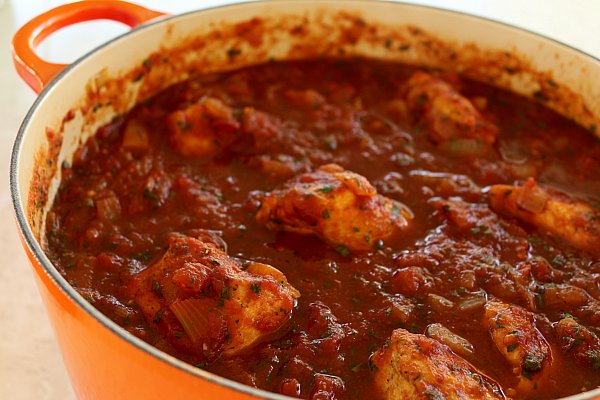 Chakhokhbili (Georgian Braised Chicken with Onions)
A classic Georgian braised chicken recipe with loads of onions and cilantro in a thick tomato sauce.
Ingredients
1

tablespoon

olive oil

2

pounds

boneless, skinless chicken breasts, quartered into equal-sized pieces (alternatively use thighs)

Kosher salt and freshly ground black pepper

1

pound

onions

peeled and thinly sliced

2

cloves

garlic

minced

2

tablespoons

tomato paste

1 1/2

teaspoons

Adjika (spicy Georgian pepper paste)

(optional)

1

teaspoon

ground Aleppo chili pepper

1

(32 ounce) can crushed tomatoes

1/2

cup

finely chopped cilantro
Instructions
Heat half the oil in a Dutch oven over medium-high heat. Season the chicken pieces with salt and pepper and add them in batches to the pan, browning them all over. Remove from the pan and set aside.

Add the remaining oil to the Dutch oven and add the onions. Lower the heat to medium, stir the onions well, and cover the pan. Occasionally, remove the cover and stir the onions. This will allow them to sweat and soften. Once they have softened a bit, remove the cover and keep stirring them until they are nice and tender.

Add the garlic, tomato paste, Ajika, and Aleppo pepper. Stir well and then add the crushed tomatoes. Raise the heat until the mixture comes to a simmer. Season to taste with salt. Add the chicken back into the pan, lower the heat so it maintains a simmer, and cover the pan. Continue to simmer until the chicken is cooked through, about 10 to 15 minutes depending on their size.

Right before serving, stir in the chopped cilantro. Serve with white rice or potatoes.
Notes & Nutrition
Servings 4.0 * calories 424 * Total Fat 10 g * Saturated Fat 3 g * Monounsaturated Fat 3 g * Polyunsaturated Fat 1 g * Trans Fat 0 g * Cholesterol 140 mg * Sodium 894 mg * Potassium 768 mg * Total Carbohydrate 30 g * Dietary Fiber 5 g * Sugars 1 g * Protein 53 g
*All nutritional information is based on third-party calculations and should be considered estimates. Actual nutritional content will vary with brands used, measuring methods, portion sizes and more.*