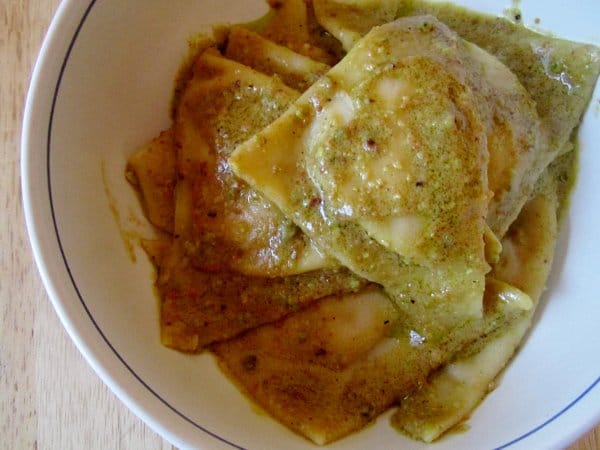 When Mario Batali writes a foreword for a cookbook, you know it means serious Italian food (the man is part-owner of Eataly, for crying out loud). In his opening words to Marc Vetri's cookbook Rustic Italian Food, Batali not only points out the authenticity of Vetri's cooking, but also refers to this book as more of a reference book than a simple cookbook. I wholeheartedly agree.
The title may be misleading, as I noticed many folks on Amazon.com complaining about how time consuming the recipes in the book are. Since when does rustic mean 30-minutes-or-less (this isn't a Rachael Ray cookbook... thank GOD)? The word rustic in the title refers to more of an old-school approach to cooking, to the concept of making everything from scratch, like they did back in the day.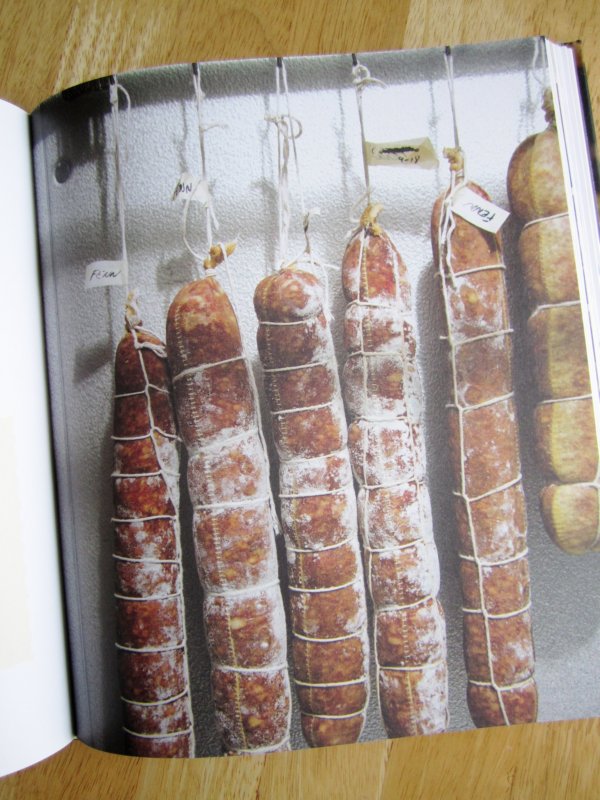 Vetri's book deeply explores the in-house production of bread and pizza, pastas (which include extruded pasta, rolled pasta, baked pasta, and hand-rolled pasta), salumi (which include terrines, cooked sausage, dry-cured salami, and whole-muscle salumi), pickles and preserves, meats and fish, simple vegetables and sides, rustic desserts, and sauces and other basics.
Each of these chapters is also introduced with a very elaborate and detailed guide that discusses every component involved. It's almost like an encyclopedia article pertaining to the chapter, and in some cases can be lengthy, and rightfully so. For the more complex bread and salumi chapters, for example, the intros are 9 and 16 pages respectively.
When delving into these more time consuming processes, I appreciate the consideration given to each detail up front, describing why ingredients ferment, why particular types of salt are used as opposed to others in curing meats, which equipment is most useful for a home kitchen for getting the best results (he often recommends Kitchenaid mixer attachments such as the pasta roller, pasta extruder, and grinder attachments, which I fully support as I'm in love with whichever ones I own), and so much more.
You get a much better understanding of WHY things are done, and not just how they are done. All the plans are laid out before a single recipe is introduced, much like a reference book. This is an excellent approach to a cookbook that tackles scarier subjects that many home cooks often steer clear from. I don't know many people who make their own salumi, but I'm not afraid to try after Vetri's tutorial.
I must also point out, that the man knows his stuff. He didn't just hit up Wikipedia before publishing his book. Here's an example. A very simple word choice points out how Vetri is not dumbing down his book for the Food Network crowd (no offense). Most people throw a slab of meat on a skillet and start talking about how the exterior of the meat caramelizes and gives it texture and color. EHHHHHHHH. Wrong. The word caramelize refers to a process in cooking vegetables and allowing them to release their sugars and brown (think caramelized onions).
The proper terminology in getting this texture and color on the exterior of meat when cooking at high heat (searing or getting grill marks) is actually "Maillard" browning. Every legitimate culinary professional should know this. It may seem silly to point this out, but considering that every Food Network chef calls it caramelization, and thus most Americans probably think this is correct, I have to give Marc Vetri a million culinary points.
I also love his discussion of white chocolate. It really gets down to the common hatred for white chocolate by many chefs. Here's a quote from the book: "White chocolate isn't really chocolate. You would be better off eating a stick of butter with some sugar on it." 100% love. Need I say more?
To alleviate some concerns, I must point out that there are a couple reviews on Amazon.com that pointed out some errors in a couple of the bread recipes in the book. I contacted Marc Vetri to confirm. He stated that there had been a couple errors that were corrected in the third printing of the book. The errors were in conversions from grams, but these conversions have been fixed. The gram measurements in the bread recipes have always been 100% correct, so even in the first two printings of the book, they are accurate.
I would say, just to be on the safe side if you have the book, use the gram measurements. To be honest, when baking you should use weight measurements instead of volume measurements 10 times out of 10 if given the option. It's far more accurate.
Selecting my first recipe to try from a new cookbook is always a challenge. Unless the cookbook is super lame, there's usually too many appetizing choices to pick from, and Rustic Italian Food is no exception. The salumi recipes were pretty much out of the question considering how timely they would be. I didn't want to wait weeks or months to have a result to share on here, but I do hope to try my hand at some of them in the near future.
The breads sound divine, of course, especially the Fig and Chestnut Bread, and pretty much every single pasta option is clever and mouthwatering. A few on my list include Mortadella Tortelli with Pistachio Pesto, Goat Cheese and Beet Plin with Tarragon, Escarole Ravioli with Pine Nuts and Honey, Rigatoni with Swordfish, Tomato, and Eggplant Fries, Spaghetti in Parchment with Clams and Scallions, Candele with Duck Bolognese, Veal Cannelloni with Porcini Bechamel, Fazzoletti with Swiss Chard and Sheep's Milk Ricotta, Lasagna with Zucchini and Stracciatella, Orecchiette with Veal Ragu and Bitter Greens, Spinach and Ricotta Gnudi, and Garganelli with Gorgonzola, Radicchio, and Walnuts.
Even some of the simple vegetable side dishes, such as the Corn Crema with Corn Saute and Scallions and the Fennel Gratin are must-try recipes. Don't even get me started on desserts, which include things like Baked Peaches with Almond Frangipane and Waffles with Nutella and Semifreddo.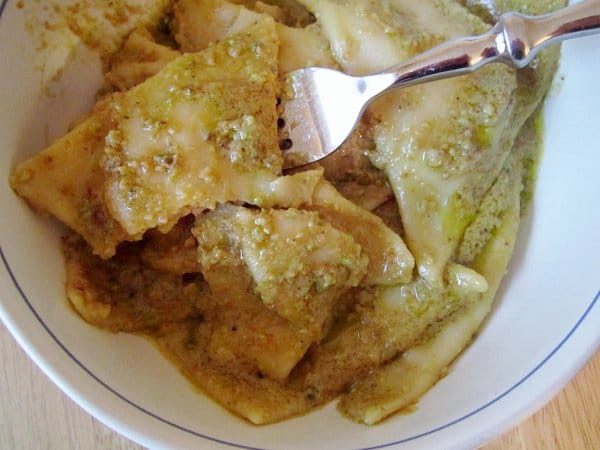 I started out by trying the Mortadella Tortelli with Pistachio Pesto. I didn't make my own mortadella (it's forgivable), but found the filling and sauce to be tremendously easy to put together (thank you, food processor!). I used my own recipe for the dough, and found that I needed a lot more of it than he originally specified to use up all the filling I had made (I increased the amount of ricotta cheese in my filling).
I suggest starting out with a whole pound of dough, rolling out one-quarter of it at a time as you assemble (so it doesn't dry out), and then if you have leftover dough at the end, just cut it into spaghetti (or any other shape you want) and save it for another time in your fridge or freezer.
I also thought the sauce recipe made a lot of sauce for the amount of pasta so it's definitely better to make more tortelli rather than less. I don't usually mind an extra-saucy pasta, but I'd just like to point it out for anyone who wants to give this a try 🙂 We loved the flavors of the pasta complimented with the sauce. Pistachios are a fabulous match for mortadella!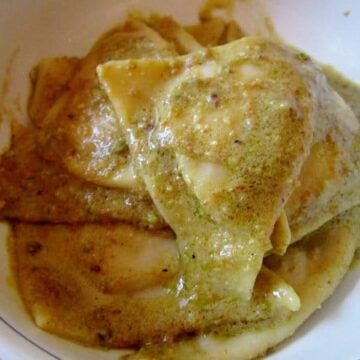 Mortadella Tortelli with Pistachio Pesto
Large handmade tortelli are filled with a mortadella and ricotta cheese filling, and served with muted green pistachio pesto to finish.
Print
Pin
Rate
Ingredients
Filling:
6

ounces

mortadella

finely chopped

1

cup

whole-milk ricotta cheese

1

egg

Kosher salt and freshly ground black pepper
Pesto:
2

cups

shelled pistachio nuts

1

cup

extra-virgin olive oil

2

teaspoons

aged sherry vinegar

Kosher salt and freshly ground black pepper
Pasta:
2

cups

all-purpose flour

3

eggs
To Finish:
⅓

cup

freshly grated Parmesan cheese
Instructions
To make the filling, put the mortadella, ricotta, and egg in a food processor and puree until smooth and fluffy, scraping down the sides of the bowl as needed. Season with salt and pepper.

To make the pesto, put the nuts in a food processor and chop until fine. Add the oil and vinegar and process to a coarse puree. Taste and season with salt and pepper. Refrigerate the pesto in an airtight container for up to 1 week, or freeze it for up to 2 months.

To make the dough, put the flour in the bowl of an electric mixer fitted with a dough hook. Add the eggs and turn the machine on to low to allow the flour to slowly absorb the eggs. Scrape down the sides if needed. When the dough begins to come together in a ball, turn the speed up another notch and allow the dough hook to knead the dough for a few minutes. Remove the dough from the mixer and knead by hand for a few more minutes until it is nice and smooth. Wrap the dough in plastic wrap and set aside at room temperature for 30 minutes to rest.

To assemble, roll out the pasta dough in four batches using a pasta roller (I prefer the Kitchenaid pasta roller attachment). Roll the pasta as thin as possible without tearing it (#5 on the Kitchenaid attachment is good), and then lay one sheet at a time on a lightly floured surface with one long side parallel to the edge of the counter. Trim the sides and ends so they are straight, then cut the pasta into 3-inch squares. If necessary, spritz lightly with water to keep it from drying out.

Put teaspoon-size spoonfuls of filling on each square, then bring the opposite corners together over the filling to make a triangle. Press gently on the edges to seal. Trim the edges, if desired, to make for a more aesthetic presentation. Makes about 45.

Bring a large pot of salted water to a boil. Drop in the tortelli, quickly return to a boil, and cook until tender yet firm, 3 to 4 minutes. Drain the pasta reserving the pasta water.

Just before the pasta is done, ladle 3 cups of the pasta water (I suggest going a little shy on the pasta water here) into a large saute pan. Add the pesto and bring to a boil over medium-high heat. Boil until the sauce is creamy, about 2 minutes.

Slide the drained tortelli into the warm sauce. Toss gently until the sauce is creamy, adding more pasta water as needed.

Divide among warm pasta bowls and garnish with the Parmesan.
Notes
Prep Ahead: The tortelli can be assembled, tossed with flour, and frozen in an airtight container for up to 3 days before cooking. Take the tortelli right from the freezer to the pasta water.
Adapted from Rustic Italian Food
Nutrition
Calories:
848
kcal
|
Carbohydrates:
37
g
|
Protein:
23
g
|
Fat:
67
g
|
Saturated Fat:
12
g
|
Polyunsaturated Fat:
22
g
|
Monounsaturated Fat:
20
g
|
Cholesterol:
149
mg
|
Sodium:
661
mg
|
Potassium:
306
mg
|
Fiber:
3
g
|
Sugar:
1
g
*All nutritional information is based on third-party calculations and should be considered estimates. Actual nutritional content will vary with brands used, measuring methods, portion sizes and more.*