This post may contain affiliate links, which means that I may receive a commission if you make a purchase using these links. As an Amazon Associate I earn from qualifying purchases.
This unique pasta features a silky smooth Venetian sauce made with tomato, carrot, and a generous amount of butter. Add bites of chicken breast to yield a hearty bowl of noodles. This recipe uses a minimal amount of ingredients, but yields a maximum amount of flavor!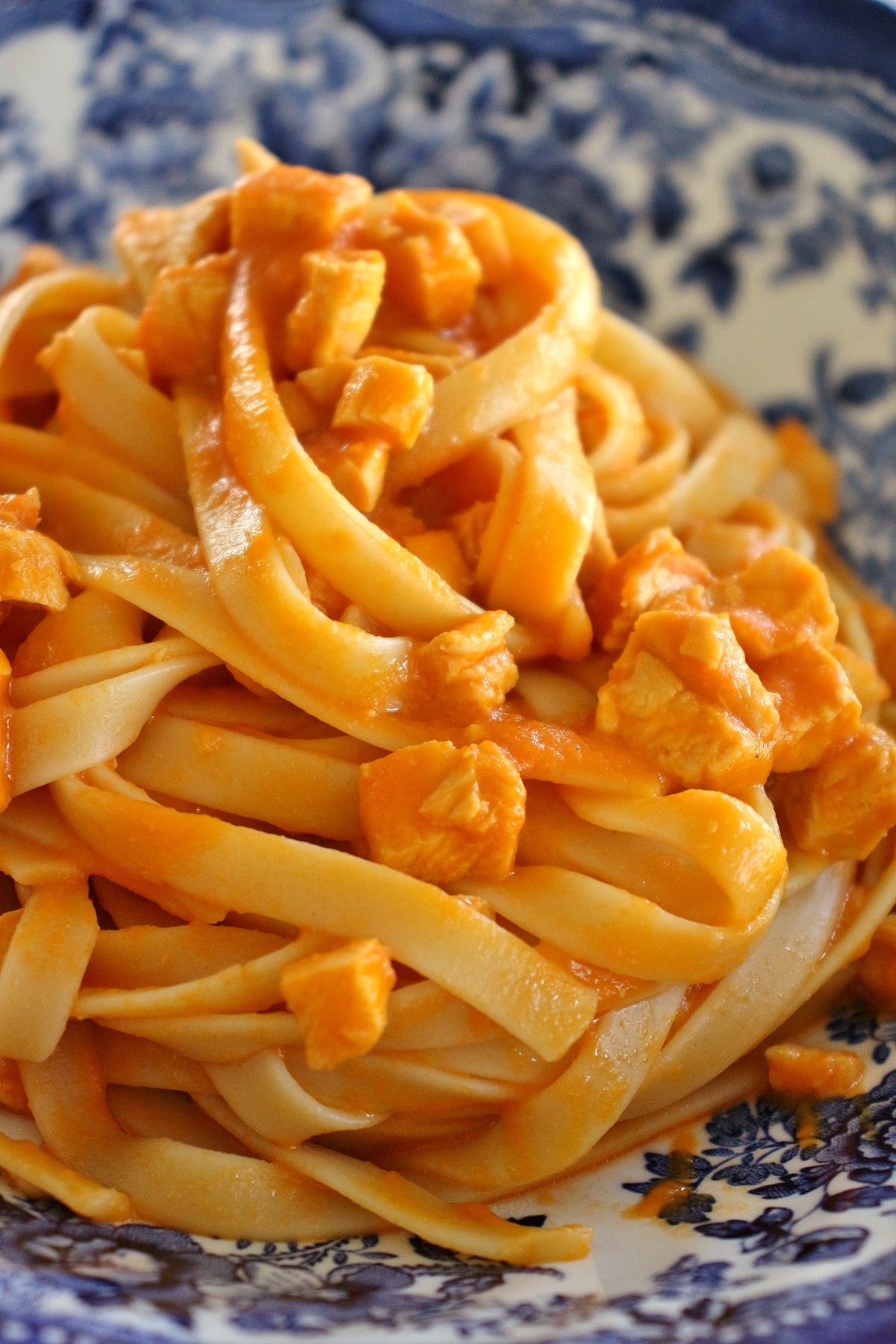 (This recipe was originally published in January 2019, but was updated with new photos and content in 2020).
Fettuccine with Venetian Chicken Sauce is easy to make and surprisingly flavorful for a dish comprised of minimal ingredients. You'll be surprised how such a simple ingredient list yields so much flavor!
The original recipe is the brainchild of the owners of a beloved and acclaimed Italian eatery in Providence, RI called Al Forno. They were inspired by a dish they enjoyed in Venice, and have created a simple but super delicious sauce that screams with umami flavor.
If you want to make a pasta sauce that is high in protein but avoiding beef for whatever reason, this Venetian chicken sauce is the answer. The sauce develops so much flavor, but you only need 8 ounces of chicken meat and some chicken broth to get there.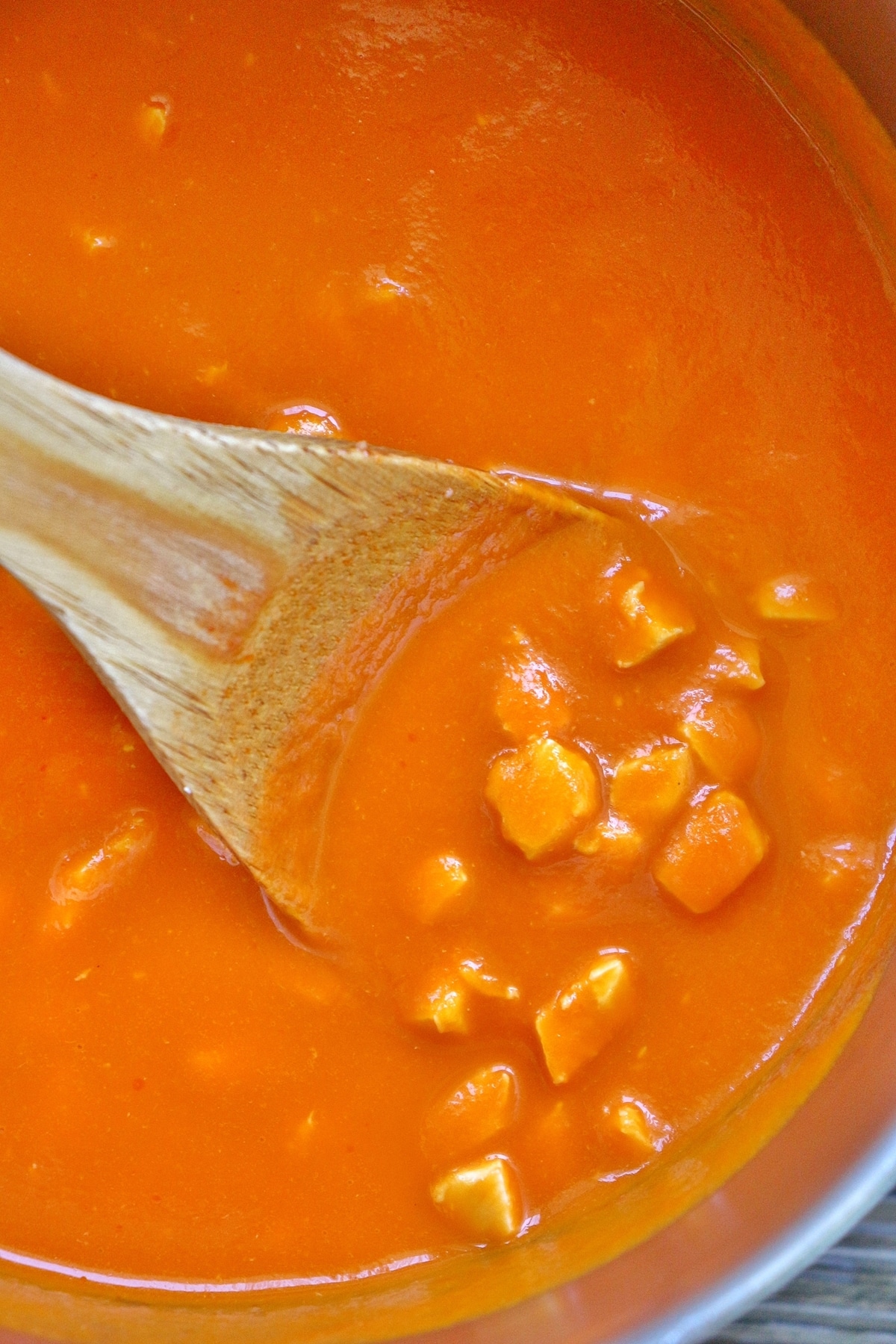 The orange-hued sauce really coats the fettuccine noodles beautifully. Surprisingly the tomato base for this sauce is actually tomato juice! It's not fresh tomatoes or even canned tomato sauce.
Unexpectedly the result tastes neither of tomato or carrot, but rather highlights the chicken. This pasta is very impressive, and would even be appropriate for serving to guests.
There's something so unique about this recipe that I think is worth sharing. If you're looking for new and creative spins on pasta night for your family, this luscious fettuccine is the way to go.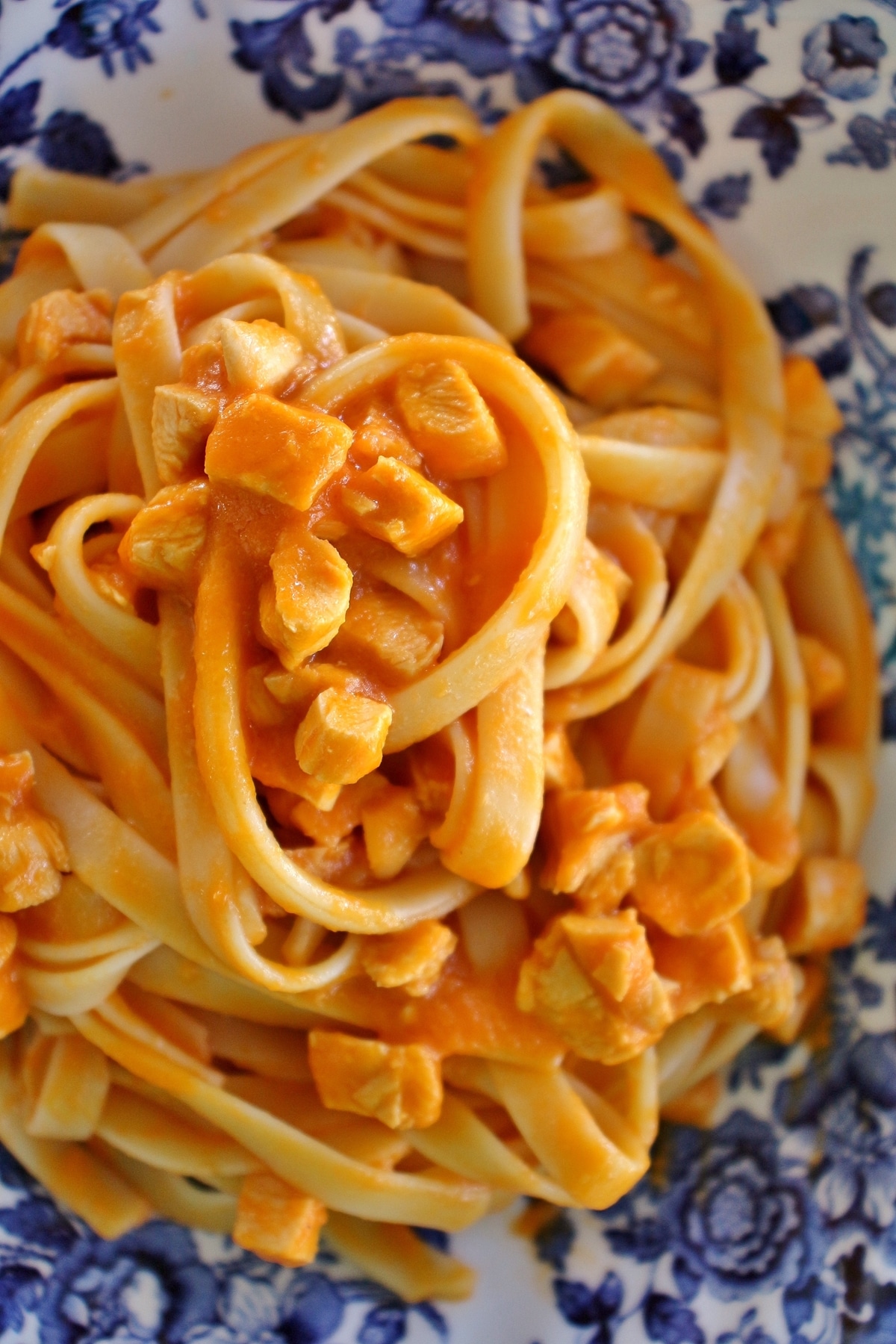 How to make Venetian sauce
To make this recipe you actually begin by poaching strips of chicken breast in chicken broth. Let the chicken cool in the broth to retain moisture (STEP 1). After the chicken and broth have cooled, remove the chicken and cut it into small, bite-size pieces (STEP 2). Then, reheat the broth.

Next, saute melt some butter and add chopped garlic. Cook just until the garlic is fragrant but now browned (STEP 3). Add water to keep the garlic from browning, then add chopped carrots and salt (STEP 4).
Cook until most of the water has evaporated, but don't let the carrots brown (STEP 5).
Next add a combination of tomato juice and the chicken broth from poaching the chicken (STEP 6). Simmer the carrots in this mixture until they are very tender (STEP 7), and then puree the sauce until smooth (STEP 8).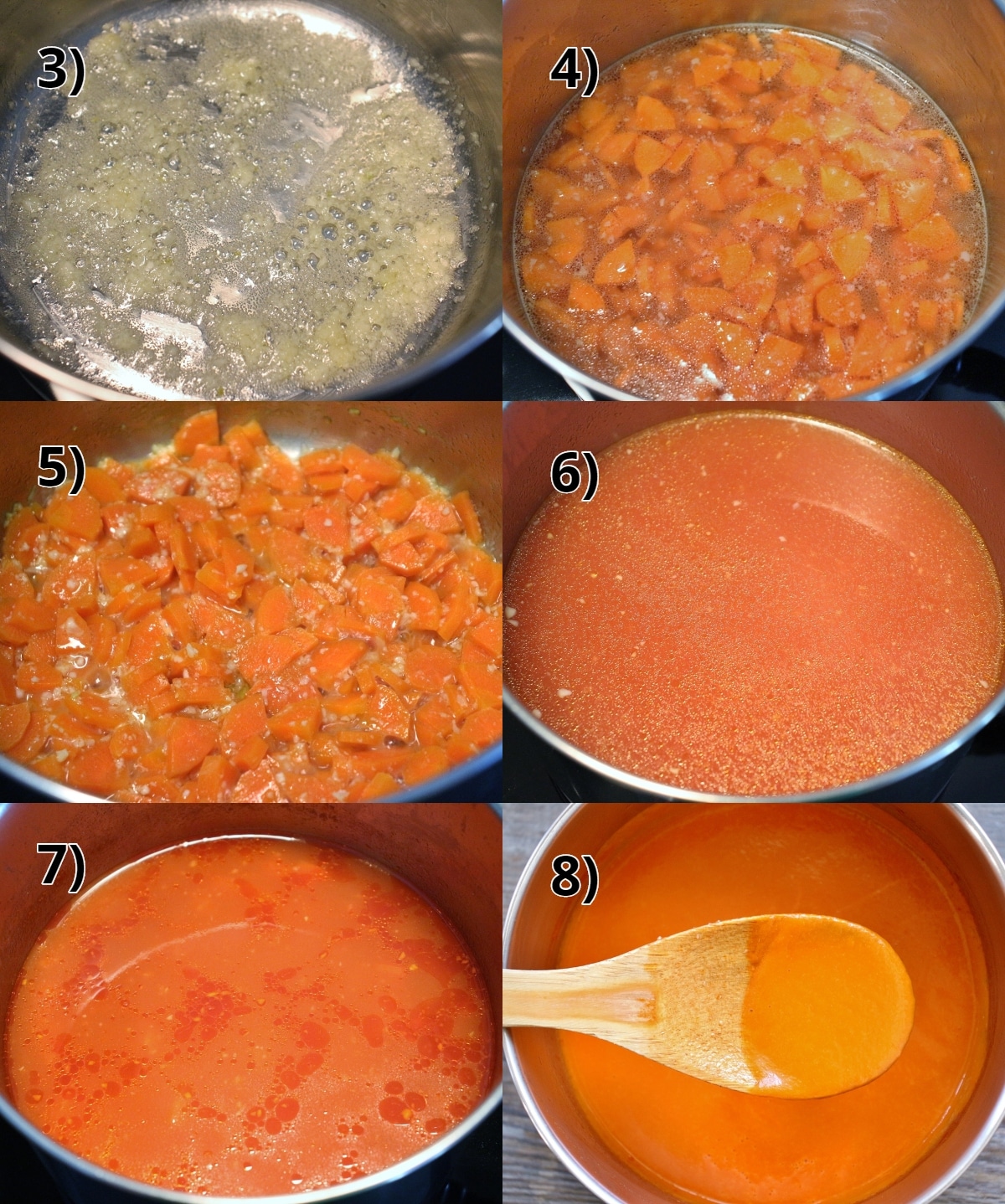 Add the diced chicken into the pureed sauce, and reheat/keep warm (STEPS 9-10).

Cook your fettuccine noodles to al dente, drain and melt in a generous amount of butter. Finally, add this decadent Venetian chicken sauce and toss it with the butter-cloaked fettuccine.
Other pasta recipes you may like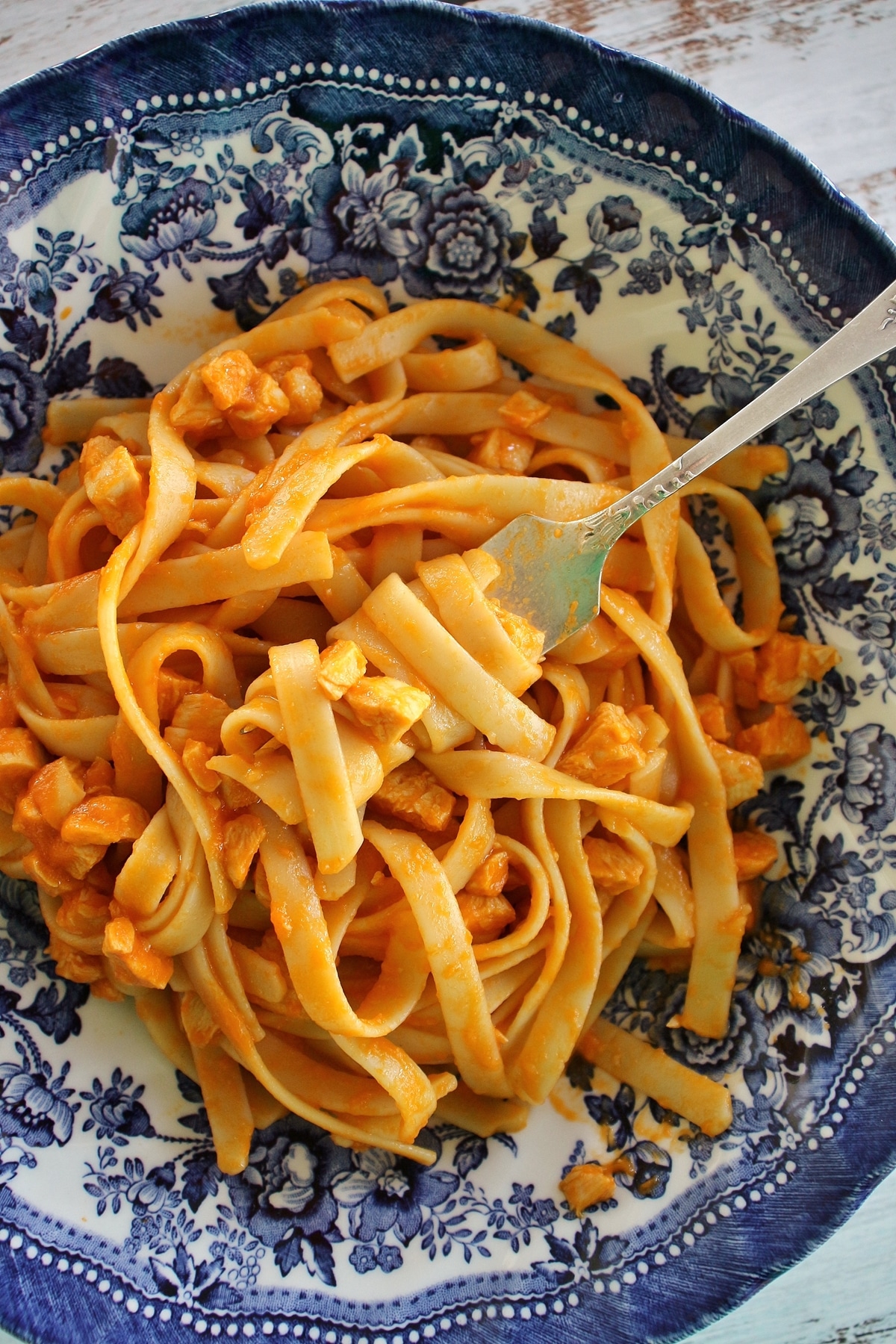 Have you ever used tomato juice as a base for a pasta sauce? What are your favorite hearty sauces for pasta? Please leave me a comment below and don't forget to rate this recipe if you enjoyed it! Thanks.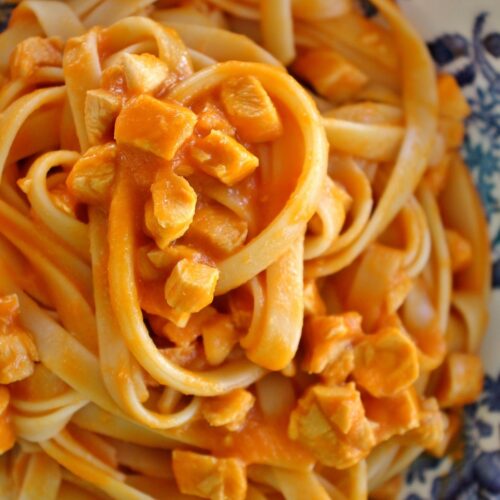 Fettuccine with Venetian Chicken Sauce
This unique pasta features a silky smooth Venetian sauce made with tomato, carrot, and a generous amount of butter. Add bites of chicken breast to yield a hearty bowl of noodles.
Ingredients
2

cups

chicken stock or broth

8

ounces

boneless skinless chicken breasts or tenders

4

tablespoons

unsalted butter

1

garlic clove

finely chopped

1

cup

finely chopped carrot

1/4

teaspoon

kosher salt

1

cup

tomato juice

1

pound

dry fettuccine

Freshly grated Parmigiano-Reggiano cheese
Instructions
In a saucepan, bring chicken stock to a boil. Cut the chicken breasts into lengthwise strips about the width of a finger, and drop them into the boiling stock.

Cover and bring to a boil, then decrease heat and simmer for 4 minutes. Remove the cover and set aside, allowing the chicken to cool in the liquid. When cool, transfer chicken to a cutting board and reheat the stock.

Cut the chicken strips lengthwise into 1/4-inch thick slices, then cut across to make 1/4-inch dice.

Meanwhile, melt 1 tablespoon of the butter in another large saucepan. Stir in the garlic and cook over low heat until the garlic is very fragrant but not browned, a couple minutes. Add 1 cup water to prevent the garlic from browning.

Add in carrots and salt, and cook over medium heat, stirring frequently, until the mixture is nearly dry with just a bit of water left, about 20 to 25 minutes. Stir constantly toward the end of this step to be sure the carrots do not brown at all.

Add the hot stock and tomato juice. Cover and bring to a boil, then decrease heat, partially cover, and simmer gently for 35 minutes or until the carrots are very soft. Puree with an immersion blender or regular blender until you have a smooth puree. Set aside.

Add the chicken to the sauce and reheat gently. Adjust seasoning with more salt if needed.

Bring a large pot of water to a boil. Generously salt the water and add in the fettuccine. Cook, stirring often, until al dente.

Drain the pasta and return to the pasta pot off the heat. Toss with the remaining butter and fold enough sauce to coat the noodles generously. Serve immediately with grated Parmigiano-Reggiano cheese on the side for topping.
Notes & Nutrition
If you have leftover cooked chicken, use about 6 ounces of it in place of the raw chicken in this recipe. Skip the step of cooking it in the broth, and instead simply cube it up and add it later to the sauce.
Try this recipe with wider flat noodles like tagliatelle or pappardelle if you'd like.
This recipe is easy but can be a little time consuming to prepare the sauce. You can make the sauce in advance, refrigerate it for a couple days, and gently reheat it before tossing with your noodles to save time on the day you plan to serve it.
Adapted from On Top of Spaghetti
Servings 4.0 * calories 623 * Total Fat 15 g * Saturated Fat 8 g * Monounsaturated Fat 0 g * Polyunsaturated Fat 1 g * Trans Fat 0 g * Cholesterol 76 mg * Sodium 451 mg * Potassium 426 mg * Total Carbohydrate 90 g * Dietary Fiber 6 g * Sugars 8 g * Protein 29 g
*All nutritional information is based on third-party calculations and should be considered estimates. Actual nutritional content will vary with brands used, measuring methods, portion sizes and more.*
Pin it for Later!