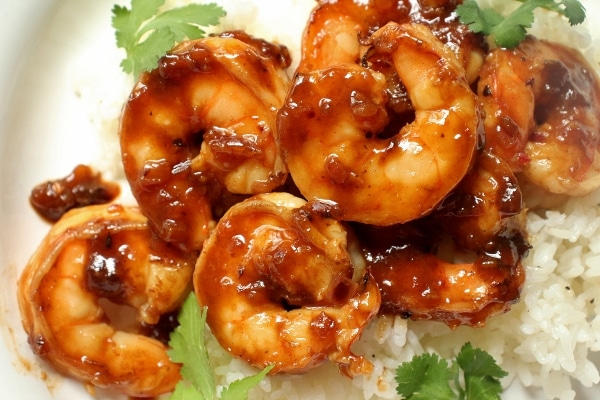 Shrimp is one of my favorite kinds of shellfish to cook and eat. Although it requires a bit of time to clean (shelling and deveining), the payoff is worth it especially considering how fast it cooks! I typically only purchase wild Gulf shrimp, so I know where it's coming from. I'm a bit skeptical about eating shrimp from overseas (they're bottom-feeders after all), but use your judgement, and buy the best shrimp you can afford.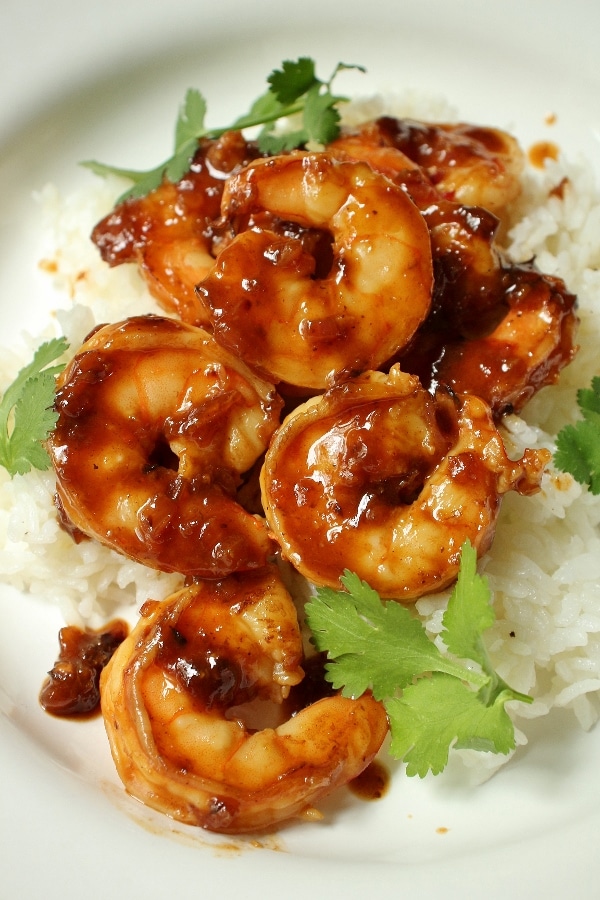 This pomegranate sriracha shrimp is a spicy, tangy, and sweet derivation of a south Vietnamese classic. It features some of my most beloved ingredients: pomegranate molasses, sriracha, and garlic! The shrimp is cloaked in a sticky sauce that enhances the plain white rice it is served over. I can definitely see myself making this shrimp recipe again and again!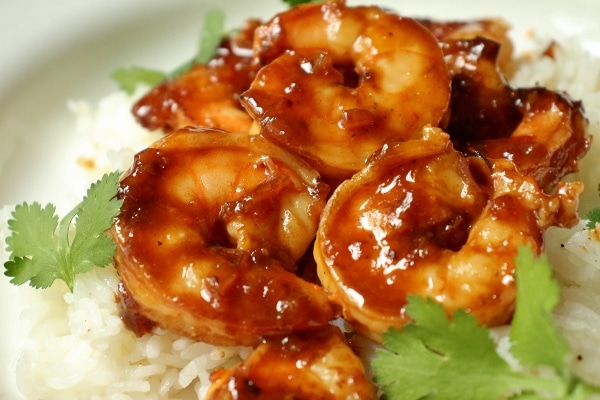 Pomegranate Sriracha Shrimp
Serves 4
(Adapted from Vietnamese Food Any Day)
2 teaspoons sriracha, plus more as needed
2 tablespoons pomegranate molasses
2 tablespoons fish sauce
3 1/2 tablespoons water
1 1/2 teaspoons to 1 1/2 tablespoons packed light or dark brown sugar
1 teaspoon cornstarch
2 tablespoons canola or other neutral oil
1 shallot, finely chopped
2 garlic cloves, finely chopped
1 1/2 pounds extra-large or jumbo shrimp (21/25 or 16/20 count), peeled and deveined
3 or 4 sprigs fresh cilantro
In a small bowl, combine the sriracha, pomegranate molasses, fish sauce, and 3 tablespoons of the water. Taste and add the brown sugar, starting with 1 1/2 teaspoons, to create a tart sweetness; the amount you need depends on the tartness of the pomegranate molasses and your palate. For extra heat, add more sriracha, 1/2 teaspoon at a time. Aim for a tangy, savory, spicy finish. Set the sauce aside. In a small bowl or cup, stir the cornstarch with the remaining 1 1/2 teaspoons water, then set the slurry aside.
In a large skillet over high heat, warm the canola oil until hot but not smoking. Add the shallot and garlic and stir-fry for about 30 seconds, until fragrant. Add the shrimp and stir-fry for about 1 minute, until most of them have turned pinkish orange and are slightly curled.
Give the sauce a stir, then add to the pan, stirring to combine. Let the sauce come to a vigorous boil, stirring occasionally to keep things moving. When the shrimp are cooked through, about 2 minutes, give the cornstarch slurry a stir and add to the pan. Cook, stirring, to slightly thicken the sauce and coat the shrimp.
Transfer the shrimp to a deep plate or shallow bowl and garnish with the cilantro. Serve immediately with rice for soaking up the sauce.
*Note* To feature tamarind instead of pomegranate, substitute tamarind liquid, concentrate, or paste for the pomegranate molasses.