This post may contain affiliate links, which means that I may receive a commission if you make a purchase using these links. As an Amazon Associate I earn from qualifying purchases.
Tomorrow is the first official National Dumpling Day! It's perhaps the most exciting food day ever because it's celebrating one of my favorite foods of all time. The fantastic thing about dumplings is that there are so many varieties from around the world. Almost anything can be made into a dumpling.
If you're in New York City this weekend, you can celebrate National Dumpling Day by heading to the first NYC Dumpling Festival tomorrow (September 26th) from noon to 5 pm at Sara D. Roosevelt Park from East Houston Street to Canal Street between Chrystie Street and Forsyth Street in the Lower East Side of Manhattan.
The festival will include a dumpling eating contest featuring Takeru Kobayashi, a champion competitive eater who will help host the event. The event also includes Lion Dances, Korean Drum performances, Asian Beatbox, belly dancing, a giant Dumpling Cutting Ceremony, a dumpling making class, raffles for awesome prizes, a book signing with Chinese cookbook author Kian Lam Kho, and more.
The NYC Dumpling Festival and all performances are free but there is a $20 ticket for a dumpling taster pass, which includes 4 tastes at vendor stalls. All proceeds go to the Food Bank NYC. If you'd like to find out more about the NYC Dumpling Festival you can visit their website here, check out their Facebook page here, or Twitter here (you can also use #DumplingFest2015 to chat about it on Twitter).
In the meantime, I've decided to share a unique type of dumpling that definitely doesn't fit the typical dumpling mold. About 5 years ago, I had a very memorable dinner at Yakitori Totto in New York City. One of the most delicious elements at that meal was steamed rice-coated chicken meatballs. I have fantasized about those meatballs for 5 years.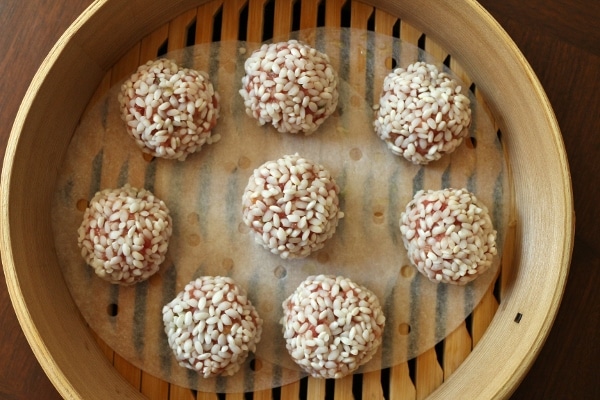 Prior to steaming
The Chinese version of this dish hails from Shanghai, and its name translates to "Pearl Balls." That's pretty much what they look like: pearlescent balls with glistening sticky rice wrapped around a juicy meatball.
The recipes I've found range from using ground pork to chicken or turkey. Basically, white meat. I used ground pork, but would easily swap it out for ground poultry if that's what I had on hand. The meat is mixed with a fragrant mixture of ginger and scallions, with some finely diced water chestnuts for crunch. A little bit of cornstarch and egg bind everything together.
The type of rice used here goes by several names: glutinous, sticky, and sweet are just three of them. Soak the rice in plenty of water overnight and then drain and dry it thoroughly. These dumplings need a head start by soaking the rice, but otherwise are so much faster and easier to make than dumplings that require a wrapper (at least if you're making the wrappers yourself, which in my case is the norm).
The interior is juicy and flavorful, and the exterior boasts chewy, sticky rice. It's almost obscene how good these are considering how simple they really are to make. I hope this serves as an example of just how different dumplings can be. They don't all have the same equation (dough + filling). Sometimes in place of dough there are other types of starch or wrappers that fit the bill.
Just beware, similar to when making meatballs, you may have a bit of the meat's "juices" ooze out and coagulate on your pearl balls or in your steamer tray. I find that this tends to happen more when you are using meat that has previously been frozen (which mine was). It's simple enough to use a spoon or butter knife to just swipe away some of these little bits before you serve these up.
I hope everyone has a wonderful National Dumpling Day tomorrow. If you're near the Big Apple, please head on over to the NYC Dumpling Festival to celebrate. And if you're farther away, pick up a bag of sticky rice and make these exquisite dumplings!
*Disclaimer* This is a sponsored post. The company who sponsored it compensated me to write it. As always, my thoughts and opinions are always my own.