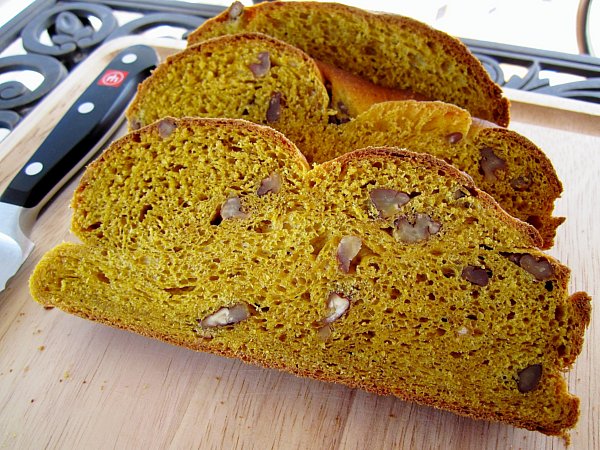 Although it's not something I do weekly, or evenly monthly, baking fresh bread is extremely gratifying. I always say I want to make more bread, and little by little I have been increasing my bread baking frequency. I even ordered a very large rectangular baking stone to use in the future for baking bread and pizzas (thicker and wider than the cheaper small round stone I already have). It should retain heat better and provide a larger surface area to bake multiple loaves of bread at once on a stone as opposed to a sheet pan (which is what I use now).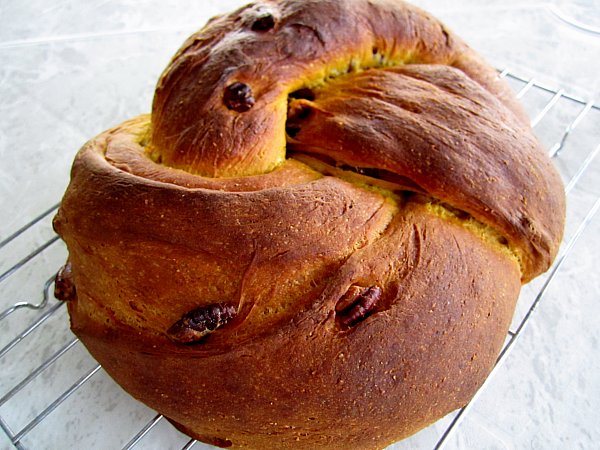 I had been eyeing a recipe in my Amy's Bread cookbook for Autumn Pumpkin Bread with Pecans for some time. It's apparently one of their best-selling seasonal breads for the fall. In the bakery, they actually call them Pumpkin Pecan Knots, which is a more fitting name, I think, because when you say "Pumpkin Bread" people automatically assume quick bread, and this bread is certainly not quick. Just like all their artisan breads, this bread requires the same long and slow fermenting process that yields the incredibly complex and delicious bread they are famous for producing.
It's actually very easy to make. I highly recommend scaling off the ingredients instead of utilizing the volume measurements. It is far more accurate and when weight measurements are offered in a recipe, I always follow those instead.
Although the dough ferments for about 2 hours and then proofs for another 1 ½ hours or so, actually mixing together, kneading, and shaping the loaves requires minimal time commitment and comes together quite simply. It is most definitely worth the effort and time for bread this fantastic.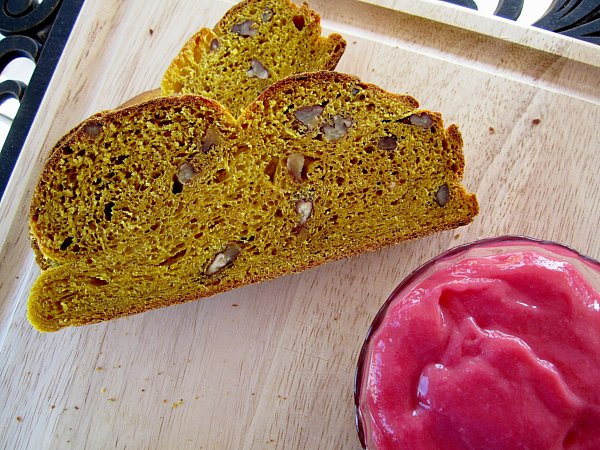 I made this bread for Thanksgiving. Not so much to eat with the meal (although it would totally work in savory applications), but to enjoy afterwards with creamy Cranberry Curd for dessert. It was also an incredible breakfast the next morning! The bread itself is mildly sweet, enriched with butter and egg yolks, fragrant with the scent of cinnamon and cloves, with bites of crunchy pecans studded within its pale golden crumbs.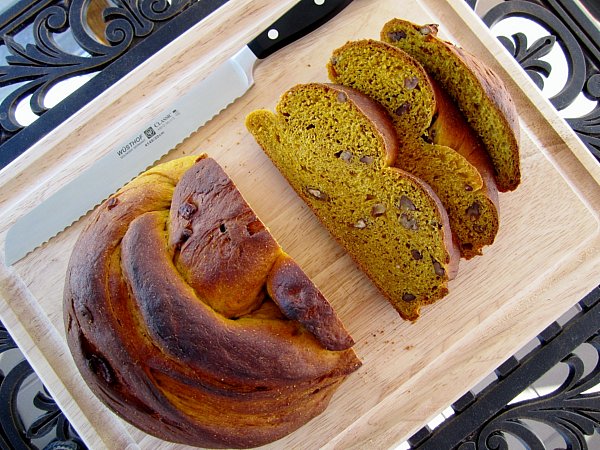 Slather on a spoonful of tart and sweet vibrant pink cranberry curd and you have yourself a perfect autumn pairing. There's nothing quite like it 🙂 I will be making this bread and curd match-up annually from now on. Probably more than once a season to be honest! It's not too late to bake a couple loaves of this scrumptious bread before pumpkin season is officially over.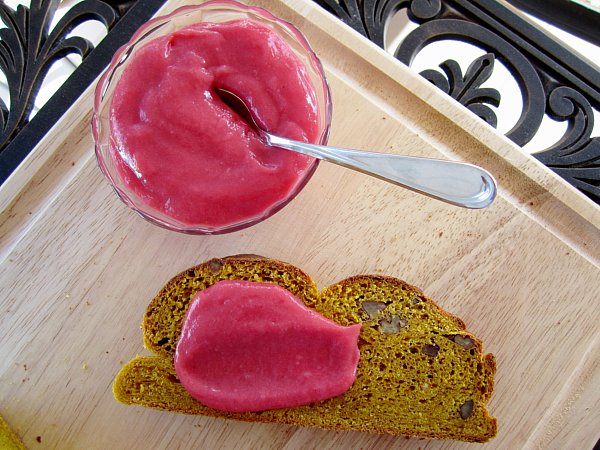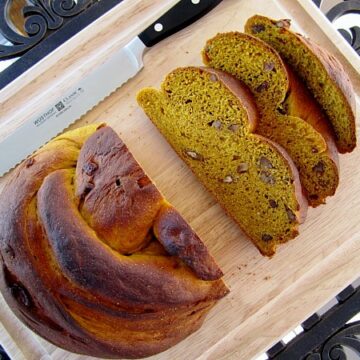 Pumpkin Pecan Knots
These yeasted pumpkin bread knots are a perfect in the fall and winter when pumpkin is popular. Serve it sliced up with cranberry curd.
Print
Pin
Rate
Servings:
2
(1 ¼ pound) loaves (about 20 slices)
Ingredients
¼

cup

(57 grams) very warm water (105 to 115°F)

1

tablespoon plus 1 teaspoon

(12 grams) active dry yeast

1

cup

(234 grams) pumpkin puree

½

cup

(170 grams) honey

½

cup

(120 grams) milk

at room temperature

¼

cup

(42 grams) coarse cornmeal or polenta

2

large (40 grams) egg yolks

at room temperature

3 ¾

cups

(560 grams) unbleached bread flour

divided

1

teaspoon

ground cinnamon

½

teaspoon

ground ginger

½

teaspoon

ground cloves

2 ½

teaspoons

kosher salt

1

cup

(113 grams) unsalted butter

melted

1

cup

(113 grams) pecan pieces

toasted
Instructions
Combine the very warm water and yeast in a large bowl and stir with a fork to dissolve the yeast. Allow to stand for 3 minutes.

Add the pumpkin puree, honey, milk, cornmeal, egg yolks, and 228 grams (1 ½ cups) of the flour to the yeast mixture. Stir briskly with a whisk until well combined. Let this sponge rest for at least 15 minutes but no longer than 30 minutes.

In a medium bowl, whisk the remaining 332 grams (2 ¼ cups) of flour together with the cinnamon, ginger, cloves, and salt to mix well. Add the melted butter to the sponge and stir with your fingers to incorporate, then add the flour mixture, stirring and folding the dough over itself until it gathers in a shaggy mass.

Move the dough to a lightly floured work surface and knead until it is very smooth, silky, and elastic, 8 to 9 minutes (alternatively, if your mixing bowl is very large you can knead the dough right in the bowl as I have done successfully). The dough with be soft and sticky, so keep the work surface and your hands lightly floured, but don't overdo it. Shape into a loose ball, cover with plastic wrap or a kitchen towel, and let rest for 20 minutes.

Flatten the dough and stretch it gently with your fingers to form a rectangle about an inch thick (this part you will have to do on a work surface, not in the mixing bowl). Spread the toasted pecans evenly over the rectangle. Fold the whole mass into an envelope and knead it gently until the nuts are well distributed, 2 to 3 minutes.

Shape the dough into a loose ball and place it in a lightly oiled bowl, along with any loose pecans. Turn to coat the top with oil, then cover the bowl with oiled plastic wrap. Let rise at room temperature (75 to 77°F) until it has doubled in volume, about 2 hours. A lightly floured finger pressed into the dough will leave an indentation that does not spring back.

When the dough has doubled, gently pour it out of the bowl onto the floured work surface, pressing in any loose nuts. Flour your hands lightly and gently divide the dough into two equal pieces weighing about 680 grams each. Roll each piece into a rope about 2 feet long and then tie it into a knot. Tuck the ends under the loaf and press lightly to seal.

Place the loaves on a peel or the back of a baking sheet that has been lined with parchment. Leave several inches between them so they won't grow into each other. Cover loosely with oiled plastic wrap and allow them to rise at room temperature until just doubled in volume, about 1 ½ to 2 hours.

Thirty minutes before baking, preheat oven to 425°F. Place a cast-iron pan (that you are willing to get rusty) on the lowest rack of the oven (I used an enameled cast iron pan which should be safe from rusting). Place an oven rack two rungs above the cast iron pan, and if you have one, put a baking stone on the rack. Fill a plastic water sprayer with water and fill a teakettle with water to be boiled later, and have a metal 1-cup measure with a straight handle available near the kettle.

Five to 10 minutes before the loaves are ready to bake, turn the water on to boil.

Mist the loaves with water, then open the oven and gently slide them onto the baking stone with the parchment paper underneath (if you're baking without a stone simply put the pan onto the empty rack). Pour 1 cup boiling water into the skillet and immediately shut the oven door. After 1 minute, quickly mist the loaves again, then shut the oven door.

Bake for 15 minutes, then rotate the loaves for even browning, reduce the oven temperature to 375°F and bake for 20 to 25 minutes longer, until the loaves are golden brown and the surface feels firm but not hard when you press it lightly. An instant-read digital thermometer will read about 200 degrees F. If your loaves brown too quickly, tent them with aluminum foil until they finish baking.

Transfer the loaves to a metal rack and allow to cool completely before serving. This bread is best eaten the day it is baked, but can be refreshed in the oven if desired. Just wrap with foil and heat at about 350°F for about 10 minutes, then unwrap the foil and continue to heat for another few minutes to firm the crust back up. It also freezes exceptionally well if you wrap it in aluminum foil and then a freezer bag. Thaw at room temperature before serving.
Nutrition
Serving:
1
slice
|
Calories:
250
kcal
|
Carbohydrates:
27
g
|
Protein:
5
g
|
Fat:
14
g
|
Saturated Fat:
6
g
|
Polyunsaturated Fat:
2
g
|
Monounsaturated Fat:
5
g
|
Cholesterol:
42
mg
|
Sodium:
143
mg
|
Potassium:
69
mg
|
Fiber:
2
g
|
Sugar:
8
g
*All nutritional information is based on third-party calculations and should be considered estimates. Actual nutritional content will vary with brands used, measuring methods, portion sizes and more.*