This post may contain affiliate links, which means that I may receive a commission if you make a purchase using these links. As an Amazon Associate I earn from qualifying purchases.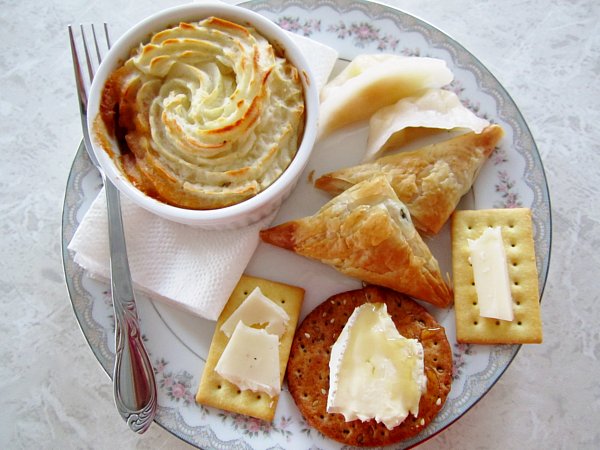 I have a pretty serious Olympic obsession. For the past month and a half I have been planning an Olympic extravaganza for the opening ceremonies (which were last Friday). I invited some friends to come over and watch, sporting outfits representing a range of countries from the USA to Armenia, Portugal, and Japan.
I wanted to create a meal that spanned the globe. It was really hard to narrow down countries (and trust me, I've saved some good ones for future Olympic parties), but I definitely had to represent a few. First of all, Greece was an obvious choice because they are responsible for the creation of the games.
I also had to include the United Kingdom because they are hosting the games this year. The United States would also be represented because it's my home country. Here is the menu I came up with (with a little help from my friends who brought some of the drinks and food)…
Olympic Party 2012
Yakisoba (Japan)
CHEESE BOARD
Truffle Cheese (Italy)
Brie (France)
Emmenthaler (Switzerland)
DRINKS
Peach Melba Sangria (Spain)
Chocolate Wine (Holland)
Coto de Imaz Rioja Wine (Spain)
Kronenbourg 1669 Beer (France)
Corona Extra (Mexico)
Creating the menu was nearly as fun as setting up the event and then eating all the food. I started early in the week and prepared both the spanakopita and Har Gow and froze them. This helped save a lot of time on the day of the party (a good strategy for any get-together). Then on Friday morning I made the sangria, followed by the cottage pies and bread pudding. I also assembled the cheese board.
There really isn't a "recipe" for the cheese board I made, but I can tell you that it included 3 cheeses I got from Trader Joe's, all of which actually came from the native countries they were representing (not domestic versions of the cheese). I also included a small variety of crackers (also from Trader Joe's), a cute little beehive shaped dish of wildflower honey (from Whole Foods), and some grapes.
The most popular cheese was easily the Brie, which was nearly wiped out from the cheese platter by the end of the evening. I loved it spread across a cracker and topped with a drizzle of honey. That made this delicious buttery cheese even more outstanding. The next popular was the Italian truffle cheese. It had a lovely aromatic quality from the truffles. The least popular was the Emmenthaler. I personally love Emmenthaler, but the other two cheeses definitely overshadowed this old favorite 🙂
I will discuss each of the other dishes (along with sharing recipes) in upcoming posts, so please check back regularly. There is still time to throw an Olympic party of your own! The Red, White, and Blue Bread Pudding was featured recently on Mission: Food and was a hugely popular ending to the meal. I can't stress how much I love this recipe! Guests who had never tried bread pudding before went back for seconds. Now that's what I'm talking about 🙂
Today I will share the shortest recipe of the bunch, since this post is already very long. Just because the recipe is incredibly easy and only includes 4 ingredients doesn't mean that it wasn't a standout favorite from the Olympic party. Because it was. It really really was. I was told by many of my guests that it was the best sangria they've ever had. Some of my guests have also been to or are from Spain. Just to keep it real. This sangria is soooooooo good.
The sweet and fruity Moscato wine is the perfect backdrop for this peachy sangria. The peach schnapps only elevates that fruity element, as do the diced peaches. Fresh raspberries not only tint the sangria a faint pink hue, but are the eternal match for the peaches. A traditional French dessert, peach melba, containing a peach and raspberry flavor combination, is the inspiration for this sangria.
I decided to serve this in a punch bowl instead of a pitcher to make serving even easier. It was also really pretty this way. Please enjoy responsibly. It's pretty strong 🙂
Check out all the Olympic Party posts here…
Part 1: Menu, Cheese Board, and Sangria
Part 2: Spanakopita
Part 3: Cottage Pies
Part 4: Har Gow Shrimp Dumplings
Peach Melba Sangria
This simple sangria is inspired by the flavors of peach melba.
Ingredients
1.5

liters

(2 small bottles, or 1 large bottle) Moscato wine

750

milliliters

(1 bottle) peach schnapps

4

peaches

diced

12

ounces

raspberries
Instructions
In a large pitcher, mix together all the ingredients and chill for at least 8 hours or overnight to develop the flavors.
Notes & Nutrition
Servings 8.0 * calories 266 * Total Fat 0 g * Saturated Fat 0 g * Monounsaturated Fat 0 g * Polyunsaturated Fat 0 g * Trans Fat 0 g * Cholesterol 0 mg * Sodium 23 mg * Potassium 157 mg * Total Carbohydrate 43 g * Dietary Fiber 3 g * Sugars 30 g * Protein 2 g
*All nutritional information is based on third-party calculations and should be considered estimates. Actual nutritional content will vary with brands used, measuring methods, portion sizes and more.*