This post may contain affiliate links, which means that I may receive a commission if you make a purchase using these links. As an Amazon Associate I earn from qualifying purchases.
When asked to name my favorite food, I generally roll my eyes and say it's impossible to select a single favorite. When you're a foodie, your love is exponential, and picking a favorite dish is an impossibility. If I'm really pressed for an answer, the likeliest response will be "dumplings." I've never met a dumpling I haven't liked. In recent years especially, it's been my mission to explore my love of dumplings both in and out of my kitchen.
Recently, it came to my attention that there is actually a dumpling festival happening in New York City at the end of this month! It sounds like every fantasy I've ever had. It's taking place on September 26th from noon to 5 pm at Sara D. Roosevelt Park from East Houston Street to Canal Street between Chrystie Street and Forsyth Street in the Lower East Side of Manhattan.
The festival will include a dumpling eating contest featuring Takeru Kobayashi, a champion competitive eater who will help host the event. The event also includes Lion Dances, Korean Drum performances, Asian Beatbox, belly dancing, a giant Dumpling Cutting Ceremony, a dumpling making class, raffles for awesome prizes, a book signing with Chinese cookbook author Kian Lam Kho, and more.
The NYC Dumpling Festival and all performances are free but there is a $20 ticket for a dumpling taster pass, which includes 4 tastes at vendor stalls and a free tote. All proceeds go to the Food Bank NYC.
If you'd like to find out more about the NYC Dumpling Festival you can visit their website
here
, check out their Facebook page
here
, or Twitter
here
(you can also use #DumplingFest2015 to chat about it too on Twitter).
In honor of the NYC Dumpling Festival, I've decided to put together a post featuring my top 10 favorite dumplings from my blog. I've selected a range that includes international favorites, some classics, and some novel twists. It was a tough decision, but here are my dumpling highlights over the years, in no particular order…
Let's start with Asian dumplings, since those are the most prevalent. I have several veggie based dumpling recipes that I absolutely love. I'd say the top contender is my
pan-fried vegetable dumplings
. The filling is packed with so much flavor! I actually prefer these dumplings to many of the meat-filled ones.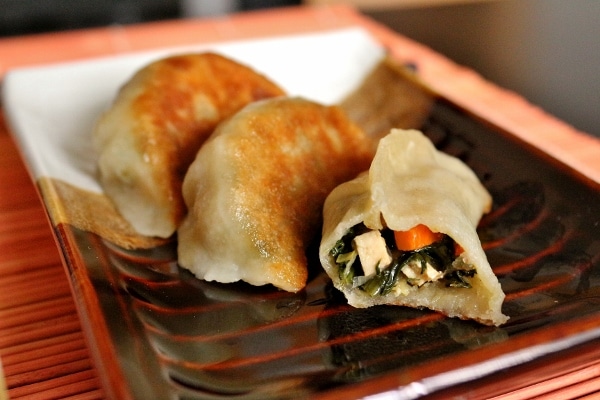 Another of my favorite vegetable-based dumplings isn't technically vegetarian since it contains oyster sauce, but it's fantastic if you're a mushroom-lover. Chewy translucent wrappers are a wonderful vessel for these
three-mushroom dumplings
.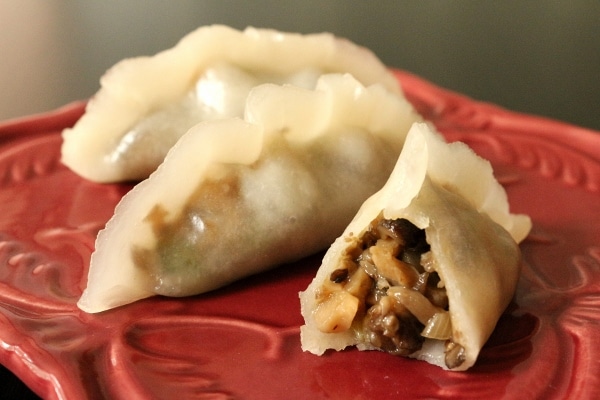 My third and final favorite "vegetable" dumpling recipe is for dumplings that actually resemble vegetables: carrots to be exact. These
carrot dumplings
are inspired by similar dumplings I've eaten at Buddakan in NYC. They're absolutely delicious and adorable to boot!
I feel like shrimp dumplings are some of the most common in Chinese cooking. Whenever I go for dim sum, we order several varieties containing shrimp. Although I love
Har Gow
(and it's the most classic), my favorite is actually chewy
Chinese chive dumplings
stuffed with tons of shrimp and Chinese chives. Dried shrimp adds even more shrimp flavor to the filling here.
Moving onto some of the more creative and non-traditional dumpling recipes. One of my absolute favorites (and just in time for football season) is my
Buffalo chicken dumplings
. They're served with blue cheese dressing. These are dumplings way outside of the box!
This next dumpling is not an original creation of my own, but it's definitely a unique take on dumplings. Brussels sprouts and bacon are a marriage made in heaven, and this combination is equally lovable as a filling for dumplings. Add an off-the-wall fish sauce caramel dipping sauce, and you've got a serious winner in these
Brussels sprouts and bacon dumplings
.
Let's move outside of Asia and head to Europe. Ravioli is another of my favorite dumplings, although you may not typically use the term "dumplings" to describe them. But that's exactly what they are. Dough stuffed with filling. They're as "dumpling" as dumplings get. These carrot-ricotta ravioli with herbed butter are easily some of my favorites, namely because of their truly unique but easy to make filling. Try it with homemade ricotta cheese! You're welcome 😉
Heading back East just a tad, we visit Poland in Eastern Europe to find another of my favorite dumpling recipes. Potato pierogi are another classic dumpling. The best and only way to enjoy these is to boil them and then fry them up in some butter. Caramelized onions and sour cream are my favorite counterparts. I've actually made these pierogi for one of my famous Olympic parties to represent the food of Poland.
Alright, so I know I said these top 10 dumplings were in no particular order, but I've really saved the best of last. Drum roll please…… my favorite dumpling of all time, the dumpling recipe that I grew up eating, my first dumpling love…… is my grandmother's manti. It's a dish of Turkish/Armenian origins, and it's simply the best thing I ever ate. I can't think of a better finale to this roundup of dumplings.
And with that I'd like to thank you all for checking out this fun top 10 dumplings post. Please head on over to learn more about the NYC Dumpling Festival. I really hope it's an event they host every year, because I can't think of anything more worthwhile to celebrate than dumplings!
*Disclaimer* This is a sponsored post. The company who sponsored it compensated me to write it. As always, my thoughts and opinions are always my own.