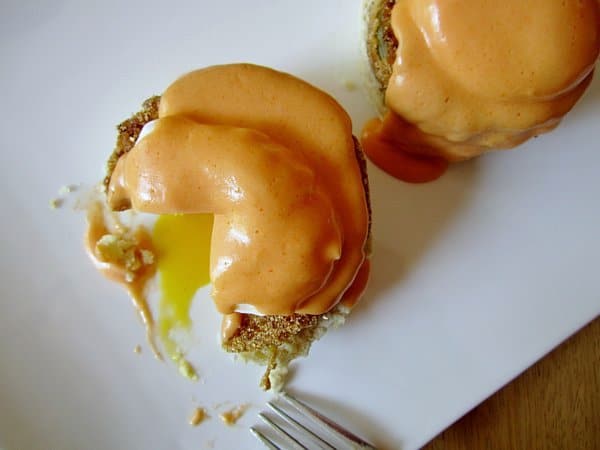 Eggs Benedict and its many many variations comprise my all-time favorite breakfasts. Eating Eggs Benedict is also one of my favorite ways to raise my cholesterol. It's pretty much at the opposite end of the spectrum of being healthy. You will NOT be on the cover of a Wheaties box if you eat too many Eggs Benedict. Even though it's my breakfast/brunch obsession, I honestly make Eggs Benedict very rarely. I'm a badass egg poacher and my Hollandaise is always dreamy, but this is a case where it's best to enjoy in moderation.
So the one or two times a year that I decide to be especially bad, I love trying out fun variations on the classic. One of my favorite "fillings" for Eggs Benedict is sliced avocados. I love pairing it with a classic Choron sauce, which is essentially Hollandaise sauce with added tomato sauce or crushed tomatoes. It not only yields a beautiful color, but flavor-wise it's a great pairing with the avocado. I also like adding Dijon mustard to my Hollandaise to add a little sharpness which goes beautifully with traditional ham or less traditional prosciutto. There's really so many delicious options when putting together new twists on a classic.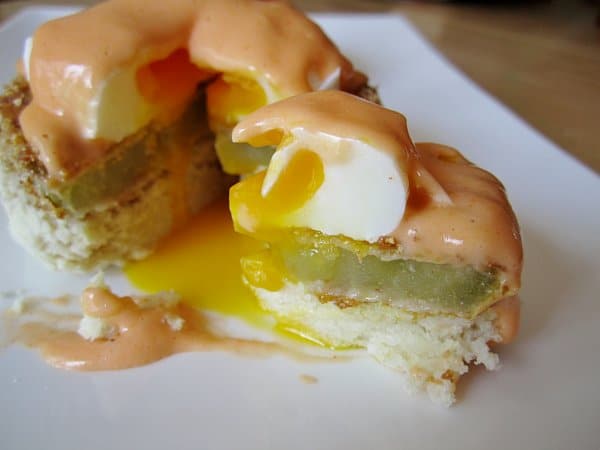 As an end of summer treat (and perhaps to clinch the end of beach season by packing on extra pounds for my upcoming winter hibernation) I decided to showcase a summery Southern classic, fried green tomatoes. I have long fantasized about using fried green tomatoes in my Benedict, but the timing was never right (ie green tomatoes weren't around during these whims). This time, I was ready. With green tomatoes in hand from my dad's garden, this dish was going to happen. Finally.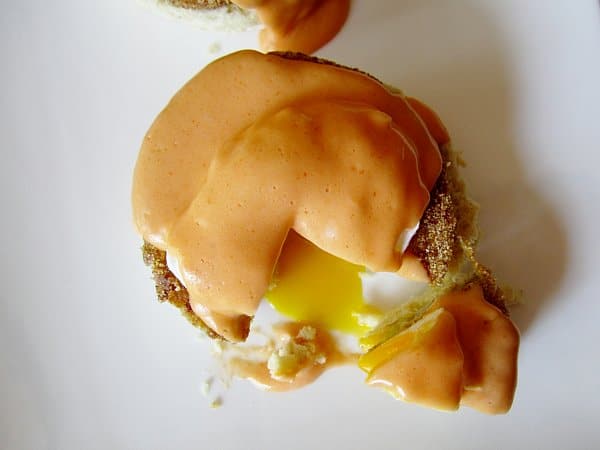 There seemed no better a match for a truly Southern Benedict experience than to use flaky, buttery, buttermilk biscuits as the base. This was pretty much a no brainer. Next I thought, "hot sauce would go great with biscuits and fried green tomatoes." POOF! "Why not put hot sauce in the Hollandaise and make it a Buffalo Hollandaise? It already contains the other major component in Buffalo sauce: lots and lots of butter." I'm a GENIUS! *Pats self on back*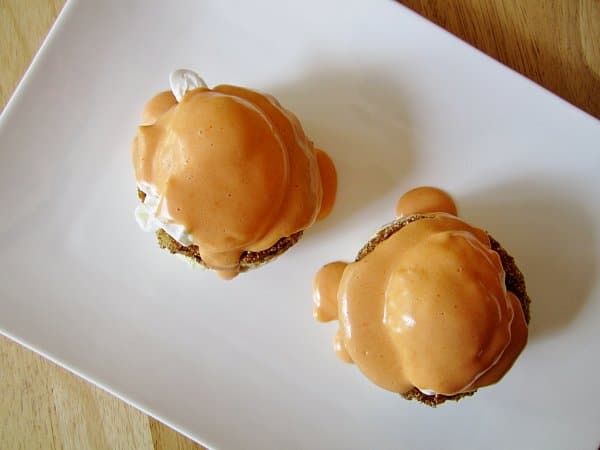 This is where I'd like to use several expletives to describe how absolutely amazing the entire combination turned out. Buuuut, I try to keep this blog generally PG so I won't. Suffice it to say, my brother-in-law said it was the best breakfast he's ever had in his life and would like to eat it every single day from now on. He also raved about the biscuits. This biscuit recipe yields the best biscuits I've ever had or made. I usually make smaller ones, but in this case I cut them into larger circles to match the size of my green tomatoes. You can cut your biscuits to any size you feel comfortable with based on the size of your tomatoes and your preference.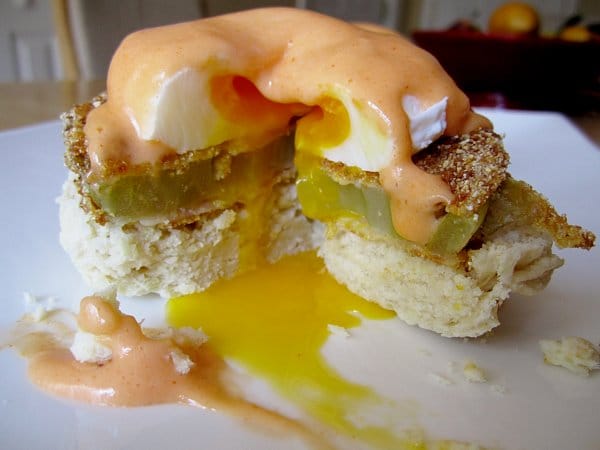 The fried green tomatoes themselves follow a standard breading procedure and cook very quickly, so they shouldn't be a crutch to making this dish at home. I used equal parts panko bread crumbs and cornmeal and loved the texture and flavor it yielded. You could easily use one or the other, or even plain breadcrumbs.
The Buffalo Hollandaise. Well, there's only one thing I can say. GENIUS! I often add a few drops of hot sauce to my Hollandaise in lieu of cayenne pepper (I like to switch it up depending on my Hollandaise-making mood). Well, anyone who knows me is aware of my love for all things Buffalo chicken. In this case, what the dish lacks in chicken it makes up for in other awesomeness (you could also use chicken instead of the green tomatoes, but they're in season and thus my top pick!).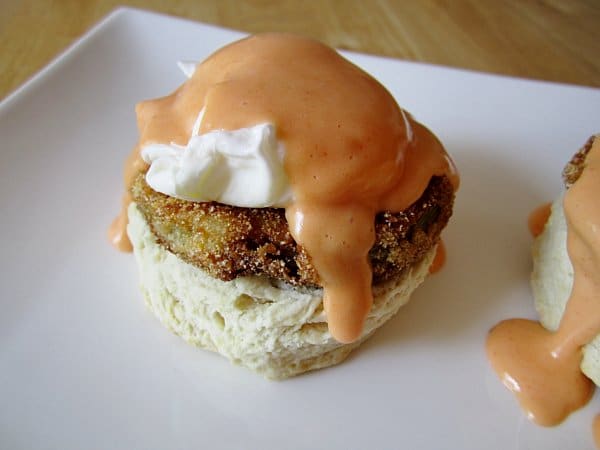 The Hollandaise has a distinct Buffalo sauce flavor without being excessively spicy. As always, feel free to add more hot sauce to your liking, but I wanted to be fair to the other components in the dish and create a nice balance of flavor. I definitely achieved that. There isn't a single component I'd change in this dish. It was truly phenomenal, one of my new favorites. It's also a little ode to my amazing Southern friends whom I always think of when fried green tomatoes and biscuits enter the equation 🙂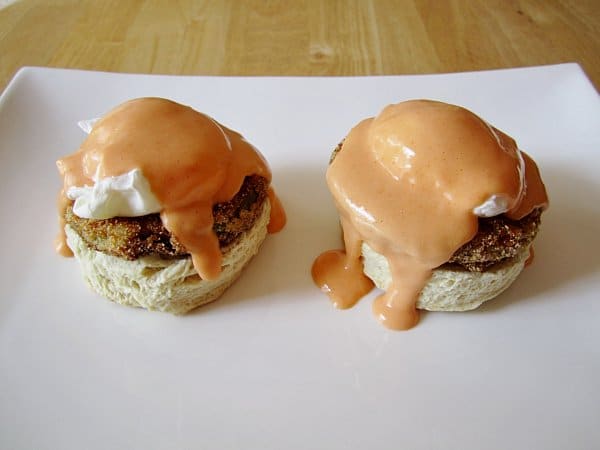 PS I know this seems like a lot of work, but it only took me about 1 hour and 15 minutes or so from start to finish, and I was writing the recipe in the process, which slows things down more than usual. Don't be discouraged from making all the components from scratch. It really is worth it! The eggs poach rather quickly and the Hollandaise is fast and easy as well (not scary to make, I swear!). My method of prep is lengthy because I want to be as descriptive as possible to alleviate any concerns from first-timers! Good luck!!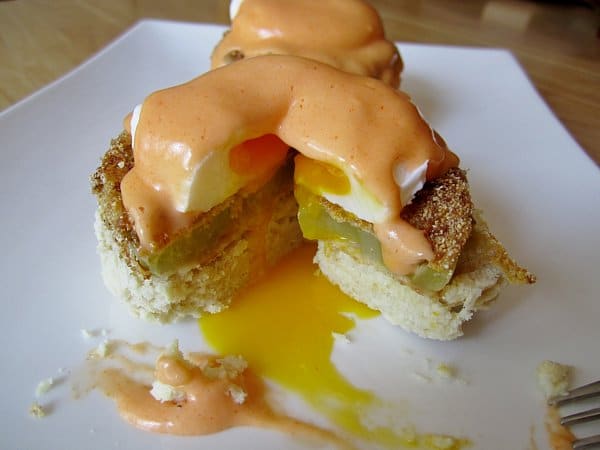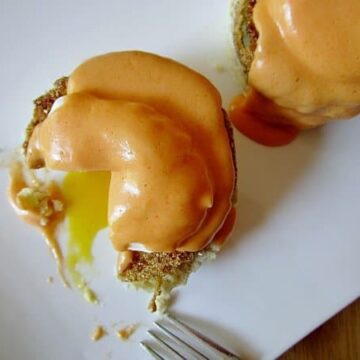 Fried Green Tomato Benedict on Buttermilk Biscuits with Buffalo Hollandaise
This all American eggs Benedict variation harnesses the beloved flavors of the South with its buttermilk biscuit base and fried green tomato toppers. It's finished with spicy Buffalo Hollandaise for an epic brunch option.
Print
Pin
Rate
Ingredients
Buttermilk Biscuits:
2

cups

all-purpose flour

plus more for dusting

2

tablespoons

baking powder

1 ½

tablespoons

sugar

¼

teaspoon

kosher salt

6

tablespoons

unsalted butter

chilled and cubed

¾

cup

buttermilk
Fried Green Tomatoes:
2

medium to large green tomatoes

cut into eight ¼-to-½-inch-thick slices, tops and bottoms discarded

½

cup

all-purpose flour

Kosher salt and freshly ground black pepper

1

large egg

1

tablespoon

water

A few dashes hot sauce

such as Frank's Red Hot

½

cup

panko bread crumbs

½

cup

yellow cornmeal

Vegetable oil

for frying
Buffalo Hollandaise:
3

large egg yolks

2

tablespoons

hot sauce

such as Frank's Red Hot

1

tablespoon

lemon juice

1

tablespoon

water

plus more as needed

6

ounces

(1 ½ sticks) unsalted butter, melted, clarified, and kept warm over low heat

Kosher salt
Assembly:
8

large eggs

2

tablespoons

distilled white vinegar
Instructions
To make the biscuits: Preheat the oven to 350°F.

Place the flour, baking powder, sugar, and salt in a large mixing bowl and stir to combine. Add the cold butter and work it into the flour mixture, using your fingers or a pastry cutter, until the mixture resembles coarse pea or dime-size crumbs. Be careful not to overwork the mixture or the butter will soften too much. Add the buttermilk, and use your fingers to combine it into the dough. Powder your hands with flour if the dough gets too sticky. The dough should just come together, do not over mix.

Turn the dough onto a floured surface and form it into a ball. Lightly knead the dough 2 or 3 times until combined. (The biscuits can be baked the next day, if desired. Dust a sheet pan and the top of the dough with flour and refrigerate, covered with plastic wrap, overnight. Then bring the dough back to room temperature.)

Pat the dough into a ¾-to-1-inch thick rectangle. Use a 3-to-3 ¼-inch round biscuit cutter to cut out biscuits (do not twist the cutter, cut straight down). Place them on a parchment paper-lined sheet pan. Gather the dough scraps, smooth them out (lightly knead if necessary), and pat the remaining dough into another ¾-to-1-inch thick rectangle or circle. Cut out more biscuits, and then repeat again if necessary to use remaining dough. Do not over work the dough each time, or the final biscuits will be tougher. You should have 4 fairly large biscuits. Lightly dust the tops of the biscuits with a sprinkle of flour.

Bake the biscuits, rotating the pan front to back halfway through, for 22 to 24 minutes, or until they are golden brown and cooked through. The biscuits can be kept warm in the oven while preparing the other components.

To make the fried green tomatoes: Set up a breading station as follows. In one shallow bowl add the flour and season with salt and pepper. In another shallow bowl beat the egg with the water, hot sauce, and salt. In a third shallow bowl mix together the panko and cornmeal.

Meanwhile, coat the bottom of a skillet with about ¼-inch of vegetable oil and heat over medium to medium-high heat. One at a time, dredge the slices of green tomato first in the flour mixture (shaking off the excess), then into the egg mixture (allowing extra egg to drip off), and finally into the panko/cornmeal mixture (making sure that the green tomato slices are well coated). Gently shake off excess coating and place breaded slices into the hot oil, cooking each for a couple minutes on each side or until golden brown. Crumbs that fall off the tomatoes while frying will start to burn, so be careful to remove them if you can between batches. Remove the fried green tomatoes to a paper towel-lined sheet pan to soak excess oil. Sprinkle with salt and set aside (these can be kept warm in the oven along with the biscuits).

To make the Buffalo Hollandaise: Fill a saucepan with a couple inches of water and bring it to a simmer over medium heat. In a medium stainless steel bowl (that will fit comfortably over the saucepan without touching the water), whisk the egg yolks with the hot sauce, lemon juice, and tablespoon of water.

Place the bowl on top of the saucepan and continue to whisk constantly. Use a potholder, if necessary, to hold the bowl with your other hand, as it will heat up from the steam beneath. Lower the heat to maintain a gentle simmer and steam. You do not want to curdle the eggs. After a couple minutes of whisking, the eggs will start to thicken and become creamy. Remove the bowl occasionally from the heat source to keep the temperature from getting too high. Continue to whisk off the heat and then place the bowl back onto the saucepan (you can keep going back and forth throughout the process to maintain a stable and comfortable heat).

When the eggs have thickened a bit, you can start to add the butter in a thin, steady stream while continuing to whisk. Slowly the butter should emulsify into the egg mixture. Feel free to take short breaks to remove the bowl from the heat and continue whisking. Be gentle with your Hollandaise; too much heat can cause the eggs to curdle or the sauce to break. Continue whisking in the butter until it is completely emulsified and the sauce is thick (fyi: the more butter you add, the thicker the mixture will get). Adjust seasoning with salt. Keep the sauce over the double-boiler on low heat, whisking occasionally, until needed. If it thickens too much as it sits, whisk in room temperature water by the tablespoonful until it thins out to your desired consistency (vigorously whisking in water is also a great trick to fix a broken Hollandaise).

When your biscuits are baked, green tomatoes fried, and Hollandaise prepared (and all kept warm either in the oven or over the double-boiler on low heat), now you can quickly poach your eggs and assemble (or technically you can even poach your eggs in advance and then reheat them in simmering water, so plan your cooking based on what works for you). Fill a medium to large, shallow saucepan about halfway with water. Add the vinegar and bring to a simmer over medium heat (you can get the water going while prepping the other components).

Crack 1 egg into a small bowl. If you have several small bowls on hand and don't mind getting them dirty, it saves some time to crack an egg into each bowl and have them all ready in advance. If not, you can do one at a time, reusing the same bowl. When the water is simmering, but not boiling, gently lower 1 egg at a time into the water.

If you feel confident, add more eggs, one at a time, into the simmering water. Just remember the order in which you add the eggs so you can remove them in the same order. Each egg should take about 3 minutes. The whites should be cooked through but the yolks should remain runny. When you remove an egg with a slotted spoon, it should feel fairly firm right where the white meets the yolk, but it should still have some give when you move closer to the yolk.

Remove each egg with a slotted spoon and place on a paper towel if you'd like to soak up a bit of the water. Meanwhile, split the biscuits and top each half with a fried green tomato slice. Then top each with a poached egg and several spoonfuls of the Buffalo Hollandaise. Serve hot.
Nutrition
Calories:
1224
kcal
|
Carbohydrates:
95
g
|
Protein:
28
g
|
Fat:
80
g
|
Saturated Fat:
39
g
|
Polyunsaturated Fat:
10
g
|
Monounsaturated Fat:
15
g
|
Cholesterol:
691
mg
|
Sodium:
1983
mg
|
Potassium:
441
mg
|
Fiber:
5
g
|
Sugar:
12
g
*All nutritional information is based on third-party calculations and should be considered estimates. Actual nutritional content will vary with brands used, measuring methods, portion sizes and more.*