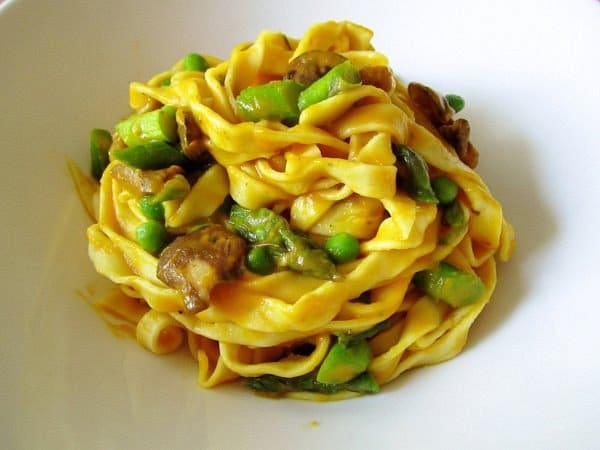 I love fresh vegetables. Although I love being a meat-eater, I try not to eat meat every single day. I honestly crave vegetables a lot of the time, and this recipe satisfies those cravings... and then some. I was recently inspired by a dish a friend of mine ordered at Local 121, a locavore restaurant in Providence, RI. I had been wanting to make pasta with a carrot sauce for some time, and had even seen other bloggers whipping up carroty pasta creations. I decided though, that I would make a completely vegan sauce for mine. Fresh pasta is not vegan, as it contains eggs, but if you'd like to make this dish entirely vegan, simply replace the fresh pasta for dried. You will lose some of the flavor (curry in this case) and incredible texture of the fresh version, but it will be vegan as a result 🙂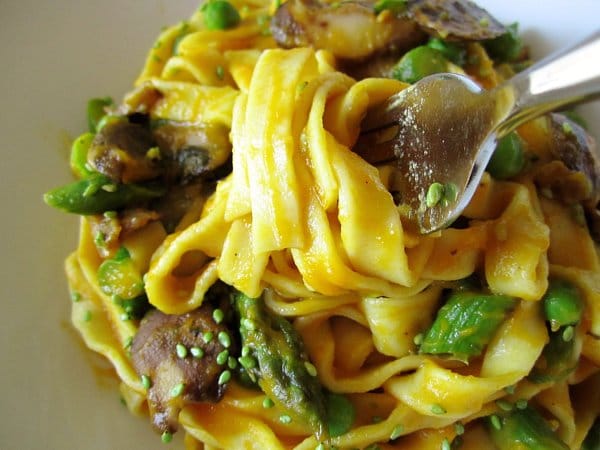 The sauce is also very low in fat! I only used a little extra-virgin olive oil to sauté some vegetables, but if you want to cut down even more fat, you could always blanch the asparagus and peas instead of sautéing them, cutting down just a bit on flavor. I loved this dish prepared exactly as it was! Instead of making plain fettuccine, I spiced my fresh pasta dough with a bit of curry powder.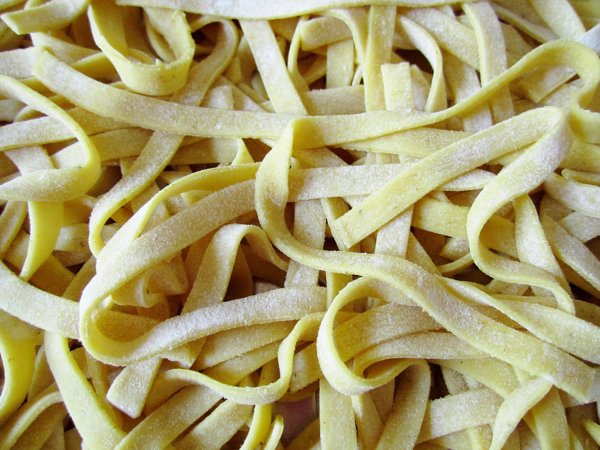 The flavor was relatively mild but still shone through once the pasta was sauced, giving the dish a lovely background warmth and curry flavor (and aroma!). If you don't make your own fresh pasta, try adding some curry powder to the carrot sauce instead. It should still yield a similar effect, though I really suggest making your own curry pasta if you get the chance! The Kitchenaid pasta roller and cutter attachments are well worth the price if you like eating/making fresh pasta.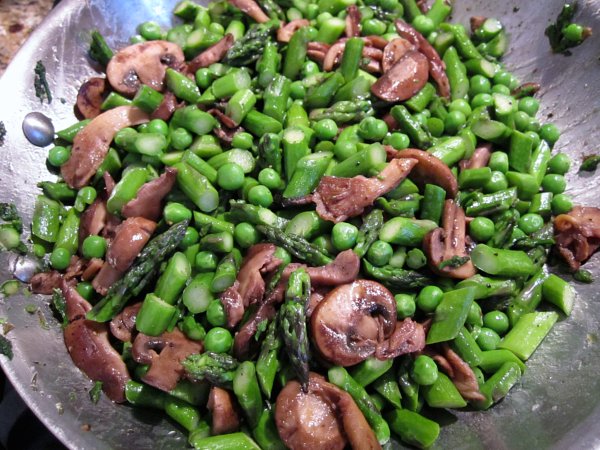 For my selection of vegetables, I wanted to mirror the asparagus and peas used in the Local 121 version, but also included some meaty wild mushrooms to add an umami flavor element. I sautéed them and added some red wine to give them more depth of flavor. Even though there are far less mushrooms than asparagus and peas, even the subtlest amount stands out in this dish and makes meat a distant memory.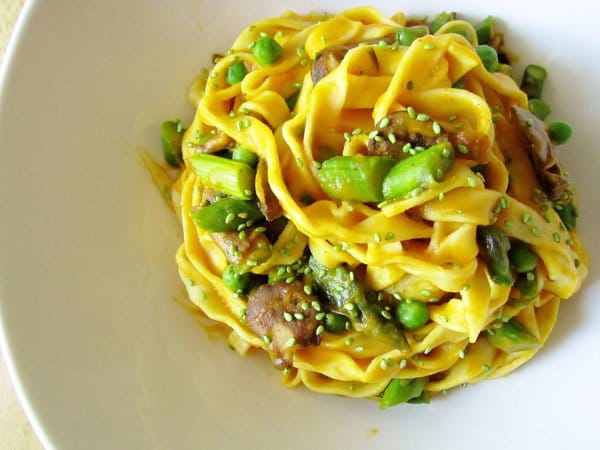 Vegetarians and meat-eaters alike will LOVE this creation. Though it lacks any butter, cream, or cheese, the sauce is silky and velvety and includes a lovely sweet garlic note in addition to the fresh carrots. It clings beautifully to the noodles, the perfect sauce viscosity. This would also be a great dish to impress guests, as it boasts bright and vivacious colors that are not only eye-appealing but suggest all the healthful benefits of the vegetables within. Make sure you don't overcook the veggies! Having a nice crunch to the asparagus especially adds a great balance of textures to the dish. And an optional sprinkling of wasabi sesame seeds adds one more touch of color and flavor to an already fabulous pasta dish.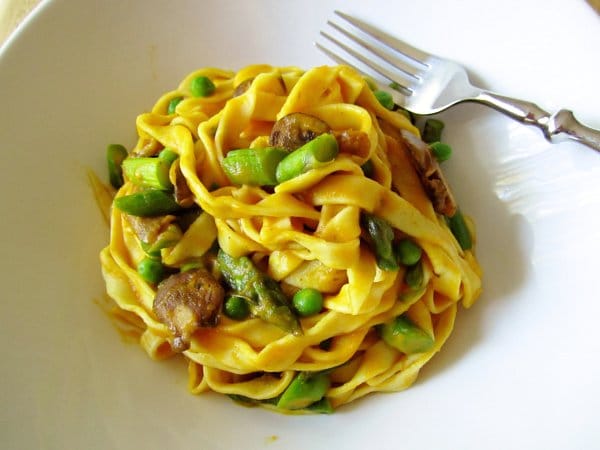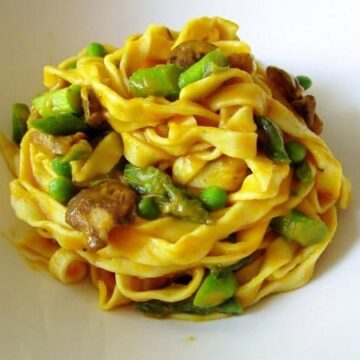 Fresh Curry Fettuccine with Pureed Carrot Sauce, Asparagus, Peas, and Wild Mushrooms
Homemade curry fettuccine is tossed in a vibrant pureed carrot sauce, and embellished with a variety of colorful vegetables.
Print
Pin
Rate
Ingredients
Fresh Curry Fettuccine:
2

cups

all-purpose flour

plus more for dusting

1

teaspoon

curry powder

3

eggs
Carrot Sauce and Veggies:
4

carrots

1 lb, peeled, trimmed, and sliced

4 to 6

whole cloves garlic

peeled

2 ½

cups

vegetable broth or stock

Kosher salt and freshly ground black pepper

2

tablespoons

extra-virgin olive oil

4

oz

mixed sliced wild mushrooms

such as cremini, shiitake, and oyster

¼

cup

red wine

1

bunch

1 lb asparagus, trimmed and sliced on the bias into ¼-to-½-inch pieces

1

cup

fresh or frozen green peas

Wasabi sesame seeds

optional, for garnish
Instructions
To make the dough, mix the flour and curry powder in the bowl of an electric mixer fitted with a dough hook. Add the eggs and turn the machine on to low to allow the flour to slowly absorb the eggs. Scrape down the sides as needed. When the dough begins to come together in a ball, turn the speed up another notch and allow the dough hook to knead the dough for a few minutes. Remove the dough from the mixer and knead by hand for a few more minutes until it is nice and smooth. Wrap the dough in plastic wrap and set aside at room temperature for an hour to allow the gluten to rest.

Meanwhile, start the sauce. Add the carrots, garlic, and vegetable broth to a saucepan over high heat and bring to a boil. Lower the heat and simmer uncovered for about 10 to 15 minutes until the vegetables are tender. Remove to a blender and puree until smooth. Return the sauce to the saucepan and season with a little kosher salt. Keep warm over low heat.

In a large sauté pan over medium-high heat, add 1 tablespoon olive oil and heat. Add the mushrooms and sauté for about 5 minutes until browned. Lower the heat, season with salt and pepper, and deglaze the pan with red wine. Stir and cook until the mushrooms absorb the wine. Set aside the mushrooms and wipe the pan clean for later.

Bring a large pot of water to a boil.

Cut the pasta dough into 4 equal pieces. Dust each piece with flour and flatten them with your hands. Run the dough pieces one at a time through a pasta roller, starting with the largest opening (run it several times through this one, folding it occasionally), and decreasing the opening size until the dough is thin (#4 on the Kitchenaid pasta roller attachment is perfect). Lay the 4 pasta sheets on 2 floured half sheet pans as you work. Cut each pasta sheet in half crosswise (to make them shorter) and dust well with flour (this will make them easier to cut and not stick together). Switch the pasta roller attachment with the fettuccine cutter, and one by one run all 8 pasta sheets (you cut the 4 in half) to cut into fettuccine. Toss fettuccine onto a floured half sheet pan and set aside briefly until ready to cook.

In the sauté pan, add the last tablespoon of olive oil over medium-high heat. Add the asparagus and sauté until tender but still crunchy, about 3 to 4 minutes or so. They should be bright green. Add the peas and mushrooms and toss to heat them through.

Meanwhile, salt the boiling water and add the fettuccine. Cook until al dente, about 2 to 4 minutes (fresh pasta cooks much faster than dry!). Drain and return to the pan. Toss with the pureed carrot sauce and the vegetables. Serve hot, garnished with wasabi sesame seeds, if desired.
Nutrition
Calories:
666
kcal
|
Carbohydrates:
75
g
|
Protein:
23
g
|
Fat:
30
g
|
Saturated Fat:
5
g
|
Polyunsaturated Fat:
12
g
|
Monounsaturated Fat:
9
g
|
Cholesterol:
139
mg
|
Sodium:
805
mg
|
Potassium:
837
mg
|
Fiber:
14
g
|
Sugar:
9
g
*All nutritional information is based on third-party calculations and should be considered estimates. Actual nutritional content will vary with brands used, measuring methods, portion sizes and more.*