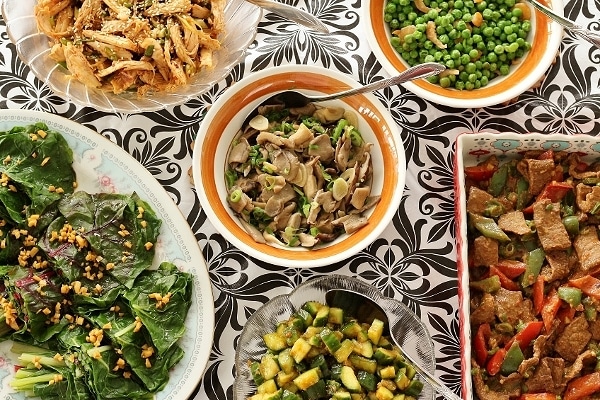 The farmer hoes his rice plants in the noonday sun
His sweat dripping on to the earth
Who among us knows that every grain of rice in our bowl
Is filled with the bitterness of his labor
- Li Shen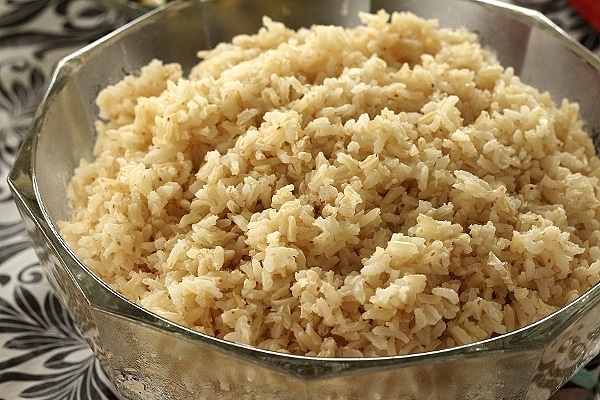 I bet you'll never think about rice the same way again. This Chinese poem is printed on the first page of Fuchsia Dunlop's third book, Every Grain of Rice. I think it does the perfect job setting readers in the mind set of humble appreciation and respect for Chinese culture, and the hard, thankless labor that yields many of our food products we overlook.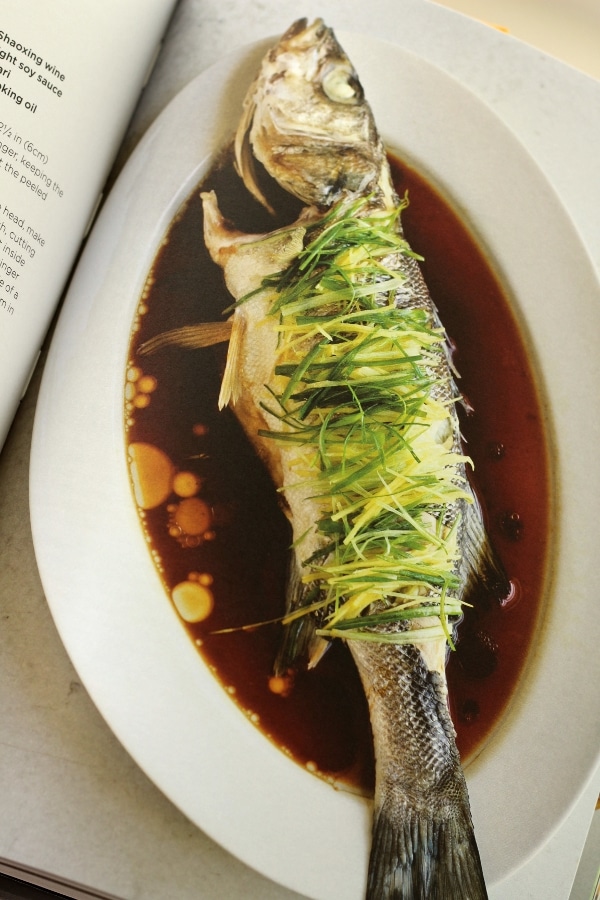 The Introduction and Basics chapters follow and are brimming with important information, including discussions on how typical Chinese families eat their meals, and how to utilize the recipes in the book to yield similar styles of meals. Serving quantities are different from Western recipes.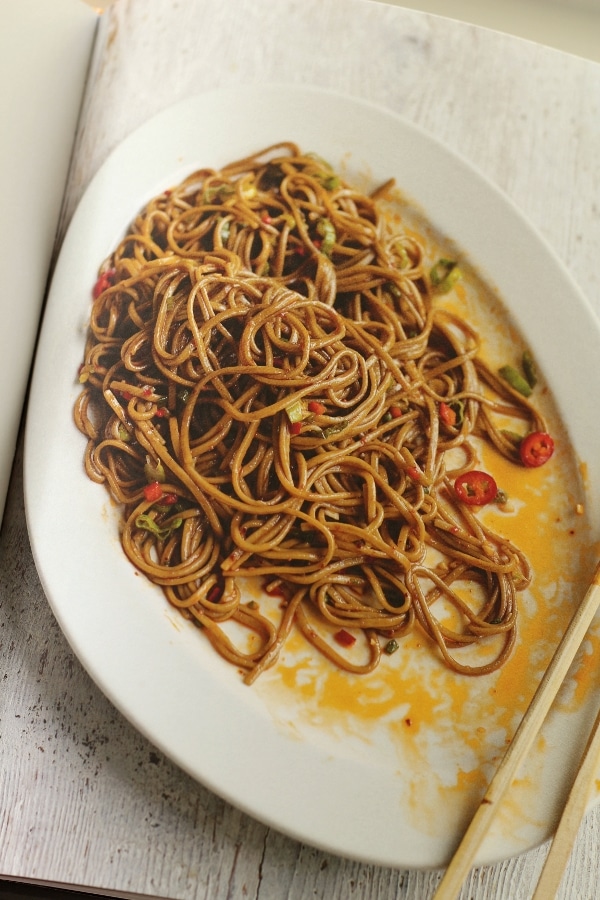 Dunlop suggests serving one dish per person, along with plenty of rice or noodles, in order to create a filling meal with enough variety to satisfy. As a result there are no real "serving sizes" attached to recipes throughout the book, except for the noodles and dumplings, which in many cases can be served on their own without the need for additional plates.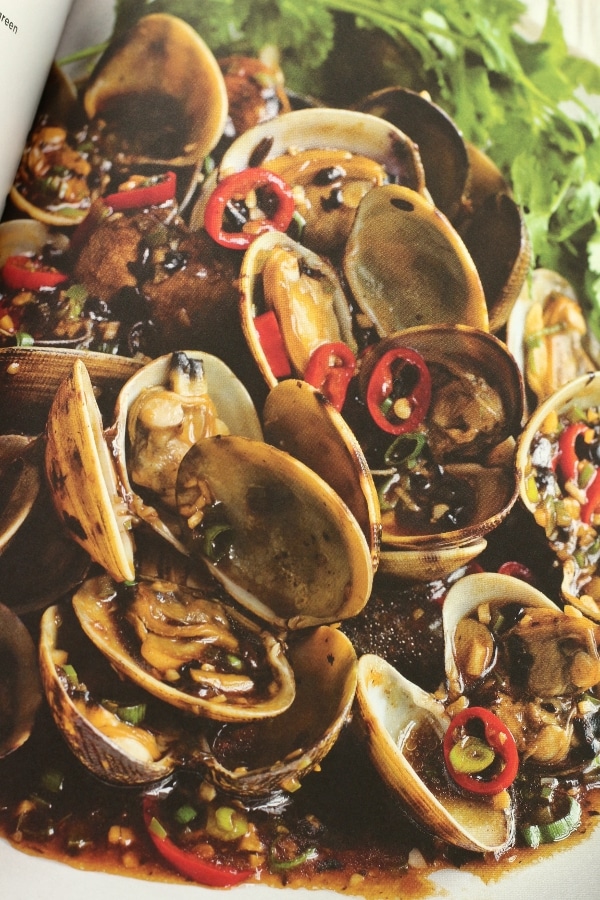 I found reading this book fascinating. I learned so much about Chinese cooking and culture that I didn't know. For example, while Americans often grow up on greasy, slimy Chinese food in takeout containers, real Chinese food is quite the opposite and is usually very vegetable heavy with less of an emphasis on meat. For this reason, there are many more vegetable recipes in the book than meat-heavy ones. The result is faster, cheaper, and healthier recipes than what other books might be selling.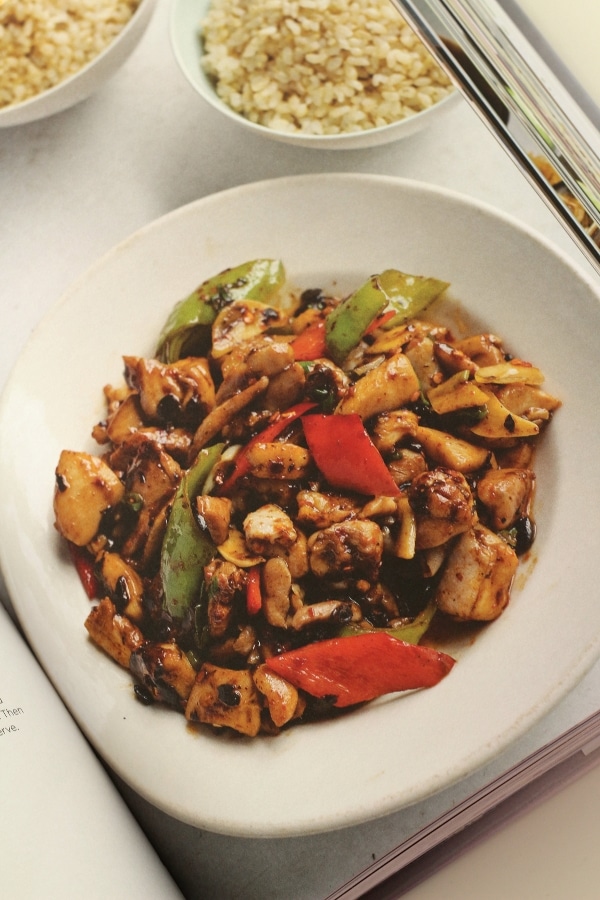 Chapters in the book read as follows: cold dishes; tofu; meat; chicken & eggs; fish & seafood; beans & peas; leafy greens; garlic & chives; eggplant, peppers & squashes; root vegetables; mushrooms; soups; rice; noodles; dumplings; stocks, preserves & other essentials; and finally one of the best glossaries I've ever seen in any book. Seriously, it's worth its weight in gold for any fan of Chinese cooking.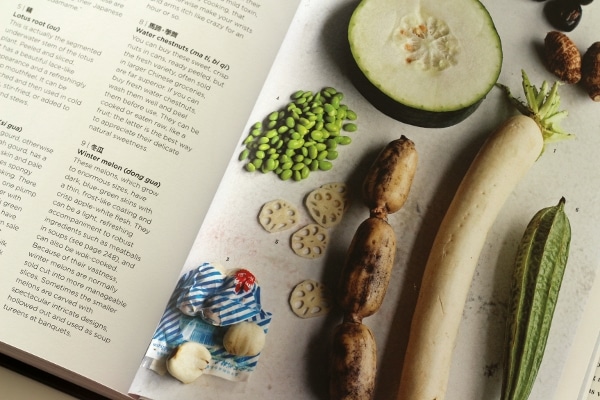 Why? It includes 20 pages discussing all key Asian ingredients with names written in both Chinese and English letters (with phonetic spellings in English too for the Chinese terms), descriptions, and *gasp* photos of nearly everything so you know what you're looking for in the Asian market! Trust me, this is gold! I can't tell you how many times I've gone to my local Asian market, asked questions to staff and was still unable to figure out completely what I was buying.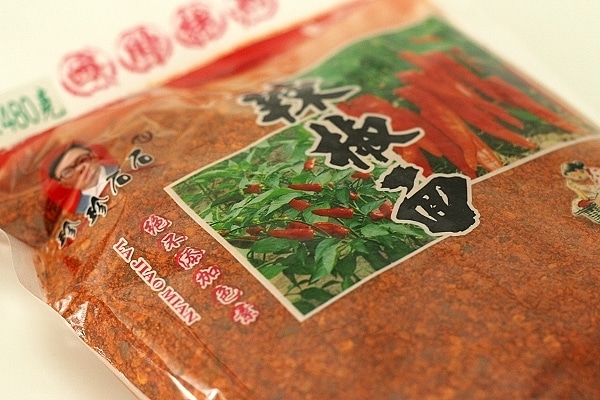 Case in point: the Sichuan chili flakes I recently purchased. The package was written entirely in Chinese and the employees at the Asian market are Thai, I believe, and couldn't translate it, but Fuchsia's glossary had the Chinese name written in English letters (La Jiao Mian), which was also written on the package and thus I knew that I had found what I was looking for. Yay!!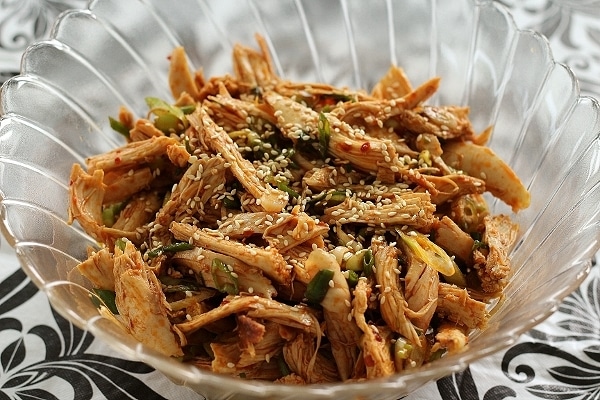 This book is heavy, containing nearly 150 main recipes and lots of photos, you will definitely get your money's worth here. I also love that the pages are matte instead of glossy. It definitely gives the book a classic (and expensive) look in my opinion. There are too many standout recipes in this book to mention. Many are so simple, they require only a handful of ingredients and a short commitment in the kitchen.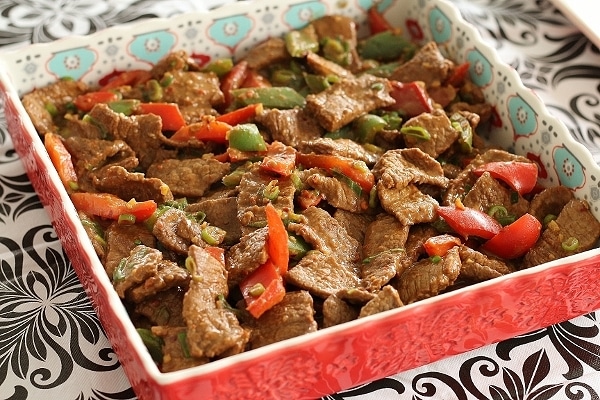 Chinese cooking does not need to be daunting. This is the real deal and it's completely approachable. Once your pantry is stocked with basic Asian ingredients, picking up a little produce and meat where necessary is all you must do to create lovely, authentic meals on the fly.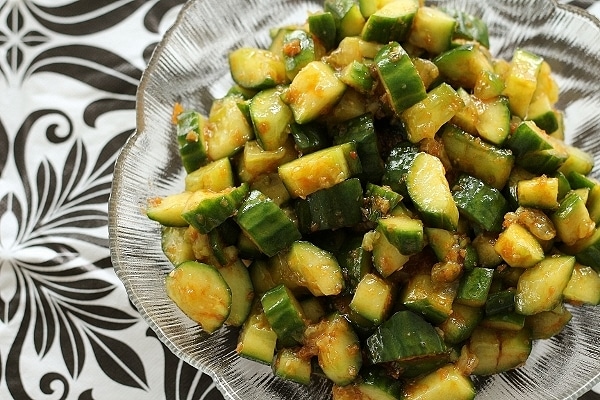 I decided to take Fuchsia's advice and create a nice spread for my family, instead of just selecting one dish to test. In the end, they were so simple and appetizing, I would have been hard-pressed to narrow down to a single recipe anyway! The dishes I selected consisted of 3 cold dishes I could prep in advance--Smacked Cucumber in Garlicky Sauce, Cold Chicken with a Spicy Sichuanese Sauce, and Spinach in Ginger Sauce (although I replaced Swiss chard for the spinach)--and a few hot dishes including Beef with Cumin, Peas with Dried Shrimp, and Stir-Fried Oyster and Shiitake Mushrooms with Garlic, and of course a generous serving of Plain Brown Rice for everyone.
Although it may seem overwhelming to make so many unique items for a single meal (especially ones you've never tried before), it was honestly really easy to stay organized. I used post-its to bookmark the pages in the book with the recipes. I also wrote down lists of ingredients with some simple instructions for each recipe so I could quickly look over what I needed without flipping through the book as I was preparing my mise en place.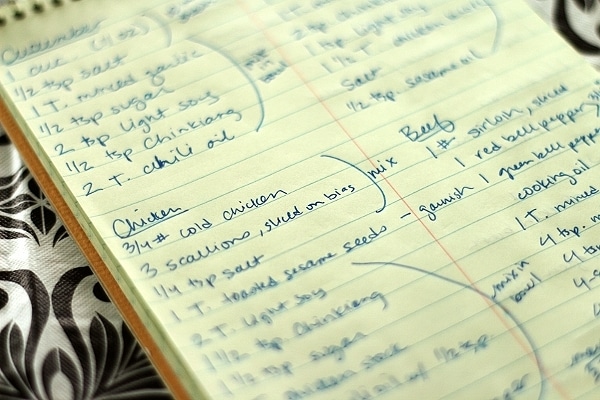 Mise en place (or put in place) is a French term for prepping all the ingredients you need before starting cooking. This was vital in staying on track with all these different dishes. I used small colored bowls to house sauces, sliced scallions, spices, and more, and used service trays from the local restaurant supply store to keep my measured and chopped ingredients in order.
With this thoughtful prep work, creating this meal was actually a breeze! The cold dishes were ready to go before I started the hot dishes, and each of those cooked quickly and were on the table with time to spare.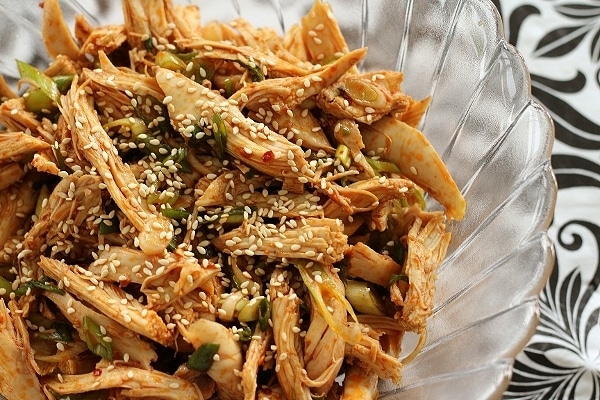 My family loved all of the dishes overall! The most popular was the Cold Chicken with Spicy Sichuanese Sauce. It was easy to put together by using a store-bought rotisserie chicken and shredding the meat. The sauce was spicy and flavorful, and a great dressing for this cold chicken dish.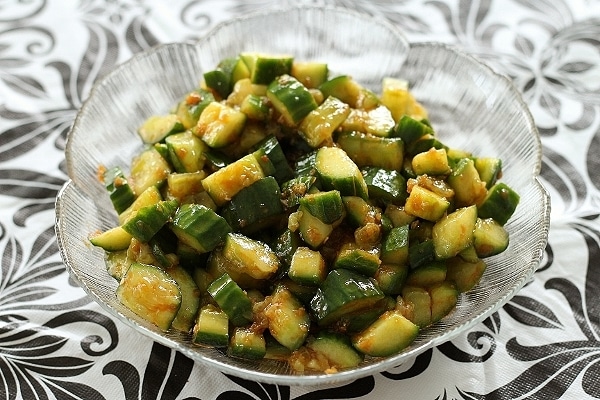 Along with the equally delicious Smacked Cucumber dish, these were to the two spicy offerings on the day's menu. They played well together. The cucumber had a light freshness, and yet a nice spicy bite. It was a beautiful and unorthodox preparation.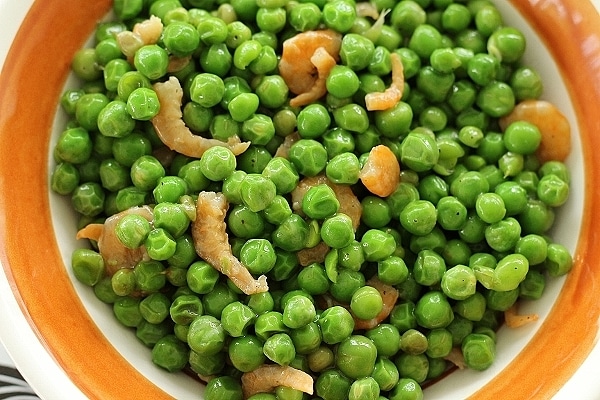 My personal favorite, actually, was probably the Peas with Dried Shrimp. Its Sichuanese name literally translates to "golden hooks cooked with green balls," which was probably why I picked this dish in the first place, haha! The dish had such a lovely delicate flavor from ginger and scallions that were sauteed and then poached in water before cooking the peas and shrimp in the now-flavored broth. A final glisten of sesame oil finished this beautiful and bright green dish with a gently thickened sauce. I used fresh peas, which were still available, but even with frozen peas this dish would have been a star.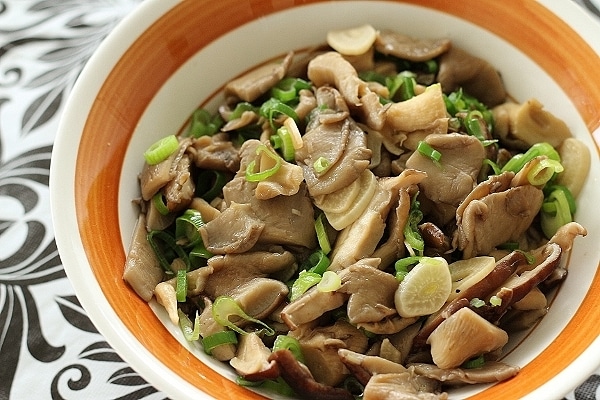 The Oyster and Shiitake Mushrooms was another simple but lovely dish, with an impactful meaty flavor from a generous dose of chicken broth. The Swiss Chard dish were overall our least favorite, and was a bit bland. Even though I salted the water for the chard (although it didn't even state to in the recipe), it could have perhaps used more salt overall. No biggie, though. The rest of the menu made up for it.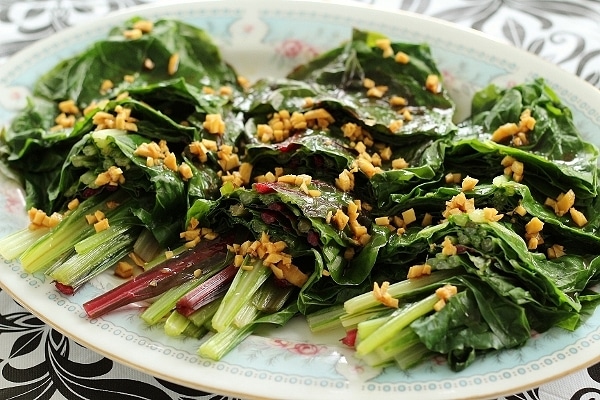 The main attraction of the meal was the Beef with Cumin, which I actually doubled. I figured even if there were ample leftovers, it would be nice for lunch the next day. The cumin definitely gave this dish a not-so-typical Asian flair, with beautiful diamond-cut bell peppers and nearly paper-thin, tender strips of beef. It definitely kicks a typical beef stir-fry to the curb.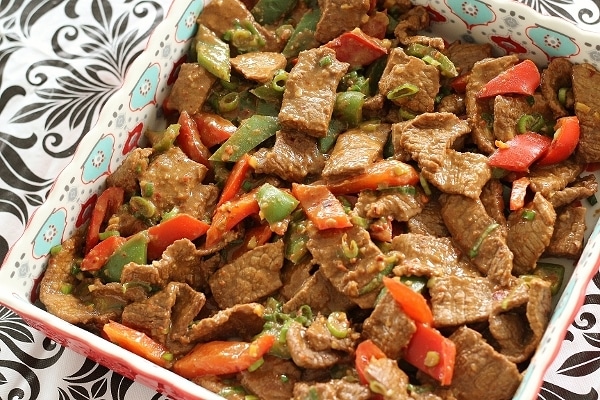 I am incredibly impressed by Every Grain of Rice. I think anyone interested in authentic Chinese cooking should invest in a copy. It's far less daunting than you'd think to put together a gorgeous meal full of colorful, and often healthful, ingredients for your hungry family. This book will get you started on the right foot.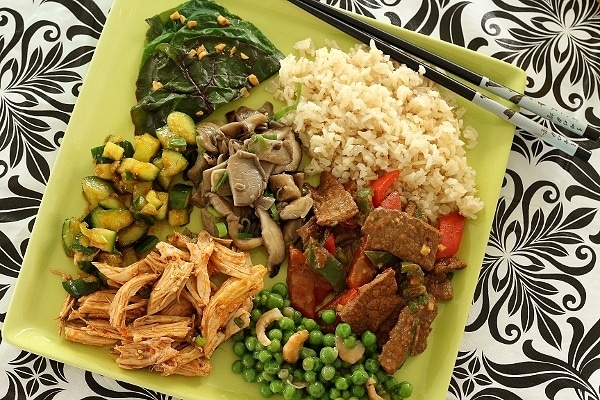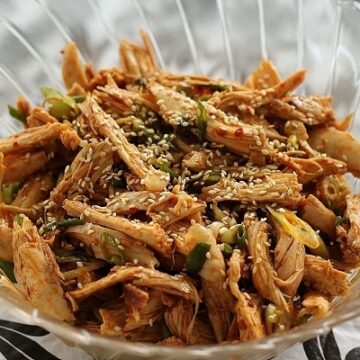 Cold Chicken with a Spicy Sichuanese Sauce
This simple cold chicken features a spicy sauce from the Sichuan region of China. Serve this with rice and other vegetable dishes for a complete Chinese family style meal.
Print
Pin
Rate
Servings:
4
servings as part of a larger meal
Ingredients
About ¾ pound (300 to 350 grams) cold, cooked chicken, without bones

3

spring onions

¼

teaspoon

salt

(I omitted this because my chicken was roasted with salt and spices already, as opposed to poached)

1

tablespoon

sesame seeds

(optional)
For the sauce:
2

tablespoons

light soy sauce

1 ½

teaspoons

Chinkiang vinegar

1 ½

teaspoons

sugar

1

tablespoon

chicken stock

3 to 4

tablespoons

homemade chili oil with ½ tablespoon of its sediment

or more, if you wish (recipe follows)

¼ to ½

teaspoon

ground, roasted Sichuan pepper,

to taste

1

teaspoon

sesame oil
Instructions
Cut or tear the chicken as evenly as possible into bite-sized strips or slivers and place them in a deep bowl. Cut the spring onions at a steep angle into thin slices. Mix them and the salt with the chicken. If using sesame seeds, toast them gently in a dry wok or frying pan for a few minutes, until they are fragrant and starting to turn golden, then tip them out into a small dish.

Combine all the sauce ingredients in a small bowl.

When you are ready to eat, pour the sauce over the chicken, and mix well with chopsticks or salad servers. Arrange on a serving dish and sprinkle with sesame seeds, if desired.
Nutrition
Calories:
316
kcal
|
Carbohydrates:
3
g
|
Protein:
22
g
|
Fat:
13
g
|
Saturated Fat:
3
g
|
Polyunsaturated Fat:
1
g
|
Monounsaturated Fat:
1
g
|
Sodium:
735
mg
|
Potassium:
44
mg
|
Sugar:
2
g
*All nutritional information is based on third-party calculations and should be considered estimates. Actual nutritional content will vary with brands used, measuring methods, portion sizes and more.*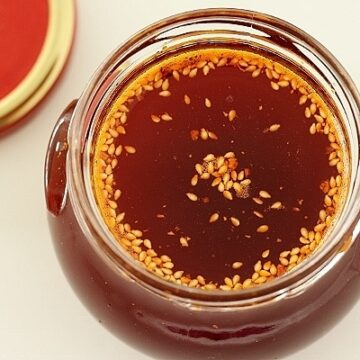 Homemade Chili Oil
Easy homemade chili oil is a great alternative to store-bought.
Print
Pin
Rate
Ingredients
1

cup plus 1 tablespoon

(250 ml) cooking oil

2

ounces

(50 grams) Sichuanese or Korean ground chilies

½

teaspoon

sesame seeds

Small piece of ginger

unpeeled, crushed
Instructions
Heat the oil over a high flame to about 400°F, then leave for 10 minutes to cool to around 275°F.

Place the ground chilies, sesame seeds and ginger in a heatproof bowl. Have a little cool oil on hand, just in case. When the oil has cooled to the right temperature, pour a little onto the chilies; it should fizz gently but energetically and release a rich, roasty aroma. Pour over the rest of the oil and stir. If you think the oil is too hot and the chilies are likely to burn, simply add a little cool oil to release the excess heat. Do, though, make sure that the oil is hot enough; without the fizzing, it won't generate the rich, roasty fragrance you need.

When the oil has cooled completely, decant it and the chili sediment into a jar and store in a dark, cool place. Leave it to settle for at least a day before using. The chili oil will keep indefinitely.
*All nutritional information is based on third-party calculations and should be considered estimates. Actual nutritional content will vary with brands used, measuring methods, portion sizes and more.*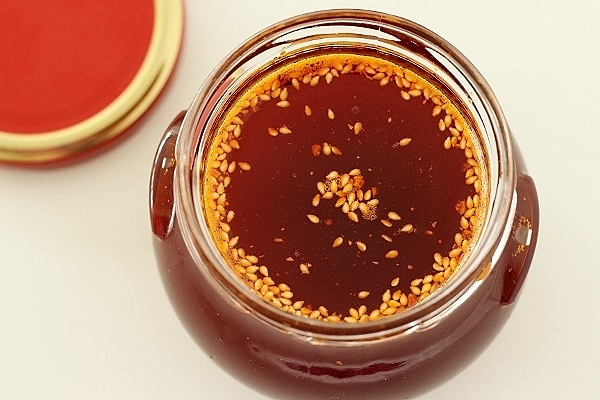 *Disclaimer* I received no compensation to write this review other than a free copy of the book. My opinions are always my own.