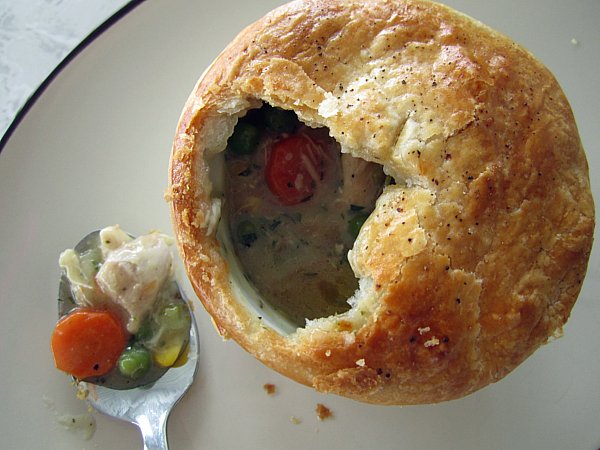 A pot pie is a glorious invention. A thick stew topped or enveloped with flaky pastry crust. It truly defines comfort, as far as I'm concerned! There are different schools of thought when pot pies are concerned. First of all, you can make one giant pot pie in a standard-sized pie dish to slice and serve. Or you can make smaller, individual-sized ones. Much like everything else in the world, I prefer the latter. Individual pot pies.
Making one giant one is just fine, but I find that slicing it up can create a very messy result in serving. It's so saucy within. I have thus only made a giant pot pie once in my life, and since then have retired to making individual pies. I've never had any complaints. I usually use oven-proof soup bowls, but this time made even smaller servings using 1-cup ramekins. These were served on Easter along with a selection of other dishes, so I found the smaller portion to be just perfect for supplementing with other foods as well, such as side dishes.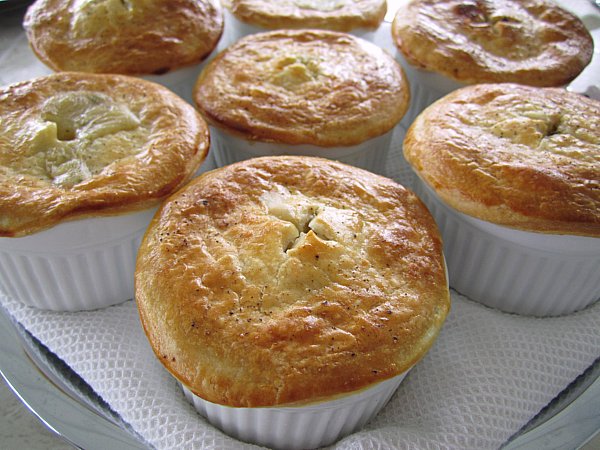 As far as the filling goes, the sky is the limit. I love a nice and chunky chicken filling, but in this case up-ed the ante and added tons of vegetables, more than usual. Generally a chicken pot pie is chicken-centric and just studded with some veggies, but in this one the vegetables shine. You not only get tons of chicken bits but a mosaic of colorful vegetables to balance it out and make you feel a tad less guilty. Carrots and celery are pretty standard, and peas are not uncommon either, but I also added frozen corn and some pearl onions. If I had mushrooms on hand, I would have added those too, definitely plan to next time. Green beans? Sure, why not! Go to town.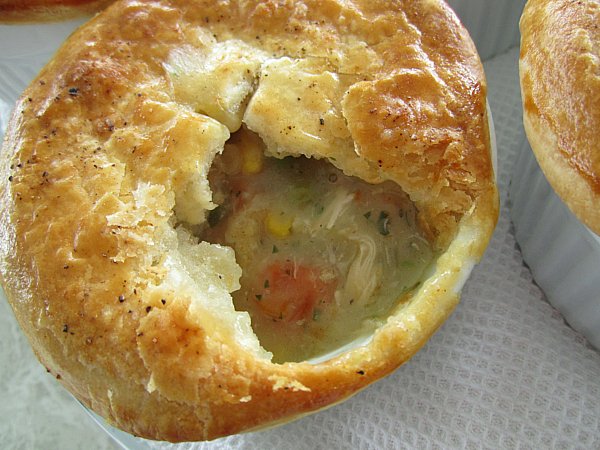 If you want to make this vegetarian, use veggie stock instead of chicken, and replace the shredded chicken with more veggies. Sweet potatoes or winter squash would be good, hearty options too, or even regular cubed potatoes (unpeeled red bliss!) to bulk up the filling a bit. I've made pot pies with or without potato and both ways are fantastic. Really just depends on your mood. We already had potatoes as a side dish so I definitely was not going to add them to the pot pie filling. Would have been potato overkill!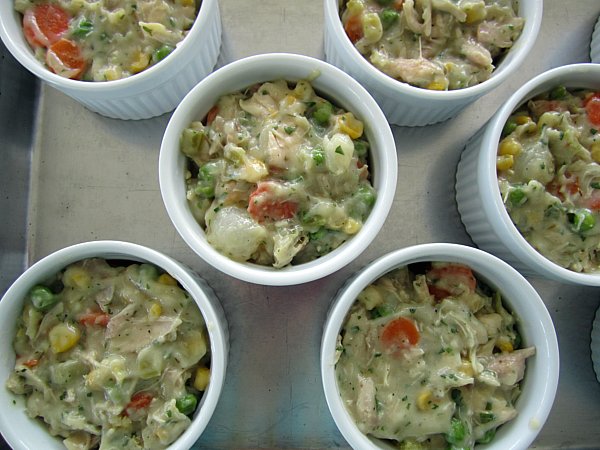 Onto the crust. Really, there are few simplicities in life more outstanding than a really good pastry crust. I thoroughly prefer pastry crust on my pot pie as opposed to puff pastry. I find that puff pastry gets mushy pretty fast, and the pastry crust is denser and holds up much better. I love this go-to recipe. It is completely neutral, containing no sugar, and one I've used in both sweet and savory applications with excellent results.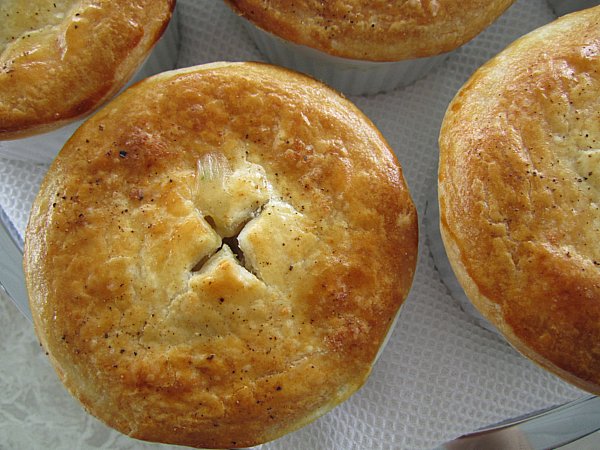 It is crazy flaky! I mean, CRAZY flaky. Don't overwork the dough, that's always the key, and keep the butter and water as cold as possible when forming the dough. This will yield more dough than needed to cover 8 ramekins, which were each about 4 inches wide, (and likely more than required for 4 oven-proof bowls, depending on the diameter of the bowls), so if you find yourself left with tons of scraps after cutting out your pot pie tops, gather 'em up, re-roll them and make a crostata for dessert! It's so easy, and a perfect post-pot pie dessert 😉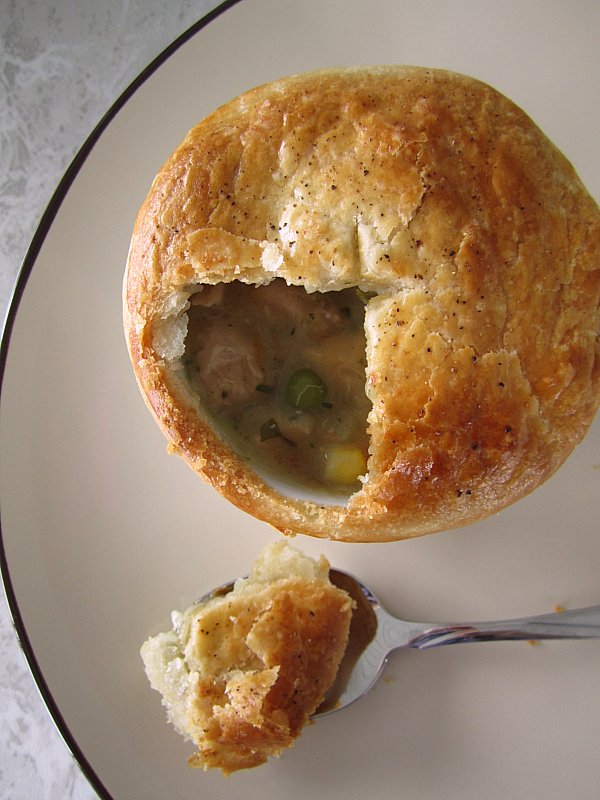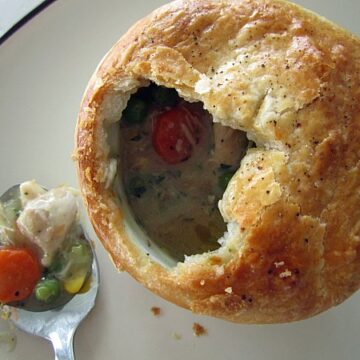 Chicken Pot Pies Primavera
These individual chicken pot pies are adorable. They're filled with succulent chicken, delicious veggies, and topped with a super flaky crust.
Print
Pin
Rate
Ingredients
Pâte Brisée:
½

teaspoon

koher salt

⅓

cup

very cold water

1 ½

cups + 1 tablespoon

all-purpose flour

plus more for dusting

½

cup + 2 ½ tablespoons

unsalted butter

very cold and cut into small cubes
Filling:
¼

cup

(½ stick) unsalted butter

2

tablespoons

extra-virgin olive oil

2

stalks celery

trimmed, quartered lengthwise, and chopped (1 cup)

2

carrots

peeled, trimmed, and sliced (1 cup)

1

tablespoon

minced garlic

½

cup

all-purpose flour

5 ¼

cups

chicken broth or stock

heated to a simmer (three14.5-ounce cans broth)

3 ½

cups

shredded chicken

bite-size pieces

1

cup

fresh or frozen peas

1

cup

frozen corn

1

cup

fresh or frozen pearl onions

peeled if fresh

1

teaspoon.

dried thyme or 1 tablespoon chopped fresh thyme

2

tablespoons

finely chopped fresh parsley

1

tablespoon

heavy cream

optional

Kosher salt and freshly ground black pepper
Eggwash:
1

egg yolk

1

tablespoon

heavy cream

Kosher salt and freshly ground black pepper
Instructions
To make the pâte brisée (flaky pastry): In a small bowl add the salt to the water and stir to dissolve. Keep cold in the refrigerator.

In a food processor, put the flour in the work bowl and add the small butter cubes, scattering all over. Pulse briefly until the mixture forms large crumbs and some of the butter is still the size of peas. Add the water-salt mixture and pulse for several seconds until the dough begins to come together in a ball. You should still be able to see some butter chunks.

On a lightly floured surface, shape the dough into a disk 1 inch thick. Wrap well in plastic wrap and chill for at least 2 hours or up to overnight (this dough can now be frozen in a freezer bag and then defrosted in the refrigerator the day before it is to be used).

Meanwhile, make the filling: In a large pot over medium-high heat, melt the butter with the olive oil and add the celery, carrots, and garlic. Cook for about 5 minutes, stirring frequently until somewhat softened. Add the flour and stir for another minute or 2. A little at a time, whisk in the hot broth until smooth. Raise the heat and bring the mixture to a boil. Lower the heat and simmer for about 5 to 10 minutes until thickened, stirring regularly. Add the shredded chicken, peas, corn, and pearl onions. Simmer for another 5 minutes, then add the thyme, parsley, and heavy cream, and season with salt and pepper, to taste. Remove from the heat and set aside or chill until ready to assemble pot pies (the filling can be transferred to an air-tight container and refrigerated overnight until ready to use). You will have 6 ½ cups filling.

To make pot pies in 8 (1-cup) ramekins: Place the chilled dough on a floured surface and roll out ⅛-inch thick, lifting and rotating the dough to make sure it doesn't stick, and working quickly to ensure the dough stays as cold as possible. Add more flour to the board as needed. Cut out rounds of dough slightly larger than ramekins. Either flip ramekins over onto dough and use a knife to cut slightly larger than the diameter, or use a round cookie cutter slightly larger than the diameter of the ramekins. Gather scraps, and reserve any excess dough for another use (such as a small crostata*). Divide filling between ramekins, lightly brush water around ramekin edges, and gently place dough rounds over the tops, pressing around the edges with your hands to seal.

To make pot pies in 4 oven-proof bowls (2 to 3 cup capacity): Divide the chilled dough into 4 and roll out each piece to ⅛-inch thick. Divide filling between bowls, lightly brush water around bowl edges, and gently place dough rounds over the tops. Use a knife to trim excess dough, leaving a small border of dough. Press the dough around the edges with your hands to seal. Gather scraps, and reserve any excess dough for another use (such as a small crostata*).

Use a paring knife to cut a small X into the center of each dough, wiggling the knife a bit to ensure the X is big enough to vent steam, and won't close up when you apply eggwash. Place pot pies on a foil-lined half sheet pan (for easy cleanup) and chill in the refrigerator for about 15 minutes while you preheat the oven. This will result in a flakier crust.

Preheat the oven to 400°F. Beat the egg yolk with the heavy cream for the egg wash. Lightly brush the tops and edges of the pastry crust, being careful to only use as much egg wash as necessary (excess will drip down the ramekins and make a mess). Sprinkle tops with a bit of kosher salt and some freshly ground black pepper. Bake the pot pies for about 30 to 40 minutes, or until the crusts are golden brown and the filling is hot and bubbly, rotating the pan from front to back halfway though for even browning.
Notes
*With my leftover dough, I decided to make a small-ish apple crostata. I simply gathered the dough scraps after cutting out the circles, rerolled the dough to ⅛-inch thick, and allowed it to chill briefly in the refrigerator to firm back up a bit. Meanwhile, I peeled, quartered, cored, and thinly sliced a couple apples (1 granny smith and 1 royal gala, just to keep things interesting), and squeezed lemon juice over them. I fanned out the apple slices over the chilled dough, leaving a dough border (I only used about 1 ½ of the apples). I then sprinkled sugar over the apples, along with some ground cardamom and cinnamon, Folded over the edges, topped with leftover crumble topping, dotted the filling with unsalted butter, and brushed a bit of heavy cream on the crust. Baked it at 375°F for about 45 to 50 minutes or so until the crust was golden. What a delicious way to end the meal, and it was completely unplanned and "thrown together" last minute.
Nutrition
Serving:
1
bowl (or 2 ramekins)
|
Calories:
819
kcal
|
Carbohydrates:
44
g
|
Protein:
101
g
|
Fat:
24
g
|
Saturated Fat:
9
g
|
Polyunsaturated Fat:
4
g
|
Monounsaturated Fat:
3
g
|
Cholesterol:
304
mg
|
Sodium:
1924
mg
|
Potassium:
635
mg
|
Fiber:
8
g
|
Sugar:
13
g
*All nutritional information is based on third-party calculations and should be considered estimates. Actual nutritional content will vary with brands used, measuring methods, portion sizes and more.*