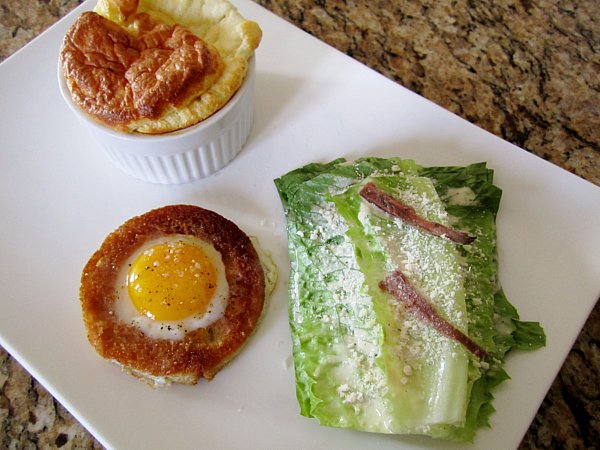 Le Cirque. These two words speak to every gastronome and lover of classic New York City society. The ringleader of this circus, Sirio Maccioni, has been responsible for this great institution since it's prime, back in good old 1974. Now in it's third Manhattan location, with outposts and spinoffs around the world, Le Cirque is still staying strong, featuring 1 star from the New York Times (down from its hayday, but still quite relevant amidst restaurants of its history).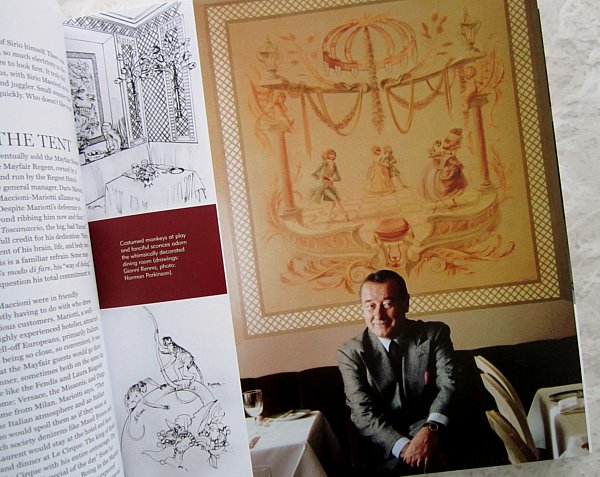 Le Cirque has groomed some of the best chefs currently in the business. Daniel Boulud had his first stint as Executive Chef in the Le Cirque kitchen. Geoffrey Zakarian was a sous chef here, and Jacques Torres was one of Le Cirque's greatest pastry chefs. There are many other names, but personally, these are a few of the most noteworthy in my eyes.
On October 16th, after nearly 40 years of wining and dining the likes of Frank Sinatra, the Reagans, Jacqueline Kennedy Onassis, Woody Allen, Robert De Niro, and King Juan Carlos of Spain, among many many others, Le Cirque finally released its first cookbook: A Table at Le Cirque. And it's a beaut. The first 100 pages or so are dedicated to the story behind the man behind the restaurant. The transitions between locations, the evolution of changing executive chefs, and most of all, the clientele who revisited Le Cirque regularly. Their photographs cover many of these pages, along with pictures of handwritten notes, old menus, and more.
Nearly halfway into the book, the chapters containing recipes begin, but trust me, there are plenty of old-school and nouveau recipes to satisfy readers of all kinds. The chapters are divided by executive chefs and the years during which they reigned. Beginning with Jean Vergnes and concluding with the current executive chef, Olivier Reginensi, a range of old favorites and modern culinary delights are included. While some of these preparations may seem dated, I prefer to use the word "classic." This restaurant invented Spaghetti Primavera and Crème Brûlée. Respect must be paid.
French stand-bys such as Sole Amandine, Pommes Dauphine, and Châteaubriand take on extra refinement hand-tuned by the extraordinary chefs of this restaurant. They are further elevated with embelishments such as Braised Short Rib-Stuffed Mushrooms, which are served traditionally with the Chateaubriand. Updated fare is also introduced with dishes like Daniel Boulud's famous Black Tie Scallops as well as his Crisp Paupiettes of Black Bass in Barolo Sauce. This dish was particularly exciting for me to find in the book, as I remember a wonderful episode of Top Chef where the contestants had to recreate the dish from memory as their challenge. Many of them failed. The recipe is here in the book for us all to try ourselves!
One thing I really love about the layout of the recipes in the book is that in the sidebar of each there are headings for "Tips," "Variations," "Serve With," and "Make Ahead." These notes are well organized and easy to maneuver when perusing the recipe section. Excellent format, indeed.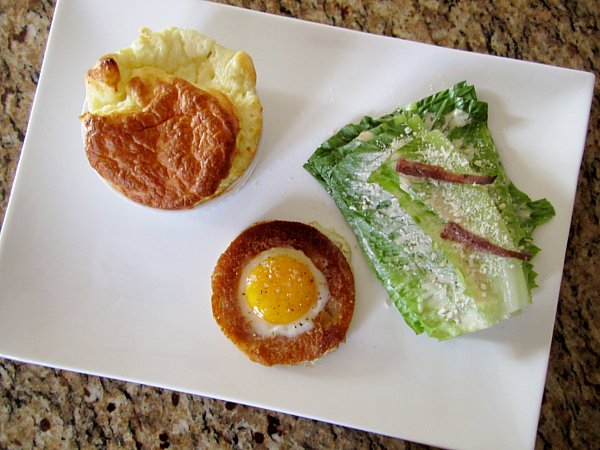 There are so many delicious-sounding and looking recipes in this book, it's truly difficult to select only one or two to try. I was heavily swayed toward several of the fish and seafood dishes (perhaps the Filet de Flounder Grillé Le Cirque or the Curried Tuna Tartare), but when I saw the Caesar Salad Le Cirque, I knew this would start the meal I made. Their version features a neat arrangement of romaine lettuce heart leaves brushed with dressing and complimented with a fried egg in a round crouton--aka a toad in the hole. Apparently it's Robert De Niro's favorite. He's awesome and so is this salad!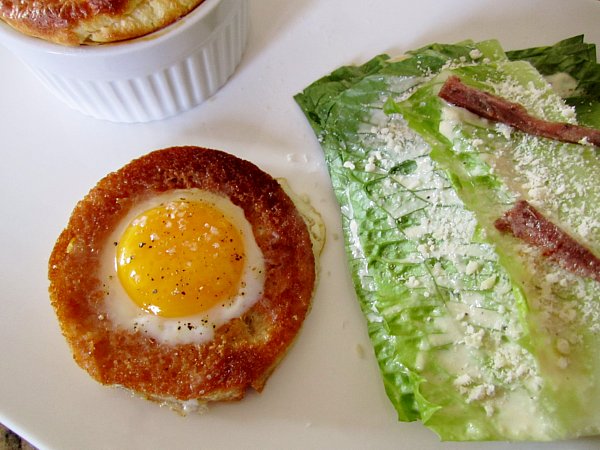 Not only is the composition of the salad refined and aesthetically pleasing, the flavors hit it out of the park. The Caesar dressing is exceptional. I will never need another recipe as long as I have this one. Brushing the dressing onto the lettuce leaves allows you to dress your salad neatly and with exactly as much dressing as required without making your salad soggy or over-dressed. The crisp, buttery crouton filled with a decadent runny fried egg is the cherry on this sundae. It's better than any alternative crouton would be to this absolutely perfect salad. I would serve this as a starter to any dinner party, large or small. The recipe makes a lot more dressing than you will need for the 4 servings (just over 1 cup), and trust me, you'll be happy it does! The extra dressing should keep for at least a week in the refrigerator, but it's so good that I doubt it will last that long 🙂
A few pages later, the Comté Cheese Soufflés seemed like the perfect match to my salad. The fish dishes would wait until next time. The soufflés featured in the book are especially light due to extra egg whites in the batter. These feature Comte, but could easily be folded with Gruyère, Cheddar, Gouda, or Cantal, as the book suggests. You could also stir in some herbs or chopped ham, etc. The soufflés were easy to make and very straightforward. They oozed a little down the sides as they baked and didn't puff up perfectly straight, but the final result was an ethereal consistency perfumed with excellent cheese. I found the recipe made more soufflés than it stated (I halved the recipe that should have served 6, so I would have 3 soufflés, but easily ended up with 4). Just like the extra Caesar salad dressing, the extra soufflé didn't go to waste either.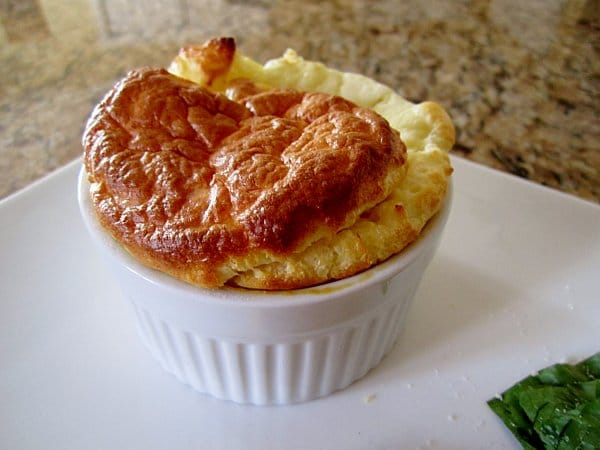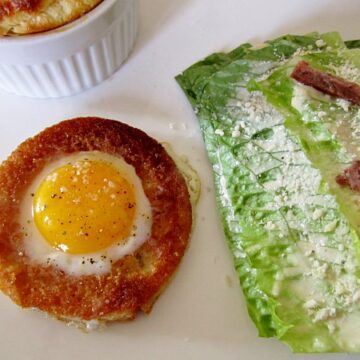 Caesar Salad Le Cirque
This upscale and creative take on Caesar Salad is an old standby from NYC's acclaimed Le Cirque restaurant.
Print
Pin
Rate
Ingredients
2

romaine lettuce hearts

leaves separated

¼

cup

freshly grated Parmigiano-Reggiano cheese

2

oil-packed anchovy fillets

drained and sliced crosswise in half, then lengthwise in half

4

slices

firm white bread

¼

cup

clarified butter

4

large eggs

Flaky sea salt and freshly ground pepper
Caesar Dressing:
1

large egg yolk

2

tablespoons

red wine vinegar

2

tablespoons

fresh lemon juice

1

tablespoon

Dijon mustard

Dash of Worcestershire sauce

2

oil-packed anchovy fillets

1

large garlic clove

chopped

1

shallot

chopped

½

cup

canola oil

or other mild-flavored oil such as vegetable or grapeseed

½

cup

freshly grated Parmigiano-Reggiano cheese

Kosher salt and freshly ground pepper
Instructions
To make the dressing, in a blender puree the egg yolk, vinegar, lemon juice, mustard, Worcestershire sauce, anchovies, garlic, and shallot. With the machine running, slowly add the oil until the mixture is emulsified. Pulse in the cheese and season with salt and pepper. You will have just over 1 cup of dressing.

Stack four piles of 5 lettuce leaves and trim to 5-to-6-inch rectangles. For each salad, arrange a leave on one side of a plate and, using a pastry brush, spread with the dressing. Sprinkle with cheese. Continue layering the lettuce, dressing, and cheese, finishing with a sprinkling of cheese. Garnish with 2 anchovy strips.

Using a 4-to-5-inch round pastry cutter, stamp the bread slices into rounds. Using a 2-to-3-inch round pastry cutter, stamp out a hole in each round. In a large skillet, heat the clarified butter over high heat. Add the bread rings and cook over medium heat until golden brown on the bottom, about 2 minutes. Turn the rings, break 1 egg into each, lower the heat and cook until the egg whites are set but the yolks are still soft, about 3 minutes.

If the holes in your bread are on the smaller side (2 inches wide), your eggs may be too big to fit without oozing over the top. In this case, separate each egg and add half the white to the hole and top with the yolk (or use a smaller egg). Feel free to cover the pan to allow the tops of the eggs to set, otherwise the surrounding whites may be too runny. Using a spatula, transfer the egg toasts to paper towels.

Set an egg toast next to the salad and season with flaky salt and pepper. Serve, passing the remaining dressing separately.
Nutrition
Calories:
485
kcal
|
Carbohydrates:
12
g
|
Protein:
15
g
|
Fat:
41
g
|
Saturated Fat:
8
g
|
Polyunsaturated Fat:
8
g
|
Monounsaturated Fat:
17
g
|
Cholesterol:
248
mg
|
Sodium:
1223
mg
|
Potassium:
84
mg
|
Fiber:
2
g
|
Sugar:
1
g
*All nutritional information is based on third-party calculations and should be considered estimates. Actual nutritional content will vary with brands used, measuring methods, portion sizes and more.*
*Disclaimer* I received no compensation to write this review other than a free copy of the book. My opinions are always my own.