Antoine-Augustin Parmentier was a badass French scientist from the 18th century who is best known for his extensive work with potatoes. He's the reason the humble potato became an acceptable food source for human consumption rather than one designated simply as hog feed in most European countries.
I was incredibly proud to visit his grave in Paris back in May, which unsurprisingly is adorned with carvings of potatoes, surrounded by potato plants, and even topped with a few edible roots left by admirers.
Parmentier's name is used to describe dishes that feature potatoes as an ingredient. In Paris I dined on duck Parmentier, similar to a shepherd's pie with duck confit as the meat component and of course topped with velvety potato purée, and crêpe Parmentier, a crispy buckwheat crêpe filled with melted Emmenthal cheese, an egg, and cubes of potato. It is this "Parmentier" dish that has inspired today's post and trip down memory lane.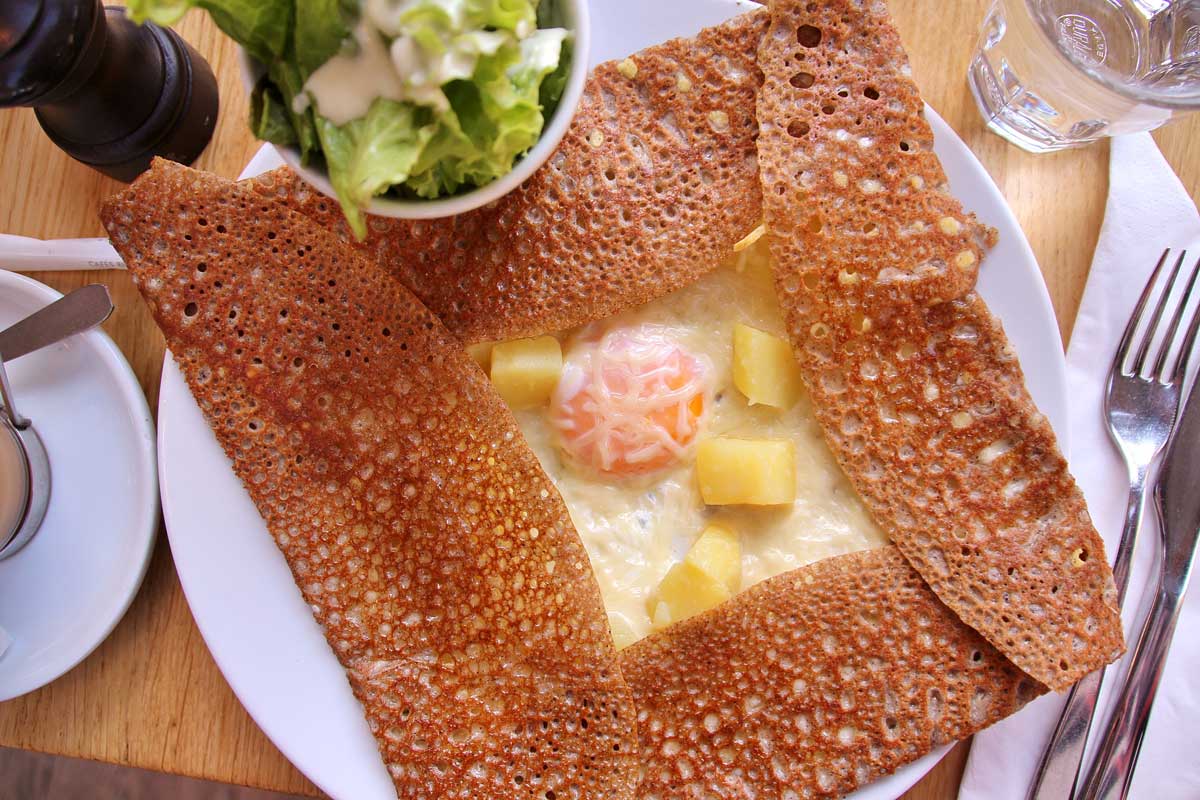 Crêpe Parmentier at La Crêperie in Paris
From a regional standpoint, crêpes hail from Brittany, a coastal region in western France, just southwest of Normany, although they have gained popularly throughout the country, and are found in many crêperies in Paris. Buckwheat crêpes in particular are referred to as galettes in Brittany, typically feature a savory filling, and are a delicious gluten-free alternative to traditional crêpes.
In my attempts to recreate the crêpe Parmentier from Paris, I lacked the typical tools one would find in an establishment featuring crêpes prominently on their menu, such as a crêpe maker like this one, with wooden spreader and all. I used a large non-stick pan, and yielded very good results. My crêpes were approximately 11-inches in diameter, which was still smaller than the one I had in Paris, but more than large enough to fold around my filling.
The result of my experiment was excellent! The dish was delicious and extremely satisfying, keeping me full for many hours, and provided nostalgia of a lovely memory of a Parisian breakfast I'll never forget.
Crêpe Parmentier
Serves 1
1 buckwheat crêpe (recipe follows)
1 to 2 ounces shredded Emmenthal (Swiss) cheese (1/4 to 1/2 cup) (use less for a smaller crêpe, more for a larger crêpe)
1 fried egg
1 1/2 to 2 ounces (1/4 to 1/3 cup) peeled and cubed Yukon gold or yellow potato, boiled in salted water until tender
Place the cooked crêpe on a non-stick skillet over medium heat, sprinkle the cheese over the center of the crêpe, leaving about a 2-inch border around the edges. Top with the fried egg, and sprinkle the cubed potatoes around the egg and over the cheese. Cook until the cheese melts and the bottom starts to crisp, fold over the edges of the crêpe to make a square, and carefully slide the crêpe pocket onto a plate. (Alternatively you can slide the crêpe onto a plate first, and then fold over the edges). Serve immediately.
Buckwheat Crêpes (Breton Galettes)
Makes 7 to 10 (depending on diameter and thickness of batter; I yielded 7 eleven-inch crêpes of moderate thickness)
(From King Arthur Flour)
1 cup (120g) buckwheat flour
3/4 teaspoon salt
2 large eggs
1 cup (227g) milk, any type
1 tablespoon (14g) melted unsalted butter
1/4 to 1/2 cup (57g to 113g) water
To make the crêpe batter: Combine all the ingredients (except water) in a blender, and blend until smooth. Cover the batter and let it rest in the refrigerator for at least 2 hours, or overnight.
When you're ready to make crêpes, thin the batter with water, using less water for thicker crêpes and more water for thinner ones.
Preheat a crêpe pan or non-stick skillet over medium-high heat. Lightly grease the pan with butter, oil, or pan spray, then pour in enough batter to thinly coat the bottom of the pan; swirling the pan as you pour the batter will help ensure an even coating.
Cook the crêpe for 1 to 2 minutes on the first side, until it's golden and lifts from the pan easily. Flip it over and cook for another 1 to 2 minutes on the other side.
Transfer cooked crêpes to a plate, stacking them on top of one another, and keeping a towel over them. (The first crêpe may not turn out as well as the others, similarly to the first pancake in every batch). Fill as desired; serve warm. Crêpes can be stacked with wax or parchment paper in between, and refrigerated or frozen.