Hailing from Los Angeles's popular Guerrilla Tacos, these creative Sweet Potato Tacos pack tons of flavor into each vegetarian bite. Sweet potatoes are boiled, then seared in butter, topped with homemade almond salsa, salty feta, and crunchy corn nuts. What a delicious hand-held delight for your next Taco Tuesday!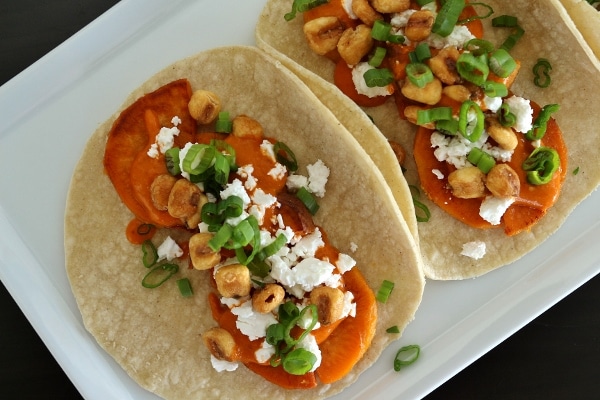 Whether it's Cinco de Mayo or Taco Tuesday, I love to enjoy delicious Mexican fare. Many of my favorite Mexican recipes feature meat fillings. Delicious examples include Chicken Burritos Mojados, Shot-and-a-Beer Braised Chicken Tacos, Guajillo-Braised Beef Short Rib Tacos, and Peptito (Steak Sandwich). But you can still have delicious Mexican food without the meat!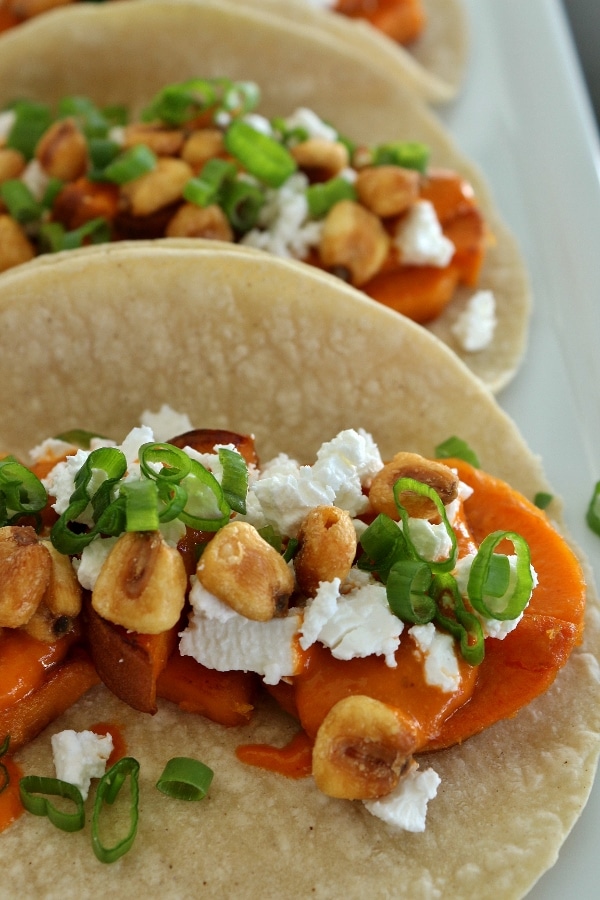 Take these Sweet Potato Tacos from Guerrilla Tacos in Los Angeles for instance. They are full of flavor, some of the most popular tacos on the Guerrilla Tacos menu, but contain no meat. They are far from traditional, but that's part of what makes them so much fun.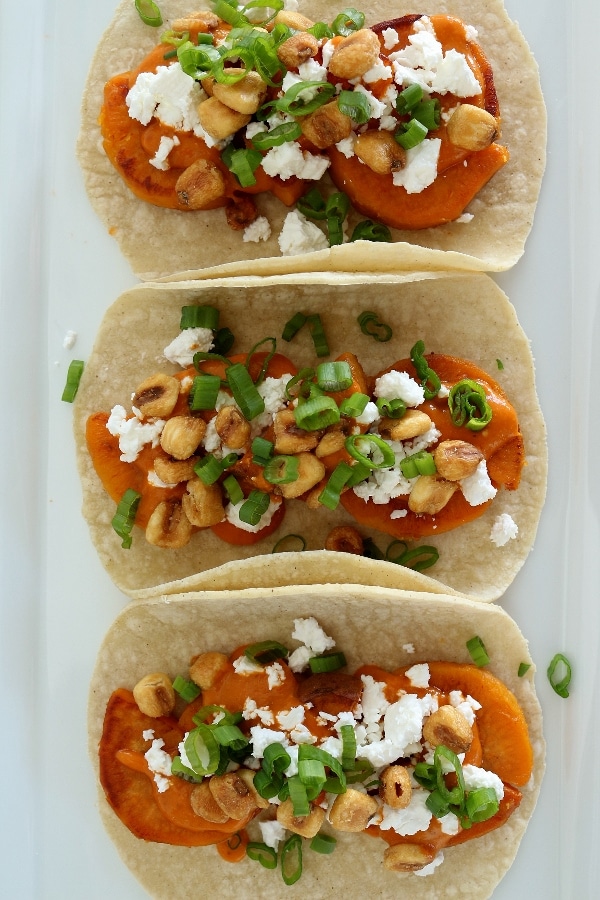 How to make Guerrilla Tacos' sweet potato tacos
Boil the sweet potatoes, then slice, and pan-sear them in some butter. We're off to a great start! Then layer them into warm tortillas along with a brightly-hued almond salsa, crumbled feta cheese, corn nuts, and scallions. Each component provides an important layer of flavor. The sweet potatoes themselves are sweet and a little nutty from the butter.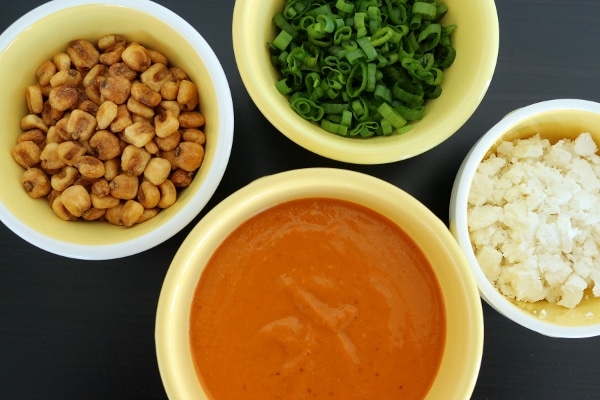 The salsa combines roasted red peppers, tomatillos, garlic, almonds, chiles de arbol, and vinegar. It yields a well-balanced, somewhat spicy, creamy-looking salsa. I omitted the habanero and much of the seeds from the chiles de arbol to make for a less spicy, somewhat family-friendly salsa. Feel free to go all out with the chiles if you prefer.
The feta cheese adds some saltiness and brininess. Meanwhile the corn nuts are the only crunchy element on the taco. They provide a nice balance to the softness of all the other ingredients. The scallions provide some bright color and freshness to finish things off.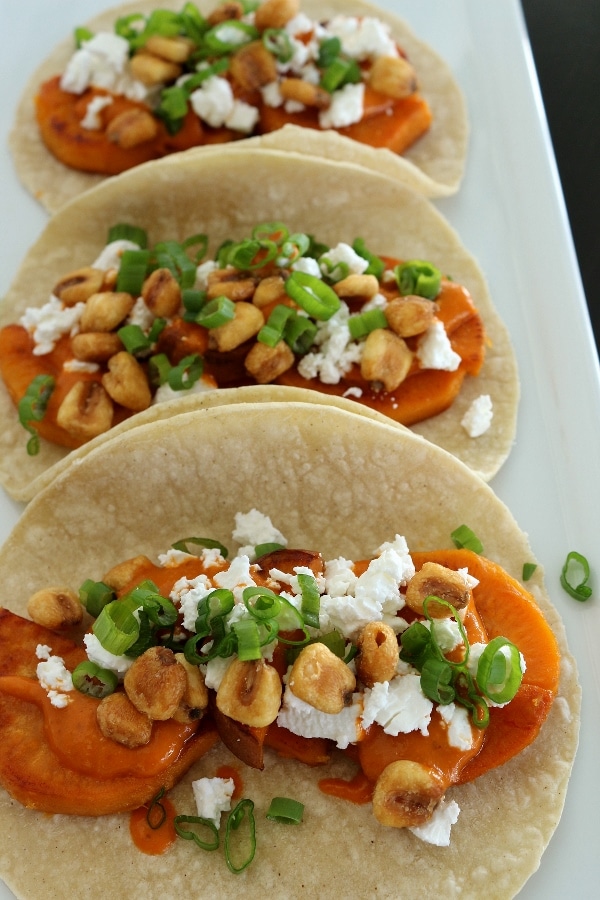 I have to say, I didn't miss the meat at all with these tacos. The original recipe calls for 3 pounds of sweet potatoes for 8 tacos which is kind of insane. I cooked all 3 pounds of sweet potatoes, but knew immediately this would make way more filling than required for the recipe's yield. I suggest using half the recommended amount of sweet potatoes to have a more appropriate amount of filling. You can still get about 10 tacos out of it, maybe more. I've adjusted the measurements below based on my experience. The recipe also makes about 3 cups of salsa, a lot more than you need for this recipe. With that said, you can use the salsa for other purposes, or freeze the leftovers. I've used the almond salsa for amazing enchiladas!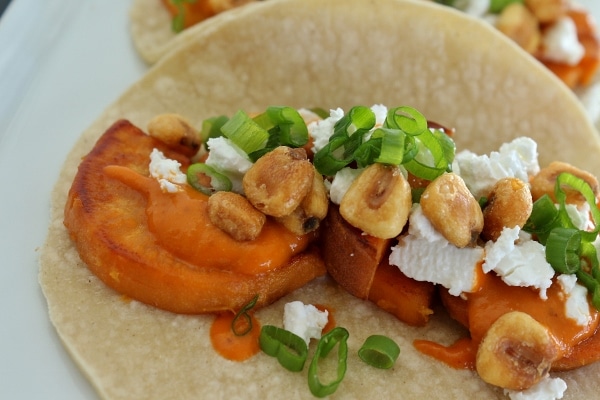 Other taco recipes you may like
Leave me a comment if you try this recipe! I'd love to hear what you think 🙂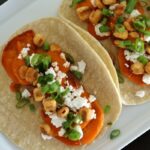 Print Recipe
Sweet Potato Tacos
Hailing from Los Angeles's popular Guerrilla Tacos, these creative Sweet Potato Tacos pack tons of flavor into each vegetarian bite. Sweet potatoes are boiled, then seared in butter, topped with homemade almond salsa, salty feta, and crunchy corn nuts. What a delicious hand-held delight for your next Taco Tuesday!
Ingredients
1 1/2

pounds

sweet potatoes

skins on (Japanese sweet potatoes are best, the long and thin kind with the red skin) (the original recipe calls for 3 pounds which is way more than you need–I recommend using about half that amount to comfortably make about 10 tacos, give or take)

Kosher salt
Almond Salsa
1

tablespoon

lard or canola oil

1/2

cup

loose-packed dried chiles de árbol

stemmed and roughly torn (I knocked out some of the seeds inside to make the spice level more family-friendly)

6

garlic cloves

peeled

3

tablespoons

slivered or sliced almonds

1

pound

tomatillos

husked and rinsed

1

cup

rough-chopped store-bought roasted red bell peppers

1/2

cup

water

Kosher salt

3

tablespoons

extra-virgin olive oil

2

teaspoons

red wine vinegar

1

dried habanero chile

stemmed (use half if you don't like your salsa too spicy) (I omitted this entirely to make the spice level more family-friendly)
To Finish
2

tablespoons

unsalted butter

plus more as needed

3

thyme sprigs

10

corn tortillas

warmed

4

ounces

feta cheese

crumbled (Valbreso if you can find it)

4

tablespoons

corn nuts

1

bunch of scallions

green parts only, sliced about 1/8 inch thick
Instructions
In a large saucepan or 6-quart stockpot, combine sweet potatoes and enough cold water to cover. Add salt until it's as salty as the sea. Set over high heat and bring to a boil. Lower heat to maintain a gentle simmer. Cook 12 minutes or until potatoes are just cooked—you can stick a knife into one and it comes out clean. Drain and set potatoes aside. When they're cool enough to handle, slice them into 1/2-inch coins or bite-size pieces and set aside.

To make the almond salsa: While potatoes simmer, warm a cast-iron skillet over medium-low heat. When pan is hot, add lard. Once lard is melted, add chiles de árbol. When chiles are browned all over and smelling toasty, add garlic and almonds; cook 30 seconds. When garlic is slightly golden brown, add tomatillos, roasted peppers, water and 1 teaspoon salt to pan.

Cover and cook until the tomatillos are mushy, about 8 to 12 minutes—they should split easily and break apart when you push them with a spoon.

Remove skillet from heat and, using a slotted spoon, transfer solid ingredients to a blender, reserving cooking liquid in pan. Add olive oil, red wine vinegar and habanero to blender. (Cover the blender well and watch out you don't touch the hot chile seeds during this part.) Blend until salsa is smooth, and season with salt. You want a little acidity, plus sweetness from the roasted peppers and heat from the habanero and chiles de árbol. Add some of the leftover cooking liquid to reach your desired consistency. It should be almost as thick as a milk shake. You'll have about 3 cups of salsa, more than you'll need for these tacos. The salsa will keep in the refrigerator for a couple weeks, or can be frozen for a few months.

Put your largest cast-iron skillet over medium-high heat and warm butter until it's melted and bubbling but not burning. Add a layer of potatoes to the pan—you want both sides of each potato slice to get a little browned, but not tough or crispy. Add some of the thyme and cook the potatoes until golden brown, about 5 to 10 minutes. Flip them and brown the other side. Set the browned potatoes aside on a plate and cover with foil to keep them warm. Repeat until all the sweet potatoes are browned, using more butter as needed.

Top each tortilla with 3 to 4 slices potato and 1 tablespoon salsa, 1 tablespoon feta, 1/2 tablespoon corn nuts, and a sprinkle of scallions. Serve immediately.
Notes
Adapted from Guerrilla Tacos
Servings 10.0 * calories 186 * Total Fat 9 g * Saturated Fat 4 g * Monounsaturated Fat 4 g * Polyunsaturated Fat 1 g * Trans Fat 0 g * Cholesterol 16 mg * Sodium 290 mg * Potassium 337 mg * Total Carbohydrate 29 g * Dietary Fiber 5 g * Sugars 7 g * Protein 5 g
*All nutritional information is based on third-party calculations and should be considered estimates. Actual nutritional content will vary with brands used, measuring methods, portion sizes and more.*
Pin it for Later!
Amazon disclosure – We are a participant in the Amazon Services LLC Associates Program, an affiliate advertising program designed to provide a means for us to earn fees by linking to Amazon.com and affiliated sites.