When I reviewed Besh Big Easy recently, there was a long list of recipes I was dying to try. The book contains lots of fantastic authentic New Orleans dishes, and I only grazed the surface with the delectable New Orleans Shrimp Étouffée. When I received andouille sausage from D'Artagnan, I knew this was the time for jambalaya.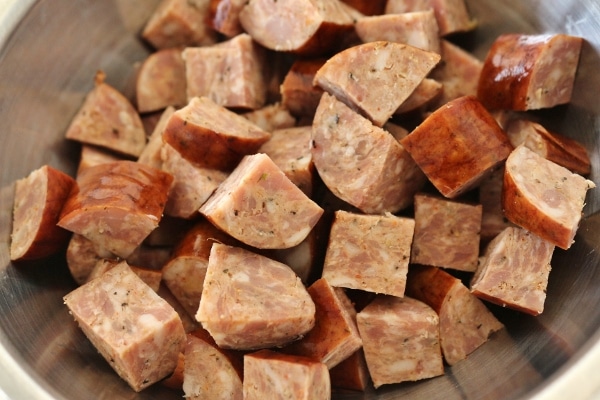 Andouille sausage from D'Artagnan
Jambalaya is a traditional rice dish from Louisiana containing a combination of smoked sausage (such as andouille), fresh sausage, and another protein, such a chicken or shrimp. The versions hailing from New Orleans sometimes contain a bit of tomato, while the other regions of Louisiana typically omit that ingredient. Tons of spices, and a base of onions, bell pepper, and celery make up the rest of this super flavorful dish.
The key, I've learned, to cooking New Orleans fare is to really build flavors by taking the time to cook each ingredient or layer of ingredients longer than you'd normally expect. Here you begin with the andouille and fresh sausage. I used fresh chicken sausage in place of the pork called for in the recipe. The two are browned together before adding the chicken. I replaced the chicken thighs with an equivalent amount of chicken tenders, because I had some in my freezer already.
Next comes chopped onion, which spends some quality time caramelizing together with the meats. Then the bell peppers, celery and garlic. Next is the rice (par-boiled/converted rice doesn't stick together) and spices such as thyme, cayenne, paprika, and bay leaf. Finally, deglaze the pan with the crushed tomatoes and chicken stock/broth and you're well on your way to a spectacular jambalaya.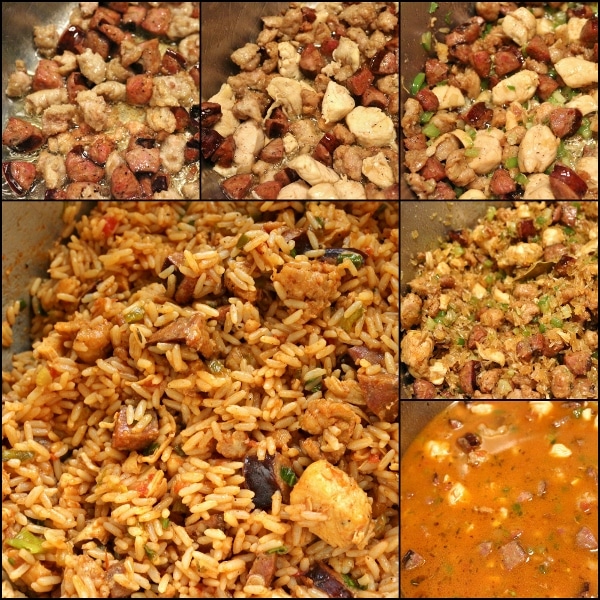 Clockwise from top left: browning sausages, adding chicken, adding aromatics, adding rice and spices, adding tomatoes and broth, finished jambalaya
The dish is finished with chopped scallions, adding a bit more vibrancy to a relatively heavy dish. I lightened it up a bit myself by using a bit less oil, and swapping the pork sausage for chicken. The finished product is nicely spiced without being too spicy. The rice is so flavorful, and each bite is studded with a variety of meats and finely chopped aromatics.
I must say, my first foray into jambalaya-making was quite the success. I'm two-for-two so far cooking from Besh Big Easy, and I couldn't be more pleased! This jambalaya would be a great comfort dish in the dead of winter, between all the flavorful spices, and the various meats. It's stick-to-your-ribs delicious.
Chicken and Andouille Jambalaya
Makes 8 to 10 servings (I highly encourage you to halve this recipe to yield a more reasonable quantity for an average-sized family–that's what I did)
(From Besh Big Easy)
1 pound andouille or other smoked sausage, chopped
1 pound fresh pork sausage, removed from casings (I used fresh chicken sausage)
1/2 cup bacon fat or oil
8 skinless boneless chicken thighs, roughly cubed (I used an equivalent amount of chicken tenders)
Salt and pepper
2 large onions, chopped
1 bell pepper, seeded and chopped
1 stalk celery, with leaves, chopped
4 cloves garlic, minced
4 cups white rice
1 tablespoon pimenton (smoked paprika)
1 teaspoon cayenne pepper
1 teaspoon dried thyme
1 bay leaf
1 cup canned crushed tomatoes
6 cups chicken stock or broth
Big dash Tabasco
Big dash Worcestershire
4 green onions, chopped
Heat a very big, heavy-bottomed pot over high heat, then reduce the heat to medium. (This lets the pot heat uniformly, preventing hot spots that are likely to burn.) Brown the andouille and pork sausage in the bacon fat, stirring slowly with a long wooden spoon to build color. While the sausage is browning, season the chicken thighs with salt and pepper. Add the chicken to the pot (the dark meat is so flavorful!), stir, and cook until the chicken turns golden brown, about 5 minutes.
Once the chicken has browned, add the onions and let them caramelize for about 15 minutes to build more flavor. I add the bell peppers late, to save as much of the color as I can. Add the celery (I always use the leaves, too) and garlic and cook for about 5 minutes, stirring occasionally so that everything cooks evenly.
Next add the rice, pimenton, cayenne, thyme, bay leaf, 2 tablespoons salt, and 1 tablespoon pepper to the pot and cook, stirring often, for about 3 minutes. Increase the heat to high and add the tomatoes, stock, Tabasco, and Worcestershire. Bring the liquid to a boil, then reduce the heat to medium low, cover, and simmer for 15 minutes.
Fold in the green onions. Cover again, turn off the heat, and let the rice steam in the hot pot for another 10 minutes. Fluff the jambalaya with a fork and serve!