Homemade is better. Always. Although it's terribly convenient to purchase ready-made itemas at a store, making them yourself is not only fun (I swear) but also tastes better. You also know exactly what is going into it, just like anything homemade.
Crackers are no exception! They may seem daunting in theory, but they are quite simple. You make a dough, roll it out thin, and then cut into squares, rectangles, or even circles, depending on the cracker. The most timeless crackers are generally soda water crackers (such as Saltines), buttery crackers (like Ritz), and cheese crackers (think Cheez-Its), although there are so many other varieties.
Today I'm sharing a very simple and delicious recipe for cheddar cheese crackers. They have way more complexity of flavor than their store-bought relatives. This is in part due to the addition of chicken bouillon powder, but also fresh cheese makes a world of difference.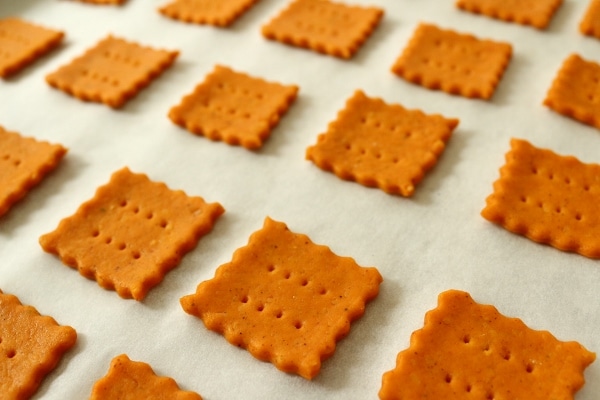 Prior to baking
Annatto is the source of the bright-orange color, but you could easily make white cheddar cheese crackers and omit this ingredient if it's unavailable to you, or try 1 1/2 teaspoons ground mustard instead to add some savory-sharp flavor, but without the vibrant color.
Additionally, feel free to try this recipe with other semi-firm cheeses to make Swiss cheese crackers, Gouda crackers, and much more.
Tangy Cheddar Cheese Crackers
Makes about 120 crackers
(From Crackers & Dips)
1 teaspoon annatto, crumbled (I used ground annatto instead)
7 tablespoons/105 ml room-temperature (75 degrees F) water
1 teaspoon active dry yeast
1 1/2 cups/185 g unbleached all-purpose flour, plus more for rolling
1/2 teaspoon fine sea salt
1/2 teaspoon baking soda
2 teaspoons chicken bouillon powder or crumbled bouillon cubes
1 cup/55 g finely grated loosely packed sharp Cheddar Cheese
1/4 cup/50 g chilled vegetable shortening, preferably non-hydrogenated (I use Spectrum Organic)


Preheat oven to 350 degrees F. Combine the annatto and water in a glass measuring cup and stir to combine. Stir in the yeast and set aside.
In the bowl of a food processor or a large bowl, pulse or whisk together the flour, salt, baking soda, and bouillon powder until combined. Add the cheese and shortening and pulse or cut the fat into the flour using a pastry blender until it is in tiny pieces and the mixture looks like coarse cornmeal, 15 one-second pulses with a food processor. Gradually add the water mixture, pulsing or stirring with a fork until the dough just comes together.
Turn the dough out onto a lightly floured surface and knead until smooth, 15 strokes.
Divide the dough into two balls. On a lightly floured surface, roll out each ball of dough into a rough rectangle that is about 1/16-inch thick, picking up the dough occasionally and rotating it to make sure it's not sticking to the work surface. Using a crimped pastry wheel, trim any irregular edges away. (Scraps can be reserved and re-rolled once.) Cut the dough into 1 1/2-inch-wide strips and lay them 1/2-inch apart on baking sheets lined with parchment paper. Cut the strips crosswise into 1 1/2-inch squares and prick all over with a fork or comb. Separate squares so they aren't touching.
Bake the crackers, rotating the baking sheets once from top to bottom and front to back, until they are firm when touched and beginning to turn light brown on the bottom, 15 to 17 minutes. Watch the crackers carefully as they bake; if some begin to burn before other are done, transfer them to a cooling rack and return the undone crackers to the oven for a few moments. Transfer the crackers to a cooling rack and cool completely before storing them in an airtight container. They will last for up to 1 week.
*Cracker Tip* This recipe can be made with any semi-firm cheese, so it's a great way to use up any odd bits of Swiss, provolone, or Gouda you have knocking around in the refrigerator.