I'm already having Disney withdrawals. Seriously. I relived the amazing experience of my trip as I wrote each of the previous Disney-themed posts, but it's still not enough. I can't help but extend the Disney love just a little bit more by sharing a related recipe today. It comes from one of Disney's cookbooks: a Ratatouille-inspired one for kids, which I purchased for my nephew while we were on our last Disney cruise.
The book includes an introduction and recipe from Thomas Keller, one of my favorite chefs and the one responsible for the upscale version of ratatouille featured in the film. The recipes vary in difficulty level, but are all geared toward children being able to prepare them with minimal adult help.
One of the easiest recipes that seemed most child-friendly (at least for my sometimes-picky 4 1/2-year-old nephew) was the recipe for Remy's Macaroni and Cheese.
Instead of making a traditional Bechamel, this version utilizes a much more straightforward method of layering macaroni, milk, and sliced cheese. The result when it comes out of the oven is a bit too liquidy, I'm not gonna lie.
However, once the casserole rests for a few minutes, and the macaroni is mixed around a bit, the sauce seems to thicken and clings to the macaroni pretty well. This is not a version of macaroni and cheese that I would personally make, but it's really perfect for enthusiastic kids who want to do it themselves!
Alex loved making this dish. He took pride in his work and the result was actually pretty good. The cheese flavor was quite mild (we used American cheese), but I appreciated the lightness of it all compared to a much more decadent variation I would typically make with Bechamel and much more cheese.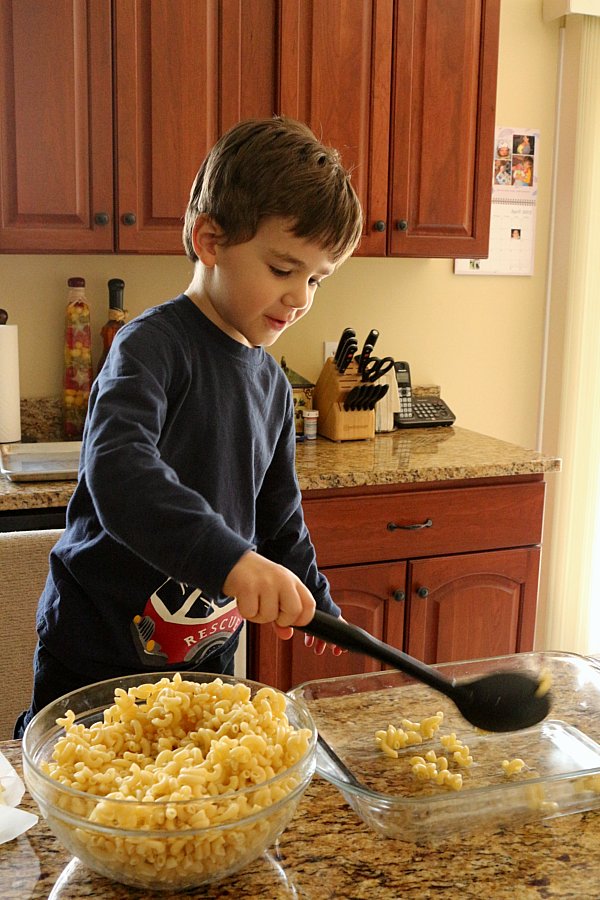 Scooping macaroni into the baking dish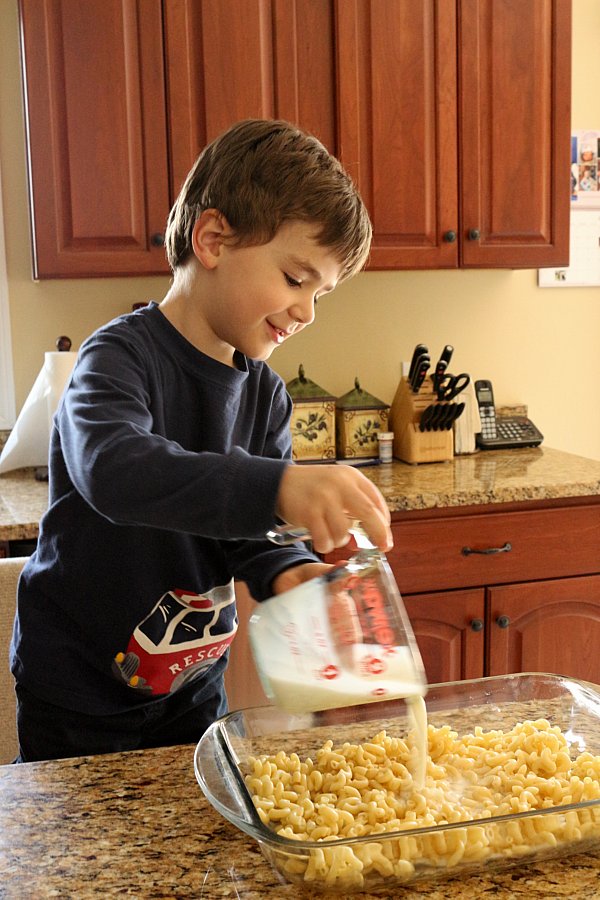 Adding some milk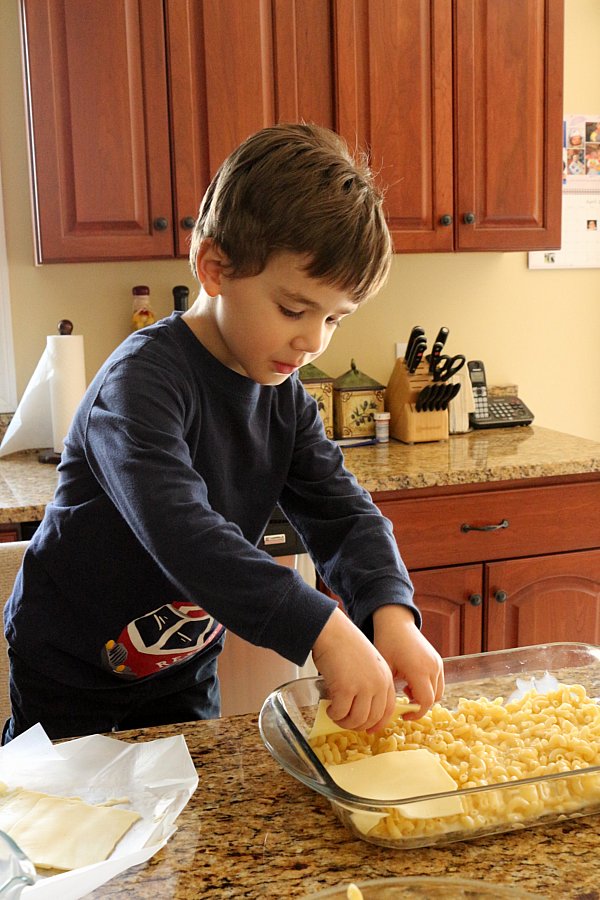 Layering cheese slices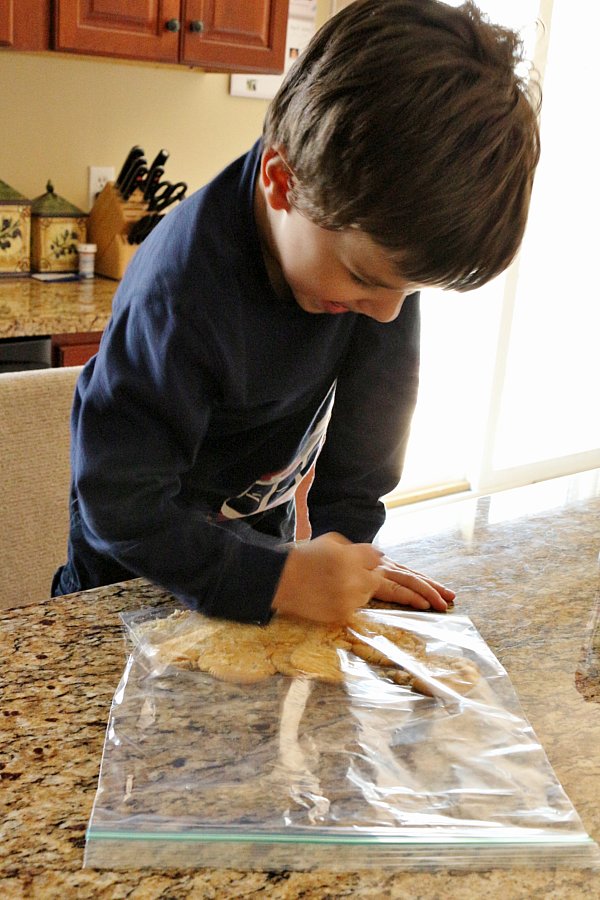 Crushing Ritz crackers with his cute little fists 🙂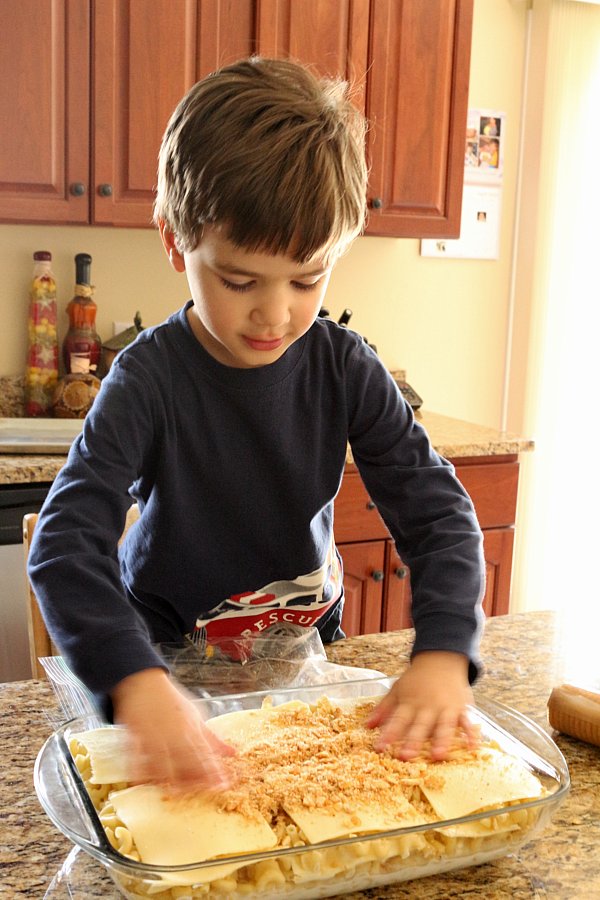 Spreading the crushed crackers over the top
Also, my 1-year-old nephew who until this experience didn't like pasta totally loved this macaroni and cheese and would even feed himself with a fork (something new indeed).
I think this is a really fun and easy-to-make version of macaroni and cheese that kids would love to make and eat. The only things I did were to boil and drain the macaroni, and measure out the ingredients for Alex to assemble. Oh, and also working the oven, of course 🙂
Remy's Macaroni and Cheese
Serves 6 to 8
(From Ratatouille – What's Cooking? A Cookbook For Kids)
1 pound elbow macaroni, cooked according to package directions (I suggest just shy of al dente)
3 cups half-and-half or whole milk
12 to 18 slices American or cheddar cheese
12 Ritz crackers (We used 15)
Salt, pepper, and paprika to taste
Heat the oven to 350 degrees F and grease a 13×9-inch baking pan or a large casserole dish.
Spoon 1/3 of the cooked macaroni into the pan, then pour in 1 cup of the half-and-half or milk and cover everything with 4 to 6 slices of cheese. Add two more layers of pasta, half-and-half or milk, and cheese.
Place the crackers in a ziplock bag and crush. Add the salt, pepper, and paprika, then sprinkle the crumbs on top of the pasta and cheese. Bake until bubbly, about 35 to 45 minutes.