I know what you're thinking. "Silly, Victoria. The Fourth of July was weeks ago!" Well, my little darlings, I can be patriotic any day of the week. And with the Olympics steadily approaching, I'm getting all my red, white, and blue ducks in order to celebrate big time and cheer on Team USA! Bread Pudding and the Olympics are two of my all-time favorite things, so why not use one to celebrate the other? It's a no brainer, folks. And psssst… I will also be hosting an Internationally inspired Olympic party and will have some really fun recipes to share from that as well, so stay tuned.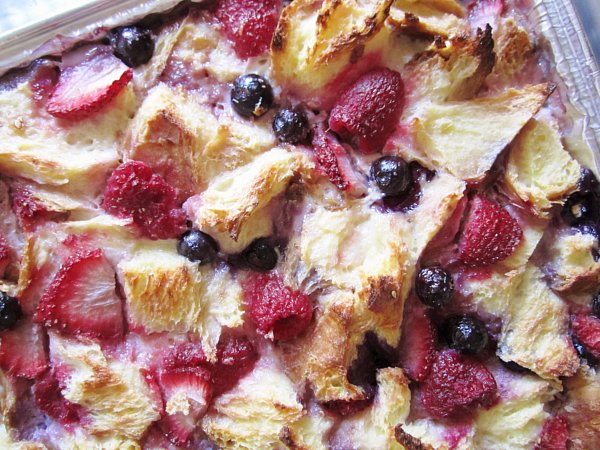 This particular bread pudding is really amazing. I know that it seems quite simple, just a trifecta of delicious berries, but I must say the flavors really sing! It reminded me a bit of French toast. I think the vanilla extract really highlights that comparison, and the sweet warm berries that burst and flavor this perennial favorite are akin to those one would find in a variety of breakfast treats, including but not limited to French toast and pancakes.


P.S. This bread pudding could also be used to cheer for other countries with the same colors in their flag, such as Great Britain, Australia, and France… but why would you want to?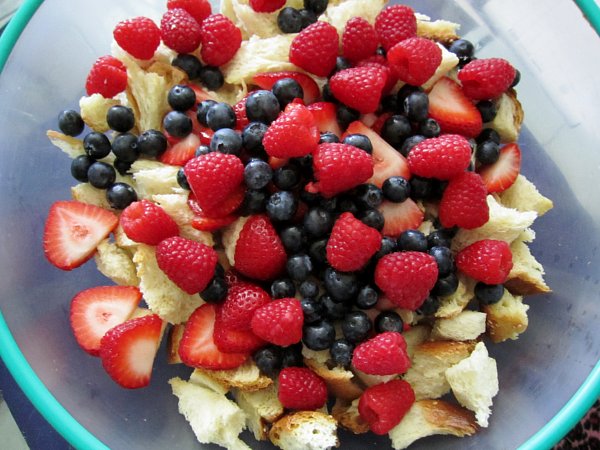 For some personal reasons, the Bread Pudding of the Month Club was on a bit of a hiatus, but it's back and better than ever! I'm really looking forward to sharing more of the bread pudding love in the coming months. I really hope you guys are ready for an exciting ride! In honor of its return, I would love to know what is your favorite bread pudding you've ever had? It can be one you've made, one your grandmother used to make, one you've had in a restaurant that you can't stop thinking about, etc. Please share!! What is the best bread pudding you've ever had?? If you have pictures and/or recipes you can email them to me at missionfoodblog (at) gmail (dot) com. I will share them in a future post!!
Red, White, and Blue Bread Pudding

Unsalted butter, for greasing baking dish
10 cups stale* 1/2-inch bread cubes
8 oz fresh strawberries, hulled and sliced (about 1 1/2 cups)
1 1/2 tsp. pure vanilla extract
Place the oven rack in the center of the oven, and preheat to 350 degrees F. Butter a 13-by-9-inch baking dish. Toss together the bread cubes and fresh berries and arrange the mixture in the baking dish. Set aside.
Beat the eggs in a medium bowl with a whisk. Whisk in the sugar and then the milk and vanilla extract. Pour the mixture evenly over the bread cubes in the baking dish, pressing down with the back of a spoon or your hands and making sure that all the bread gets submerged and starts soaking in the custard.
Soak for 20 to 30 minutes. Bake until the filling is set and the top is crusted and puffed, about 60 to 65 minutes. Serve hot or warm.
*If your bread isn't very stale, cut it into cubes and allow the bread cubes to dry out at room temperature all day or overnight. Alternatively, lightly toast them on a sheet pan in a 350 degree F oven until dry, about 10 to 15 minutes.