I ate my first Reuben sandwich pretty late in life, but it was extraordinary. I had never really been a corned beef kinda girl, but the combination of corned beef, sauerkraut, Thousand Island dressing and Swiss cheese smothered together between crisp rye bread is exceptional. I'm officially a fan.
I'm also a fan of making my own sauerkraut because it's crazy easy to do, and tastes way better than store-bought. Mine is less mushy and still retains a bit of crunch, which is how I prefer it.
Put together a batch of homemade sauerkraut and the need for Sunday football snacks, and the result is this simultaneously gooey and creamy hot Reuben dip. It's combines all of the flavors of a classic Reuben in a spoonable, spreadable mixture that makes it easy for snacking atop rye toasts.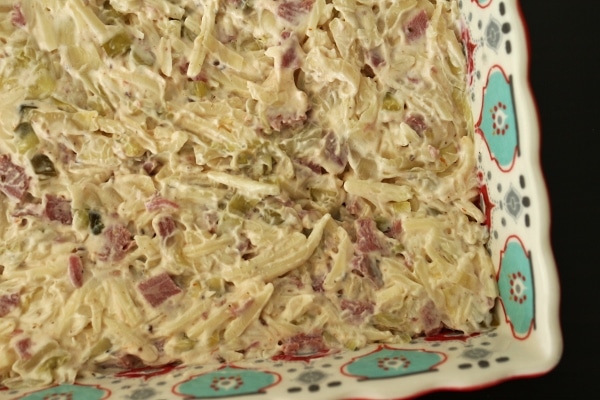 Ready to bake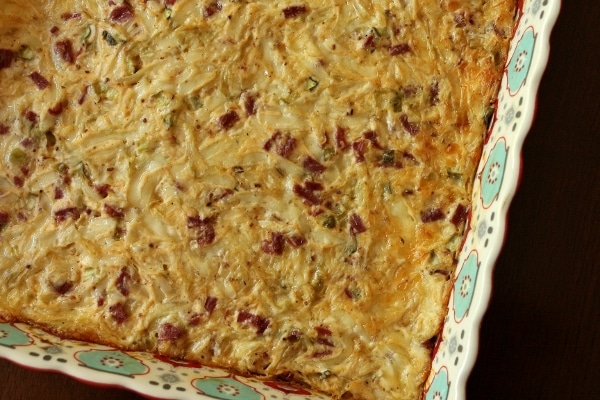 Bubbly and delicious!
The mayonnaise, Heinz chili sauce, and pickles make up the Thousand Island dressing portion of the dip.
I couldn't find cocktail rye bread at my local supermarket, so I opted to purchase regular rye bread and slice it into thirds before toasting in the toaster oven, making the pieces approximately the same size I would imagine as cocktail rye bread (give or take).
I challenge any Reuben aficionado to try this dip without falling head over heels. Crack open a beer and kick up your feet. This is pure comfort especially now as the weather FINALLY begins to cool down.
Hot Reuben Dip
Serves 6 to 8
(From Beer Bites)
8 ounces (225 g) Jarlsberg or Swiss cheese, shredded
4 ounces (115 g) cream cheese, at room temperature
1/2 cup mayonnaise
1 cup (150 g) drained sauerkraut (mine was homemade)
4 ounces (115 g) corned beef, chopped
1/4 cup (40 g) minced dill pickles
1 tablespoon Heinz chili sauce or ketchup
1 teaspoon caraway seeds, lightly crushed in a mortar with a pestle or in a spice grinder
1/4 teaspoon freshly ground black pepper
Cocktail rye bread, sliced and toasted, for serving
Preheat the oven to 350 degrees F.
Beat together the shredded cheese, cream cheese, and mayonnaise in a medium bowl. Stir in the sauerkraut, corned beef, pickles, chili sauce, caraway seeds, and pepper until well combined.
Spread the mixture in an attractive shallow baking dish. (At this point, the dip can be baked immediately or cover and refrigerate for up to 2 days before baking.) Bake until bubbly and lightly browned on top, 25 to 30 minutes. Serve the dip hot with the rye toasts.
Variation: Reuben Canapes
For a more polished presentation, spread the dip mixture on about 30 slices of cocktail rye bread (untoasted) and arrange them on two large rimmed baking sheets. Bake in a 300 degree F oven until the topping is melted and a bit crusty and the bread is toasted, 25 to 30 minutes, rotating the pans halfway through. Garnish the canapes with halved cornichons before serving.